Shares of action camera maker GoPro (NASDAQ:GPRO) are down roughly 25% after-hours to around $11 per share on a Q4 sales guidance cut. The company announced that it expects Q4 sales to come in at $435 million, a 31% Y/Y decline, and 2015 sales to be $1.6 billion, a 15% Y/Y increase. Analysts were expecting Q4 sales of $511.9 million and 2015 sales of $1.69 billion, so the updated guidance missed the consensus sharply.
We have been both right about this name before on the short side, and wrong about this name before on the long side. In the interest of full disclosure, we exited our long position not so voluntarily after a stop-loss kicked in at $15, but we are considering entering another long position at these further depressed levels to hopefully recoup those losses.
Having been both short and long, we acknowledge that there are several pros and cons to the company. In this analysis, we attempt to address most of those pros and cons at the current stock price. We hope this helps other investors flesh out their own investment thesis.
The Pros
First, the stock is now an attractive takeover target, though we maintain that Nick Woodman and/or shareholders will not sell this year.
An $11 after-hours quote equates to a $1.5 billion market capitalization on 137.5 million shares out. At this market cap, roughly 1/3rd of the valuation is protected in $475 million of net cash. Striping out that $475 million in net cash, the stock's current Enterprise Value sits right around $1 billion. The price is attractive enough at 0.6x EV/Sales to attract serious interest. Though we do not think Nick Woodman and/or shareholders will sell this year, talks of a takeover at a premium to the current share price could cause a rally in shares, especially with nearly 42% of the float short.
Second, the stock is fundamentally very cheap from an earnings and EBITDA standpoint.
At an $11 quote, the stock is trading at an 8.2x P/E multiple and 5.6x earnings ex cash. By comparison, the market is trading at just under a 20x P/E multiple.
The EBITDA multiples tell a similar story. The company has generated $391.4 million in LTM adjusted EBITDA, so that means the stock is currently trading at 2.7x LTM EBITDA. This is an attractive multiple for a company which, despite the weak Q4, is still set to grow EBITDA at 15% this year (assuming 34% 4Q15 EBITDA margin).
Third, the company has a strong balance sheet with lots of cash and no debt.
As mentioned earlier, the company has $475 million in cash and investments on no debt, so the company has around $3.45 in NCPS. That covers just under 1/3rd of the current market cap. Using that $475 million in net cash as opposed to the MRQ $513 million, the company has current assets of $965.2 million on total liabilities of $378.6 million, giving the company an NCAV of $586.6 million. This means the stock is hovering around a 2.6x P/NCAVPS multiple.
Fourth, Karma and the Hero 5 should re-energize the customer base and boost sales.
Investors should remember that the Hero 4 created a frenzy at malls and online during Christmas 2014, as GoPro sold roughly 1,000 cameras per hour during the quarter. The Hero 4 Session was an iteration on the Hero 4 and offered some nice upgrades, but lacked enough substantive difference to excite the customer base.
For us, this was expected. We like to say that new numbers bring new excitement. The Hero 5 is set to launch this year, and we believe this new model has the potential to excite the customer base. It is rumored that the Hero 5 will have much higher-quality underwater filming capability and will be able to shoot 8k videos. There is the argument that the company's 360-degree camera will steal some thunder away from the Hero 5 launch, but we aren't entirely in agreement with this belief.
The product which should incite more excitement this year is the Karma drone. Although much is left to be disclosed about this drone, it is the next-level sort of product that pushes GoPro into an entirely new market of video capture. Also, because GoPro is the most iconic name in the action sports video capture market, we expect Karma to instantly become the mainstream icon of video capture drones upon release, much like Hero is currently the icon of action sports cameras.
These products, both announced this year, have a good amount of potential to re-excite the consumer base.
Fifth, because 4Q15 has been so disappointing, 4Q16 could be huge.
Building off this idea that the Hero 5 and Karma could re-excite the consumer base, we see particular upside for 4Q16. Because 4Q15 has been so weak due to the lack of new products (a 31% Y/Y sales decline from a 4Q14), we believe 4Q16, which will benefit dually as the first Christmas for the Hero 5 and Karma, could see tremendous Y/Y sales growth on a weak 4Q15 comp. We think 4Q16 has a good chance of surpassing 4Q14 sales, so that would imply at least 46% Y/Y sales growth.
4Q16 results should also be accentuated by the fact that the upgrade cycle was so weak this year. We imagine that many Hero 4 buyers in 2014 passed on the Session this year, and that those 2014 buyers will look to buy the Hero 5 in 2016.
Sixth, GoPro cameras are still the best sellers almost everywhere online.
Although there have been a significant amount of new entrants into the market, GoPro has managed to aptly defend its best-selling position. GoPro cameras still dominate the best-selling list on Best Buy.com, Target.com, and Amazon.com.
The Cons
First, the cameras are expensive.
GoPro's cameras range anywhere from $130 to $500. These are fairly steep prices for an action camera. A simple Google query reveals that one can conveniently purchase online any of the several other action cameras for significantly under $100. Here is a full list of GoPro alternatives under $150. Because of these new lower-ASP entrants, the company will likely cede significant market share.
On the other hand, some bigger name players in the space, like Sony (NYSE:SNE), sell their action cams for right around the same prices as GoPro.
Second, margins will contract.
Because the cameras are so expensive, most of GoPro's competition is entering the market at much lower price points. The company's price reduction of the Hero 4 Session is significant of a declining ASPs trend that will likely persist and accelerate in the hyper-competitive HD video capture space.
For example, the Karma drone is rumored to first sell between $500 and $1000, and while this might help margins in the short term, we wouldn't be surprised if that ASP comes down over the next few years as the drone market becomes more price-competitive. This will cause the short-term inflated gross margins to contract.
Third, the product does not have a compelling upgrade cycle.
Perhaps also because the cameras are so expensive, it appears as if consumers aren't really upgrading the cameras. This is best evidenced by the 31% decline in revenues this quarter. The Hero 4 Session was first priced too high, but even after slashing the price, demand for the new GoPro product clearly remained low. The initial mispricing certainly scared away some consumers, but we think at the heart of the issue is GoPro's upgrade cycle.
The company might have an established niche, but the key to consistent Y/Y growth is how often GoPro gets that established niche to buy new cameras. Once you buy a GoPro for anywhere between $100 and $500, you likely aren't going to buy another one for at least a full 12 months, and sometimes longer.
Fourth, the cash balance has been stagnant, and actually declined this quarter.
Morningstar data shows that the surging cash balance has stagnated, and has slightly declined since 2Q15. This is cautionary for value investors who require this cash pile to grow with the stock price to continue to provide a safety net. The most notable decline in cash and equivalents is actually this quarter, with the company announcing that cash and investments had fallen to $475 million from $513 million last quarter. That is a 7.5% Q/Q decline.
By comparison, cash and investments grew by more than 75% Q/Q in 4Q14.
Fifth, China might not sustain mega-growth for much longer.
Although the country has been the quickest growing market for GoPro, this might not last much longer, with cheaper brands quickly entering the space. Xiaomi's Yi Action Camera retails at $99, and apparently garnered a lot of interest at launch. The Yi Action Camera is just one of several cheaper Chinese alternatives. We see GoPro struggling to continue to ramp revenues in APAC, especially if Australia and New Zealand continue to show weaker demand.
Also while we understand Google has been sporadically banned in China, Google Trends indicates that there isn't much interest in GoPro in China. This is only somewhat important, because other brands, like Apple (NASDAQ:AAPL), do have interest. While the Y/Y growth in APAC sales through the first 9 months of 2015 is impressive (more than doubled), Google Trends gives China a search volume index (search volume relative to highest-volume geography) of 0. This should be taken with a grain of salt given the sporadic banning of Google in China, but should be noted, because Apple, which is huge in China, does have a search volume index of 13.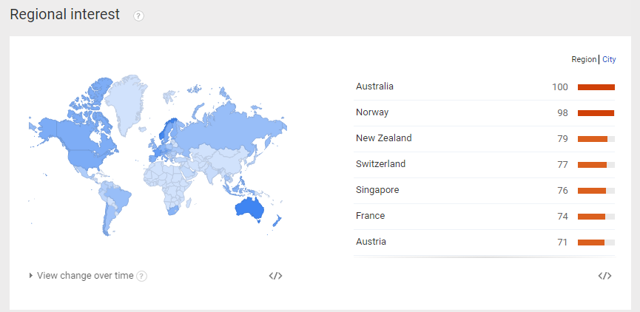 Sixth, the catalysts are a few months out.
The Karma is expected in 1H16, and it looks like April/May is a plausible month for the launch. The Hero 5 is likely further out, pushed towards the BTS season around August/September. This means the company doesn't have any major product catalysts until April/May, unless the 360-degree camera launches before that. This implies we could have a stock stuck sideways for a couple months.
Conclusion
What we have in GPRO is a very enigmatic stock from an investment standpoint. The valuation is cheap, the balance sheet is strong, the brand clearly has staying power because it continues to outsell other brands, and the Hero 5 and Karma could excite the consumer base in 2016. On the other hand, margins will contract in a hyper-competitive business, market share will likely shrink, the product lacks a compelling upgrade cycle, and China looks to have limited growth due to the number of cheap alternatives in that market.
We believe, at the current price, the pros outweigh the cons, and that the asymmetry rests with longs. We will likely take a small long position in the coming days.
Disclosure: I/we have no positions in any stocks mentioned, but may initiate a long position in GPRO over the next 72 hours.
I wrote this article myself, and it expresses my own opinions. I am not receiving compensation for it (other than from Seeking Alpha). I have no business relationship with any company whose stock is mentioned in this article.