As the shares of Abercrombie & Fitch (NYSE:ANF) trade some 58% off their August lows, is there still time for investors to get a piece of the action, or has that proverbial boat sailed on by?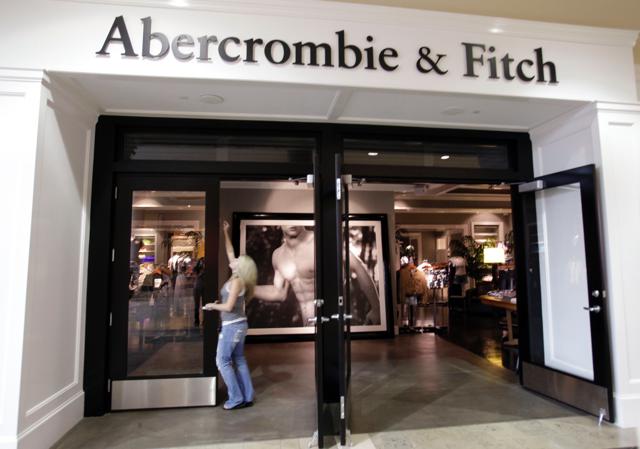 Background:
Abercrombie & Fitch is a specialty retailer, which operates stores and direct-to-consumer operations. Through its Abercrombie & Fitch and Hollister brands. It sells products, including casual sportswear apparel, including knit and woven shirts, and graphic t-shirts in the United States and Internationally. At the end of the most recent quarter it operated 790 stores in the U.S. and 175 stores in Canada, Europe, Asia and the Middle East. These were broken down as shown below: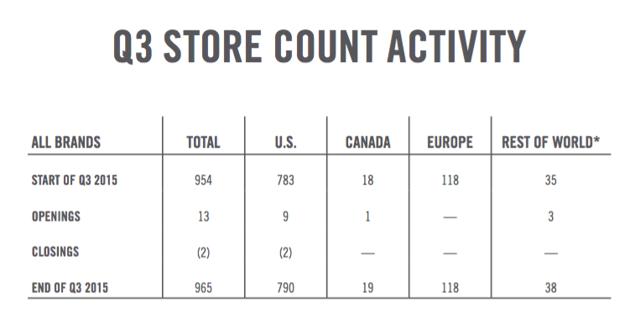 Source: Company Presentation
Today:
It has been just less than five months since the stock was trading down as low as $16.45, but today it finds itself trading a full 58% higher. Well played to any investors that bought in at $16.45, you've done very well. The question now is whether there are more gains ahead or whether we've missed the boat.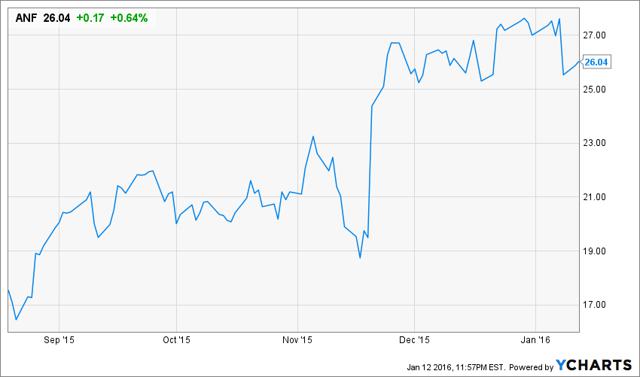 Source: Ycharts
The company certainly went into Q4 with a few advantages over its peers. The warm weather at the end of 2015 hurt a lot of retailers and has left them with excess stock that they've had to discount in order to shift. Whereas for Abercrombie & Fitch, it went into Q4 with lower levels of inventory, and we feel the product assortment that it had on hand was far more suitable to the conditions than other retailers.
This isn't necessarily a guaranteed win-win situation though of course. When your competitors have excess inventory and are looking at shifting it with discounts, there is a danger that they may steal a share of your sales, or force you into discounting to compete. But the signs have been good and we have been pleased with our store visits.
We believe the signs are good for continued share price growth, certainly not to the extent of what we have seen in the last 5 months, but still enough to make it a worthy investment today. We don't expect to be blown away with Q4s results, but starting from Q1 2016 comparable store sales should start to tick upwards.
Although sales were down year-over-year, the results in Q3 were far better than expected, causing a 16% surge in the share price. With the market expecting $1.05 billion in Q4, we have suspicions it might just beat this too. This again could cause a further jump in the share price.
We think the company may beat the analyst expectations due to a great product assortment, fewer discounted goods, low cotton prices, FX headwinds abating slightly, and improvements in margins.
Future:
Like many others in the sector, the company's investments in its omni-channel is delivering strong returns, with order-­in-­store contributing significantly to its e-­commerce growth. It has begun rolling this out internationally with the launch of click­-and-­collect in all of its stores within the United Kingdom. The seamless integration of mobile, digital and bricks-and-mortars is going to be a key area to drive revenue in the future, and we believe they are on their way to achieving this.
We were very pleased to see the partnership with Snapchat recently. The sponsored geo-filter covers 19,000 high schools in the United States. Getting to that number of Hollister's target market with its "Friday Vibes" geo-filter was great, and we felt the geo-filter was very shareable and look forward to hearing about its success.
Another partnership that we feel confident will be a winner is with ASOS (OTC:ASOMF). ASOS has a great presence in worldwide fashion retail, so having a range of products on there should be a boost to the top line. On the earnings call the management team said that they are pleased with the progress they have made, and expect to get a nice contribution from that business this year. It was too early to say how significantly it could ramp up over time, but they were very happy with what they had seen so far.
Finally, we still see significant growth ahead for the company internationally in key growth markets. The company recently opened another store in the Middle East, as well as in Hong Kong. We feel sure that 2016 will see further expansion.
Valuation:
As mentioned before, an earnings beat could be the catalyst to taking the stock higher in the near term, though we must say that we feel it is still trading at a discount to its peers so a gradual climb higher could yet occur.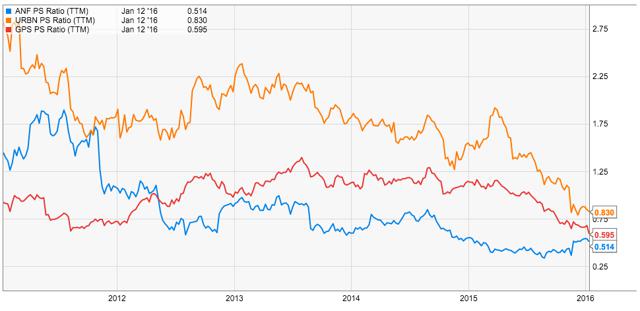 Source: Ycharts
Shown above are the price to sales ratios of the company against its competitors Gap (NYSE:GPS) and Urban Outfitters (NASDAQ:URBN).
Based on our estimated fiscal 2016 revenue of $3.52 billion, a price to sales ratio of 0.6, and 69 million shares outstanding, we have a one-year target price of $30.60, representing significant upside of 17.5%.
Final Word:
We believe it isn't too late to invest in Abercrombie & Fitch and see a great 2016 ahead for its investors. Another set of positives are that the company does have a low beta of 0.79 (which certainly could prove invaluable during these rough times), a robust balance sheet with strong liquidity, and good levels of free cash flow.
Disclosure: I/we have no positions in any stocks mentioned, but may initiate a long position in ANF over the next 72 hours.
I wrote this article myself, and it expresses my own opinions. I am not receiving compensation for it (other than from Seeking Alpha). I have no business relationship with any company whose stock is mentioned in this article.