Our analysis has shown that HSN, Inc. (NASDAQ:HSNI) is currently under the radar and has a high probability of producing strong shareholder gains in 2016.
HSN, Inc. is perhaps best known for the Home Shopping Network that we've all probably tuned into at some point in our lives. The way in which it can convince you into believing that you need a particular product is almost mesmerizing to watch. If anybody knows how to sell, it's this company.
Through its team of charismatic sellers, the company sells high margin goods predominantly of the beauty, household and jewelry variety. It did recently go into lower margined products such as electronics, and has even listed items as diverse as cars. Around 70% of the products it sells are exclusives, which we believe gives it a competitive edge.
We are probably doing the company a disservice by purely referring to the television channel side of affairs so far. The company has moved with the times and operates successfully on the digital side of the retail world through the platforms demonstrated below.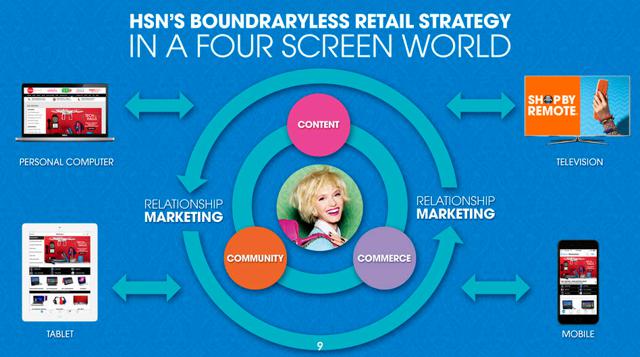 (Source: Company Presentation)
In fact, the company's digital sales penetration has risen significantly to 49.8% as of Q3 2015. Further to this, mobile sales account for 37% of the total digital business, which has grown by an impressive 18% year over year. This is clearly a company moving with the times, which is what we all want to see.
We were impressed to see the company adapt to mobile with its HSN Arcade website. HSN Arcade integrates both shopping and addictive games, and has by all accounts proved very successful. The Arcade has over 1 million registered users with 330 million games played. The company's research has shown that users spend three times as much time on-site, visit twice as often, and are much more likely sales converts. We feel the Arcade is a great way to keep customers engaged and see only good things moving forward.
Another way that the company differentiates itself from its competitors is with its celebrity endorsements. HSN, Inc. tends to pick well-known celebrities with a high level of stature within a particular industry. Below is a selection of its celebrity endorsers.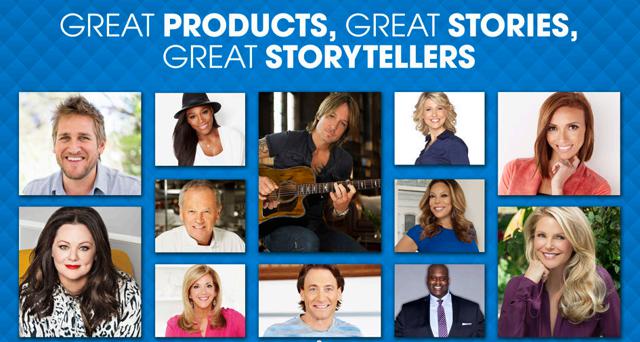 Source: Company Presentation
The company is also expanding its existing footprint in retail that will include greater product assortment with increased square footage and prominence at Target (NYSE:TGT), Bed Bath & Beyond (NASDAQ:BBBY) and The Container Store (NYSE:TCS). In 2016, it will be launching into Macy's for the first time. By doing this, it will extend the reach of its proprietary brands to alternative distribution and platforms, as well as boost e­-commerce and leveraging external awareness.
Finally, the predicted decline in cable television should not hinder the company too much. As well as its online and mobile presence, its programming is available through Apple TV and Kindle Fire.
The sum of all this for us we believe is a great company with strong growth prospects for many years.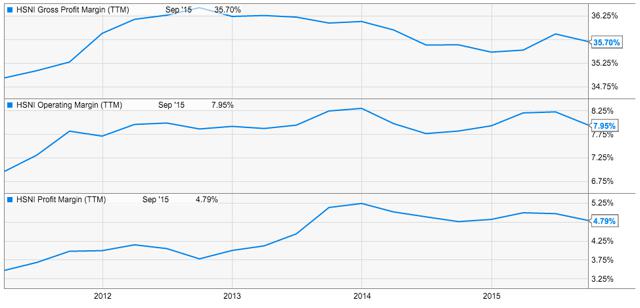 (Source: YCharts)
Margins have dropped slightly recently (shown above), which had an effect on the bottom line. But we put this down largely to the company introducing low margin products such as electronics and a number of shipping and handling promotions. Although the company plans to work on its gross margins, we may have to get used to this slightly lower level of margin because the company has intentions to become a destination for technology solutions.
Our financial model predicts that the company will deliver strong Q4 results. We're forecasting earnings per share of $3.20 on revenue of $3.72 billion for FY 2015. This is slightly above the analyst consensus found here.
Moving ahead to FY 2016, we see good things happening. We believe the growth we have seen in mobile and digital will continue its trend and help push overall revenue up by 4% to $3.87 billion. We expect margins to remain more or less constant, giving us earnings per share of $3.57.
The company has been buying back shares. It still has 3.2 million shares authorized for purchase. We expect it to get through around half of those by FYE 2016, leaving an estimated 51.5 million shares outstanding.
The company has been producing strong levels of free cash flow to more than cover capital expenditures. As shown below, the company has $147.78 million of free cash flow currently, after capex of $67.63 million.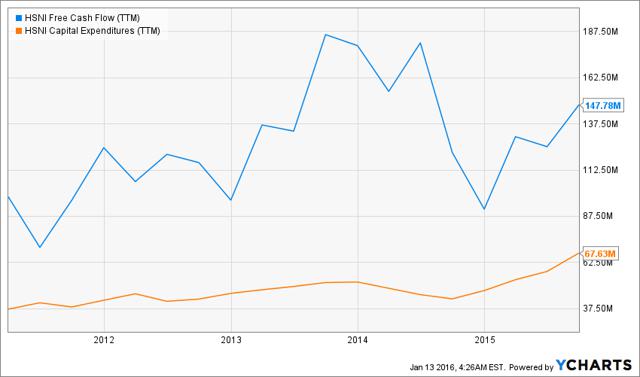 (Source: YCharts)
As with many of our valuations, we value HSN, Inc. on a two-step basis, combining the results of valuing the company with the price to sales and price to earnings ratios.
We see fair multiples for HSNI as being a price to sales ratio of 0.75 and a price to earnings ratio of 17, and our valuation is an equally-weighted average of the two. Thus, for FY 2016, it gives us a twelve-month price target of $58.52, or 19.5% return from where it last closed.
Overall, we see HSN, Inc. as a great investment with little by way of downside risk. The dividend it pays at present is a reasonable 2.91%, and looks set to grow in the years ahead.
Disclosure: I am/we are long HSNI.
I wrote this article myself, and it expresses my own opinions. I am not receiving compensation for it (other than from Seeking Alpha). I have no business relationship with any company whose stock is mentioned in this article.