GoPro (NASDAQ:GPRO) has been an absolutely fascinating stock to watch since it came public. The IPO was initially met with torrid buying that sent the stock to near $100 before reality set in. I was pretty vocal about shorting GPRO during its nosebleed valuation stage and that worked out but since that time, I've unfortunately gotten it wrong on GoPro. Most recently I said back in October that I was losing patience with GoPro as the stock hovered around $30. Obviously, a lot has happened since then including last night's whopper of an announcement where GoPro preannounced Q4 and some job cuts. With shares now trading for $11, what are we to make of this?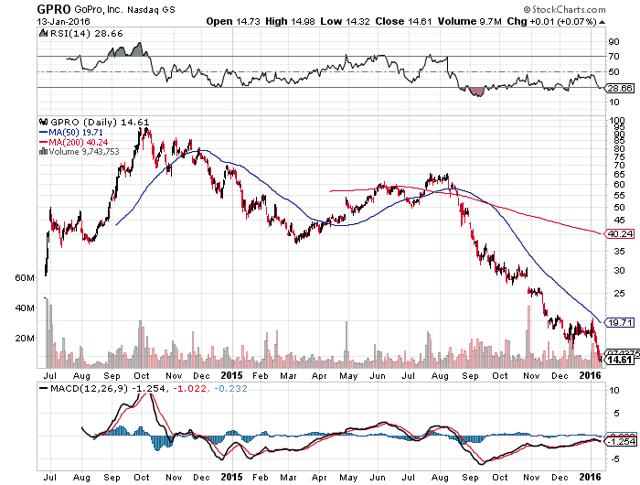 While GoPro didn't provide a legitimate earnings release last night it did provide us with some key clues about what the company saw in Q4. We all knew Q4 was going to be ugly as GoPro had already guided for a very weak Q4 after Q3 failed to impress investors. Consensus for Q4 revenue was $511 million and the company had guided for $500 to $550 million but the preliminary result released last night said that total was just $435 million. That is an enormous miss on a revenue level that was already beaten down in a relative sense and that is part of the reason why the stock is getting crushed again. Nobody knows where the bottom is on revenue for GoPro at this point and that is scary.
In addition, gross margin tanked as the company saw not only lower margins on an adjusted basis - with that number falling to 45% at the midpoint versus prior guidance of 100bps higher - but it also took some inventory charges in Q4 ostensibly to work through dead product. Reported gross margin will come in at 35% including the inventory charges, a disastrous result to say the least. Margins are key to any business and while GoPro's margins are still plenty high enough to keep the company profitable, the fact that the company took such significant inventory charges during a quarter which should be its best of the year is more than a little unsettling.
So what does all of this mean for 2016? I'll admit I have been wrong on GoPro since I flipped bullish some time ago. It was easy to spot that GoPro was overvalued at $100 or $80 or even $50 but I was drawn into a falling star that I thought was getting cheap $20 ago and that was my mistake. However, crying over spilled milk doesn't fix anything so I'll dust myself off and attempt to model what 2016 may look like in order to assess GoPro's current valuation.
Analysts have GoPro hitting $1.89 billion in revenue in 2016 but that number is certain to come down significantly in the coming days. In order for me to model potential 2016 results, I'll make some assumptions. I'll assume that full-year revenue is off 25% from current estimates. I'll also assume that full-year gross margin comes in at just 38% and finally, I'll assume that SG&A costs fall about $27 million from the TTM number based upon the announced job cuts. A projected tax rate of 30% will also be used to compute net income. Understand that all of these numbers have significant volatility possible at present but these represent doomsday scenarios for GoPro, offering a base valuation we can use against where the stock trades now.
| | |
| --- | --- |
| | 2016 Est ($M) |
| Revenue | $ 1,418 |
| Gross Profit | $ 539 |
| SG&A | $ 330 |
| Operating Margin | $ 209 |
| Taxes | $ 63 |
| Net Income | $ 146 |
My numbers suggest that GoPro's operating profit under these circumstances would come in around $209 million, or about $146 million in net income in 2016. Both of these numbers would represent significant reductions from 2015 but given the circumstances we find GoPro in, these kinds of reductions are certainly possible. If this forecast were to turn out, GoPro would currently be trading for about 10 times 2016 earnings after accounting for the beating it is taking on the preannouncement. That certainly seems reasonable for a company that is in freefall like GoPro so if I turn out to be right and GoPro only makes $146 million in 2016, its current valuation is probably fair.
However, my forecasted numbers are bearish on purpose in order to get a base case for how bad things could be in 2016 but what happens if assumptions are a bit rosier? If we change revenue to fall 15% from current estimates (instead of 25%) and gross margins to come in at 42% instead of 38%, the outlook changes materially.
| | |
| --- | --- |
| | 2016 Est ($M) |
| Revenue | $ 1,607 |
| Gross Profit | $ 675 |
| SG&A | $ 330 |
| Operating Margin | $ 345 |
| Taxes | $ 103 |
| Net Income | $ 241 |
Under those assumptions GoPro would make more like $241 million, meaning its current valuation just under $1.5 billion would be very low indeed. If GoPro can keep Armageddon from happening, the stock could be trading for just six times this year's earnings. There are a lot of 'ifs' that have to happen between now and the end of the year but these assumptions are still reasonable and would still represent reductions from 2015. I'm not overly bullish here to get to a scenario where GoPro is trading for six or seven times this year's earnings and that gives me some hope.
GoPro is in a desperate situation right now with its stock and rightfully so. The company has managed to not only disappoint investors again and again but also to do so in spectacular fashion. I was way, way too early on the bullish bandwagon for GoPro but if we put emotions aside and model what 2016 may look like, it seems GoPro is very much in a good spot to potentially head higher from here in 2016. The selling will be intense for a short while but when it is done, GoPro at $10 or $11 may prove to be a terrific buy 12 months from now.
Disclosure: I am/we are long GPRO.
I wrote this article myself, and it expresses my own opinions. I am not receiving compensation for it (other than from Seeking Alpha). I have no business relationship with any company whose stock is mentioned in this article.