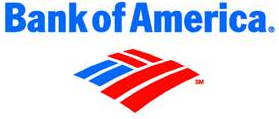 The banks as a group have been a bit of a battleground sector in the last few months as the Fed made it clear last year they were going to begin raising rates. The sector traded way up heading into the eventual December rate hike but since that time has made a beeline down as economic uncertainty and the path of further rate hikes has been called into question. I said back in December that irrational exuberance had taken over with my favorite pick of the mega-banks, Bank of America (NYSE:BAC), as the stock had been bid up to around $18 on optimism surrounding rate hikes. My point was that the data suggested to me at the time that the pace of Fed rate hikes wouldn't be as quick as some investors were expecting and since that time those fears have been realized by the market. Some additional commentary has come out since then so in light of both BAC getting crushed to under $15 in short order and cautious language from FOMC members, I'll reassess what I think is in store for BAC in 2016.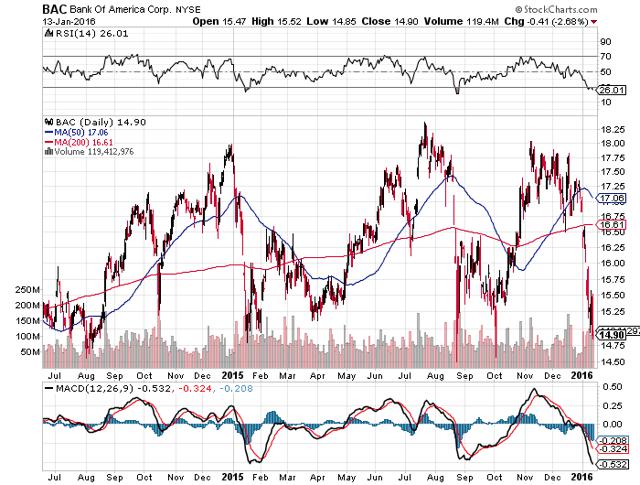 Boston Fed President Eric Rosengren - one of the Committee's more dovish members - said on Wednesday that China's stock market beating, very weak oil prices and other factors made it seem as though economic headwinds would make it tough for the Fed to raise rates as much as its members predicted it would at the December FOMC meeting. The Committee's median forecast is for four rate hikes in 2016 - in addition to the December hike - but that level has already come into question just two weeks into the new year. This is the concern I raised back in December before the Fed made its first hike; data from the US and indeed, the entire world, suggest that now is the wrong time to raise rates. The Fed obviously won't go back on its December hike but it can certainly slow the pace of subsequent raises.
FOMC members have been getting progressively more dovish in recent weeks as a large number of important factors have made the case for raising rates tough to understand. With inflation well in check and many deflationary pressures like low oil prices, falling stock markets and others, why would the Fed raise aggressively? Jobs reports in the US have been strong of late but that is just half of the Fed's dual mandate of full employment and sustainable inflation levels. Inflation has remained stubbornly low for years and there is no reason to think that will change anytime soon. In fact, if oil remains depressed, we could see outright deflation in 2016 for the US pretty easily. That is not an environment where the Fed should be aggressively raising rates and to my mind, four raises in one year counts as aggressive.
So what does this mean for BAC? Bank of America is widely regarded as the most interest rate sensitive of the mega-banks and for good reason; BAC's balance sheet has been carefully crafted to take advantage of higher rates so BAC moves with rates more so than the other TBTF banks. That sensitivity presents opportunities in times of distress in the markets and that is where we are now. I modeled BAC's need for higher rates in this article a short while back and my assessment came in with the company needing about 25 bps' worth of net portfolio yield expansion to meet earnings expectations for 2016. That doesn't sound like much and it isn't; BAC doesn't need four rate hikes from the FOMC in 2016 to hit those numbers and in fact, it probably just needs one. Net portfolio yield depends upon a lot of things but BAC's low-cost sources of funding allow it to maximize the gains from even small increases in lending rates so despite the fact that I think the FOMC will need to come way off of its four hike forecast for this year, the sell-off in BAC is overdone. In short, BAC doesn't need all of those rate increases and at $15, much less is already priced into the stock. That offers those of us willing to take the plunge a distinct opportunity to pick up shares at a cheap price.
This scenario has played out in the past for various reasons as we can see in this longer term chart of BAC.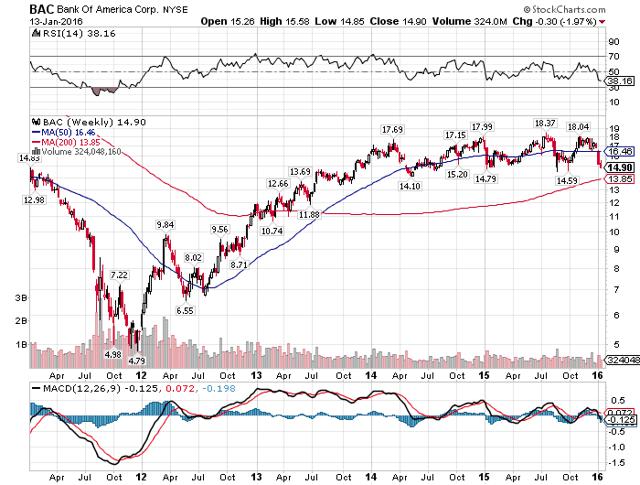 We can see that after the epic rally from the $5 area in late 2011 to the mid-teens where we've spent the last couple of years, BAC has made a very distinct channel. That channel has held on both the upside and the downside each time it has been tested and we are once again at the bottom of that channel. The ~$15 area has been very strong support for BAC for about two years and until it breaks, I'll continue to use it as a place to buy BAC hand over fist.
I'll caution that the break out of the channel - whichever direction it ends up being - will be powerful. Channels that form for this long and are so well defined provide enormous opportunities once they are broken. If BAC breaks to the downside and clears $14, all bets are off. The current bottom of the channel will become resistance and the investment case for BAC will be dead until it can reestablish itself. However, if I'm right and the channel bottom holds again, there is upside potential to $18 without any sort of upside breakout. And if BAC breaks out to the upside, $18 becomes support and BAC is off to the races. I'm not sure there is enough evidence to get BAC to head over $18 right now but at $15, I certainly don't see enough to suggest it should trade materially lower either.
With BAC trading at $15 again I think the risk/reward setup is certainly skewed in favor of the bulls. The news of the FOMC potentially backing off of its four rate hikes in 2016 has crushed the stock but I have made the point that BAC in particular doesn't need all of those hikes to hit its earnings estimates. In fact, it is totally possible that BAC doesn't need any hikes in 2016 to hit its EPS goals but I think zero is an unrealistic number. Right now I believe the FOMC will hike twice in 2016 and that means BAC has some upside to its EPS forecasts for 2016 and that once again, it is a buy at $15.
Disclosure: I am/we are long BAC.
I wrote this article myself, and it expresses my own opinions. I am not receiving compensation for it (other than from Seeking Alpha). I have no business relationship with any company whose stock is mentioned in this article.