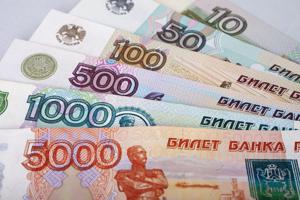 The currency pair of USD/RUB has completed 2015 at the level of 72 rubles. It corresponded to my forecast.
During first trading days of 2016 USD/RUB tested the level of 77 rubles. However, there are factors that will provide resistance to further ruble devaluation.
Oil pressure
The current balance of ruble price should be noted based on the previously described statistical dependency model of USD/RUB price and Brent crude oil cost.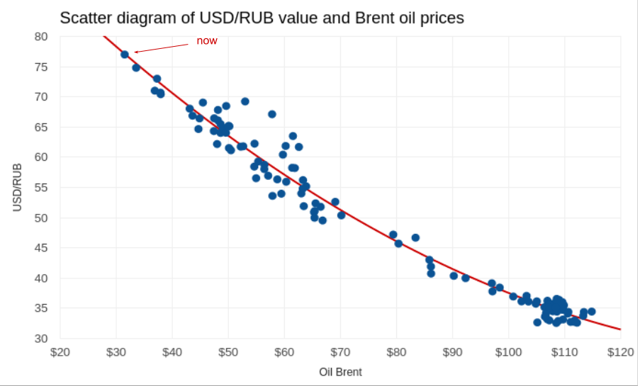 This situation differs from those in December, when the actions of the Central Bank of Russia focused on liquidity constraints of national currency pegged the ruble. Thus, the ruble is now much more likely to strengthen as a consequence of possible stabilization of oil prices, than a month earlier.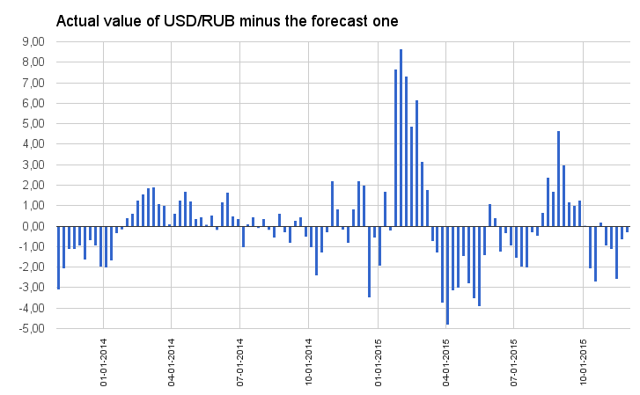 Payments of foreign debt
In January, according to preliminary data $5.9 billion will be spent for repayment of foreign debt of the Russian Federation. This is almost four times less than December 2015's indicator. It is also worth noting that during the past year companies adapted to adverse conditions caused by sanctions, and could cover a part of foreign debt by counter refinancing abroad.
The population displays no panic currency demand as at the beginning of 2015. Decline in real income of Russian citizens is due in no small part. It limits their ability to invest in dollar or euro accumulation.
Thus, we can predict a general, relatively low currency demand during this month, and this is a positive factor for ruble.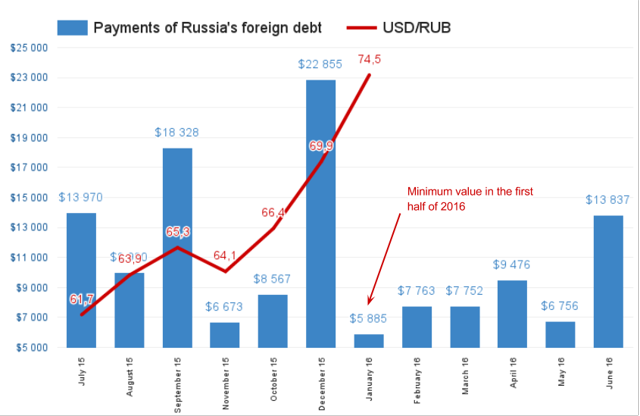 Source of data: ProFinance.
Domestic demand
The Central Bank has not conducted repo (repurchase agreement) auctions in January yet. However, in the current situation of excessive weakening of national currency, the regulator will obviously resort to December tactics of ruble liquidity constraints. The maintained positive spread between the interbank (MosPrime) lending rate and interest rate confirms the presence of such concerns in the market since it indicates an increase in ruble demand.
In addition, in the Russian Federation the period of tax payments to the budget begins from January 15. This is another factor of fast ruble support.
Conclusion
I do not predict a steady ruble strengthening. Such prediction requires a major increase in oil costs, or at least partial cancellation of anti-Russian sanctions. However, taken into account the expectations of slowing further oil decline and falling domestic demand for foreign currency, it is evident that the currency pair USD/RUB will find strong resistance at current levels. Perhaps, it will cause retracement and will bring USD/RUB to the level of 72 rubles. Forecasting horizon - one month.
Unless otherwise noted, all charts included are my own.
Disclosure: I/we have no positions in any stocks mentioned, and no plans to initiate any positions within the next 72 hours.
I wrote this article myself, and it expresses my own opinions. I am not receiving compensation for it (other than from Seeking Alpha). I have no business relationship with any company whose stock is mentioned in this article.