The world is a very different place to the one in which The Western Union Company (NYSE:WU) first started business all the way back in 1851. Cablegrams, Candygrams, Dollygrams, and Melodygrams are all long gone and the company now battles it out with companies like PayPal (NASDAQ:PYPL) - a company 147 years its junior.
From the outside Western Union does look cheap. Trading at just 9.89 times forward earnings is a fair discount to where you'd normally find it trading. So we set out to find out if there's still life in the old dog.
For those that aren't aware, Western Union is engaged in global money transfer and payment services, providing people with fast, reliable and convenient ways to send money all over the world. It has three segments: Consumer-to-Consumer, Consumer-to-Business, and Business Solutions.
Despite what a lot of people think, we believe Western Union will still be around for some time yet. PayPal is a great service, but it does have its limitations. With PayPal you need a bank account or bank card, and most importantly cash in that particular account. For those, rare as they may seem but many in number, people that live their lives with cash and not card, Paypal is useless to them. If they want to send money to people, they need a Western Union service.
While we do think that one day the world may be predominantly cash-less, we don't see this happening worldwide any time soon.
It is estimated that the company has grown its market share to just over 12% in 2014, and the recent acquisition of OzForex (Now OFX) appears to be a move designed to consolidate its position. OFX is a sleek modern design that we're impressed with. It's the very opposite of the tired image of Western Union that many commentators portray. We think one way for the company to grow, or at least maintain, its market share is through acquisition. An acquisition of MoneyGram (NYSE:MGI) could make a lot of sense for the company. There are potential synergies to be found there and of course an expanded customer-base.
The company has a vision to be a leader in cross-border, cross-currency money transfers and payments, and has aligned its business in a way to attempt to deliver on this. Below is a demonstration of its setup.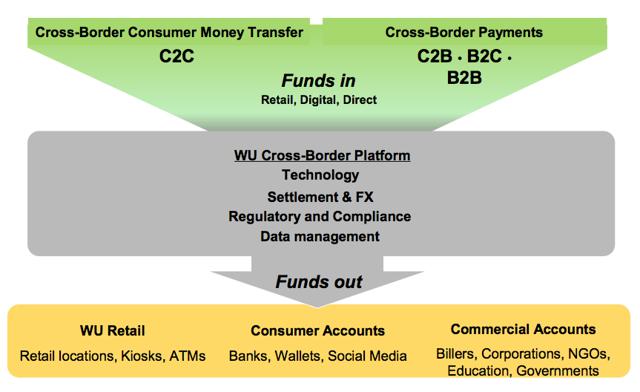 (Source: Company Q3 Presentation)
The signs have been good for Western Union. Of course, being in the business it is in, a strong USD (compared with a year previous) is going to have a fair effect on its revenue. In Q3 2015 the company would have posted a 3% increase year on year, but due to currency fluctuations ended up posting a 3% decline.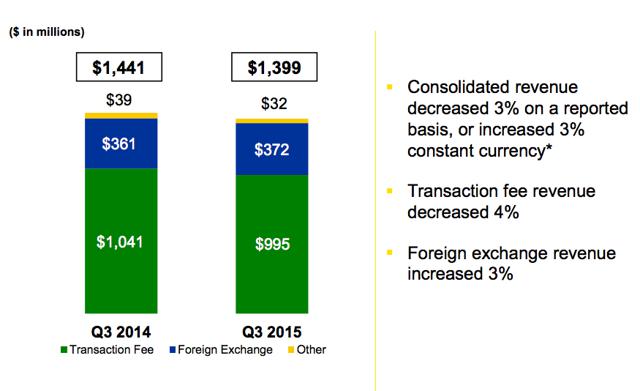 (Source: Company Q3 Presentation)
Whilst we don't like to let companies get away with playing the old currency fluctuations card. Because let's be honest, how many companies would talk down their results when currencies are favorable to them? Very few. We are going to emphasis the currency headwind on this occasion because we're trying to prove a point here that the company is far from a dead dog.
Consumer to consumer (C2C) is the company's largest segment, accounting for 80% of its revenue. As you can see on the table below, the C2C revenue is spread quite evenly across the world. We like this because it shows that the company isn't reliant on a single market for a significant portion of its business. Although Asia-Pacific was still down on a constant currency basis, we see a lot of potential in this market and would expect it to become a larger portion of the company's revenue over time.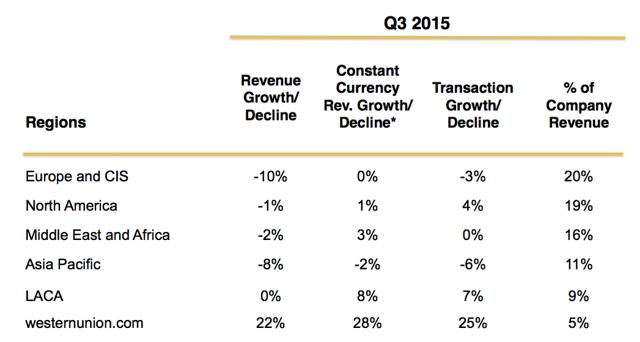 (Source: Company Q3 Presentation)
The rest of the revenue is broken down as follows: Consumer to Business is 11%, Business to Business is 7%, and the remaining 2% is unspecified.
Although, as mentioned before, people see the company as a little outdated, it really isn't. Although admittedly the iPhone app is hardly a beautiful piece of software, it is efficient, reliable and does exactly what its designed to do. As nice as it is to have a sleek design, sometimes it's not necessary, and perhaps this is one of those times. The ratings for the iPhone app and the Android app are fairly high, so one could presume that users are quite happy with them.

(Source: Google Search)
There will undoubtedly be challenges to Western Union in the future. PayPal itself may also face the brunt of these challenges. Sending money via Bitcoin-inspired platforms seems to be talked about a lot these days, but, at least for Western Union, as long as cash transfers are still a thing it's still very much needed by the consumer.
Our only real concern with Western Union is that it is highly leveraged. With almost $3.5 billion of long term debt it certainly has a lot of it. The company does possess a healthy store of cash though ($2.41 billion) which makes us feel less uneasy. In terms of its immediate needs, liquidity is good thankfully, as its quick and current ratios are both 1.06.
During the third quarter the company repurchased approximately 6 million shares for a total of $125 million. It still has remaining authorization of $781 million which expires in December 2017. This repurchase authorization should act as a bit of a safety net for investors between now and 2017 we think.
When it comes to valuing Western Union, due to its highly leveraged status, we do take caution with it. We wouldn't want to pay more than 11 times earnings for the stock. Which doesn't leave us much room at this point with the shares trading at 10.51 times trailing earnings, but moving forward is it any different?
In the Q3 earnings call the company reaffirmed its guidance for FY 2015. We expect the company to achieve earnings per share of $1.65 on revenue of $5.48 billion, valuing the company at $18.15 in the near term.
In FY 2016 we expect modest year on year revenue growth of approximately 2%. Margins have been improving and we expect this to continue into FY 2016, so based on our forecast of $5.59 billion revenue. We anticipate earnings per share coming in at $1.69.
Earnings per share of $1.69 and a price to earnings ratio of 11 gives us a twelve-month price target of $18.59, or 9.1% return on investment on top of the 3.6% dividend yield. Not bad for an old dog.
Disclosure: I/we have no positions in any stocks mentioned, but may initiate a long position in WU over the next 72 hours.
I wrote this article myself, and it expresses my own opinions. I am not receiving compensation for it (other than from Seeking Alpha). I have no business relationship with any company whose stock is mentioned in this article.