The McClellan Oscillator (or NYMO) is a market-breadth indicator which can be calculated for any stock market index based on the number of advancing and declining issues It is watched by many traders for signs that the market is overheating (high readings) or panicking (low readings).
As of yesterday's closing, we have observed an extremely rare event: the NYMO has closed below -85 for both the NYSE and on the Nasdaq. So rare is the event that prior to yesterday over the past 15 years this only occurred 23 times in 13 distinct clusters.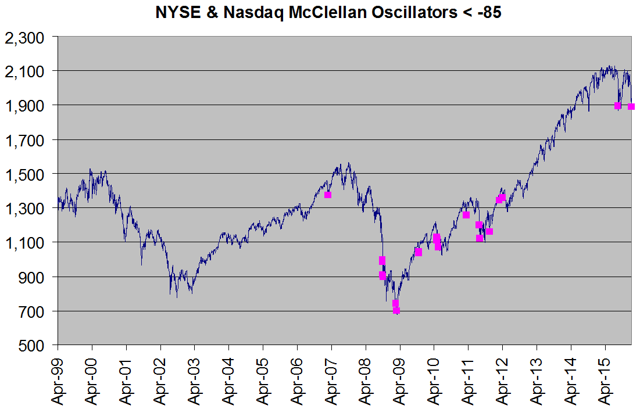 There have been no occurrences of this signal prior to 2007, however it did flash up every year between 2007 and 2012 and then again in 2015. Indeed on most of those occasions it signaled short-term bottoms and above-average returns in the following days as can been seen in the table below.

The sweet spot is somewhere between 2 and 7 days. For example buying at the close after all prior 23 events and holding for 6 days would deliver and average return of 2% per trade and a 83% win rate - not bad for any indicator!
There are other signs of near-term exhaustion, such as the VIX curve becoming mildly inverted, which has been a good buying signal in the recent quarters.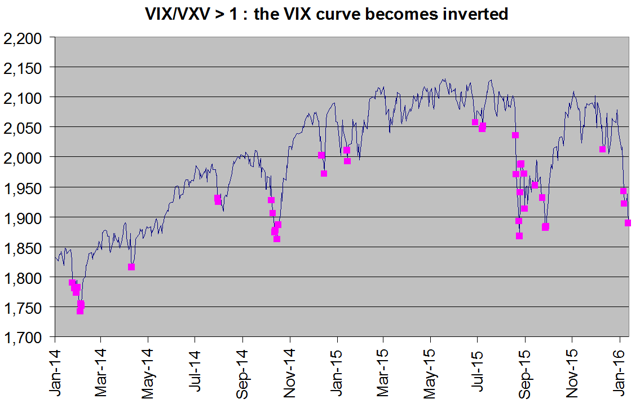 The occurrence of this event yesterday signals a high probability of the market rallying in the coming sessions. It is an important trading signal that highlights a high risk-reward opportunity. However, let us remember that the relevance of this event is purely in the short-term and it tells us nothing about the medium to long-term direction. Indeed, according to some observers, a bear market may already have begun with an ever more concentrated pack of gainers and ever larger number of laggards. In fact some of the recent leaders are showing signs of weakness too. However in the very near term the SPDR S&P 500 ETF (NYSEARCA:SPY) or PowerShares QQQ ETF (NASDAQ:QQQ) as well as the ES/NQ futures should be the appropriate vehicles to benefit from a likely bounce.
Disclosure: I/we have no positions in any stocks mentioned, but may initiate a long position in SPY, QQQ over the next 72 hours.
I wrote this article myself, and it expresses my own opinions. I am not receiving compensation for it (other than from Seeking Alpha). I have no business relationship with any company whose stock is mentioned in this article.