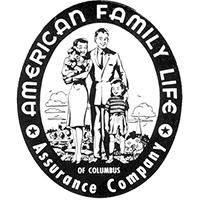 This is a reader request, the same reader request that I responded to in my article on Travelers Company (NYSE:TRV). I've recently been applying my excess returns model to banking and insurance companies, finding many in each industry to be mispriced. For example, I found MetLife (NYSE:MET) to be underpriced, while U.S. Bancorp (NYSE:USB) is overpriced.
The Excess Returns Model
Valuing a financial firm, whether the firm be in the banking or insurance agency, should consider both the capital invested and the future returns of that company's investments. This differs from valuing non-financial firms, where the investments are not as important as the growth of the company and sustainability of the dividend. Instead, when choosing a financial company in which to invest, we should look at how that company's investments compare to the market average.
Hence the creation of the excess returns model. This model was developed by a professor at the Stern School of Business. You can read about the model's theory here, here, and here.
As requested, I will be applying this model to Aflac (NYSE:AFL). As AFL is an insurance company, the application of the excess returns model makes sense. Of course, you should use this valuation as only one metric prior to investor (or deinvesting) in AFL.
Applying the Model to AFL
When I run this model, we get three important results. The first is the current valuation of the company. Because the valuation is based on annual financial statements, the current valuation is lagging and should be amended with quarterly data.
The second is how the stock price moves in regard to the excess returns model (NYSEARCA:ERM) valuation. If the ERM price and stock price move in tandem or if ERM predicts stock price movements, we can say that investments in AFL are based on fundamentals. The gap between the ERM price and ALF's stock price either represents a certain type of sentiment or mispricing.
Third is the trend of ERM. If ERM is increasing, it implies that the company is getting smarter with their investments. After all, ERM is a measure of excess returns: higher ERM values imply a company beating the competition in how they design their insurance plans.
Results
The results appear below: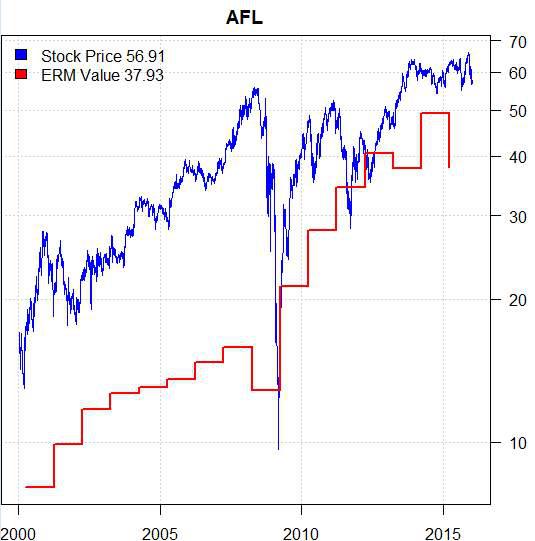 The implication up to 2008 was that the company was mispriced, trading at too high of a price. This was temporarily corrected in 2008, when the market crashed. However, an immediate bounceback brought AFL back to an overpriced region.
Remarkably, upward movements in ERM price predicts upward stock price movements. The same goes for downward ERM price movements; look at 2008 and 2013 for two ERM drops that precede stock price drops. Alarmingly, the most recent ERM price shows a large drop.
The drop is 23%, larger than the 19% drop in 2008. If the ERM price drop truly predicts a drop in stock price, we should see a drop soon in ALF. The 2013 drop, while small, also predicted a AFL drop, though this drop was also small.
Implications for Investors
Obviously, the first question is whether we should be worried. Remember, this is an annual analysis, and the last ERM value came from March 31, 2015. So perhaps things have gotten better?
We turn to two of the most important measurements for AFL, at least according to this model. The second is return on equity. The first is book value per share, which has remained roughly stable, quarter to quarter: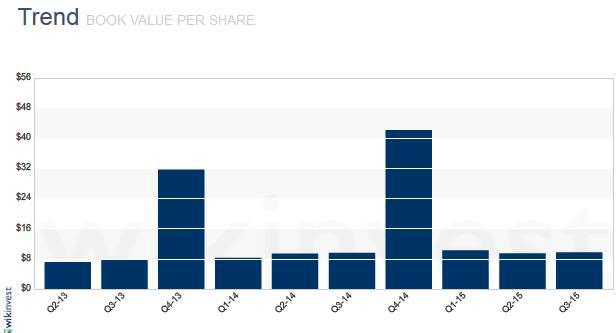 However, the return on equity for AFL has dipped significantly, implying that the ERM price is actually conservative and should be lower.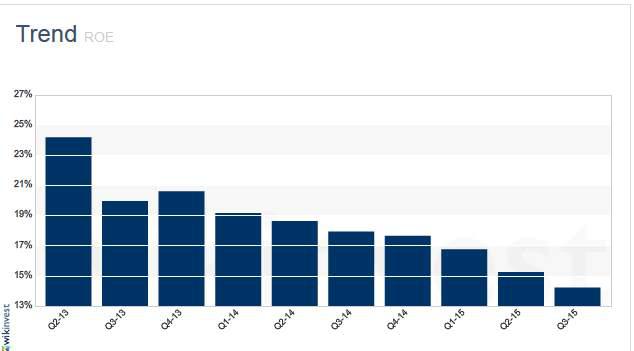 Thus, while the ERM model implies that the stock is 33% overvalued, it is likely even more overvalued! Extrapolating the results, I predict a fair market price of roughly $25.33 per share, making ALF 55% overvalued!
The Problems with AFL
Despite some hedge funds raising their positions in AFL, I see much more downside than upside. The main point of this article - the fact that ALF is overpriced as per its current invested equity and expected excess returns of its investment - should be used in tandem with other information on the company to arrive at an investment decision. For example, though Aflac is often invested in as a growth stock, it also can be a value stock for some investors.
But for value investors, the yield here is low. The dividend for the price, which equates to under 3% annually, is simply not worth it for many investors. Should the price dip in the future, yield will rise, making it more attractive, but for now AFL should not be seen as a dividend stock.
Growth investors see AFL as a safe growth stock. Not only is its growth historically stable, but it also offers a dividend. However, I'm warning growth investors that AFL might be at a top here.
For both types of investors - and all those in between - I warn you of the risk of AFL's undiversified exposure to Japan. You might be a bit curious about the Aflac logo at the beginning of this article. I used that with reason, particularly because of the emphasis on "America."
Yet the Aflac of today is anything but American. Right now, 70% of AFL's revenue comes from Japan. Though I happily live in Japan, the financial situation here is not ideal for a growing company.
Japan's financial stagnation has been reflected in AFL's growth here. The chart below, in Japanese, shows significant stagnation in AFL's Japanese growth. The table shows the personal insurance contracts with Aflac (numbers in 10,000s - yes, the Japanese measure in 10,000s, not 1,000s or millions):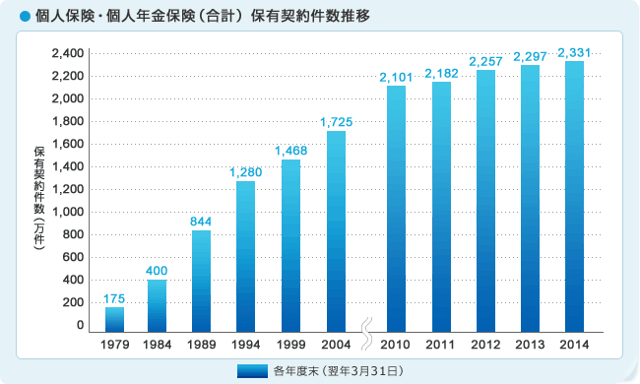 (Source: Aflac Japan)
Another problem isn't the Japanese economy itself but the exchange rate, which has never been lower in my visits and lifetime here in Japan. Just a few years ago, my dollar was exchanged for 80 Yen. Now, I'm getting 130 Yen for my dollar.
Aflac, a company stating their earnings in the US, will see their earnings fall as the dollar continues to strengthen and the Yen continues to fall. On the flip side, if you ever want to indirectly go long on the Yen, AFL might be the stock for you. Nevertheless, a Yen rally is far from reality at present.
Advice for Investors (and Aflac)
ALF looks like a short to me. Or at least a pair trade. Below are some potential trades:
Pair Trade on the Insurance Company:
Long MET
Short ALF
This hedges you in the sector, while allowing you to profit from the ERM mispricings.
Collar for long term investors who insist on holding AFL:
For every 100 shares of AFL owned:
Buy 1 Feb16 47.5 Put
Sell 1 Feb16 57.5 Call
This minimizes your risk to $800 per 100 shares owned, while allowing you to profit from the sold calls ($150 each) and dividend.
Shorting without exposing yourself to limited risk:
Buy Feb16 55 Put
Sell Feb16 50 Put
This is a bear put spread that only costs $90 per trade yet has a max profit of $400 per trade, maxing the max profit per risk nearly 450%. The reason we are selling with 50-strike put is to hedge theta, limiting our loss due to time decay.
P.S. My advice for Aflac: Initiate a buyback program. Reduce your outstanding shares to keep your stock price afloat and reduce your total dividend payout. Increase your dividend payouts within your means to attract value investors and become a dividend stock. Focus on the US market in your future growth efforts, at least until the Yen bounces back.
Request a Study
If you're interested in seeing your strategy backtested, having a model run on a stock of your choice, or receiving a statistical analysis, just ask me in the comments section or via mail.
Disclosure: I/we have no positions in any stocks mentioned, but may initiate a short position in AFL over the next 72 hours.
I wrote this article myself, and it expresses my own opinions. I am not receiving compensation for it (other than from Seeking Alpha). I have no business relationship with any company whose stock is mentioned in this article.