By Parke Shall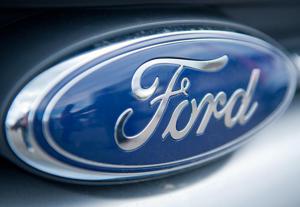 Ford (F) has been doing things right for the most part as the market has turned downward. Tuesday, they introduced an outlook for 2016 that, like many other estimates for the coming year, has failed to impress the street.
The No. 2 U.S. automaker said it expected record 2015 pre-tax profit, excluding special items, in the "upper half" of its outlook for $10 billion to $11 billion. That is above the average analyst forecast of $9.4 billion, according to Thomson Reuters I/B/E/S.

Profit for 2016 will be at least as high, excluding special items, said Ford. Analysts were expecting pre-tax profit of $11 billion for 2016, on average.
This doesn't mean the company isn't being conservative with guidance, as we feel other companies, like Macy's (NYSE:M), are.
In addition to this, the company announced a $1 billion supplemental dividend for their shareholders:
The $1 billion supplemental cash dividend, or 25 cents per share, is in addition to the first-quarter regular dividend of 15 cents per share, which is unchanged from the dividend paid in the fourth quarter of 2015.

Ford paid $2.5 billion in dividends last year, up 20 percent from 2014.
A main question with the estimates just meeting expectations is whether or not the China market is going to be able to hold up for Ford in the midst of all of this turmoil.
The last few weeks have been turmoil for the stock market. It looks as though our long held belief of a real correction is coming true. While we do think there is more downside to the market, we have begun looking around for value in areas that we think will be beneficial over the course of the long term. When looking for a company to add on the dip, which may continue dipping, we are looking for a dividend paying value company that is going to be around for long enough to ride out both short-term and the next long-term economic cycle.
If you think the same way, now might be a great time to add Ford stock to your long-term holdings, especially after the dip Tuesday on 2016's outlook.
We have been bullish on Ford for the better part of the last few years and we have owned the stock on and off as we continue to rebalance our portfolio time and again. The stock pays an attractive dividend here which we have advocated for reinvesting and we see these short-term dips in the stock price as an opportunity to reinvest dividends or add to your holdings if you have a long term focus.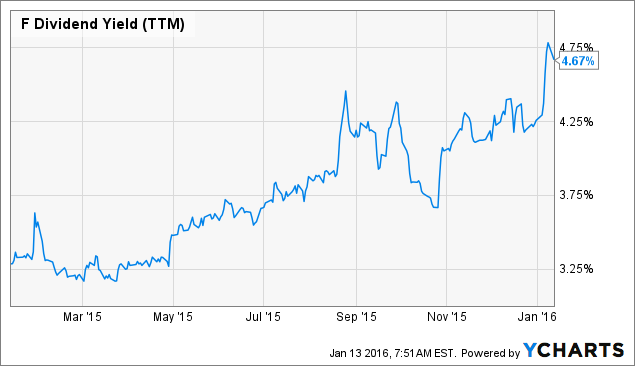 F Dividend Yield (NYSE:TTM) data by YCharts
The thing that makes Ford such an interesting stock to look at now is the fact that the company has invested billions in growing their market share in China. This certainly seems to have spooked the market, as the company has sold off in concert with the US equity markets since China has been selling off over the last two weeks. But, where others may see fear from this correction, we continue to see opportunity.
Additionally China is only one of the countries that Ford is moving into, as the company looks to expand internationally in places like South Africa, India, and Europe.
Most of these markets have been positive for the company, and it has been our prediction that we will see a marked improvement in the company's stock price once the company's international investments start to pay off and show themselves on the company's bottom line.
You have to have a multiple year outlook on the company in order to invest based on this thesis. This is not a international turnaround that is going to happen overnight and we believe that the company's strategy of reinvesting it's capital in itself has been a prudent way to use the cash that it has. In addition to this the company has had strong success as a backbone in the United States, that's led primarily by its new F-series models and classics like the Mustang.
One of the reasons that we are not worried about China is that Ford continues to show promising data overseas. Seeking Alpha reported a strong pop in China to end the year,
Ford China (NYSE:F) reports it sold 124,768 vehicles in December, a 27% increase from last year's level.
The Changhan Ford JV saw sales growth of 49%, led by strong demand for the Ford Mondeo.
Total 2015 Ford China sales +3% to 1,115,124 units.
We are going to continue to keep a very close eye on the company, but as long as Ford's expectations are modestly met overseas, we still believe the company to be on a path for growth as a whole. We do not believe that China and other Asian countries are in a auto bubble, but we do believe that their economies are looking shaky.
This is the type of situation and scenario that we think Ford can ride out over the course of the long term. Not only do we expect shares to rise back to 2015 highs over $17, but we do expect shares to move higher than that over the course of the next 3 to 5 years. Mark Fields has done a fantastic job as CEO and we are exciting about the company's future prospects in the realm of self driving vehicles and in smart cars, which are the newest investment for Ford overseas.
We think that Ford, unlike its competitor in General Motors, has the inside track on innovation. We know that General Motors recently paired with Lyft and we expect that investment to ultimately be a bust for them. Lyft is a company that is not getting significant enough traction for us to take seriously and the partnership confuses us and we think it takes away from the General Motors name.
Ford, on the other hand, has done a great job over the last two years in revitalizing not only its core brand, but also its luxury brand in Lincoln. The re-design and re-launch of Lincoln vehicles have been a success, as anyone driving down a crowded highway will see for themselves.
Europe continues to have momentum and we continue to track European car registrations. Recent data reported by Seeking Alpha continues to look promising,
Ford (NYSE:F) reports sales in Europe rose 10% in 2015 to 1.5M units.
The automaker grabbed market share in Europe during the year with overall industry sales up 3%.
Ford's SUV sales were 31% higher during the year, led by strong demand for the Kuga and EcoSport models.
We continue to look at sales data on a monthly basis and Ford continues to post metrics that give us confidence and optimism that the business is healthy and robust. We believe the company is going to be able to ride out the next downturn in the economic cycle just like they did in 2008 as the only US domestic automaker to not receive bailout money.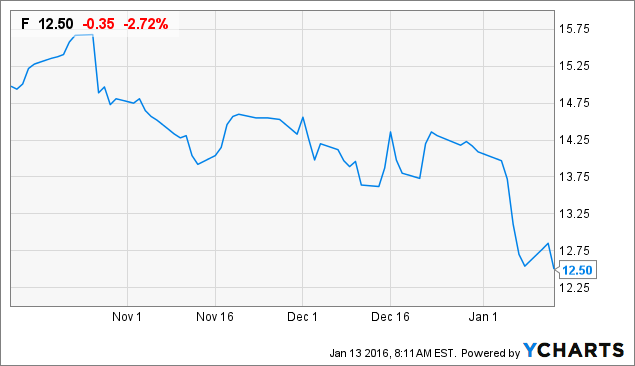 We think that if you were looking for an opportunity to maybe start moving into a position now that the market has dipped, that Ford should grab your attention. Trading at less than eight times earnings, the company's valuation is conservative, even for an auto maker. Last week's jobs number and suggests to us that the United States economy may be in far better shape than overseas, and we expect the domestic backbone of Ford sales to hold up over the course of 2016.
Disclosure: I/we have no positions in any stocks mentioned, and no plans to initiate any positions within the next 72 hours.
I wrote this article myself, and it expresses my own opinions. I am not receiving compensation for it (other than from Seeking Alpha). I have no business relationship with any company whose stock is mentioned in this article.