by Howard Jay Klein
"Hyman Roth is the only one left, because he always made money for his partners…"
Johnny Ola in "Godfather II"
Note: The current general market tumble may continue to press down hard on the entire gaming space until there is more clarity on earnings results or some easing of the bearish cast now battering all stocks. This article assumes a recovery to recent pre-China jitters on the Dow and S&P experienced across the entire market.
(See our SA article published last October 20th: This Portfolio of Gaming Stocks Can Help you Sleep if Armageddon comes. Nobody now knows if we're staring at jitters or the beginning of Armageddon these past two weeks, but either way, in the long haul, you never bet against Steve Wynn).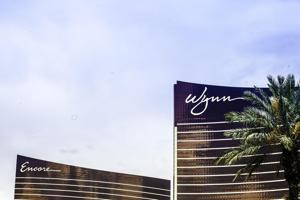 The battering of Wynn Resorts, Inc. shares (NASDAQ:WYNN) has shown the Macau downdraft writ large - as great a challenge to the ever resourceful and nimble Steve Wynn and his successive management teams as bigger than they've ever faced in 40 years. And there is little question the case for shorts and unbelievers is not growing out of a cabal of short sellers.
The evidence is there, is real, and just won't disappear like an annoying itch in the center of your back that can't be reached by your fingers. Macau is facing historic revenue decline issues that have somewhat moderated but lingered; the anti-corruption junket crackdown, the lag in the Chinese economy and collateral damage to the US stock market, the smoking ban, the increase in gaming and room capacity coming on stream during a revenue downdraft, and the visa restriction pullback that has helped, but not gone far enough.
All these serious issues have tanked Wynn shares to a greater relative extent than many industry peers due to its heavy Macau centered (70%) revenue base and more come this June when its sure to be stunning $4.1 billion Wynn Palace opens. The heavily leveraged company's interest coverage has moved down from 3.65% to 2.18%, enough to get some institutional behinds twitching for certain. Debt stands at a relatively high 71.5% of Enterprise Value compared with 26.95% of the peer meridian. Not pretty, but hardly cause for alarm going forward.
At its current price at writing of $55, it's historically, if not ridiculously cheap relative to its 52-week trading range of $50.96 to $160. For those investors who remain fans there remains a strong rationale to hold on tight during this bumpy ride - more on that later in this article. For now, we looked at some of the recent institutional trades and who made them to gain some sense of whether the Wynn fan base, long a strong prop to the premium the company's shares enjoyed, was beginning to show cracks.
An institutional holder's snapshot as of two days ago
We've reviewed the list of institutional holders in an effort to tease out any glaring pattern of fandom's loss of faith. Individual investors who over time have made tons of money on Wynn shares will hang in as they always have. They understand the dynamics of the Steve Wynn premium ultimately work in favor of the upside entirely based on a long, sustained growth record.
As of this writing, Wynn institutional ownership stands at 80% with a total of 445 companies holding around 81 million shares. (Steve Wynn now owns 11% of the company, including his most recent acquisition of one million shares).
Total value of institutional holdings: $4.5 billion.
Increased positions were taken by 207 holders representing 20.7 million shares as against 198 holders who reduced their positions representing 21.3 million shares. Holds still at 40 companies sitting on 39 million shares.
Net activity as of this writing was a selloff of 605,479 shares.
New Positions: 52 holders bought 3.7 million shares, 77 holders sold 2.0 million shares. It all appears to us to be something of a push. And based on our research among long time Wynn fans in the financial community, the impression that there was a short cabal against the stock held zero water. "That kind of chatter happened in spades when in 2008, then Lehman Brothers CEO Dick Fuld went paranoid, claiming the hedgies were ganging up on the shares and forcing it into the tank- which proved untrue." The truth was that Lehman was already boiling in very hot water as events shortly thereafter proved. Not the case with Wynn at all.
Our view is that those investors who are strongly short on Wynn now have their reasons and because there is so much transparent bearish news out there on Macau, it's to be totally expected. It should not however, discourage, conviction investors.
However, we looked further into the activities of the biggest institutional holders of Wynn shares to see if they had lost luster in their eyes and by it traditional stalwarts of its fan base. Here's a sprinkling of some of the largest sell moves and by whom:
Institution Shares sold
Capital World Investors 4.2 million
Capital Research Global 4.2 million
Morgan Stanley 60,000 (12% of its holding)
Jackson Square Partners 1.9 million representing 94% of that holding
Price T Rowe Assoc. 4.4 million shares representing 94% of hold
Credit Suisse 455,000 shares or 71% of its holding
Macquarie Group 653,000 shares or 95% of its holding
There are many other small sell transactions among the institutional groups. (Interestingly Soros bought 187,000 shares during the same period we tracked these sales. Was this a strong contrarian move or just a sense, as we believe, that the stock has gotten very cheap)?
Short interest on Wynn has moved from 14.3 million to 15.1 million over the last month - nothing in our view that even begins to look like a mass short seller gang up on a wounded stock. This is not to imply there isn't lots of bearish sentiment out there on Wynn. There are, without doubt, both from the chart watcher contingent, to a growing cadre of growth stock non-believers. Fair is fair, the charts do not look very pretty.
However, we believe their skepticism, backed by enough stats and algorithms to crash the Library of Congress database, cannot trump the fundamental value equation of Wynn shares. As usual, there is cherry picking of a 360 view going on, as it has since the earliest days of the rise of electronic trading. We're not accusing the short money of being delusional at all - a bit naive perhaps, but then again that same charge could be leveled at the Wynn fan base as well.
The Takeaway on Wynn
1. We believe that despite all the very real and powerful headwinds blowing against Wynn, the fundamentals are strong. Its 37.48% gross profit margin remains strong. Clearly, it's a function of the gaming and REVPAR leverage attained by marketing to the high and upper middle end of the markets, both in Las Vegas and Macau. Wynn Palace, scheduled to open in June will help sustain that margin by appealing to the upper half of the market, principally, a VIP and premium mass segment, such as it still represents 50% of Macau total GGR, but more precisely, from the "gotta see it" effect Wynn projects historically produce when they open. Steve Wynn's properties are not merely additions to capacity but game changers. (Wynn Palace will bring the company's share of total Macau rooms from 6% to 9%).
2. As we've recently written, the continuing narrowing of monthly Macau GGR y/o/y declines aren't hold percentage spurts, or unfathomably sudden ebullience by players previously cowed by the crackdown to start arriving back in great numbers. They represent nothing more than the market settling into its core baseline, which we believe will get it to the $31 to $35 billion annual GGR range in 2016. And beyond that we see it resuming its positive climb back above $40 billion by 20/20.
The Wynn fan base understands that if indeed the worst is over, then the current revenue base in Macau joined in June by Wynn Palace, which we estimate can contribute $1 billion in EBITDA to the parent. Farther down, the Wynn Everett property in Boston opening in early-to-mid 2018 will add handsomely to that total again. That gives conviction to a fan base that will provide a support and upside level to the shares going forward from now to 2020.
3. A Wynn transaction?
In a previous article, we mooted the possibility of online rumors that Wynn could be the object of merger or acquisition moves this year. As with all such rumors, there was a case to be made that it made sense as well as a case for a no way-too many complications dismissal of the rumors as empty. We won't argue the point here. However, what we do posit now is the simple fact that its current trading range, bearish to say the least, as against its intermediate and longer range prospects which we see as immensely bullish, there is clearly a Wynn disconnect. And realistically, you can't build a case for mispricing during a market in turmoil.
Yet it's hard to escape a more formidable set of truths regarding this company that trumps its current woes. And it's hard to believe that as the price treads water, it becomes ever more inviting to see a transaction downstream - most likely by Wynn himself. His recent purchase of 1 million shares could, repeat could, signal an appetite at some time soon for a share repurchase by him. Or perhaps even a trusted outside entity. That we hasten to add is pure conjecture on our part, yet a possibility hard to escape given the current correction.
1. No operator has ever proven better at overcoming marketplace hurdles than Wynn has over a very long operating history during which his shareholders have done remarkably well. Steve Wynn, no Hyman Roth of course, still shares this one certainty with the fictional movie character, he has always made money for his partners. And his partners were his shareholders, individuals as well as a growing list of institutions.
This was true from the company's earliest shaky days in Las Vegas when Wynn took over the Golden Nugget in the 1970s, to his triumphs in Atlantic City in the 80s, to his changing the face of Las Vegas in the 1990s and his dominance of the VIP sector in Macau. Too many people tend to forget how many powerful headwinds Wynn properties faced and overcame over it long history.
2. The Chinese New Year looming just a few weeks ahead could bring bullish news as to visitor numbers, GGR and hotel occupancy. To be fair, it could also disappoint. Our view here based on our current phone surveys of our Macau sources tend towards the bullish side. The smoking ban going live will be measured by the market. And we're not in the business here of suggesting the old one swallow makes a summer idea. What we do suggest is that a strong set of Chinese New Year numbers will reflect player attitudes, both as a reflection of perceptions of the Chinese economy by consumers, as well as a continuing narrowing of the monthly GGR declines triggered last February. Because last February was a 48% catastrophe based on the junket crackdown, we expect next month's numbers to show continued improvement.
So it's not so much that there won't be a narrowing as how much.
And we believe if a strong February number does show, we will see lots of sideline Wynn money moving into the market bringing an upside to the shares.
About the author: Howard Jay Klein is a 25+ year c-level veteran of the casino industry. He is a consultant and advisor to casino operators and is the author of the seminal work, Mastering the Art of Casino Management available as a kindle eBook.
Disclosure: I/we have no positions in any stocks mentioned, and no plans to initiate any positions within the next 72 hours.
I wrote this article myself, and it expresses my own opinions. I am not receiving compensation for it (other than from Seeking Alpha). I have no business relationship with any company whose stock is mentioned in this article.