The last couple of months have been an extremely difficult period for the entire midstream MLP sector. One of the harder hit names has been Plains All American Pipeline (NYSE:PAA). The stock is down over 60% since early 2015 and is now sporting its highest ever distribution yield at over 14%.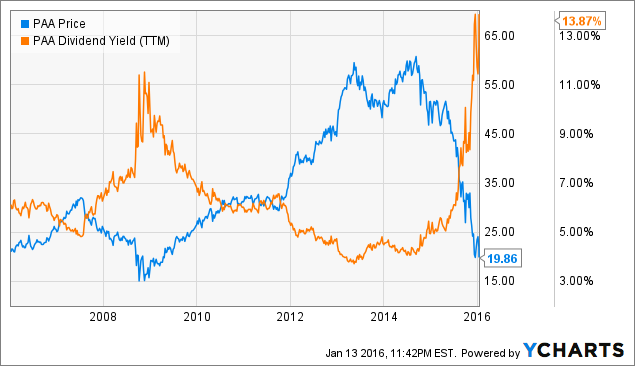 With this sort of yield, selling equity to fund capex is pretty much impossible. Fears are that PAA will be forced to lower its distribution, much like what happened to Kinder Morgan (NYSE:KMI). Though, unlike KMI, PAA seems to have been able dodge the bullet at least short-term via its recent $1.5 billion preferred unit offering.
From the press release,
Plains All American Pipeline, L.P. today announced that it has received binding commitments for the purchase of approximately $1.5 billion of equity capital. The purchasers will acquire approximately 56 million units of a newly authorized series of 8% Perpetual Series A Convertible Preferred Units (the Preferred Units) at a price of $26.25 per unit. The Preferred Units will bear an annual distribution of $2.10 per unit. After two years, the Preferred Units are convertible at the purchasers option into PAA common units on a one for one basis (subject to customary anti-dilution adjustments), and are convertible at PAAs option in certain circumstances after three years. Closing of the transaction is scheduled to occur prior to the end of January 2016.
Unlike with the KMI preferred unit offering, these preferred units from PAA are not mandatory convertible into the common after a few years. Instead, PAA has the option if it wants to convert them into the common.
In other words, this is more or less a"debt-like" equity offering from PAA, making it less risky. The buyers of the preferred are going to get the 8% yield before the common are entitled to anything. This also likely explains why PAA was able to get a yield 175 basis points lower than KMI's.
One interesting aspect of these preferred units is that while the conversion price of $26.25 per unit is a 33% premium to PAA's current trading price of ~$19.85, it is just a 10% premium to PAA's trading price at the start of the year.
This fact could limit the upside the common units have in the future if and when oil prices started to recover. There is now the possibility of a 56 million unit dilution (~14% of the float) if the unit price ever trades above $26.25.
How does PAA plan to use this capital?
As to how PAA plans to use the $1.5 billion, the answer is obvious: to improve its liquidity and fund its capital budget. PAA noted that this is enough capital to satisfy its equity financing needs for all of 2016 and most of 2017.
This is important as PAA has many projects being built which should help restart EBITDA growth. For 2015, EBITDA is estimated to be $2.2 billion while leverage is ~4.6x. Both these metrics should improve through 2017.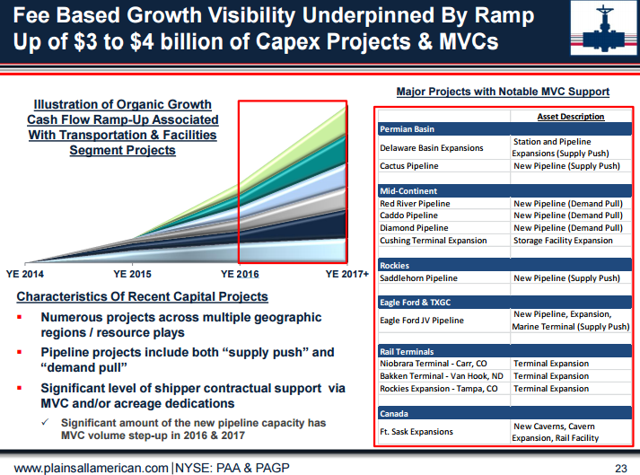 For 2015, PAA's distribution coverage ratio has been a weak 0.90x, below the long-term average of 1.23x. For 2016, PAA is aiming to fully cover the $2.80 per unit distribution and for 2017 is aiming to increase coverage to 1.05-1.10x.
Needless to say, this is a positive for the future of the distribution. Fears were that PAA could go the way of KMI and focus entirely on funding its capex budget via internal cash flows. Instead, as most midstream MLPs do, PAA will continue to distribute most of its incoming cash out to unitholders.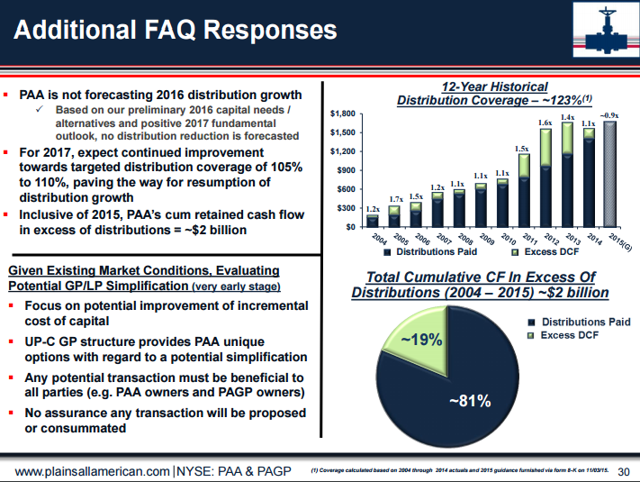 What is the outlook for PAGP?
In my opinion, another big piece of news from the PAA preferred unit offering was not that the distribution is going to be maintained. Rather, it was that the general partner Plains GP Holdings (NYSE:PAGP) will be modifying the IDR structure of the entire partnership. This is quite a concession.
In connection with this transaction, PAAs general partner agreed to modify its incentive distribution rights (IDRs). As a result of this modification, when the Preferred Units convert into PAA common units, the IDRs associated with the resulting common units will only participate in distribution growth above PAAs current distribution level of $2.80 per converted common unit. Assuming all Preferred Units convert into PAA common units, the modification represents a permanent IDR reduction of approximately $90 million per year.
Furthermore, PAA has noted that there have been discussions regarding a GP/LP "simplification". This likely means PAA is looking for a way to merge into a single company led by the LP, much like what was done over at Enterprise Products Partners (EPD) and Magellan Midstream Partners (NYSE:MMP).
Keep in mind that if PAA were to lower its distribution, that the negative impact of PAGP would be enormous. The nature of IDRs is that the general partner gets a larger and larger piece incoming distributable cash flow after the 50/50 splits are met. All of PAGP's cash available for dividends comes from the IDRs and equity stake in PAA. Even a small cut from PAA, say by 33%, could force PAGP to eliminate its dividend altogether. This is likely one of the reason the general partner is now yielding over 13%.
Conclusion
While the preferred unit offering is good for the distribution, I do wonder if it was the right move over the long-term for PAA. The cost of capital is high at over 8% while the unit price continues to trade at an extremely distressed level.
Furthermore, PAA will be stuck with very limited access to cash. Other MLPs with better coverage ratios can now outcompete it for projects. For example, KMI will be retaining ~$4 billion in cash flow after cutting its dividend and as a result should see much faster EBITDA/DCF growth going forward.
While MLPs do usually trade as a function of yield, underlying cash flow growth is still very important, especially for the rating agencies. As a result, PAA may start lagging its peers if we see oil recover.
Disclaimer: The opinions in this article are for informational purposes only and should not be construed as a recommendation to buy or sell the stocks mentioned. Please do your own due diligence before making any investment decision.
Disclosure: I am/we are long KMI.
I wrote this article myself, and it expresses my own opinions. I am not receiving compensation for it (other than from Seeking Alpha). I have no business relationship with any company whose stock is mentioned in this article.