Ready for a deal?
What if we told investors that we know of a deposit that we had done deep investigative work on, taken that deposit through pre-feasibility and all the associated technical details, had access to private information that could only be obtained by geologists and engineers intimately familiar with it, and had access to the resources of a major mining company to evaluate and put a monetary value on the deposit.
Finally, we would offer investors the opportunity to buy into that deposit at a price 50% cheaper than what we had paid for our ownership stake … a mere TWO days ago. Wouldn't that be a great

deal?
That is exactly what is being offered to investors in this market - the only thing is that when it comes to commodities these days nobody cares. In this case, Columbus Gold's (OTCQX:CBGDF) Paul Isnard is the deposit and the investor with the technical know-how and the intimate knowledge of the deposit is Nordgold.
The Deal
On Wednesday, January 13th, Columbus Gold announced that they had come to an agreement with their joint venture partner Nordgold to sell a 5% stake in the Paul Isnard deposit for $6 million US dollars. The $6 million would be paid to Columbus immediately, however the formal acquisition and transfer of the 5% interest would not occur until Nordgold had funded the completion of a Feasibility Study (anticipated by year-end 2016) and had achieved a minimum of US$30 million in project expenditures. After this deal completes, Nordgold would own 55% of Paul Isnard and be the operator, while Columbus Gold would hold the remaining 45%.
We can do some simple math here and see that based on Nordgold's $6 million dollar payment for a 5% stake in the project; they are valuing the whole Paul Isnard project at around US$120 million. That means that Columbus Gold's remaining 45% of the project would be valued at around $54 million dollars - significantly higher than the $35 million dollar current market capitalization of the WHOLE company.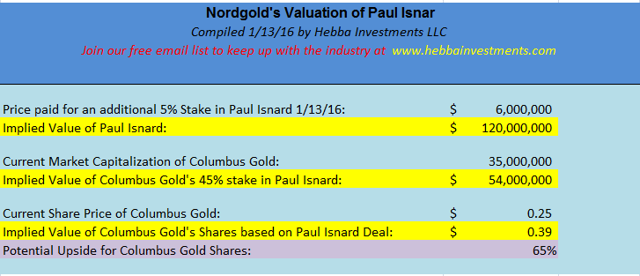 But the most important thing about this deal is perhaps the fact that this isn't a major making an investment to gain details about the inner-workings of a project. Nordgold not only is familiar with the project, but they have working on this project for the last few years and will already own 50% of the project by completing the feasibility study and making the necessary expenditures. In fact, they are privy to a ton of information that is not public simply by the fact that they've been developing the deposit since 2014.
If any company is in a position to evaluate the deposit and come up with a fair valuation for it, it is Nordgold. So that $120 million dollar valuation that Nordgold is attaching to the Paul Isnard deposit isn't simply an "option" in case it pans out, but is based on a lot of internal knowledge and evaluation.
Opportunity for Investors
The great bear market in commodities has ravaged not only companies in the sector, but investors themselves. Everybody is gun-shy and it is very hard for any precious metal investor to have any conviction after 70, 80, and 90 percent losses in almost every explorer or developer purchased in the last few years. That's why opportunities like this exist even after publicly disseminated information should have eliminated them.
But investors take a step back and simply analyze the facts it should be clear that Columbus Gold is a screaming buy after this deal. After all Nordgold, the company's joint-venture partner in Paul Isnard for the past few years, has decided based on all of its internal information on the deposit that $6 million dollars is a fair valuation for an additional 5% stake. The implied valuation for Columbus Gold shares is about 65% higher than the current price simply based on Paul Isnard and ignoring the company's other asset - the Eastside project in Nevada.
Thus we think investors who are not gun-shy and looking for a quality explorer should give Columbus Gold a long look.
Disclosure: I am/we are long CBGDF.
I wrote this article myself, and it expresses my own opinions. I am not receiving compensation for it (other than from Seeking Alpha). I have no business relationship with any company whose stock is mentioned in this article.
Editor's Note: This article discusses one or more securities that do not trade on a major U.S. exchange. Please be aware of the risks associated with these stocks.