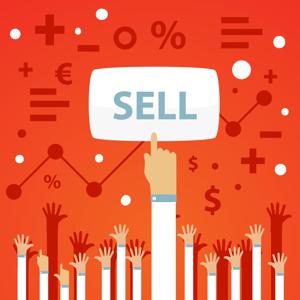 The stock market is selling off and the Powerball pot is going through the roof. That might tempt some of you to sell the former and take a chance on the latter. That's two bad ideas. Sticking with stocks over the long term makes much better sense. In fact, before describing four ways you can protect yourself from further possible selloffs, I thought I would begin this week's post by recounting the stock market's performance over the course of my own personal investment career - because it demonstrates the rule, stick with stocks.
Note the numbers as we go through this. I began investing in the 1970s when I was a teenager. The S&P 500 was around 80 when I graduated from high school. It had climbed to around 95 when I finished college and 190 by the time I completed my doctorate. Five years later I moved to Boston for a new job. The S&P was at 390 at the time. Two years after that, with the S&P just above 400, I accepted a visiting professorship in the former Soviet Union. I came home five months later and found the S&P at 415. Eight months after that, with the S&P at 449, I got married. Our first child was born about a year later - the S&P was at 470. In 1997, I moved my family to New York because I took a job with Forbes, Inc. (now Forbes Media, LLC). The S&P was nearing 1,000. In 2010, when I joined Greenwich Wealth Management, the S&P was about 100 points higher. And today, after an atrocious start to the new year, the S&P closed at 1890. That's only 11% off its all-time high set last May.
Why look at these numbers? If you measured the S&P 500 only by the milestones of my life - or of your life, I'll wager - you would get the impression that the index has gone up in a fairly smooth and continuous manner. Nothing could be further from the truth. There was a lot of volatility and plenty of selloffs along the way. On October 19, 1987 (a.k.a. Black Monday), the market crashed by more than 20%. From its peak in 2000 to its trough in 2002, it fell by almost 50%. Due to the financial crisis and the Great Recession, by March 2009, the S&P was down almost 60% from its 2007 apex.
The point for me is that despite some huge bumps in the road, stocks have moved higher over the course of my investing career. There is no guarantee that this trend will continue, but I wouldn't bet against it. Of course, it isn't easy to remain calm when stocks are selling off. It requires a certain amount of intestinal fortitude, which many investors lack. These investors feel great anxiety and then panic when they examine their quarterly statements. But instead of taking advantage of lower prices by purchasing more shares, they sell and try to immediately salvage whatever they can.
And then - you know this, right? - bottoms often occur when enough investors have thrown in the towel.
Yet even long-term investors, who are best positioned to ride out the waves, aren't immune to selling. After all, everybody has short-term needs. There are houses to buy and college tuitions to pay. Those who are retired depend on drawing down capital. They are in no position to put more money into the market just because there was a big selloff. Only those who are sitting on a pile of cash are happy when stock prices plunge. For everybody else, selloffs are no fun, whether they are investing for the next decade or the next six months.
So if you are worried that stocks will go lower, here are some ways you might want to protect your portfolio…
1) Take a good hard look at your asset allocation and decide what percentage of your portfolio should be in stocks in the first place. You might have done this when you first started investing some time ago…or you might not have. By focusing on your allocation, you also rebalance when things get out of whack. If stocks rally strongly, you realize you have too much in equities, so you pare back. If stocks sell off, your equity allocation falls below your target, so you buy more shares. This focus on asset allocation with periodic rebalancing forces you to buy low and sell high. There's no investment strategy better than that.
2) If you have a diversified portfolio of stocks, you can buy some protection by purchasing put options on an index ETF such as the SPY, QQQ, or IWM. You should choose an ETF that most closely approximates your portfolio. You won't get a perfect hedge, but at least you'll get some protection against a market selloff. However, like all forms of insurance, puts are most expensive when they are most needed. It's always cheaper to buy protection when the sellers of the puts aren't worried about a selloff.
3) Buy ETFs that go up when the market goes down. The ProShares Short S&P 500 ETF (NYSEARCA:SH) is structured to go up by the same amount that the S&P 500 goes down on a daily basis. The ProShares UltraShort S&P 500 ETF (NYSEARCA:SDS) is structured to go up by twice that amount. These ETFs have relatively high expense ratios (90 and 91 basis points, respectively) and they aren't great long-term hedges. However, if used properly, they can provide excellent protection over the short term.
4) Buy the iPath S&P 500 VIX Short-Term Futures ETN (NYSEARCA:VXX). Often referred to as "traders' crack" due to the tremendous volatility they exhibit, these exchange-traded notes attempt to mimic the CBOE Volatility Index, or the VIX. Because they use futures contracts and are unsecured debt obligations, they involve a high level of risk. Furthermore, their value tends to deteriorate over time, so they provide protection only for short periods. However, a small amount can go a long way. For example, the S&P 500 fell 2.5% today, but VXX rallied 10% or four times as much.
These are just a few of the ways you can protect your portfolio. Of course, the only sure fire way is to stay out of the market. That's because it is impossible to invest without taking some risks; and if you aren't willing to take any risks, you shouldn't be in the market at all. However, as long as you are investing for the long term, and as long as you are investing only what you can afford to put at risk, you should be fine.
One more thing to keep in mind. Despite some selloffs and despite taking my share of losses, I have done quite well by investing in stocks over the years. However, I have never won the lottery. That won't stop me from buying a ticket for tonight's draw. But at least I'm aware that the lottery is not an investment strategy. I'm not sure I can say the same about all those other people waiting in line.