FireEye (NASDAQ:FEYE) has continued to perform poorly over the past few months due to weak execution and lowered near-term growth prospects. Despite ramping demand for cybersecurity products, FireEye has not been able to capitalize on such opportunities in recent quarters. While FireEye will likely continue to face growth troubles in the near term, especially in areas like China and Europe, the company is still a sound long-term investment.
Although competition has been ramping up significantly in the cybersecurity industry, FireEye is still a dominant force in its specific markets. Most notably, the company has a tight grip on the specialized threat analysis and protection [STAP] market. According to industry-leading analysis firm IDC, FireEye had nearly 40% of the approximately $1 billion STAP market last year. What's more, the STAP market is expected to grow at nearly 30% per annum for the foreseeable future, making FireEye well positioned for growth.
Competitive Threats Are Exaggerated
FireEye is in a comfortable lead position in the STAP market and held approximately 7 times the market share of its next largest competitor in 2014. While competition has ramped up since 2014, FireEye is still extremely dominant in the STAP arena. As advanced cybersecurity attacks are rapidly becoming the norm, the STAP market has seen enormous demand growth. Advanced threat detection is becoming increasingly vital for enterprises and organizations in the new cybersecurity environment, putting FireEye's products in high demand. In fact, the global STAP market more than doubled from 2013 to 2014, showcasing the growing need for customized threat protection.
While major cybersecurity firms like Palo Alto Networks (NYSE:PANW) are also trying to break into the promising STAP market with products like WildFire, it will take some time before FireEye's dominance in the arena is truly threatened. While FireEye has slowly been losing market share in the STAP arena, this is to be expected given the multitude of competitors vying for a piece of the profitable STAP Market. However, FireEye's threat analytics platform, cloud solutions, network products, etc. are still the most popular in the STAP arena, which should allow FireEye to capitalize on the massive growth opportunities ahead of it.
Financial Issues Will Likely Diminish
FireEye has been plagued by financial issues over the past few quarters, which has contributed to the company's downturn. Much of the company's troubles have been brought on by enormous spending resulting from the recent spike in cyber attacks. In Q3, the company reported a whopping $227 million in SG&A expenses, overshadowing the company's $165.5 million in sales/revenues. Not surprisingly, FireEye's profitability (or lack thereof) continues to be a major issue for investors.
On the bright side, FireEye's operating leverage has been steadily improving over the past few quarters. The company has seen its gross margin and operating margin make impressive gains over the past year or so. The company's operating margin, for instance, has improved from -95% in Q1 of 2014 to -32% in Q3 of 2015. While FireEye is clearly still losing money, the company appears to be growing its sales at a faster rate relative to its costs.
While FireEye will likely still be facing near-term headwinds, highlighted by the company's abnormally low quarterly billings of $210.6 million, the company should eventually see its financial situation improve. FireEye is already making notable improvements in areas such as cash flow, operating margins, etc., and will likely continue to make gains on these fronts. In addition, FireEye is making some dramatic changes in its financial team, recently naming Michael Berry as its new CFO. While it is not yet known whether this management change will be a positive or negative for FireEye in the long run, the company at least seems to be acknowledging its financial issues.
While finances are still a big issue for FireEye, the company appears to be improving on this front. Here's a look at the company's operating margin over the past quarters.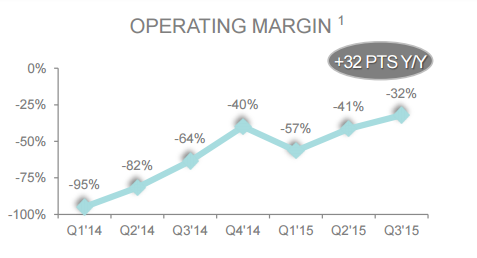 Source: FireEye
Large Challenges Remain
Competition still remains a threat to FireEye, especially with the likes of Palo Alto Networks and Check Point (NASDAQ:CHKP) moving into the company's markets. While competition is likely overstated, as was previously discussed, investors should still be wary on this front. As FireEye's products are increasingly being perceived as more expensive by customers, competitors have an opportunity to take more market share from FireEye. However, FireEye should be able to change this perception if it manages to get its expenses under control.
Conclusion
FireEye is still relatively cheap at a market capitalization of $2.7 billion and an expected annual revenue of approximately $600 million in 2015. Given FireEye's rapid growth (+45% YOY revenue growth in Q3), the company appears to be valued at a discount compared to major competitors like Palo Alto Networks (PANW). While much of this can be explained by the specific headwinds facing FireEye, the company is still a good investment at current prices.
Cybersecurity demand is expected to ramp up significantly in the coming years, putting FireEye in a good position. With corporate and government entities starting to experience an unprecedented wave of cyber attacks, the cybersecurity industry will likely continue to grow at a rapid rate. What's more, these attacks are becoming far more sophisticated and specialized, making FireEye one of the more promising companies in the cybersecurity space. While FireEye is facing many near-term headwinds, these headwinds should subside in the coming years.
Disclosure: I/we have no positions in any stocks mentioned, and no plans to initiate any positions within the next 72 hours.
I wrote this article myself, and it expresses my own opinions. I am not receiving compensation for it (other than from Seeking Alpha). I have no business relationship with any company whose stock is mentioned in this article.