CMS Energy Corporation (NYSE:CMS) is a utility providing electricity and natural gas services to Michigan customers, with the company serving the majority of residents in the state. Substantially all (93%) of its operations are regulated by the Michigan Public Service Commission, with the remainder being made up of its interests in independent electric power production sold into wholesale markets and its ownership of EnerBank, an industrial bank that provides consumer installment loans for financing home improvements.
CMS Energy has been a serial outperformer of both the broader utility index and the S&P 500 for many years now. In a sector characterized by boring price movement, such outperformance is commendable. However, has the company's stock flown too high too fast?
Natural Gas Business
The gas business has been a steadily profitable and healthy business segment for CMS. From a general utility perspective, I like natural gas utility exposure for risk-averse investors. While Capex spending (and thus rate-base growth) can be light once pipeline infrastructure is updated, you also dodge most of the regulatory and environmental risk inherent in electric power generation. Pipeline incidents are far less frequent and usually far less troublesome for shareholders.

Within this segment, investors will notice the top-line revenue falling in 2015, which is more a function of lower natural gas prices than shrinking demand. When discussing natural gas utilities, it is important to note that all of these utilities have agreements to pass along natural gas price costs to consumers within their bills (with a fixed profit point per cubic foot sold for the utility). Therefore, revenue tends to fall (and margins tend to rise) in years where natural gas prices are lower.
Net income overall for the segment has been growing steadily, even despite growing depreciation and amortization charges as the company expands its asset base, rebuilding out weakened infrastructure. As a result, operational cash-flow growth (which excludes D&A) has been very healthy.
Electricity Business
The story for CMS Energy's electric business is similar to that of many large public utilities in the United States. Reliance on coal as a power generation source simply isn't tolerated at this point by regulators both at the federal and state levels. As a result, CMS Energy is retiring nearly 1GW of ancient (1950s construction) coal-fired power generation in the coming two years, instead shifting power generation to renewable sources (wind, hydroelectric) and cleaner-burning fossil fuels (natural gas).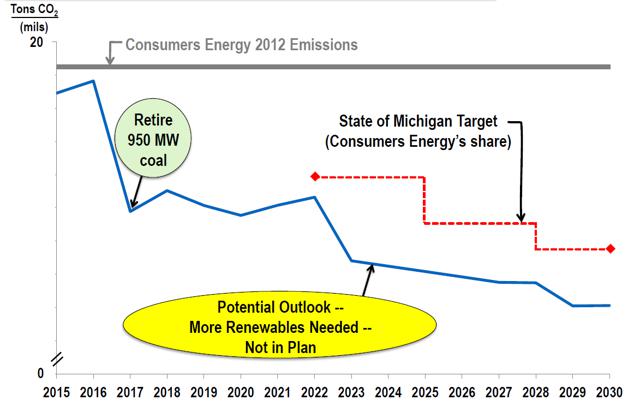 *CMS Energy Investor Presentation, Emissions versus Regulations
This marks a headwind in my opinion, as CMS Energy is already a net purchaser of power. The company acquired 49% of the power it provided to customers in 2014 through long-term PPAs and the MISO energy market, with similar figures on the way for 2015. As it stands, CMS Energy cannot meet peak load requirements from it service area (which stood at 7,500MW in 2014) with its currently operational 5,900MW capacity - never mind at market-competitive prices. Retiring nearly 1,000MW shortly does not help that cause.
That pricing underperformance raises the specter of a larger issue.
Is Full Deregulation Coming?
In 2000, Michigan enacted a law allowing electric customers in the state to buy electric generation services from alternative electric suppliers. This was revised in 2008, limiting alternative electric supply to 10% of preceding year sales. Subsequently, large customers (primarily industrials) took advantage of this ruling, drawing 771MW of electric generation from the wholesale markets in 2014. Customers taking advantage of this include Dow Chemical (DOW) and Herman Miller (NASDAQ:MLHR), along with many public school districts and other large users of power.
Late in 2013, a bill was introduced into the Michigan House of Representatives that would again repeal the 10% cap, along with fully deregulating electric generation service in Michigan shortly thereafter. The Michigan Public Service Commission estimates a stunning 28% of CMS Energy's revenue could disappear as customers migrate to cheaper options from wholesale power providers. As Michigan bears higher electric rates than most neighboring states, current state utilities in states like Michigan have the most to lose in deregulation.
Investors need to watch news related to bills such as these very carefully, as they could quickly lead to adverse change in the business model and a material change in the ability of the company to function, including the payment of its current dividend.
Cash Flows

Looking at cash-flow use, it is clear that CMS Energy continues to burn cash annually. The heightened Capex is a necessity for bringing its utility businesses, especially legacy coal and natural gas-fired generation, into a more modern position, all in order to adequately compete with the possibility of competition stemming from deregulation.
However, capital expenditure recovery is not immediate, and the idea of a utility increasing customer bills while Michigan is debating deregulation doesn't help matters. Leverage is already high, with EBITDA of approximately $2 billion by my estimates in 2015 and a net debt position of $8.65 billion at the end of Q3 2015. This puts net debt/EBITDA at 4.3x, at the high range of what I would deem safe for a utility.
I see nothing but red flags for the growth of the current dividend. Above peer average growth seems unlikely; management has more important battles to fight first. Every dollar of operational cash flow is going to be shoved back into electric segment capital expenditures.
Conclusion
The run here is done in my opinion, and it is time to take the capital gains and run if you're a long-term shareholder. Shares currently trade at a premium to peers on future earnings estimates, and there is no reason they should do so. There are plenty of utilities that offer better dividend yields, stronger future prospects, and don't have the "what if?" overhang of deregulation weighing on potential future upside. For many investors, even long-standing ones, I see stronger long-term returns outweighing the tax implications for most current shareholders.
Better dividend picks include Avista Corporation (NYSE:AVA), IDACORP (NYSE:IDA), or Northwestern Corporation (NYSE:NWE). Investors willing to step out on the risk curve should consider Calpine Corporation (NYSE:CPN) or AES Corporation (NYSE:AES) as well.
Disclosure: I/we have no positions in any stocks mentioned, and no plans to initiate any positions within the next 72 hours.
I wrote this article myself, and it expresses my own opinions. I am not receiving compensation for it (other than from Seeking Alpha). I have no business relationship with any company whose stock is mentioned in this article.