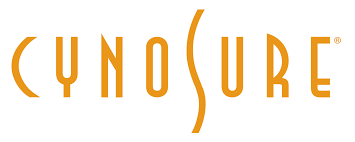 I've been eyeballing Cynosure (NASDAQ:CYNO) as a potential short for some time. The company was one of a group of energy-based medtech stocks to go public in the middle of the last decade, along with Cutera (NASDAQ:CUTR), Syneron (NASDAQ:ELOS), Candela (later merged with Syneron), and Solta Medical (bought out below $3 by Valeant Pharmaceuticals (NYSE:VRX)). The space as a whole had been a disappointment; while the recession certainly impacted the economically-sensitive aesthetics space as a whole, there were also a series of execution problems among the companies, and a concern that demand simply wasn't enough to support these publicly-traded companies, smaller private rivals, and competitive and/or similar products from larger public peers. And the rebound out of the '08/'09 crisis didn't provide much of a spark for the stocks despite the fact that many (possibly most) cyclical/economically sensitive stocks saw huge gains out of the March 2009 broad market bottom.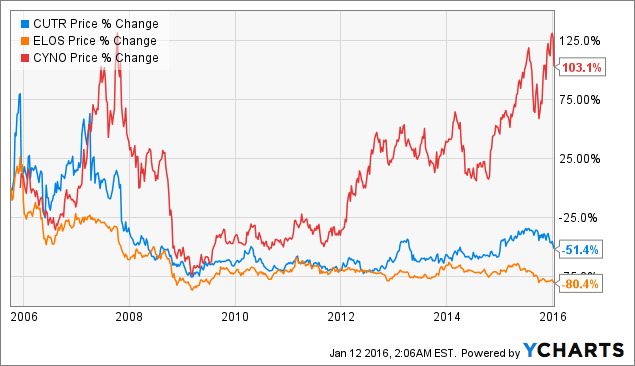 CUTR data by YCharts
So I was a bit suspicious of Cynosure's run. To be sure, it has outperformed CUTR and ELOS even in terms of fundamentals, but those two serial disappointers provided a low bar to clear. But some of Cynosure's growth was purchased through the 2013 acquisition of Palomar Medical Technologies, and from a product standpoint, CYNO's portfolio didn't seem noticeably stronger than those of its far more cheaply valued peers.
Even with the stock falling rather sharply in 2016 - already down nearly 14% YTD - I'm still a bit suspicious. Flat EPS this year is a bit misleading, as Cynosure is ramping up sales and marketing spend ahead of the full launch of its key SculpSure system this year. But there's a lot of optimism toward - and priced in from - the SculpSure and MonaLisa Touch products, and even the company's own sales and margin targets don't seem to imply a ton of upside at current levels. Meanwhile, in the near term, Cynosure's reliance on both China and macro strength in general seems likely to drive volatility. There is a good long-term story here, along with a strong balance sheet that provides dry powder for additional M&A. But I think CYNO needs to fall a bit further to become enticing from the long side.
The Growth Drivers
Cynosure's legacy portfolio isn't terribly different from that of Cutera or Syneron; broad, but somewhat shallow. The Palomar acquisition brought on the Icon system (with applications ranging from hair removal to wrinkle reduction) and the Vectus diode laser for "high-volume" hair removal. Including the Palomar products (Cynosure paid nearly $300 million in cash and stock, still over 40% of the current $720 million enterprise value), CYNO lists nine different "flagship" products in its 10-K. Cynergy treats vascular lesions; Cellulaze targets cellulite; SmartSkin uses lasers to "resurface" skin and minimize wrinkles.
But those nine products only drove about $300 million in revenue a year ago, and should generate in the range of $330 million this year. Icon and the SmartLipo fat removal system appear to be key drivers (Cynosure doesn't break out sales by product), and the launch of the PicoSure laser platform in early 2013 (used for tattoo removal, acne scars, and wrinkles) appears to have boosted growth of late. There isn't a product in the group, however, that can drive a bull case here in the way that ZELTIQ Aesthetics' (NASDAQ:ZLTQ) CoolSculpting has. ZLTQ's enterprise value cleared a billion dollars until a recent decline, with that product alone guided to generate $252 million in 2015 sales (just five years after its launch).
For the first time since its post-IPO days, however, Cynosure's platform is driving legitimate optimism. SculpSure, a direct competitor to CoolSculpting, is seeing a full launch this year in the US after a European launch in Q4. SculpSure uses heat, as opposed to CoolSculpting's cryolipolysis (which freezes cells), Syneron's and Solta's non-thermal ultrasound, and Cutera's RF technology (which creates heat to destroy fat cells).
And SculpSure seems to have a solid competitive position. The procedure takes just 25 minutes, against an hour for CoolSculpting (though ZELTIQ is aiming to lower that figure), and different areas can be treated simultaneously. SculpSure doesn't require suction, as does most CoolSculpting procedures (although, again, ZELTIQ has developed a new applicator to get around that issue). The use of heat appears to limit discomfort both during and after application, and results and customer satisfaction seem solid.
Meanwhile, Syneron already has pulled down its UltraShape guidance, Cutera is scuffling, and Solta's Liposonix appears a low priority for Valeant (particularly given some other pressing concerns for that company at the moment). The fat reduction and body contour categories aren't going to be "winner take all", either: different customers and different practitioners will place emphasis on varying aspects of the procedure (time, success, price, pain, etc.). There's little reason to see any slowdown in the long-term opportunity for non-invasive fat reduction (of course, cyclical concerns will remain), and even a distant number-two spot relative to CoolSculpting should imply meaningful contribution to Cynosure from SculpSure. On the Q1 conference call, CEO Michael Davin said the product could contribute more than the ~$10 million Cynosure usually targets in first-year sales, citing both CoolSculpting's early success and the size of the global market.
The other product driving some of the recent enthusiasm is the MonaLisa Touch, for the treatment of vaginal atrophy. Stifel analyst Jonathan Block cited the system in upgrading the stock to Buy (with a price target of $44), and projected an incremental $25-30 million in 2015 sales. While that figure might be a bit optimistic, it's clear Cynosure has driven solid first-year sales. El.En. Spa (OTC:ELEAF), which manufactures the product, attributed a more than doubling of revenue from its Surgical segment (which rose 14 million euros year over year) to MonaLisa Touch in its third-quarter report. (Those are European sales only, with Cynosure having exclusive North American rights, and the possibility of expanding distribution, likely to Asia). In Cynosure's Q3 10-Q, a $9.2 million increase in revenue was attributed in part to MonaLisa Touch as well (but the impact of Icon, PicoSure, and a small 2014 acquisition also contributed).
This is another product with an impressive addressable market (which includes about half of a current 49 million post-menopausal women, along with younger women who have received hormone or chemotherapy treatments), but another one where Cynosure is not alone. Privately-held Fotona has two products targeting the space, Syneron's INTIMA is being launched for similar indications, and of late Shionogi (OTCPK:SGIOY) has blanketed the US market with ads for its prescription treatment for painful post-menopause intercourse. Still, like the fat reduction market, there seems enough demand, and enough variance within that demand, to support multiple winners, even including Shionogi's Osphena and other potential prescription competitors.
So there is reason for top-line optimism here: CYNO has posted double-digit organic revenue growth year to date, with MonaLisa and PicoSure still ramping and SculpSure set to provide a contribution in 2016. In its Q3 presentation, Cynosure laid out a target of $500 million in sales (up more than two-thirds from 2014's $292 million):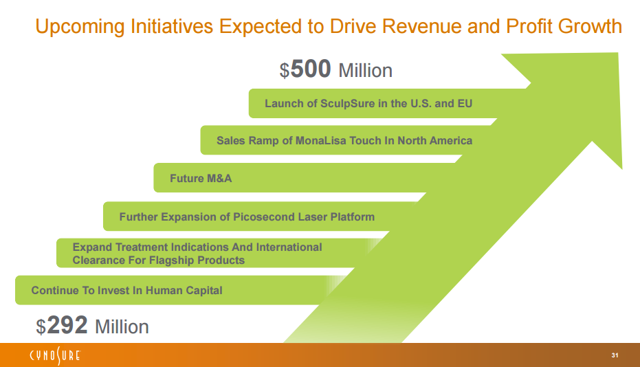 Source: Cynosure
Cynosure already has grown revenue 10% year to date despite a mid-single-digit headwind from currency; most impressively, North America product sales are up 29%. Meanwhile, there is a "razor and blades" model that amplifies that growth, as each installed product drives future consumable (per-procedure) sales. Looking forward, there's reason to think Cynosure could near or reach that $500 million target as soon as 2018 (requiring about 15% CAGR going forward).
Bottom Line Growth To Come
Still, Cynosure looks expensive on its face, trading at nearly 38x trailing adjusted EPS of $1.02, and nearly 37x analyst consensus of $1.04, despite that latter figure projected to be down 5%+ year over year. But that's not necessarily an apples-to-apples comparison; CYNO saw a ~$0.07 benefit a year ago from a license settlement. Meanwhile, the SculpSure launch is driving higher costs; in its Q3 presentation, CYNO guided for $3.3 million in back-half costs relating to the launch (~$0.10 after-tax at a YTD effective tax rate of 30%), and another $3.9 million in Q1 (~$0.12).
Once that clears, the leverage inherent in the business should shine through, as Cynosure's management has argued. CFO Tim Baker said on the Q3 conference call that sales and marketing would drop to 32-34% of revenue (from a current level near 35%) as soon as Q4, with operating leverage "improving even more" heading into 2016. On the Q2 call, Baker cited a "sustainable" long-term target of 20%+ operating margins by the end of the decade, up from a 9.3% level year to date.
That sounds audacious, but looking backwards, the expansion isn't quite as dramatic as it seems. Non-GAAP operating margin in 2013 was over 14%; it's investments in PicoSure, MonaLisa, and now SculpSure that largely have compressed that margin over the past seven quarters.
But The Price...
All told, there's a clear runway to growth here. A reasonably aggressive assumption of $500 million in 2018 sales at a 20% operating margin implies about $100 million in operating income; using long-term guidance for an effective tax rate of 35%, CYNO could drive nearly $3 per share in EPS by 2018.
Truthfully, that's kind of the problem. A ~13x multiple to 2018 EPS doesn't sound particularly attractive. As good as the growth opportunities here seem, they remain opportunities. And this is a company - and a sector - that has disappointed before, as my colleague Stephen Simpson half-jokingly pointed out last year:

Competition is going to be tough, with drug companies likely continuing to enter the fray: Allergan (NYSE:AGN) paid $2.1 billion for Kythera Pharmaceuticals and its newly launched Kybella injection for "submental" fat (more commonly referred to as a "double chin"). Syneron and ZELTIQ aren't going anywhere, nor is recently-taken private Lumenis.
Meanwhile, there are legitimate macro concerns at the moment, which will impact what are highly discretionary (and expensive) aesthetic purchases. Even if investors are overreacting to the US market, 46% of sales in 2014 were overseas, per the 10-K. The figure is 40% through the first nine months, per the 10-Q, impacted in part by the stronger dollar.
From here, this still looks like a "show me" story, given some of the past struggles in the space, but not a "show me" valuation. There is a new, much higher base here relative to 2012, and a steadily increasing proportion of accessories and consumable sales (19% in 2014, up from 16% in 2012) provides both recurring revenue and a natural tailwind to margin. But there's a lot of growth priced in here despite the fact that SculpSure is entering the market a bit late (few practices will have both CoolSculpting and SculpSure, for instance) and that MonaLisa's performance may not quite be what some have hoped. (Again, the $9 million increase year over year seems to imply a $3-5 million contribution from that product, below the $25-30 million annual forecast from Stifel). There's also the issue of the what extent the new products (both from Cynosure and competitors) will cannibalize the old, either from SculpSure replacing minimally invasive SmartLipo or from practices moving utilization away from legacy products or even treatments. (In other words, a more popular CoolSculpting might not just impact SculpSure and SmartLipo sales, but also PicoSure or Icon if customers choose to target their aesthetic spend to a different procedure).
In terms of growth, I like ZLTQ better, and I'd be happy to pay for CYNO if a lower level of growth was priced in. "Normalized" EPS (backing out elevated sales and marketing spend) at the moment probably is in the $1.20-1.30 range (the high end assumes a return to the 14% margin seen in 2012) in terms of 2015, and likely closer to $1.50 next year. A high-$20s price seems reasonably attractive from that standpoint; there are some growth opportunities.
But I'm not yet ready to trust either the models or the performance here; this has been a heart-breaking space for investors for the most part, and it simply doesn't seem wise to pay a premium for growth that in the past has disappointed. If CYNO can hit its targets, there's a reasonable argument for exceptional appreciation: 2018 EPS in the $2.75-3.00 range supports a share price around $60, as growth in the installed base from 2016-2018 will support high-margin consumable sales from that point forward. But the reverse also is true; a miss relative to what appear like somewhat lofty expectations implies not only lower sales, but also lower margins; add to that likely multiple compression from a disappointed market and CYNO's shares could decline substantially. Given the history, the competitive position, and the macro environment, at $38, I'm simply not willing to take that risk.
Disclosure: I/we have no positions in any stocks mentioned, and no plans to initiate any positions within the next 72 hours.
I wrote this article myself, and it expresses my own opinions. I am not receiving compensation for it (other than from Seeking Alpha). I have no business relationship with any company whose stock is mentioned in this article.