The Chaos Overview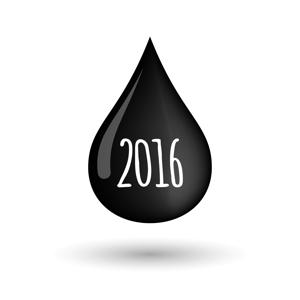 The markets have begun 2016 with complete chaos. This is a clear fact. Oil prices are plummeting, sitting right at $30, and with Iran's "Implementation Day" sitting potentially just days away, oil into the mid-$20s is a very realistic probability, especially if China's meltdown has more teeth. Stock prices are plummeting, especially those with perceived high-risk. The high-yield bond markets are in total disarray, and I wouldn't be surprised by more banner headlines if things get worse. A personal fear of mine is that the billions of private equity (ZIRP inspired) dollars could trigger a repeat housing collapse especially as private equity pumped a lot of their money into fragile markets like Phoenix and Las Vegas. The risk-taking took another leap entirely last spring as PE firms levered up their loan books even further.
That's my Chicken Little rant. The sky is falling! Is it really? Who really knows for sure, but the chart below doesn't inspire any confidence from yours truly. I hate to be a repeat pessimist like Albert Edwards, but even Nobel Laureate Shiller has been sounding the alarm. Carl Icahn's video is also worth a watch.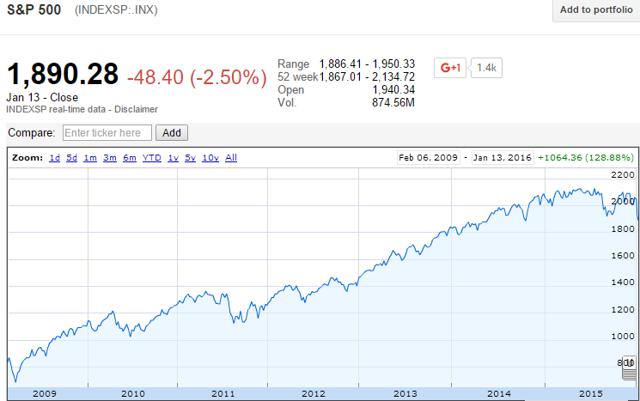 The Shipping Disconnect
So now that we're scared to death, what's next? Cash is king in these markets because broad panic often leads to disconnects in selloff rationale. Oil is crashing and high-yield is in trouble, thus it should be no surprise that energy MLPs are in the proverbial toilet. However, what about shipping yield co.s, especially tanker firms with high yields? High-yield - check. Global collapse ruins shipping - check. Oil-related business - check. It's no wonder firms like Navios Midstream Partners (NYSE:NAP) have lost a ton of value in the past month. Check out that chart below - that's in one month!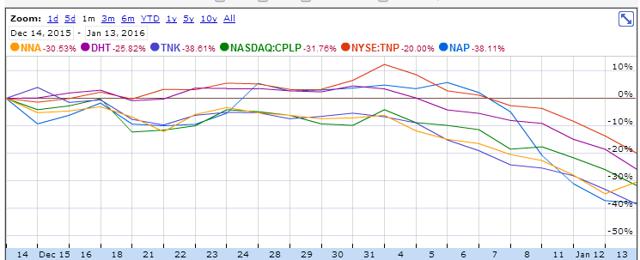 Judging on the chart above, you'd think all of these firms are facing imminent profit concerns or perhaps even insolvency? Hardly. In fact the majority of these firms thrive in an environment of low oil prices. Beyond that, many of these firms have long-term contracts essentially guaranteeing a large portion of their cash flows. This is a classic example of the panic disconnects. Unfortunately, it's a disconnect that requires dry powder. Margin is no good as these types of trades have virtually no floor when panic boils over. In fact, given the insanity I've witnessed over the past week, seeing a stock like Capital Product Partners (NASDAQ:CPLP) drop to $2 wouldn't surprise me all that much. I'm not calling a floor as things could get much worse in this market. Panic hasn't even set in yet; wake me up if the S&P (NYSEARCA:SPY) hits 1,000, then we can have serious conversation about bottom feeding and mortgaging the farm. Although it can be impossible to pick a floor, entry points matter. Chasing a stock down is deadly, but if the original entry point is sound, then we don't need to get greedy about things. I'm taking positions in attractive propositions with the full knowledge that things could easily get worse.
Where is Risk/Reward the Best?
We've flagged some shipping firms as suffering from a "disconnect," but there's almost never a potential for meaningful returns without taking on huge risks. Even if those risks are improperly perceived by the masses, they are still real risks. How do we maximize our reward potential while also minimizing our risks? I believe there are five key rules to successfully executing a segment bet like this:
Minimize the exposure to extreme leverage. To draw a parallel to the oil junior speculators who came out of the woodworks in droves last fall, the riskiest players bought stuff like Magnum Hunter and Escalera Resources and are now sitting on 100% losses. Game over. It doesn't matter if oil hits $250 tomorrow. You're done, game over. The medium-risk players bought stuff like WPX Energy (NYSE:WPX) and Sanchez Energy (NYSE:SN) are sitting on mega losses, but are still playing. The more conservative speculators opted for more stable firms like Occidental (NYSE:OXY) or Anadarko (NYSE:APC) and haven't done too poorly, all things considered. That's a very long analogy, but there are very similar plays available in shipping right now.
Look for Fixed Contract Revenues. Not all shipping firms are equal. For example, both Gener8 Maritime (NYSE:GNRT) and DHT Holdings (NYSE:DHT) have strong exposure to crude tanker rates. The former is nearly 100% exposed to the whims of the spot market while the latter has decided to lock-in revenues on a large portion of the fleet. Counter-party bankruptcies occur, but they are far less likely to occur than a plunge in spot rates.
Build a Broad Basket. Even the best minds make huge mistakes; here's looking at Icahn's bet on Freeport-McMoran (NYSE:FCX) or George Soros' insane allocation to Penn Virginia (NYSE:PVA). Building a larger basket of reasonable bets can both help isolate investors from emotional attachment to one name and also allow exposure to a wider array of markets.
Don't Chase the "Bargain." This is the hardest step, but it's essential for long-term capital appreciation. Set a maximum level of capital to bet and stick to it. If all the holdings plunge, reevaluate the thesis, then reevaluate it again, then call your smartest friends and associates and let them poke holes in your ideas. Nobody ever went broke placing a few risky bets when they limited capital allocation. In fact, lots of investors have made fortunes. Those who get married to an idea and chase a falling star all the way down are destined for the poorhouse. I've been guilty of chasing (stupid) ideas, but thankfully I'm young and limited my capital allocation.
Avoid Margin. What happens if you heavily margin a wonderful idea at $4 and it drops to $3 for a couple days before rocketing to $10+? Your entire portfolio is ruined just because you got greedy. Margin calls are annoying at best and potentially devastating to your entire lifestyle. Be very careful here.
Our "Best" Idea is Cheap Again?
I recently wrote an exhaustive report in mid-December flagging Golar LNG Partners (NASDAQ:GMLP) as my "Top Idea for 2016." The stock traded under $8 when the report was published, and then eventually hit nearly $14 after eight days. I joked with many of my research subscribers that this was more like the "Top Idea for December 2015." With a $17.50 end-of-year target and $2.30 in expected distributions, we'd already hit close to the top of the rational equity pricing for December.
Alas, the stock has plummeted back to $10.35, and GMLP hasn't even paid out the $0.5775 it's already pre-announced for January 2016. This remains one of my top ideas and the market now offers readers another stab at it.
Discussing GMLP, an LNG and FSRU play, may seem confusing since the broad theme concerns the crude and product shipping disconnect. However, the developing disconnects aren't just in oil and product markets, those are simply the two sectors where the recent crash has been the most baffling. Including this leading idea conforms to rule #3 of broadening the basket and especially to rule #2 of prioritizing fixed contracts. I invite everyone to read the GMLP report in full (it's 16 pages), do your own due diligence, call your own experts, and then add to the ongoing discussion. I currently engage with dozens of sophisticated retail investors and various money managers on a weekly and daily basis via Value Investor's Edge. The more independent and informed thought the better.
Another Strong Idea?
Very recently, Stifel harshly (but fairly) downgraded Navios Maritime Holdings (NYSE:NM) and Moody's quickly followed suit with a debt downgrade. NM is in serious solvency trouble and also faces some liquidity concerns following issues with its aging LP spin-off Navios Maritime Partners (NYSE:NMM), which recently slashed its distribution and is down nearly 80% in the past three months. However, these issues led to a colossal selloff across the entire Navios-branded collection of firms, even one who is posting record profits: Navios Maritime Acquisition (NYSE:NNA), and one with guaranteed charter rates on the entire fleet for over three years: Navios Midstream Partners.
I recently published a follow-up report describing both of these dislocations. NNA enjoyed some marginal market support, but NAP fell further today, and both are sitting a hair off all-time record lows while the underlying business continues to thrive.
Widening the Speculative Bucket
These aren't the only firms that are suffering from the panic disconnect. There are a plethora of other firms with reasonable balance sheets and healthy contracted revenues that are also trading at practically inexplicable lows. I have come to accept there is no floor in any of these names, but that doesn't change the fact that today's entry prices look very impressive. At all costs, just steer clear of margin in accordance with rule #5.
What follows is a broad re-hash of a multitude of firms I follow and have discussed with members of Value Investor's Edge. Each firm has its own set of risks and issues. I currently believe the pricing on all of these firms are attractive enough to warrant a speculative position (TipRanks: this means I'm rating all of the following firms in bold a "buy."). These are dangerous waters, but the risk reward seems very attractive to me, and I've personally acquired stakes in several of these players at various price levels.
Tsakos Energy Navigation (NYSE:TNP) is a diversified shipping firm with nearly half of the fleet on time-charters. It has hefty upside exposure to the product and crude tanker markets, the balance sheet is moderately leveraged, and the dividend payout is misleadingly conservative as TNP is earning enough cash flow to more than triple the payout if it desired. Here's a brief summary of the upside from another author.
Teekay Tankers (NYSE:TNK) has hefty upside exposure to the Suezmax tanker market, which continues to benefit from oil volatility. The balance sheet is continually improving, and the dividend is poised for a massive increase. I've written extensively on it in previous reports. I'm long TNK.
Dynagas LNG Partners (NYSE:DLNG) has impressive contract fixtures in the LNG market, and boasts a fleet of eco ships with ice-class capabilities. It is exposed to Gazprom (OTCQX:GZPFY) (i.e. Russia), so there's no free lunch, but the 25% yield is actually poised to increase further due to a recent drop-down. I didn't really like DLNG a few weeks ago (scroll to the third comment), but the cheap pricing changes my opinion.
Teekay Corporation (NYSE:TK) is a parent company with stakes in TNK and two troubled daughter firms, Teekay LNG Partners (NYSE:TGP) and Teekay Offshore (NYSE:TOO). TK is shifting most of its remaining assets to its daughter firms and will remain as a holding company with enormous upside leverage. This is a risky play, but the upside is enormous and the current pricing is attractive. I'm long TK.
Teekay Offshore is a bit troubled and could face long-term solvency issues if the oil markets remain in chaos, but the leveraged upside makes the stock worth a look at $3.50, especially as part of a large basket of firms. Here's a recent summary from another author.
DHT Holdings is a crude tanker company turning record profits while also conservatively positioned in terms of recent time charter deals. If oil volatility continues, VLCC rates have a strong upside potential and DHT will be a strong beneficiary. I have recently covered DHT in more detail in a previous report. I'm long DHT.
Scorpio Tankers (NYSE:STNG) has the world's largest fleet of modern product tankers and is currently poised to report a banner year of profits. STNG has fairly high leverage on the balance sheet and has heavy exposure to spot rates, so this is a risky place to be if you're of the mindset that global trade is days away from collapsing into oblivion. Here's a good summary about the ongoing metrics from an author I respect. I've written several reports as well. I'm long STNG.
Ardmore Shipping (NYSE:ASC) is another product tanker firm, but has less leverage than STNG and zero remaining newbuild installment payments. I recently sold the stock in the mid-$10s to buy firms with more upside-pop potential, but it doesn't change the fact that in isolation this is an attractive entry point. Here's an embarrassingly early report from October, but none of the fundamentals have changed.
Capital Product Partners has an eye-popping yield that is currently fully covered even despite the unfortunate container risk. I originally found the stock attractive in mid-2015 prior to the container market meltdown, sold at $5.07 to pursue other interests, and now the cheap price has me sniffing around again.
Frontline (NYSE:FRO) is the "big kahuna" of tanker names and is on a comeback tour led by billionaire John Fredriksen. The stock is facing the probability of a 5-1 reverse split, but the underlying business is currently heavily profitable, the dividend has upside potential, and FRO is likely to boast the world's largest tanker fleet within a few years. DHT is a reasonable M&A target. Here's my most recent public report, but I've written several updates for subscribers. I'm long FRO.
Seadrill Partners (NYSE:SDLP) is an extremely risky stock in a nasty sector, but if Seadrill (NYSE:SDRL) can avoid bankruptcy, even at the cost of horrendous dilution, SDLP has strong upside potential due to its charter backlog. The scariest factor is the cross-default provision with SDRL, but I find the upside compelling overall. I always read conflicting opinions, here's a good piece about the risks. Here's another good one discussing reasons to avoid. I'm long SDLP.
Euronav (NYSE:EURN) is a crude tanker firm with a nice balance sheet, some good time charter protection, and a very strong management firm. It is one of the world's largest publicly traded fleets, and I'd love to see a merger with FRO or DHT. Here's one of its recent presentations and a good summary report by another author.
StealthGas (NASDAQ:GASS) is a more obscure player in the small/mid-size LPG market. I'm not really a fan of the insider management team, and there are some issues with self-dealing. However, the stock trades at a rather shocking discount to net-asset-value ("NAV"), and the firm is sitting on a fairly large repurchase program. This is a strong candidate for the basket. Here's a good write-up from another author who was unfortunately far too early.
Other Ideas for the Basket?
There are at least a dozen other firms I'm closely tracking which have developing stories, but I'm hesitant to either add a stake or wave the "buy flag" on these names. I've discussed the majority of these ideas with fellow members of Value Investor's Edge and we continue to wait for attractive market prices. I look forward to a robust discussion following this report, but I also invite everyone to join our deep value community for continuing discussions and further research into distressed sectors.
Please also feel free to discuss other ideas below or to poke holes in any of the above investment candidates.
Further Sources
Readers must conduct their own personal due diligence, which is a requirement before making any investment decision. I do NOT provide investment advice or any sort of personalized financial advice, I am simply a researcher who is also an activist investor. My goal is to exploit market disconnects for myself and for fellow subscribers, but ultimately to provide information in an effort to make our markets more efficient.
Going direct to the source is important; a good place to start is via the "investor relations" website for each of these firms. Also read relevant filings, especially the annual reports (10-Ks or 20-Fs), available for free on the SEC website.
Subscription Ideas
For the best up-to-date shipping news in the world, I utilize TradeWinds. Subscriptions aren't cheap, but good information is worth paying for. I source my vessel valuation figures from VesselsValue.com, a fantastic source of data which has led directly to many extremely profitable investment ideas. Most recently, VV.com was directly instrumental in supplying key data for a short on Safe Bulkers (NYSE:SB). It's down 90% in two months. The options trade idea, first highlighted to members, then to the broad public, for December expired as a 33-bagger and the options trade for January is set to expire Friday as a 21-bagger.
If you are considering a subscription to Value Investor's Edge, please note that you can cancel at any time for a full refund of unused subscription time. Here is a link to reviews from members of our research group. You can always "follow" me for free on Seeking Alpha and on Twitter.
Disclosure: I am/we are long GMLP, NNA, NAP, NM, TNK, TK, DHT, STNG, FRO, SDLP.
I wrote this article myself, and it expresses my own opinions. I am not receiving compensation for it (other than from Seeking Alpha). I have no business relationship with any company whose stock is mentioned in this article.
Additional disclosure: I am long NM via NM-G and NM-H. I may add to any firms mentioned at any time.
Editor's Note: This article covers one or more stocks trading at less than $1 per share and/or with less than a $100 million market cap. Please be aware of the risks associated with these stocks.