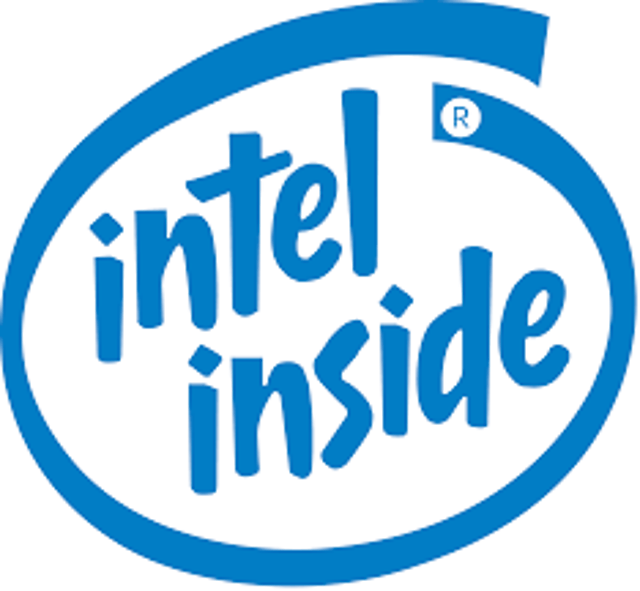 It's been a tough year for the worldwide semiconductor industry, which could challenge Intel's (NASDAQ:INTC) Q4 results due post-close Thursday.
The report could show Wall Street just how rough-and-tumble it's been in the "traditional tech" space amid weakening demand for the personal computer (PC) - that's demand lost to nimbler notebooks, tablets, and other smaller devices. Industry analysts say that leaves INTC's push into data centers and the Internet of Things (IOT) -embedding products with automatic data-transfer - most likely to draw stronger interest in a post-earnings conference call.
According to financial media, at least one JP Morgan analyst upped his outlook on the chipmaker earlier this week based on strength in these two new businesses; he argues that data and IoT could offset the ongoing lackluster performance of the PC sales.
There's more. Industry data shows growing demand for security software; such demand can boost hardware upgrades, too. Remember that INTC chips are not only in computers but in mobile devices and tablets. Its chips are making their way into automobiles, aviation, and other venues, the company has reported.
Another Quarter, Another Currency Hit?
Like many global giants, INTC earnings could potentially take another hit from currency valuations. A strong dollar cuts into global profits, and the U.S. currency is trading at multi-year highs.
Still, analysts reporting to Thomson Reuters are looking for a Q4 profit at Intel of $0.63 a share on topline sales of $14.81 billion. That represents a 1% increase in revenue over the year-ago comparable, but a 12% drop in profit.
Intel has surpassed Street expectations in each of the last two quarters. That followed a tough Q1, when the company issued a profit warning and actually pulled its full-year guidance, unable at the time to fully anticipate the potential hit from a larger-than-expected decline in PC sales.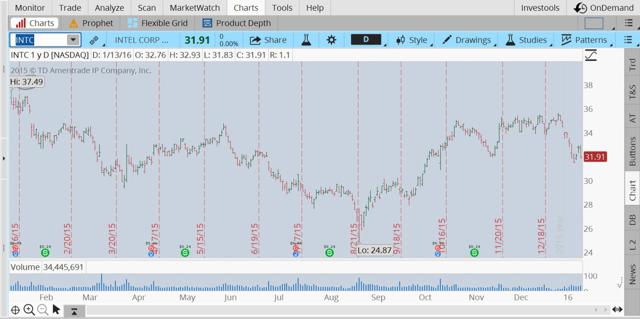 Figure 1: Not So Chipper? Intel shares fell 5.5% in 2015. Shares have lost another 9% so far in 2016, last week trading at their lowest since October. Chart source: TD Ameritrade Data source: Dow Jones Global Indexes. Not a recommendation. For illustrative purposes only. Past performance does not guarantee future results.
Options and Share Action
INTC shares suffered a 5.5% decline in 2015, and pulled back another 9% with last week's broader technology rout (figure 1).
Share movement of significance could continue. A roughly 4% potential INTC share move in either direction around the earnings release is priced in, according to our indicator. Implied volatility in these shares is in a respectable 61st percentile.
In the lead-up to earnings, three times the typical amount of call options traded in the January 33.5 strike price. Conversely, there's only been a smattering of put option trading, with little action tied to a particular strike price.
Note: Call options represent the right, but not the obligation, to buy the underlying security at a predetermined price and over a set period of time. Put options represent the right, but not the obligation, to sell the underlying security at a predetermined price over a set period of time.
TD Ameritrade, Inc., member FINRA/SIPC. TD Ameritrade is a trademark jointly owned by TD Ameritrade IP Company, Inc. and The Toronto-Dominion Bank. Commentary provided for educational purposes only. Past performance is no guarantee of future results or investment success.
Options involve risks and are not suitable for all investors. Please read Characteristics and Risks of Standardized Options before investing.
Disclosure: I/we have no positions in any stocks mentioned, and no plans to initiate any positions within the next 72 hours.
I wrote this article myself, and it expresses my own opinions. I am not receiving compensation for it (other than from Seeking Alpha). I have no business relationship with any company whose stock is mentioned in this article.