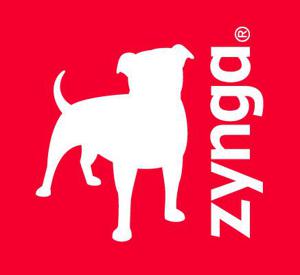 The best days for Zynga (NASDAQ:ZNGA) were around three years ago when its games like FarmVille and Texas HoldEm Poker were all over the top of the Facebook (NASDAQ:FB) game charts and the company had over a quarter of a billion monthly active users. Since then, the partnership with Facebook ended, FarmVille lost its popularity and the company has been searching for a new growth catalyst ever since.
In the third quarter, Zynga delivered an earnings beat and announced a $200M stock buyback. Both were good news but that may just be masking issues that are beginning to build up under the surface. Zynga continues to crank out new games with mixed results but the company is running into some potentially more serious headwinds that could impact the company for some time.
Zynga's CFO resigning
A C-suite level executive leaving a company usually raises eyebrows from people wondering what may be going on inside closed doors. When you come across an article titled "Zynga's CFO has resigned, effective immediately, with no reason given," it becomes a red flag.
To determine exactly why David Lee departed on such short notice is pure speculation. There are any number of reasons why the move may have taken place - it was a planned move, there was infighting behind closed doors, Lee wasn't brought on board by CEO Mark Pincus himself. The broader issue could be that Zynga's user base continues to decline. Which brings me to...
MAU numbers are way down
According to Zynga's Q3 earnings presentation, two of the company's most important metrics - daily active users (DAU) and monthly active users (MAU) - are down significantly year over year.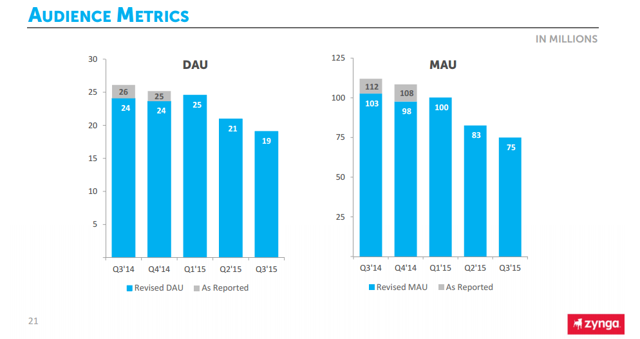 Zynga's 19 million daily active user figure is down 21% year over year and its 75 million monthly active user number is down 27%.
While the company's transition to mobile seems to be progressing - it reported 26% year over year growth - overall bookings are essentially flat. Ultimately the success of Zynga is going to come down to how many regular users can get to play its games. Right now, the trend is very negative. A successful launch of CSR2 and Dawn of Titans in 2016 could help turn this around but Zynga's spotty recent history of successful game launches makes this far from a sure thing.
Too many slot and casino games
Slot and casino games are all the rage right now and Zynga is positioned to take advantage of that trend. Zynga Poker is one of the company's biggest games which allowed it to gain traction early when the trend started picking up steam. Since then, Zynga has many more similar games in the space such as Hit It Rich! Casino Slots, Zynga Bingo, ZyngaPlusCasino, Wizard of Oz Slots and, now, Princess Bride Slots. But what happens when the trend reaches saturation?
Zynga went down this road before with the FarmVille franchise. When FarmVille took off, Zynga launched a series of similar games such as ChefVille, CastleVille, CityVille, CoasterVille, FishVille, ForestVille, PetVille, YoVille and, simply, The Ville. All of these games have since been discontinued and FarmVille is the only name that still lives on.
Slot games should have a longer shelf life than games like FarmVille since they're less of a fad and Zynga has other games like Mafia Wars and Duck Dynasty doing well. But having so much skin in the casino game space could spell trouble should the game market start shifting.
Delay of new games
Part of that new revenue stream could come from CSR2, the sequel to the popular CSR Racing, and Dawn of Titans. Those games were supposed to debut late in 2015 but the launch was pushed back to sometime in 2016, the company says, in order to improve quality.
That could mean a lot of things. Pincus acknowledged that its Empire & Allies game was released too quickly and failed to capture the social media aspects properly in order to make it more financially successful (this game, too, was discontinued but later brought back for mobile devices). If this is the company learning from past experiences then it makes financial sense to delay a game launch in order to make sure that it's ready.
But delays in releasing products also could suggest that Zynga doesn't fully have a handle on its operations. Rushing out new titles and then delaying new titles gives the impression that management may not be fully thinking things through before acting.
Conclusion
Zynga issued weak Q4 guidance thanks in part due to pushing CSR2 and Dawn of Titans into 2016. That might provide an explanation for weak results in the recent quarter. But the company's success in 2016 will be dependent on increasing user growth and the success of its two new titles.
In the third quarter, 80% of Zynga's revenues came from just four games. Zynga could really use a new title that could be a legitimate revenue driver so hopefully the extra time that the company is spending on its new games pays off.
Zynga has had trouble consistently delivering winners lately and if the erosion of its monthly user base continues the company could be in trouble if CSR2 and Dawn of Titans don't deliver. With a new permanent CFO yet to be found, 2016 could be a make or break year. Until some of these storylines play out, I'll be sitting on the sidelines.
Disclosure: I/we have no positions in any stocks mentioned, and no plans to initiate any positions within the next 72 hours.
I wrote this article myself, and it expresses my own opinions. I am not receiving compensation for it (other than from Seeking Alpha). I have no business relationship with any company whose stock is mentioned in this article.