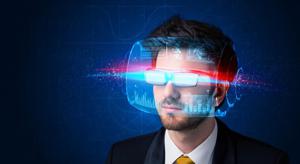 The hottest trend in technology right now is Virtual Reality.
Ever since Facebook (NASDAQ:FB) bought the Oculus Rift for $2 billion, other tech giants have sought a place to stand on top what they are all certain is a huge opportunity. Microsoft (NASDAQ:MSFT) has its HoloLens. Google (NASDAQ:GOOG) (NASDAQ:GOOGL) is forming a VR division around Magic Leap, for which it paid $542 million. Sony (NYSE:SNE) is said to be the best choice in the market. Apple (NASDAQ:AAPL) is said to be readying a big push. Lenovo (OTCPK:LNVGY) is said to be ready to make a splash.
And of course, there are what I call "hockey stick charts," predicting huge growth five years from now. Digi-Capital predicts a $150 billion market by 2020, pushing mere mobility to the side.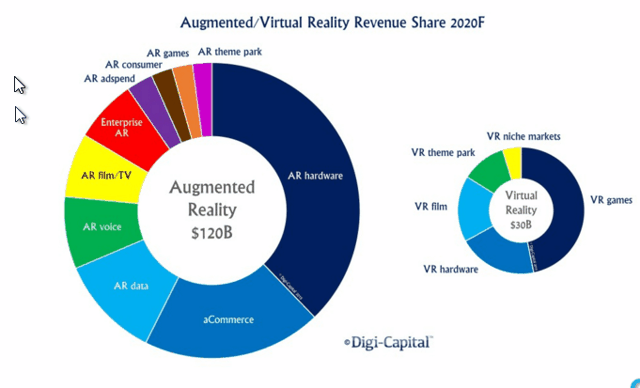 There are two markets here. VR is mostly tied to software and games, placing an artificial 3D world on top of an imitation landscape. Digi-Cap sees that as a $30 billion market. A lot more revenue, $120 billion according to the report, will be coming from "Augmented Reality," devices that add data to what's already around you. Think Google Glass.
There are two problems with implementing Augmented Reality, in my view. The first is designing something that's wireless and you would actually want to wear, and even Google has yet to crack the case. The second is getting the right data to the device, and tweaking the interface so that it provides value. The difficulties are one reason there is still room for start-ups in this space.
These are huge software challenges. It's not enough to make something that draws a pretty picture, or looks good on your face. The niches for such devices are obvious - gaming and entertainment. But these niches are just as faddish, just as short-term, as the hobbyist and short-run production offered by 3D printers.
Where are the great 3D printer stocks now? 3D Systems (NYSE:DDD) was a $30 stock as recently as May. You can get it for $8 today, but you don't want it. The company hasn't been profitable since the fourth quarter of 2014 and lost more than $1 for every $5 it took in during the most recently-reported quarter.
Or how about Stratasys (NASDAQ:SSYS)? It was worth $80 early last February, but is now down below $20. They also managed to lose $1 for each $5 taken in during their most recently-reported quarter, the fourth.
Even Voxeljet (NYSE:VJET), the great hope of the industry when it went public near $20 in November of 2014, is now down near $4.
The point is that it's not enough for a technology to be cool, or even to be salable. The niche it occupies must be big enough to gain mass market acceptance. The market for it has to be big enough to match the hype. And in the case of VR-AR, the makers are too big in other ways to even make the hype cycle worth buying. Maybe that's the good news.
Disclosure: I am/we are long AAPL, GOOGL, MSFT.
I wrote this article myself, and it expresses my own opinions. I am not receiving compensation for it (other than from Seeking Alpha). I have no business relationship with any company whose stock is mentioned in this article.
Editor's Note: This article covers one or more stocks trading at less than $1 per share and/or with less than a $100 million market cap. Please be aware of the risks associated with these stocks.