Though it is a new year, there has not been a significant change in the concerns which are in investors' minds. The main worries in 2016 will continue to be the rise in US interest rates, the economic slowdown in China, and geopolitics in the Middle East.
Rising US interest rates have been an issue since the summer of 2013. Though many market participants expected the US Fed to raise rates in December 2015, fears over the impact of further rate hikes remain, and this continues to dampen investor sentiment. Clearly, rising US rates would be negative for corporates and governments which hold USD debt. Having said that, amongst the fund's universe, not many or hardly any of the corporates have USD debt, and if they do, it is a small proportion of their overall debt levels. Further, of the fund's Top 30 holdings which account for 66% of the portfolio, only a few of the holdings are leveraged, and not heavily. Regarding government debt in USD, the countries which could be impacted are Pakistan and Sri Lanka, as their foreign debt as a percent of GDP is ~21% and ~30%, respectively. However, most of these USD debts are long term in nature and are also provided by multi-lateral agencies such as the IMF/ADB. Further, as mentioned previously, soft commodity prices are a big positive which can help negate the impact of rising USD interest payments.
Regarding the slowdown of the growth rate in China, as it was the case in 2015, the economies which depend heavily on exports to China could continue to see their economies being impacted. From the fund universe, Mongolia is heavily dependent on China as it accounts for 80-85% of Mongolia's total exports with most exports to China being resource related. The fund's exposure to Mongolian resource stocks is not large and it is currently 3.2% of the fund with the overall exposure to Mongolia being 8.4% of the fund.
Besides hurting exporters, the economic slowdown in China has impacted commodity prices including crude oil. If commodity prices remain weak, this will continue to be a positive for the fund's key markets like Bangladesh, Pakistan, Sri Lanka, and Vietnam. As was seen in 2015, low commodity prices were extremely beneficial for profitability of companies, consumer disposable incomes, inflation, interest rates, and government finances including foreign reserves. This trend of lower commodity prices will continue to have a positive impact on the fund's holdings as well as on the macro of countries in the first half of 2016 as the fund has positioned itself well to take advantage of lower commodity prices.
What could be a negative for the fund's markets is currency depreciation, but we do not expect the depreciation to be significant or similar to the depreciation seen in the currencies of resource exporters such as Brazil, Indonesia, Kazakhstan, and Nigeria. Within the fund universe, Iraq, Mongolia, and Papua New Guinea are countries which are dependent on resource exports, but the Mongolian Tugrik and the Iraqi Dinar have been stable of late while the Papua New Guinea Kina has seen the biggest depreciation, but the fund has an exposure of less than 2% to Papua New Guinea. For our key markets such as Bangladesh, Pakistan, Sri Lanka, and Vietnam, we expect the macroeconomic situation to be stable.
We therefore expect market sentiment to remain subdued at least in the early part of 2016, and this may lead to sideways movements in markets. However, sentiment is one thing and fundamentals are another. As mentioned above, lower commodity prices will be beneficial for both companies and government finances in the fund's key markets which account for 75% of the portfolio. Hence, fundamentally the situation on the ground is better or more stable than what it was 18-24 months ago in our key markets. As mentioned previously, cyclical companies have been showing improving fundamentals in terms of sales growth, profitability, and more healthy balance sheets while consumer spending has been positive in Bangladesh, Pakistan, Sri Lanka, and Vietnam. We expect this trend to continue into the first half of 2016.
We expect to continue to hold onto our top holdings in our key markets due to a relatively stable macro situation and may also further increase our allocations to certain cyclical companies in Vietnam and could also look at banking stocks in Pakistan as they appear to be offering value. We will also look for new ideas which offer either value or growth at reasonable price. We expect this to be backed by our on-the-ground visits to countries and keeping our ears to the ground.
Sentiment may not have started off on a high note in 2016, but we believe in fundamentals and we want to stick to that as this is what will deliver longer-term returns. We expect Asian frontier markets to continue to offer opportunities as they are relatively under-researched compared to emerging markets and these markets continue to have favourable demographics, improving literacy levels, social and economic reform, and offer a base for shifting higher wage jobs from China which all leads at the end to increased consumption which is (and always was) the biggest sector exposure in the fund.
Compared to Developed Markets, the AFC Frontier Universe has a much younger population growing at a faster rate
This supports future economic growth and consumption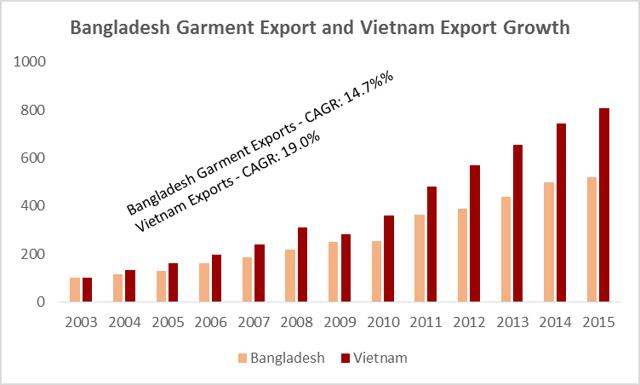 Source: Bangladesh Garment Manufacturers & Exporters Association, General Statistics Office of Vietnam. *Exports rebased to 100 - 2003
Outlook for Key Markets
Bangladesh
The beginning of 2015 was somewhat volatile for Bangladesh as the opposition called for nationwide "hartals" (strikes which are usually very violent) as it was one year since the 2014 elections which the opposition boycotted (more on this in our January 2015 newsletter). Though this impacted economic activity in the first quarter of 2015, things have begun stabilizing in the second quarter, and the second half of 2015 has seen much more stability on the ground than the beginning of the year. This was reflected in the results of companies which showed decent numbers for the September ending quarter. We continue to be positive on Bangladesh given its large, young population with rising disposable income levels. With a population of ~160 million, median age of 26, and per capita GDP of just above USD 1,000, the demographics are favourable and can be taken advantage of via exposure to consumer and healthcare stocks which we think are good long-term plays on the Bangladeshi consumer. The healthcare sector also holds a lot of promise in terms of exports, as Bangladeshi generic pharmaceutical exports are still only in the nascent stage. Two Bangladeshi pharmaceutical companies have recently received approval from the US FDA for their manufacturing facilities with Beximco Pharma also getting approval from the US FDA to begin exports to the US for one of its products. The macro picture for Bangladesh is also stable with government debt as a percentage of GDP at 33% and a fiscal deficit of 3.2% of GDP (much lower than any of its South Asia neighbors). Further, its foreign reserves at USD 27 billion now cover eight months of imports which is healthy. Political incidents can continue to impact short-term sentiment, but we remain very positive on the future prospects of Bangladesh.
Cambodia
Cambodia is seeing a continued increase in FDI into the tourism, construction, and manufacturing sectors. The country's partnership with Thailand on tourism is expected to see increasing visitor numbers in the future, especially to Siem Reap and Poipet, a border town built on gambling. Becoming a tourist attraction all its own, gambling has grown steadily in the Kingdom as it is largely banned in the Indo-China region i.e. China, Vietnam, Myanmar and Thailand. Since 2013, a construction boom has also been underway, transforming Phnom Penh and second tier cities, with the industry representing ~2.0% of GDP. This has spilled over into the manufacturing sector as SEZs and industrial parks see increasing numbers of tenants transitioning away from high-cost countries (i.e. China) into the Mekong region. The Cambodia Stock Exchange saw one more listing in 2015 (a river port company) and there are now three stocks listed. We expect to be again inactive in the local stock market.
Iraq
The combination of military actions by the different anti-ISIS forces (in Iraq and Syria) is continuing to sever the lifelines feeding the overall ISIS structure, thus rolling back the caliphate structure and in the process allowing the slow resumption of normal life in liberated areas. Lower oil prices will remain a major headwind for the country and will continue to strain the government's budget with all the associated risks for the economy. They, however, are forcing the government to proceed with long neglected projects to encourage the private sector to expand, the commercial banking system to take a more active role in the economy, and to protect the Iraqi industry. These projects are essential for the country to fulfill its potential. Risks, however, remain as the recent rise in tensions between Iran and Saudi Arabia demonstrates, as this can have negative implications for the Syrian peace process, which in turn is a crucial component for the return of stability to the region. Subsequent developments seem to be positive in spite of the emotional noisy displays with Saudi Arabia confirming its commitment to further the Syrian peace process while Iran is backtracking from the embassy incident that intensified the tension, and close allies of both countries, such as Pakistan, are working on reconciliation.
Laos
Not much has changed in Laos over the past year. The government still runs a fiscal deficit of 5.3% and a current account deficit of 28%. This increase in these deficits is due to higher government spending and lower commodity exports. Due to the high level of deficits, the government has been slow in paying construction companies and this has affected the banking sector as well. Laos also plans to be part of the Kunming-Singapore rail network being backed by China and going ahead with this project will increase government debt further. We do not expect to increase our exposure to Laos unless there is clarity on how the government expects to decrease its deficits. There was one more IPO in Laos in 2015, which brings the total number of listed stocks on the Laos Stock Exchange to now five.
Maldives
The fund's exposure to Maldives is via two tourism-related companies listed in Sri Lanka which generate a large part of their revenue from Maldives. Despite the political turbulence of late, tourist arrivals to the country have been stable. The Maldivian economy is very dependent on tourism and continues to be an attractive tourist destination in Asia. In 2015, two of Asia's most popular budget airlines, AirAsia (OTC:AIABF) and Tigerair (OTCPK:TAIRF), both launched low-cost flights to the Maldives from Kuala Lumpur and Singapore respectively. Tourist arrivals from China in particular saw a significant growth, and GDP is expected to increase by 8% in 2016.
Mongolia
The "Saudi Arabia of resources in North Asia", Mongolia, has been impacted by low commodity prices, impairing its main avenue of foreign reserve accumulation, which, as of 3Q15, remains dangerously low at USD 1.4 billion. 2017 will see the country's "Chinggis" sovereign bonds come due, therefore Mongolia must have a smooth parliamentary election this summer to ensure investment into rail, power, and minerals processing infrastructure continues. These projects are critical to the country's future, enabling it to further integrate with its neighbors, Russia, China and DPRK where it will benefit from low-cost exports of both processed and unprocessed resources. A beacon of light for Mongolia, expected to commence this year, is Phase II of Rio Tinto's (NYSE:RIO) Oyu Tolgoi "OT" copper/gold project (the third largest such project in the world), which will make Mongolia the lowest cost supplier of copper and gold concentrates to resource hungry China, a barometer for foreign investors as well as a key to fiscal stability. This young democracy has a transformational future ahead with its vast reserves of mineral and agricultural resources; however, it will require patience and prudence. In the meantime, we are slowly accumulating (the average daily turnover in November 2015 of the MSE was around USD 8,200 only) what we regard are the future blue-chip companies of Mongolia at what we consider attractive valuations. Some of the companies from the consumer and industrial sector are trading below 1x P/B.
Myanmar
The fund continues to have a few investments in Myanmar through Singapore, Thailand, and London (OTC:MYIRF) listed entities, but it is still early days for the economy. We continue to look for Myanmar-focused opportunities listed on overseas exchanges. The Yangon Stock Exchange was launched in December 2015, but it still has no active listings. Though the exchange is still in the nascent stages of development, the ability to invest in publicly listed companies at some stage clearly offers an opportunity in the future as the country has a sizeable population of 52 million, GDP/capita of around USD 1,200 and a GDP size of USD 65 billion as well as access to natural resources and low labour costs. It is widely expected that the Yangon Stock Exchange will have about five companies listed by the end of 2016.
Pakistan
Pakistan has been a big beneficiary of the fall in prices of crude oil as crude oil imports used to account for 26% of the country's total import bill. This has helped ease the pressure on foreign exchange reserves significantly with foreign exchange reserves at USD 19.8 billion compared to USD 13.0 billion a year ago. The price fall in other commodities as well has helped manufacturing and industrial companies as most Pakistani companies import their key raw materials used in production. The drop in the price of commodities has led to record low inflation as well as interest rates and this has rubbed off on consumer disposable income, leading to growth in sales of consumer discretionary goods such as cars, motorcycles, and white goods. We expect this to continue into the first half of 2016 as low interest rates and low commodity prices will be favourable for consumer demand and company profitability and therefore expect consumer discretionary companies to do well. We expect cyclical companies, especially in the cement sector, to also do well in 2016 not only because of lower input prices, but also because of growth in sales volume as construction activity has picked up across the country, and this is evident in the cement dispatch numbers of cement companies which have grown at double digits in the last six months. Another potential positive for Pakistan is the implementation of the China Pakistan Economic Corridor, "CPEC". This involves both new roadways and power projects. Besides providing much needed foreign investment, the CPEC can also help improve the power deficit issue in Pakistan as well as a further boost to cement consumption. Banking stocks have underperformed in 2015 due to worries over declining net interest margins, but now appear to offer value, and it would not be surprising to see banking stocks do well in 2016.
On the security front, there is definitely an improvement compared to last year as the military continues to take action in the North West of the country and also launched operations in Karachi a few months ago. This has led to significant reduction in the number of security/terror-related incidents. Though the security risk remains, the government and the military appear to be taking a tougher stance on this issue. Further, diplomatic relations between India and Pakistan appear to be improving. Improving relations could have longer-term economic positives, but in the near term, any improvement in ties is one less issue for the governments to contend with. Though the diplomatic thaw is delicate, we do not believe either side has a choice but to talk given the socioeconomic and macroeconomic constraints on both economies. Given the favourable macro environment and increase in Chinese investments along with a fine balancing act between the civilian and military leadership over foreign policy, Pakistan can be the dark horse over the next few years.
Papua New Guinea
The drop in commodity prices has hurt the economy of PNG as it is dependent on resource exports, and due to this, there has been a currency shortage for outward remittances. This has led to currency depreciation over the past year, and given the price outlook of commodities, we do not expect things to change significantly for the country in 2016. We therefore continue to have only a small exposure to the country, which is in a bank, a consumer company, and a junior oil & gas company.
Sri Lanka
2015 saw a change of government in Sri Lanka. Such a change usually affects market sentiment in frontier market economies. The new government, led by Maithripala Sirisena, is still in its first year as parliamentary elections were held in August 2015, and therefore, given that this is the first year of the new government, there was bound to be some level of uncertainty. Over the past year, the government has come down heavily on certain infrastructure projects as a way to rebalance foreign policy as some of these projects were funded by China. However, over the past few months, the government has restarted work on several of the projects which have been funded both by China as well as other multi-lateral agencies. This could be beneficial for some of the infrastructure companies that took a hit to their stock prices in 2015. The government also passed the latest budget in November 2015, but it did not speak of any measures to reduce the fiscal deficit of 6%. We believe further tax measures may be needed to bridge this deficit gap or the government may have to resort to further funding from China for its infrastructure projects given the level of deficit. Since the government is still in its first year of operations, we expect that there will be some amount of macro uncertainty in Sri Lanka in 2016. The bright spot is the lower crude oil and commodity prices which are helping both consumer disposable incomes and reducing input costs for companies, and we expect these positives to exist in the first half of 2016. We therefore will continue to look at consumer related companies. Any pick-up in the awarding of infrastructure projects which slowed down last year could also be a positive for infrastructure-related companies.
Vietnam
Vietnam is expected to be in a sweet spot in 2016. Lower crude oil and commodity prices are reducing input costs for companies and increasing consumer disposable incomes. Interest rates are expected to be stable, which has led to a recovery in real estate demand, and this should continue into 2016. There continues to be increased foreign investment into the country as it gains more attention as a manufacturing hub due to the country's young work force and lower wages compared to China. FDI increased by 17.4% in 2015 to USD 14.5 billion and exports stood at USD 162 billion, a growth of 8.1%. More importantly, valuations are not stretched, with a trailing 12-month P/E for the Ho Chi Minh Index at 11.0x. Given the soft commodity price environment, stable interest rate regime, pick up in construction and industrial activity, and increase in foreign investment which are all leading to job creation, we expect 2016 to be a good year for Vietnam's economy and therefore for the profitability and earnings growth of Vietnamese companies especially in the cyclical sectors such as cement, construction, industrial goods, and consumer discretionary.
In the longer term, Vietnam is a key beneficiary of free trade agreements such as the EU-Vietnam Free Trade Agreement, the Korea-Vietnam Free Trade Agreement and the Trans Pacific Partnership. All three of these agreements have the potential to bring in further foreign investment to the country leading to job creation and making Vietnam an even bigger exporter of manufactured goods.
Disclosure: I am/we are long MYIRF, BEXIMCO PHARMA.
I wrote this article myself, and it expresses my own opinions. I am not receiving compensation for it. I have no business relationship with any company whose stock is mentioned in this article.
Editor's Note: This article covers one or more stocks trading at less than $1 per share and/or with less than a $100 million market cap. Please be aware of the risks associated with these stocks.