Last week, SunEdison (NYSE:SUNE) announced a series of transactions whereby they took on a new term and exchanged some of their existing convertible debt into shares of their stock. The stock tanked on the news, partially due to the dilution that was occurring, but also because the news did not clarify exactly how many new shares were going to be issued. While other contributors presented their analysis of the transactions, I created an updated valuation of the shares based on a range of final share counts.
Today, the company finally filed an 8-K confirming the final details of the transactions, as well as an updated presentation with an overview of the final dilution. The resulting share count is higher than they initially announced, but not nearly as bad as many investors were fearing. The company will now have about 407mil fully diluted shares outstanding, which equates to a 20% dilution of existing shares. This total does not include the many millions of additional shares that could be issued through future conversions if the price of the stock manages to return to higher levels.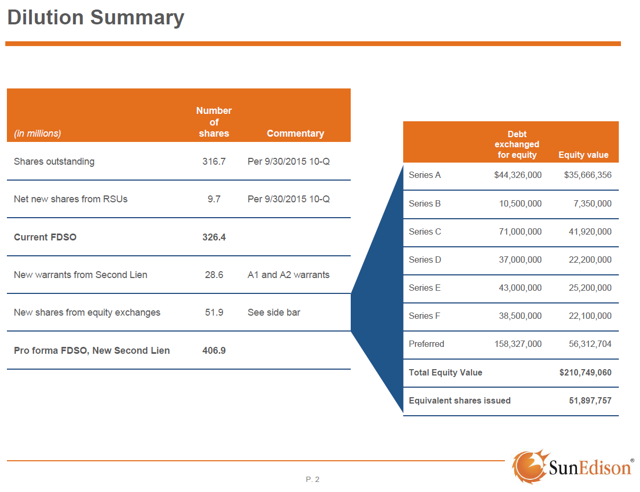 The first batch will be converted if the stock price moves back over $5.66 before mid-2018, as another 30-39.8Mil shares would be added via debt conversion of the new $225mil 5% exchangeable shares. The exact number, which is explained in more detail in Exhibit 4.1 of the 8-K (see Schedule A), depends on SUNE's share price on the conversion date. Based on my valuation of the shares, I believe the stock will be over $7.50 in 2018, and thus expect another 30mil shares to be added to the share count by that time.
With these details in place, we can now calculate the full cost of the transactions. Given that I expect the $225mil in new convertible shares to be converted into 30mil shares by 2018, we can view the transactions in the following manner:
$738.4mil: Exchanged convertible notes and preferred shares
110.6mil: New shares issued (including new debt warrants issued)
$6.68: Implied value/share of the debt exchanges
Separately, the company also took on $750mil in new term debt at high interest rates of over 10%. Viewed together, it's clear that lenders took advantage of SUNE's urgent need for short-term liquidity. The plus side for shareholders is that the company should now be in a position to exit this liquidity crisis. Based on the new share totals, I've updated my current valuations of the shares once again. Note that I've updated my sum-of-the-parts valuation (the right one) to include current prices for SUNE's ownership of their Yieldcos rather than use higher projected future prices.

Based on my new projections, I see the shares being worth at least $7.50 today. I'll note that fellow contributor Random Analyst put together an excellent peice recently breaking down his more bullish valuation.
There are of course a couple big risks to all bullish analysis. First, it's hard to predict the outcome of Appaloosa's lawsuit, which aims to prevent Terraform Power (NASDAQ:TERP) from taking on a portion of the Vivint Solar (NYSE:VSLR) transaction. I'm still looking into the implications, but one analyst sees multiple ways SUNE could actually benefit from the lawsuit. Second, SUNE will need to actually deliver on its projections and generate positive cash flow during the second half of the year. Management has done a really poor job on financing the company's growth plans, but they do at least have a history of delivering on their development plans. Thus, I'm optimistic that we will soon see the price back at fair value.
Disclosure: I am/we are long SUNE, GLBL, TERP.
I wrote this article myself, and it expresses my own opinions. I am not receiving compensation for it (other than from Seeking Alpha). I have no business relationship with any company whose stock is mentioned in this article.