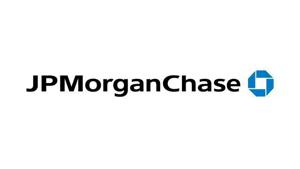 JP Morgan (NYSE:JPM) published its 4Q'2015 earnings this morning. The results were impressive and recent market turmoil seemed to have had a limited impact on its financials. The stock is up strongly in early trade.
However, the most impressive disclosure in the earnings deck is the below slide: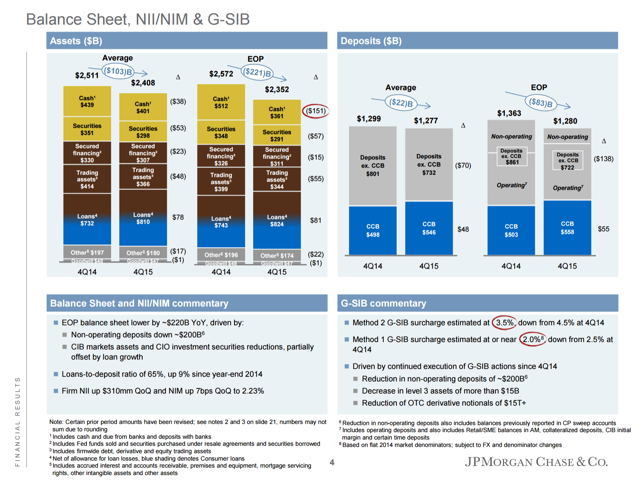 In essence, JPM has managed to reduce its G-SIB capital surcharge by a full 100 basis in one year. This has very material implications for the firm.
Allow me explain the issue in some detail.
JPM's denominator problem
Banks most common market valuation tool used by analysts is return on equity (ROE). JPM, up until the current quarter, was an outlier - in the sense, that it had the highest minimum capital surcharge under the Fed's rules.
Thus, if JPM is required to hold more capital than its competitive peers - this creates a potential "denominator problem". All else being equal, to achieve the same ROE as peers, JPM needs to earn more than its peers on the numerator (i.e. earnings).
JPM's management has done exceptionally well in reducing its G-SIB score by reducing non-operating deposits, level 3 assets and OTC notional.
Blast from the past
In a previous article on JPM and the G-SIB capital charge - I initially articulated my view that the firm's management has several tools in its arsenal, to reduce its G-SIB surcharge and expected it to do so.
However, subsequently I updated this article to reflect CFO's comments that seemed to indicate that it will not necessarily go very far in adjusting its business model, just to manage its G-SIB score.
It looks like my instincts were right initially and that JPM's CFO was rather conservative in her guidance. In any case, this has been achieved very quickly and with apparently minimal loss of revenue.
It goes to show that if Wall Street understands the rules - it can work around those quite well (for better and worse!).
So why is this so important to investors?
Investors like dividends and buybacks - this simply increases the potential capital returns in 2016 and beyond.
JPM's main binding constraint (up until this quarter) was the minimum capital requirement (i.e. 11.5% CET1) - it now effectively reduced to 10.5% or all else being equal an additional capacity of ~16 billion.
It appears though, that going forward, one of its major binding constraints will be CCAR. Under expected (still evolving) rules by the Fed, future CCARs (2017 and onwards) will likely incorporate part of the G-SIB capital surcharge. Hence, reducing the G-SIB scores results in increased capacity under the going-forward binding constraints.
So what should investors expect from JPM 2016 CCAR?
Currently, JPM's payout ratio is 48% for the last twelve months. Don't expect it to rise to 100% in 2016, as indicated in the earnings call. However, given the favorable capital surcharge development - I believe 60-70% payout ratio is looking achievable (of course subject to exact rules and Fed's stress tests scenarios).
Final thoughts
JPM is a sublime example of conservative and solid execution. There is much to like about the firm's prospects, especially under current valuation. For investors that are interested in dividend growth stocks - JPM may just fit the bill (especially if interest rates rise modestly and slowly over the next 12 months).
I intend to cover CCAR in great detail for all the large U.S. banks - so if interested in topic, do not forget to add me as a "real-time follower".
I cover U.S., European, Asian, Canadian and Australian large-cap banks, identifying long and short opportunities. If interested in the topic, feel free to add me as a "real-time follower" or message me if interested in a specific banking name.
Disclosure: I/we have no positions in any stocks mentioned, but may initiate a long position in JPM over the next 72 hours.
I wrote this article myself, and it expresses my own opinions. I am not receiving compensation for it (other than from Seeking Alpha). I have no business relationship with any company whose stock is mentioned in this article.