Hello everyone,
We sure have had a very interesting start to volatility this year. I have been very busy with teaching but I felt, given recent events, that an article was overdue.
Introduction
First, the reason I write for Seeking Alpha is to provide volatility education to investors who seek to have a better and deeper understanding of volatility exchange traded products (ETP). This doesn't include real time direct buying and selling advice. I also like to foster a professional learning community where people can openly discuss their ideas on volatility and create valuable content in the comment sections. This is best shown by my article titled Possible Shutdown, Yellen and Volatility. That article, as of this writing, has received over 450 comments of readers just discussing their volatility ideas. I encourage you to join in the discussion. I find it very valuable and it's nice to see people having respectful discussions.
The truth is, rarely can anyone predict the exact best time to go long or short volatility. Just look at the comments on StockTwits and Yahoo! Finance message boards. Even here on Seeking Alpha there are contributors who give forward looking volatility recommendations without fully explaining the reasoning, context, or risk behind those trades. I tried writing a monthly volatility news column here on Seeking Alpha and I felt it was a big waste of your time. If nothing was going on in the volatility world then I would ultimately have to add filler that generally didn't belong in a news article. From time to time I will post articles relevant to current events and introduce timely trading ideas but my main focus will continue to be on volatility education.
Forward Looking Statements
I have had some comments in the past which have urged me to provide more forward looking statements on the VIX. Here's the deal: I can't predict the future and as we discussed I don't write a news column. I can assess the current market situation, in relation to volatility, with an outlook on what I believe might happen, with a historical reflection on how the VIX reacted to similar events in the past.
Through multiple articles I have spelled out most of these ideas and they are all located here on Seeking Alpha. By your request (the readers), I am working on a summary piece to try and tie my many ideas (published ideas and new ideas) on volatility together.
I went through my articles over the previous year and I wanted to share with you what I felt were my best forward looking statements:
ETPs included in the table:
ProShares Ultra VIX Short-Term Futures ETF (NYSEARCA:UVXY)
VelocityShares Daily Inverse VIX Short-Term ETN (NASDAQ:XIV)
Date

Recommendation (summary)

Result

6/11/2015

Inverse volatility products aren't providing good enough reward prospects for the risks they may face.

As of 1/13/2016

XIV: -58.2%

7/6/2015

Short volatility in response to the Greek and Chinese driven volatility.

30 days later: UVXY: -39.75%

XIV: +19.12%

7/15/2015

Don't short volatility 3% into a possible correction.

Untold but has proven itself to the unfortunate souls not recently heeding its advice.

8/24/2015

Given changing market conditions, beware of pundits yelling "short the VIX" a week after it spikes.

Untold but possibly being realized.

9/22/2015

We are in the midst of a trend change in the VIX and will not see ultra-low volatility for an extended period of time.

The VIX has trended upward as predicted.

12/4/2015

It is very risky to be in inverse or pro-volatility products right now. I recommend staying on the sidelines.

As of 1/13/2016

UVXY: +75.45%

XIV: -34.77%

I have never actually recommended the purchasing of UVXY (only shorting it). I'll mark this as an overall draw but it was very important advice for inverse investors.
For the complete context of these recommendations, you can visit my article list here on Seeking Alpha and read the article posted on the above date.
Context
One of my best pieces in 2015, I believe, was Timing the VIX: A Lesson in Context. This article fully describes my categorization of volatility events. When volatility began to rise in December I categorized it as an economic event. Why was this important?
Because economic events don't just resolve themselves overnight, they sometimes drag on for years. Shorting volatility going into the government shutdown was like taking candy from a baby. You knew it was going to be resolved quickly. Eventually people get angry enough and things get done.
Economics don't work within the same parameters and take a long time to play out. Given the current action in volatility, we are seeing the results of an economic event.
Are economic events always based on realized conditions? No. Take a look at 2011. In 2011 we saw a huge spike in volatility related to fears of a double dip recession. That recession never came and the economy and stock market have charged forward ever since.
I love this chart from dshort.com which is posted in Jeff Miller's weekly Weighing the Week Ahead series here on Seeking Alpha. If you don't know of Jeff he is a great read and the articles are usually posted on Sunday so you can relax and enjoy a recap of the prior week and thoughts on the next. If you want news, Jeff is the man.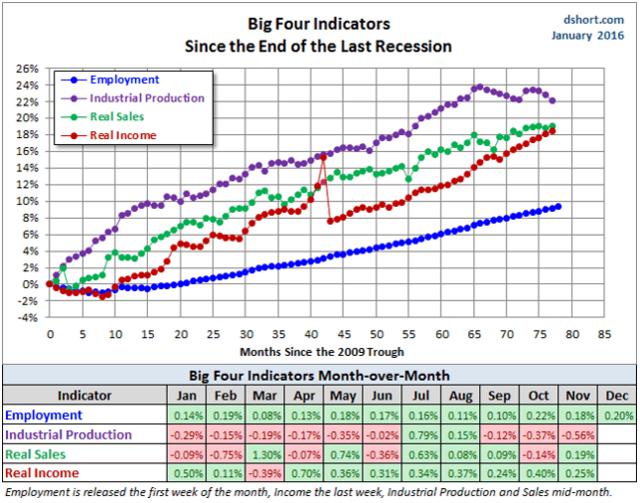 My one big positive on the U.S. economy continues to be the employment picture. Naturally real income will increase with a growing population and employment picture and in turn also real sales. Manufacturing numbers and industrial production lately have been disappointing along with the global economic headwinds.
My Take
Here's my biggest question: In the event of an economic downturn, what measures will the central bank and government take to aid the economy? We know how the private sector will respond; by laying off workers. There goes the employment, real sales, and real income trends from above. With an almost $19 trillion dollar of debt and already low interest rates there are real questions about how much help they could actually provide to stave off not only a recession but also deflation. As of now the U.S. economy continues to chug along and keeps posting positive growth. Other than a drop in the employment picture I don't foresee an imminent recession. When jobs begin to disappear, all bets are off.
This section was just me thinking out loud, feel free to add your take on the economy and predictions down below in the comment section.
How to Play Volatility Right Now
Earlier this week I was salivating at the mouth to enter a short position in UVXY. But, since I am in the classroom all day I only see the results of the day in the evening. My plan was to enter into a short position Monday if volatility went into a repeat of August 2015. By days end Monday the market was positive and gained further on Tuesday.
In this market, I am not chasing anything. If I can't catch it at the right time, I am letting it go. I would issue you the same advice given the current market conditions.
Eventually, if this downturn persists, we will reach levels in the futures market that are historically a good time to short volatility. See below for a chart of the VIX Index (note UXVY doesn't follow the VIX Index, it follows the VIX futures).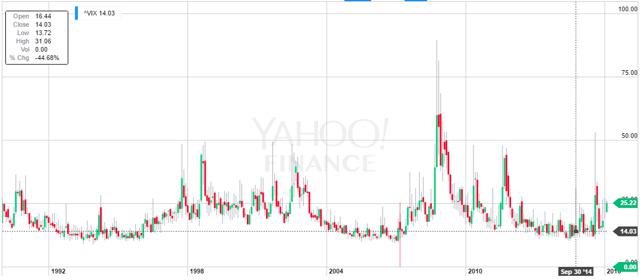 What I want you to take away from this chart is how far off we are from a potential peak in volatility. Volatility will not recover from here and go to 13 in a couple weeks. From a historical standpoint, the upside and downside to volatility here is about even with a slight curve to the downside.
Eventually, if market turmoil persists the futures will catch up to the action. We have seen, over the past few months, an increase in the entire VIX futures term structure.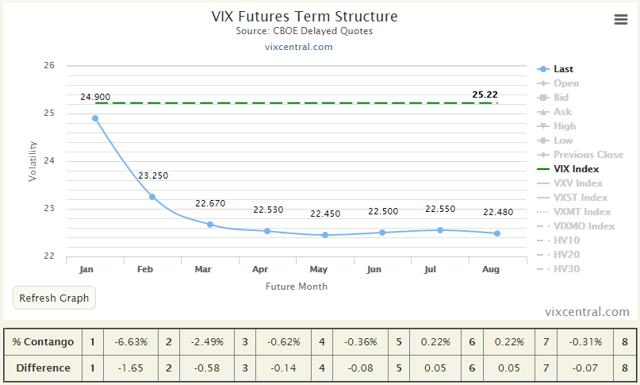 In 2011, here is how UVXY would have reacted: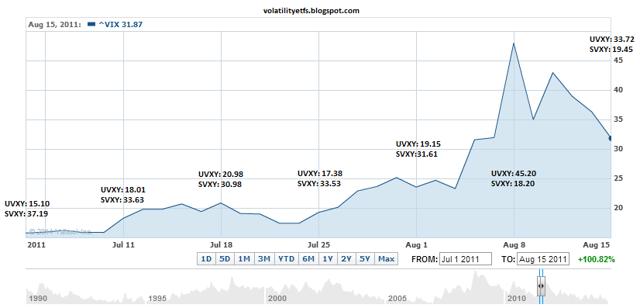 Chart created by Nathan Buehler using a Yahoo! Finance chart and back testing data from this article.
Things to know about UVXY
An often overlooked fact is that backwardation benefits UVXY. In 2008, even when volatility began to subside, UVXY still managed to remain slightly flat (back testing) due to the ultra-high levels of backwardation. These periods will only last a few months at best which is why we overlook them. Eventually gravity will catch up and UVXY will assume its normal direction. I view the potential upside here around a maximum of 100% barring a severe recession.
If you would like more information on UVXY and how it tracks the front and second month VIX futures contracts, please view my Beginner's Guide to Volatility series located under my articles.
My Plans
Of course I am hoping for a further drop in the S&P to more defined oversold levels. This just provides a relative amount of insurance when shorting UVXY. Shorting UVXY near the peak of the market doesn't give you the ability to soundly sleep at night. Peak markets also don't provide for that signature drop off in volatility after a market snap back. For example, in a bull market you will always expect the market to snap back. However, in periods of transition (possibly like we are in now), it may not immediately snap back to a new high.
I have moved completely away from the contango and backwardation strategy that we have discussed here in years passed. By waiting for contango to re-emerge you potentially take away much of the reward and present yourself with a lot of risk as futures can easily spike again.
For now, I am on the sidelines, and I am not afraid of missing an opportunity here if it means managing risk.
Conclusion
It's going to be a tough year for predictions. You might not always have that guaranteed drop off in volatility that we have seen recently. I would continue to avoid long-term positions in inverse volatility products such as XIV. Why? Because during periods of extreme market volatility it will take years for you to gain your losses back. Wait until after the next recession to sink all of your money into long-term inverse positions.
Right now I am sticking to playing high probability shorts on UVXY through weekly options. So far it has worked out well. Should conditions worsen I am going to look into Jan 2017 options to short. These have rich premiums and lots of time left until expiration in case you need to wait out an event. You can also look into shorting the shares directly if you can find them available.
Margin and leverage should be used very cautiously in these conditions and be prepared to possibly look at some losses while waiting for your trade to become profitable.
Even if the market has a horrible year, the chances of UVXY being positive at this point next year are slim.
Thank you very much for reading and remember, there are 352 days left in 2016, don't get too greedy.
Disclosure: I/we have no positions in any stocks mentioned, but may initiate a short position in UVXY over the next 72 hours.
I wrote this article myself, and it expresses my own opinions. I am not receiving compensation for it (other than from Seeking Alpha). I have no business relationship with any company whose stock is mentioned in this article.
Additional disclosure: Volatility products have many risks including losses that exceed more than 100% of your original investment. Please utilize the articles I have available on risk and seek out investment advice from licensed professionals. If you do not understand these products, you should not be trading them.