This article is a follow-up to my preceding article on Vantage Drilling (OTCPK:VTGDF), published on Dec. 3, 2015.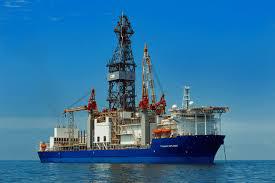 Source: Vantage Drilling; Titanium Explorer.
Yesterday, Jan. 12, 2016, The Wall Street Journal reported the following:
Vantage Drilling Co. is in for a court clash this week with Hsin Chi Su, an equity stakeholder hit with corruption charges growing out of the bribery scandal at Brazil's state-run oil firm, Petrobras.

Mr. Su says Vantage's U.S. bankruptcy turnaround effort is rushed and tainted. He denies allegations that he was involved in bribery designed to land a lucrative Petrobras drilling contract for Vantage.

Vantage counters that Mr. Su 'apparently estimates that he has nothing to lose' by initiating another in a long series of legal quarrels with the company, this time an attempt to block confirmation of a chapter 11 restructuring plan that has wide support. Mr. Su has sought a delay in the bankruptcy proceeding so independent officials can examine the restructuring.
In my earlier article, I had avoided a thorough analysis of the bankruptcy proposed by Vantage Drilling because I did not think the common shareholders were interested. But it was, in fact, two bankruptcies. The first bankruptcy involves OGIL and the subsidiaries of OGIL. The noteholders will receive shares of the new company "VTG" in exchange for the debt. The second bankruptcy is a separate liquidation under the ticker VTGDF, which the common shareholders will keep and will not be subject to any change.
The old ticker, VTGDF, which is still trading now, will hold some vague notes related to the sale of two subsidiaries at "market value," on the positive side. On the negative side, it will assume the $25 million converts and the F3 note (Su) for $70 million, actually disputed by Vantage. For anyone who would like more details, here is the 8K link.
According to The Wall Street Journal (see link above):
'... There appears to be a race by the debtors to get the plan confirmed,' Mr. Su's lawyer, Deidre Brown, said. 'Given the allegations related to Petrobras, it seems it would have been in all parties' best interests and in the interests of transparency and disclosure, which we expect from public companies, to have a liquidator appointed to independently act for Vantage.'

Vantage's chapter 11 plan is slated for review on Thursday in the U.S. Bankruptcy Court in Wilmington, Del.
VTGDF has totally collapsed since Dec. 1, 2015, when Vantage announced the restructuring.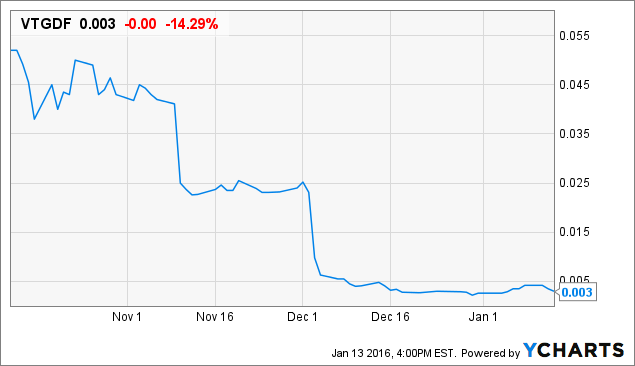 Commentary
I don't think this recent legal battle will have strong implications for VTGDF shareholders because the stock is now trading at a fraction of a penny and is totally worthless. However, Vantage Drilling might be in trouble if the company cannot finalize the bankruptcy deal.
An interesting point here is what the company said regarding the effects of the delay caused by Su's legal action. I commented on Sept. 2, 2015, regarding the entire Petrobras (NYSE:PBR) corruption saga, which involved a dozen different offshore drillers such as Ensco (NYSE:ESV), Transocean (NYSE:RIG), etc. It is interesting to read what the Brazilian police said about Su's activities prior to the Titanium explorer contract being signed and subsequently bought by Vantage Drilling.
Vantage Drilling said the following in The Wall street Journal article:
The delay Mr. Su is seeking would be costly, the company said, as it is involved in trying to renegotiate one major customer contract and preparing to bid for a new contract with another major customer.
It is an interesting comment, and I wanted to take a serious look at the fleet status to figure out which contract the company was renegotiating now, and which rig was involved in a new tender.
Here is the fleet status:
#
Name
Year Delivered
Type
Contract End

Day Rate

$K

1. Jack-Ups
1
Emerald Driller
12/2008

Jack-up

BMC375

1/16

1/16-3/16

(option 8 wells)

80

80

Thailand

2
Sapphire Driller
7/2009

Jack-up

BMC375

Ready Stacked

Gabon

3
Aquamarine Driller
9/2009

Jack-up

BMC375

Ready stacked
Malaysia
4
Topaz Driller
12/2009

Jack-up

BMC375

1/16-11/16

Indonesia

99

Letter of award subject to condition

2. Ultra-Deepwater
1
Platinum Explorer
11/2010
DSME-UDW

En route

590

[ONGC]

India

2
Titanium Explorer
3/2012
DSME-UDW

1/20

Terminated

Stacked

585

[Petrobras]

GoM

3
Tungsten Explorer
7/2013
DSME-UDW

11/16

641

[TOTAL]

Congo

4
Cobalt Explorer
Contract Canceled
DSME-UDW Dual Derrick 7th generation
-
-
Obviously, the company is talking about the UDW Tungsten Explorer,which is working in Congo for Total (NYSE:TOT). Perhaps the new contract is about either the jackup Sapphire driller or the jackup Aquamarine driller, which are both ready stacked. I do not think the UDW Platinum explorer will secure a contract extension with ONGC, and the rig is now "en route," as per Rigzone.
Disclosure: I/we have no positions in any stocks mentioned, and no plans to initiate any positions within the next 72 hours.
I wrote this article myself, and it expresses my own opinions. I am not receiving compensation for it (other than from Seeking Alpha). I have no business relationship with any company whose stock is mentioned in this article.
Editor's Note: This article covers one or more stocks trading at less than $1 per share and/or with less than a $100 million market cap. Please be aware of the risks associated with these stocks.