The fact that there is no quick turnaround in sight in the energy market is no longer something that should be doubted. I am not as pessimistic as some of the recent reports, such as the one from Moody's which suggests that oil prices will average in the $40-45/barrel range all the way till the end of 2018. Nevertheless, we have to admit to the fact that the global economy is not looking very solid at the moment, with China being a constant source of worry and the rest of the world continuing to record sub-average economic growth, compared to long-term averages. Within this context, I don't see how a strong oil price rebound is likely to happen in the next few years, even if we are seeing more and more capital spending cuts, which will lead to constraints on supply going forward.
Because of the potentially prolonged period of low oil prices, the viability and the profitability of shale oil & gas companies is an issue of great interest, because now, for the first time, the industry is being challenged to show its true profitability profile. In my last article on the subject, I covered Sanchez Energy (NYSE:SN), which it seems to me that it made a potentially disastrous mistake in closing on its Catarina deal with Shell, just before oil prices started to decline in the summer of 2014. My estimates, based on company data suggest that it is a project which has no chance of being even close to being profitable within the current oil & gas price context. It will most likely continue to bleed Sanchez even when oil prices will recover into a more reasonable range, such as $60/barrel.
In this article, I will cover EOG Resources (NYSE:EOG). It is by far the most solid shale producer in my opinion. I covered its West Eagle Ford and its Mountrail county operations in my "Economics of a shale well" series last year, with a view of a ten-year horizon in mind, and within the assumption of oil prices averaging $70/barrel during the period. As I pointed out in that article, EOG is the real deal in terms of being able to profitably exploit its acreage at that price. Of some concern however is the increasingly acute problem of well saturation within its more profitable acreage.
For this article, I want to focus more on the company's prospects for the next three years or so, assuming that oil prices will remain in the $40-45/barrel average till the end of 2018, as forecast by Moody's.
Production per well.
Even though a three year period is not a long enough time period to base a company's profitability outlook on the ultimate payout of a well as I did with the ten year assessment I did last year, we do nevertheless have to pay attention to well results.
West Eagle Ford.
The latest company presentation suggests that there has been an improvement in production volumes per well in 2015 compared with the previous year.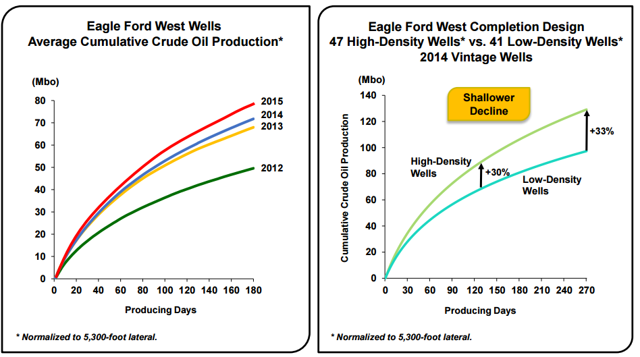 Source: EOG Wells Fargo presentation.
Based on the above graph, an estimated average production per well of about 160,000 barrels can be expected in year one, which would yield about $4.7 million after subtracting a 35% cost of G&A, wellhead taxes and royalties. I am assuming an average oil price of $45/barrel for this exercise. That $4.7 million will go towards paying for capital costs, interest on debt as well as other costs. The average cost of a well in this play is estimated to be $5.3 million this year. It may not reflect some of the sensationalist claims floating around in the past few years in regards to shale wells paying back for themselves within a few months or a year, but it is nevertheless clear that within a few years, EOG can recover its investment in an Eagle Ford well, even within the assumed $40-45/barrel price environment.
Delaware Basin.
There has been no significant increase in initial production per well in this play for EOG in 2015, compared with the previous year.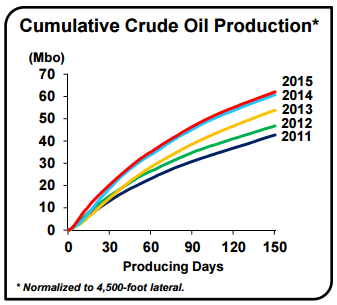 Source: EOG Wells Fargo presentation.
Based on the initial production results presented in the above graph, first year production can be estimated in the 110,000 barrel range, yielding an after deductions (taxes, royalties, G&A) revenue of about $3.2 million in the first year, assuming the same average $45/barrel price as before. The average cost of a well in the area is about $5.5 million according to EOG, therefore recovering its investment in the current price environment will be far more challenging compared with Eagle Ford. We should keep in mind that in the second year of production, revenue can be expected to be only about 40% of the first year take, based on typical shale well decline rates, with first year decline in the 65% range.
Bakken.
For the Bakken operations, we need to keep in mind that there is still a significant wellhead discount, therefore we should assume a price of $35/barrel, instead of $45. Its Mountrail acreage in the Bakken core enjoys an average first year production of about 165,000 barrels as I pointed out in my "Economics of a shale well" series., which should yield an average first year revenue per well of about $3.6 million. EOG's target cost per well is $6.5 million in the Bakken. It is therefore also a play in which recuperating its capital investment will be harder to achieve within the current price environment, but should happen eventually, after many years of production from an average well. We should also keep in mind that this calculation reflects only its Mountrail acreage, where shale production has been more profitable. EOG also has acreage outside the Bakken core which is most likely less profitable on average.
Financial results.
The third quarter results show just what a difference the low price of oil has done to EOG's bottom line. On operations revenue of $2.2 billion, it took a net loss of $4.1 billion. Personally, I am not overly interested in these headline numbers, because they most often include paper losses. The operating loss of $6.2 billion looks even worse, but with the impairment charge of $6.3 billion, it is a highly distorted figure.
I prefer to steer clear of accounting effects and go to the basics, such as capital spending, interest costs, G&A costs, royalties and other spending, versus revenues. I want to answer the question of whether a company will pay down some of the sunk costs, or will it accumulate more debt as a result of its operations? In this respect, EOG is looking a little bit shaky. Capital expenditures for the full year may come out to around $4.7 billion for 2015. Within this capital spending context, EOG production is declining. Revenues may come in at the under $9 billion range. and we should keep in mind that the average price of crude in 2015 was just under $50/barrel, while for 2016, we have recent forecasts in the $40/barrel or under range.
With operating costs, minus the $6.4 billion in impairments in the $7 billion range for the first nine months of 2015, it goes without saying that EOG will continue to be squeezed for as long as oil prices stay this low. Interest costs are not yet an issue at 3% of revenue, but costs are growing. As I pointed out many times before, once a company reaches the point where interest expenses will surpass 10% of revenue, it should be considered as a first sign of having to keep an eye on its long-term viability. I am not sure whether oil prices remaining low until 2018 or even beyond will cause EOG to cross that threshold, but I do believe that it will be forced to take on more debt as it will not be able to finance its operations from internal resources in the current oil & gas price environment.
To sum it up, I do see EOG emerging out of the current oil price downturn as one of the shale companies, which will undoubtedly be able to profit from the downfall of weaker competitors. Doing so will be essential for the company's future, because some of the acreage which helped make EOG a strong player in the shale industry is increasingly reaching saturation. It will therefore need to pick up the good plays which often can be found within the portfolio of struggling companies. EOG has the resources to do this and make it through the challenging times ahead. By the time it makes it through this period, it will no longer be the growth stock that many may expect and its financial situation will not be as solid as it is right now. The acreage it will take over from others, will most likely be partially exploited as well, and its current acreage is getting more and more saturated in the sweet areas, as I pointed out. But at least, it will be one of the companies left standing.
Disclosure: I/we have no positions in any stocks mentioned, and no plans to initiate any positions within the next 72 hours.
I wrote this article myself, and it expresses my own opinions. I am not receiving compensation for it (other than from Seeking Alpha). I have no business relationship with any company whose stock is mentioned in this article.