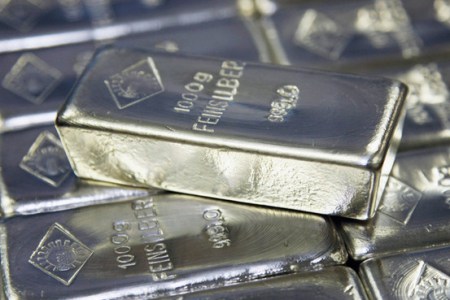 Silver bars.
Silver remained under pressure for a third straight year in 2015, falling about 12 percent to its lowest level since 2009. In Q4 2015, silver continued to witness selling pressure, posting a quarterly loss of 5 percent, which we attribute to a challenging macroeconomic environment for commodities, poor global industrial demand, and weak investment demand.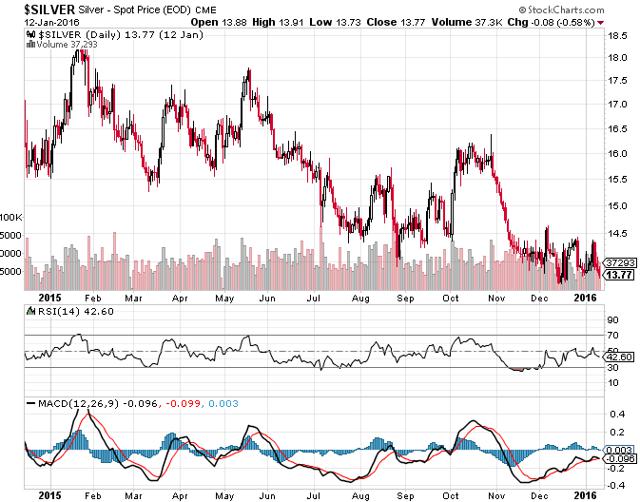 Source: StockCharts
Our forecast:
In Q1 2016, we expect an upward trajectory for silver prices, averaging about $14.50 per ounce, on the back of improved investor and speculative sentiment, before experiencing renewed selling pressure from Q2 2016, chiefly owing to weaker industrial demand.
Our analysis:
Over a short-term horizon (<3 months), silver is mainly driven by sentiment, which itself tends to be influenced positively with gold prices and negatively with the dollar and real interest rates.
As we documented in our previous Gold Weekly updates, we have a bullish view on gold for Q1. We believe that the gold market could enjoy a confluence of positive factors: increased geopolitical tensions (which should translate into ETF buying), overstretched spec positioning (which should trigger some bouts of short-covering), strong physical demand out of Asia due to current attractive prices.
Our view on the dollar and US real interest rates is more contrasted. Indeed, we understand that increased geopolitical tensions in the Middle East and other regions of the world should move real interest rates lower and the greenback higher, reflecting an environment favoring safe-haven assets. At the same time, we acknowledge that the recent turbulence in the global financial markets, triggered essentially by China, could prompt the Fed to consider an even shallower path for Fed rate increases, which would lead investors to temper their bullish view on the dollar. As a result, we believe that, on net, the dollar should remain broadly stable in Q1, while real interest rates will move lower.
To sum up, our bullish view on gold prices and our bearish bias on the dollar and especially US real interest rates lead us to believe that sentiment in the silver market will improve.
This should therefore translate in ETF buying. According to our estimations, ETF investors sold 180 tonnes of silver in Q4 2014 after selling 236 tonnes in Q3, bringing total outflow to 506 tonnes for 2015. The pace of selling last year was stronger than in 2014 (181 tonnes) and in 2013 (82 tonnes). Although we expect net outflows to reach around 800 tonnes for 2016, we would not be surprised to see strong inflows in Q1, as retail investors might be inclined to accumulate at current price levels.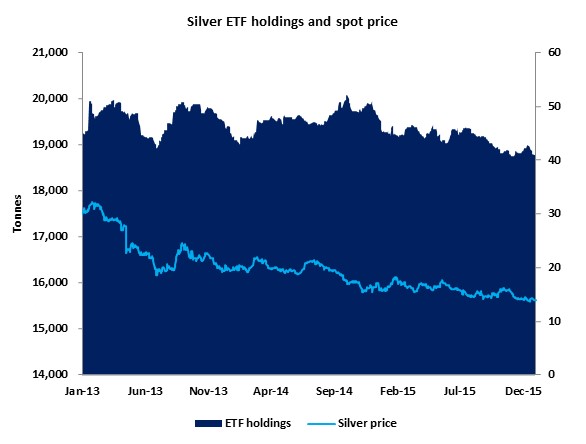 Source: FastMarkets
The improvement in the silver market should also translate into a pick-up in net speculative long positions on the COMEX. According to the CFTC, money managers reduced sharply their net long positions in Q4 2015 but the net spec length did not retest its all-time low seen in July. That said, we see the current spec positioning in spec positioning as somewhat overstretched on the short-side, leading us to understand that some short-covering could emerge during the first three months of the year.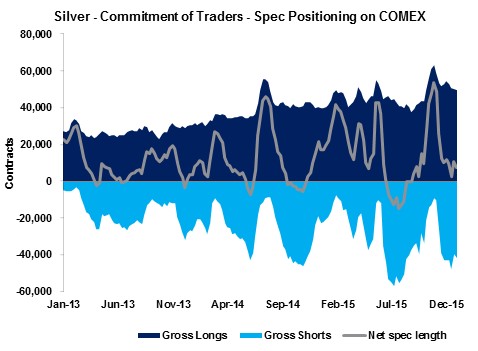 Source: CFTC
But beyond a 3-month horizon, we expect renewed weakness in silver prices on the back of weaker industrial demand. Industrial demand for silver, which accounts for about 50 percent of total demand, was disappointing last year and is expected to disappoint again in 2016 amid slowing global economic growth, particularly in the EMs. Importantly, industrial demand remains highly vulnerable to thrifting of silver, especially in the photovoltaic sector. Natcore Technology (OTCQB:NTCXF) announced in July 2015 the development of a breakthrough solar cell structure that might allow for the elimination of silver from mass-produced solar cells, which could have a significant negative impact on silver demand and prices. Even though mine supply may become tighter and jewelry demand may remain strong, we believe this will be insufficient to offset downward pressure from poor industrial demand.
Disclosure: I/we have no positions in any stocks mentioned, and no plans to initiate any positions within the next 72 hours.
I wrote this article myself, and it expresses my own opinions. I am not receiving compensation for it (other than from Seeking Alpha). I have no business relationship with any company whose stock is mentioned in this article.