The bank stocks can't seem to catch a break. After years of regulatory headaches that are starting to disappear, banks like JPMorgan Chase (NYSE:JPM) appeared set for strong results on the back of the Fed finally raising interest rates. Instead, the financial stocks are now trading towards yearly lows due to concerns that the credit cycle is ending.
In the case of JPMorgan, the stock plunged from nearly $68 to start the year all the way to below $58. The market now fears the credit cycle is over right when the benefits of higher rates are expected to kick in. Is now really the time to dump this bank stock at the lows?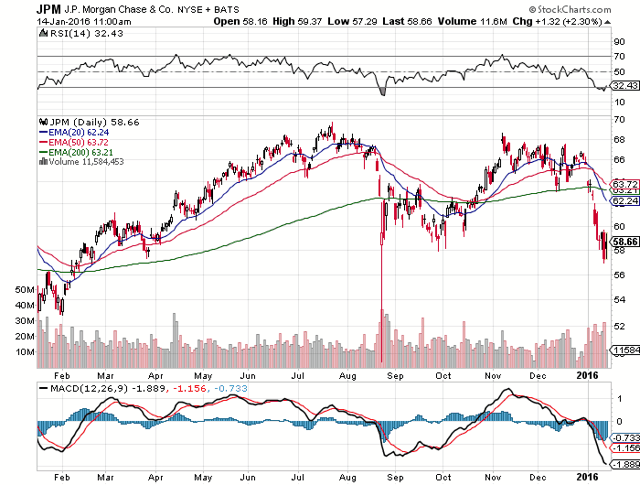 By most accounts, JPMorgan had a strong quarter. The bank earned an incredible $5.4 billion in profits and has now generated an annual EPS of $6. With the stock trading below $60, JPMorgan trades at an extremely cheap multiple of less than 10x actual earnings.
As with most of the financials since the credit crisis going on eight years ago, the market spends more time worried about the risks with limited views of the potential rewards.
For Q4, JPMorgan saw loan growth of 16% and returned $2.6 billion to shareholders. For the year, the bank returned $11.0 billion to shareholders via a $4.5 billion stock buyback and now offers a 3.1% dividend yield.
The market though is focused more on potential losses from energy loans and even some dire comments about the end of the credit cycle. For the bearish case, check out these tweets from Josh Steiner of Hedgeye: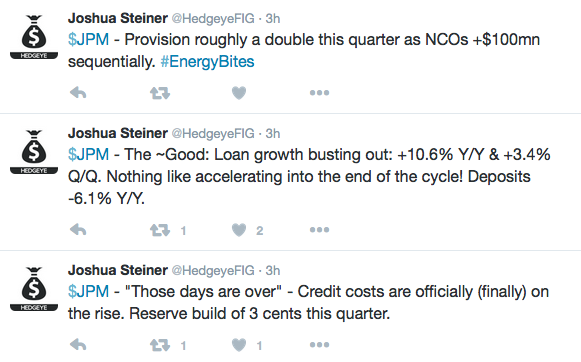 For Q4, credit costs were definitely up compared to prior periods. JPMorgan though more then offset the increases with better operations and cost cuts. The end result was higher earnings than the prior Q4.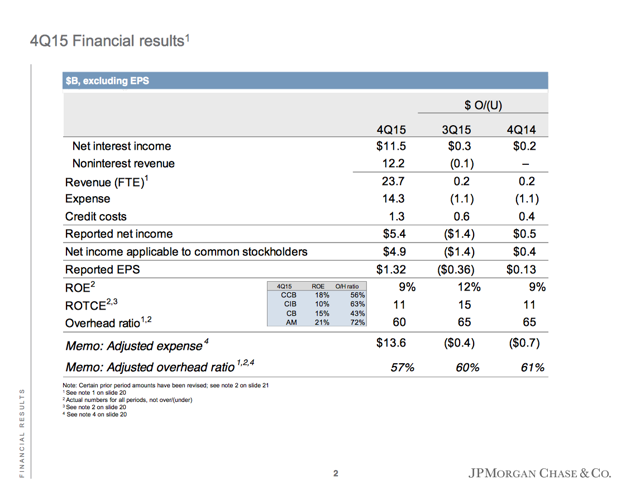 Source: JPMorgan Q4'15 presentation
The key takeaway is that the stock remains extremely attractive as the market frets about every potential risk to the bank. One of the leading banks wouldn't trade for 10x earnings if that wasn't the case. Investors should use the recent dip to load up on JPMorgan as the leading bank continues cruising along.
Disclosure: I/we have no positions in any stocks mentioned, and no plans to initiate any positions within the next 72 hours.
I wrote this article myself, and it expresses my own opinions. I am not receiving compensation for it (other than from Seeking Alpha). I have no business relationship with any company whose stock is mentioned in this article.
Additional disclosure: The information contained herein is for informational purposes only. Nothing in this article should be taken as a solicitation to purchase or sell securities. Before buying or selling any stock you should do your own research and reach your own conclusion or consult a financial advisor. Investing includes risks, including loss of principal.