Overview
Commodity stocks have been lousy performers of late, but Lynas Corp. (OTCPK:LYSDY) has been an exception: shares have nearly quadrupled off of their 2015 lows. While these lows are 99% off the company's 2011 highs investors have seen several compelling reasons to suspect that this is more than just a dead cat bounce:
Lynas was able to refinance its loan, which means its risk of not meeting its loan obligations in the near-term has declined considerably.
Lynas has shown tremendous operational improvements based on several quantifiable metrics such as production growth (especially in its biggest contributors to revenue--praseodymium and neodymiun) and operating cost reductions.
The company recently met a production goal that qualifies it for a 0.5% interest rate reduction on its loan facility. It is on track to qualify for additional interest expense reductions assuming it meets certain Pr/Nd production minimums.
These are certainly admirable achievements considering the operational difficulties faced by companies in the REE space, and it is not surprising that there is only one major REE operation outside of China given these difficulties, and given that five years ago there weren't any. In fact, like it or not Lynas is the premier REE company outside of China, and of all the hopefuls out there we would be surprised if more than one were to match Lynas' achievements over the next decade.
Furthermore, Lynas has a unique advantage as an REE producer outside of China. The value of this advantage cannot readily be quantified, and we can see why investors would want to own a piece of this despite our assessment of the company's ability to generate cash-flow at current REE prices. After all, where will the Western world get its REEs but from Lynas should a trade war erupt between Western nations and China and its allies?
Finally, the case for higher prices is compelling since they've fallen so low as to render the industry uneconomical, including in China. There are many reasons for this price decline, several of which we've touched on recently.
The global economy has not grown sufficiently to accommodate the supply that has come online.
Phosphor demand has plummeted, and this has reduced demand for yttrium, europium, and terbium. While other elements were impacted (e.g. lanthanum, praseodymium) the phosphor market was the largest source of demand for these elements, whose prices have collapsed.
Magnet producers have done tremendous work towards reducing/eliminating dysprosium from NdFeB permanent magnets, rendering this market oversupplied.
Under the new taxation/quota regime FOB prices have converged with domestic Chinese prices.
Since REEs are produced together, and since they are not produced in proportion to the quantities in which they are consumed, production of some REEs must exceed demand so that production of other REEs can meet demand.
As Rick Rule says the cure for low prices is low prices, and we're quite confident that REE prices will rise long-term in part because prices are so low. Already we've seen production come offline (e.g. Molycorp's (OTCPK:MCPIQ) Mountain Pass) while several development projects have been delayed or abandoned (e.g. Bear Lodge: Rare Element Resources (NYSEMKT:REE), Browns Range: Northern Minerals (OTC:NOURF) and Nechalacho: Avalon (OTCQX:AVLNF)). We can easily foresee a scenario in which prices rise considerably from here in a short period of time, making Lynas an incredible cash-flow machine as the only major REE producer outside of China.
However, this doesn't necessarily mean that we like Lynas as an investment. The company faces several hurdles:
While it has had a cash-flow positive quarter this was solely on an operating basis and at higher REE prices--Lynas is almost certainly losing money at today's prices.
The company is indebted. This increases its NEV, burdens it with interest expenses and future cash requirements that it may not be able to meet if REE prices don't rise. If they fall it is feasible that Lynas' creditors won't allow the debt to be rolled over.
Valuation relative to cash-flow isn't attractive at current REE prices, even if we assume operational improvements that render the company cash-flow positive.
We will see that the downside in Lynas is considerable, yet so is the upside, and that small changes to our assumptions can alter the investment outlook for Lynas shareholders. Therefore, the risk/reward is incredibly difficult to gauge given that our assumptions in the REE space are going to have a greater margin of error given the difficulties faced by REE producers.
A Brief Overview of Lynas
Lynas operates the Mt. Weld REE mine--containing hard rock monazite in Southwestern Australia. This ore is beneficiated and sent to the Lynas Advanced Materials Plant (aka the "LAMP") in Malaysia. Here it is leached and cracked using sulfuric acid in a hydrometallurgical plant, and radioactive waste (e.g. thorium) is separated out and disposed of; then solvent extraction circuits are used to separate the REEs from one another. The following is a very basic flowsheet outlining the path Lynas' Mt. Weld ore takes in order to be processed into saleable REO Products: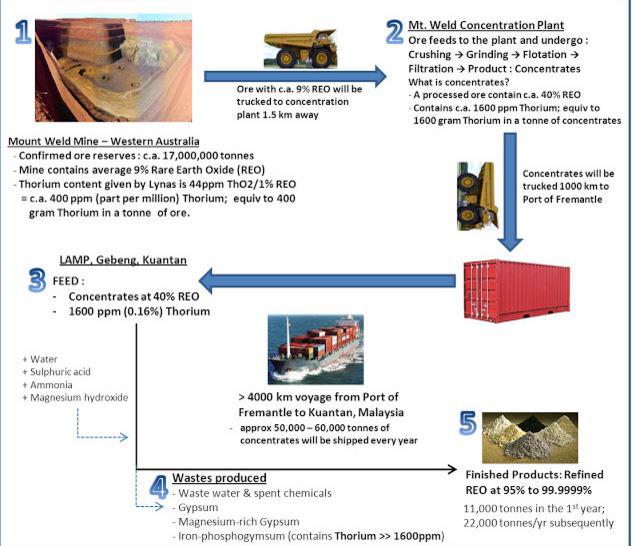 Lynas' LAMP produces cerium, lanthanum, a praseodymium/neodymium mixture that can be used in NdBFe magnets, a samariam-europium-gadolinium concentrate that can be further separated for industrial usage, and a heavy REE concentrate, which also can be further separated for industrial usage. This last product is not listed in the company's annual report or used in its calculation of its total basket value in the annual report (see the following table), although we've been told the company produces it, adding ~$0.90/kg. to Mt. Weld's basket value given the deposit's REE distribution (source: Tech Metals Research).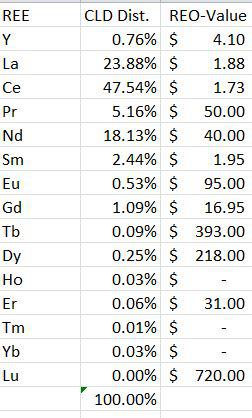 Production began much more slowly than had been anticipated given a variety of bottlenecking issues, but the company's production currently exceeds 10,000 tonnes per year, and more recently has exceeded 1,000 tonnes per month. Production costs have come down, volumes have come up, and the performance has become much more consistent. Investors are encouraged to look at the company's AGM slide deck, which has lots of charts that illustrate this. Finally, production of the two most valuable products--Pr/Nd--has risen to ~30% of the company's overall production vs. a CLD (aka the Central Lanthanide Deposit) distribution of ~23%. Our research into this anomaly has yielded a couple of explanations, although the most likely of these is that the Pr/Nd has stayed in the solvent extraction circuit and is now (or recently) coming out, yielding more of these valuable materials. We will therefore treat it as anomaly and use the stated distribution in our valuation assumptions in what follows.
Lynas' REE Basket
Since the company will not be separating samarium through lutetium in our basket price calculation we've assumed an $8/kg. separation cost for each of these elements. This is consistent with data we've been using in calculating the values of other REE projects, which has the endorsement of several industry experts (we've yet to hear any objection regarding their accuracy). This data is marked at REO-Value 2, and it is the data we use to calculate Lynas' basket value.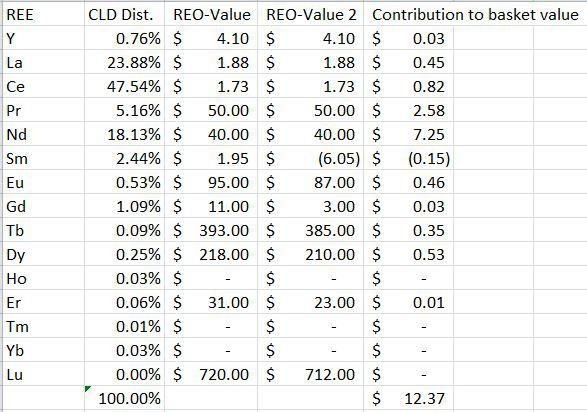 This $12.37/kg figure is only slightly above the company's most recent quarter's operating costs of ~A$16/kg ($11.36 assuming an AUDUSD exchange rate of 0.71). At $1/kg. ($1,000/tonne) in operating cash-flow and 12,000 tonnes of production per year Lynas is positioned to generate $12 million in operating cash-flow compared with a $220 million market capitalization. G&A has come down considerably but even in the most recent quarter it annualizes to ~$20 million, meaning Lynas generates negative net cash-flow. This doesn't look terrible for a company that is growing production and reducing its costs. But keep in mind the company's debt obligation, which amounts to $430 million that is offset by the company's A$56 million (US $40 million) cash position (as of the end of September) in our NEV estimate, giving the company an NEV of $610 million vs. its $12 million in operating cash-flow and ($8 million) in net cash-flow.
The Upside Potential
This simply isn't enough cash-flow for Lynas to survive given its debt obligation (barring another restructuring), let alone to present as an attractive investment opportunity. However, with REE prices so close to operating costs it follows that a small increase in the former could generate a substantial rise in the company's operating cash-flow. For instance, a rise in Lynas' basket to $16.50 would push Lynas' operating cash-flow up to $60 million per year, putting the company's NEV at 10X cash-flow. That requires an increase in REE prices by a third.
10X operating cash-flow may not seem like a steep valuation, but keep in mind that commodity stocks have lost so much value that many are trading at 2-6X operating cash-flow, with many trading at or near the value of cash on their balance sheets. Many of these companies are mining for metals that are easier to produce and can be sold into more liquid, less volatile markets than REEs, indicating that 10X operating cash-flow is expensive for a company such as Lynas given its operational risks and debt obligations. Again, this valuation scenario assumes a ~33% increase in REE prices.
Bulls will retort that these operational risks run both ways, and they're right. Lynas was an inefficient REE producer that is steadily becoming more efficient. It is constantly making improvements to its LAMP, and we suspect that over the long run the company can continue to increase production. It is unlikely that costs can come down much more than they already have since most of the start-up issues have been resolved. However, we shouldn't rule this out, especially as the company increases production, given that it has several fixed costs. The best chance of seeing opex per kg. decline at this point would be if Lynas successfully meets its stated production goal of 22,000 tpa in the face of both fixed and variable production costs (the fixed coming down on a per-unit basis) Furthermore, given a statement found in the company's most recent quarterly activities report, Lynas can potentially introduce higher value versions of the REOs it's producing by further purifying them. High purity lanthanum--used in lenses--and high purity neodymium--used in lasers--both command ~3X the price that normal versions of these products (usually 99.9%+ pure vs. the high purity products which are 99.999%+). The company also says it is producing higher value cerium, although the quarterly activities report gives us little else. These latter markets are very small for the time being, but we suspect the margins will be substantial on this final upgrade from standard industrial grade purity to high purity.
Cost Reductions and Production Increases
Cost reduction is more important than production increases, but the latter can be a significant driver for the former as was the case in the quarter ended September 30th, which saw an improvement in recovery rates and a consequent reduction in costs. US investors should note that the following chart is in Australian Dollars, which have fallen in value compared with the USD.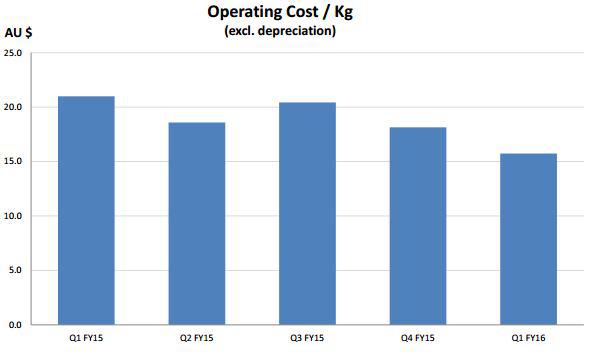 (AGM Slide deck)
Note that since the LAMP is in Malaysia that some of the company's costs will be in Ringgits, which have also declined in value vs. the USD.
Falling costs can be attributed to de-bottlenecking, improved recoveries, a reduced labor force, currency tailwinds, and more efficient power consumption. Costs for several inputs such as fuel and reagents have come down as well given the soft resource market.
Over the next few years the company plans on increasing its production from ~12,000 tpa. up to 22,000 tpa. This in itself will lead to a substantial decline in costs. While we don't know the breakdown between fixed and variable costs, the company's (admittedly outdated) estimate is 30%/70%. This means fixed costs will be ~$3.4/kg. at today's 12ktpa production rate or ~$41 million per year. Variable operating costs will be ~$8/kg. Assuming fixed costs remain fixed as the company increases production that figure will effectively decline to a mere $1.90/kg. at 22,000 tpa. This puts total opex in the expanded production scenario at $9.90/kg.
The company is pursuing additional cost saving measures, although it doesn't offer guidance so we can't model them. However it is useful to know what they are qualitatively. In addition to what has already been said the following passage from the annual report is useful.

Valuation
We will model production increases of 20% per year until 22,000 tpa is achieved. We assume that the company gets all of the interest rate reductions assumed (see pgs. 39-40 of the company's latest annual report). We will not be assuming that the debt is paid back on time since cash-flow expectations at current REE prices doesn't allow for this (debt + interest obligations would be ~$25 million in 2016, $60 million in 2017, and $378 million in 2018. It can make the first two but will have to roll over more of the debt. We assume $250 million. We will assume a 4.25% interest rate (the company's two loans right now are at 2.75% for the convertible (conversion at a much higher share price) and 6.5% for the JARE, both of which are roughly the same size and a 5-year duration through 2023). The company has a starting cash position of $40 million.
Non-operating costs (G&A) have come down considerably: from A$125 million in 2014 to A$40 million in 2015 down to A$7 million in the first quarter of 2016. Assuming A$7 million (US$5 million) per quarter we get $20 million per year.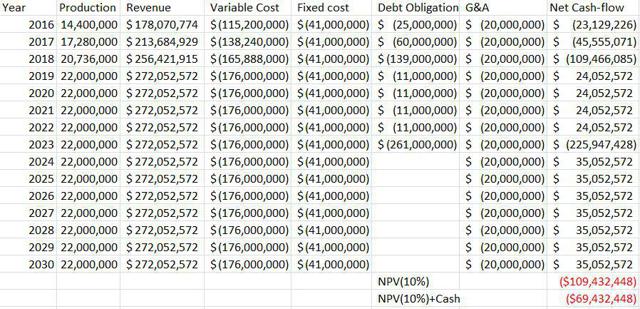 This compares with Lynas' market capitalization of ~$200 million. While future cash-flows might justify a $200 million market capitalization the near-term liabilities are a substantial drag on the valuation. Also note that these numbers are before taxes. Australia has a 30% corporate income tax, although Lynas has a lot of sunk costs that it can recover.
In order for Lynas to become attractive we need to see REE prices rise in addition to the improvements we've incorporated. If this happens we can see Lynas as a multi-bagger from here. The following assumes that prices rise by 33%.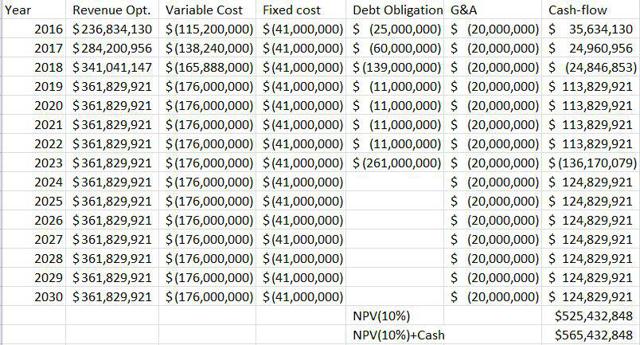 After taxes this would still work out to a triple-digit return.
The Bottom Line
Lynas is a great company, and there is a reasonable chance that an investment in Lynas shares today will generate a healthy return as REE prices rise above the cost of production. However the economics of Mt. Weld/LAMP today, coupled with the company's near-term financial obligations render this an unattractive investment.
Having said that several of our variables are such that they could change minimally and radically alter the company's ability to generate cash-flow. The fact that we go from a negative NPV to a triple-digit return with just a 33% increase in REE prices suggests that the upside potential is incredible, especially considering the rapid growth we should see in the Pr/Nd markets given that magnets are becoming more ubiquitous in modern-day products. With prices coming down between 80%-99% for each REE our 33% upside scenario is arguably conservative. The same can be said about our optimistic NPV scenario.
Additional upside in REE prices--especially for Nd/Pr--is likely given: (1) the current cost of production (Lynas is not a high-cost producer), (2) the shortfall in Nd/Pr (see the following supply/demand table) and (3) the observation that Lynas faces minimal competition except in China, where many are predicting reduced production as the government cracks down on illegal mining.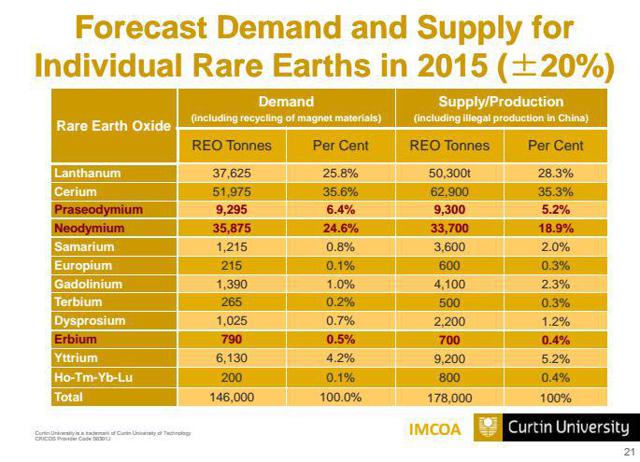 With respect to this last point we note that even the most advanced LREE companies are in no position to move their projects forward, especially in this low price environment. The most advanced is probably Arafura (OTCPK:ARAFF), which needs more than $1 billion in order to get its Nolans Project into production. The second most advanced is Rare Element Resources --which owns the most advanced REE project in the United States--has effectively put its project on hold. There are several others although production is going to be years away as we need to see advanced metallurgical analyses, pilot plants, permitting, financing, construction and then project optimization (remember that Lynas still hasn't achieved all of this).
Given all Lynas has achieved relative to its competition it certainly deserves to trade at a premium valuation. Furthermore, there is tremendous long-term appeal given the company's potential to generate cash-flow after expansion and after it repays its debt. But investors still have to face today's economic reality (i.e. low REE prices) and Lynas' financial reality (thin operating margins at best plus near/intermediate-term debt obligations). Thus for now the best strategy seems to be to wait on the sidelines for further developments.
Disclosure: I/we have no positions in any stocks mentioned, and no plans to initiate any positions within the next 72 hours.
I wrote this article myself, and it expresses my own opinions. I am not receiving compensation for it (other than from Seeking Alpha). I have no business relationship with any company whose stock is mentioned in this article.
Editor's Note: This article covers one or more stocks trading at less than $1 per share and/or with less than a $100 million market cap. Please be aware of the risks associated with these stocks.