"The world's six largest publicly traded oil producers have more than a half-trillion dollars in stock and cash to snap up rival explorers," Bloomberg wrote on 12 November.
Guess what?
Exxon (NYSE: XOM) leads the pack.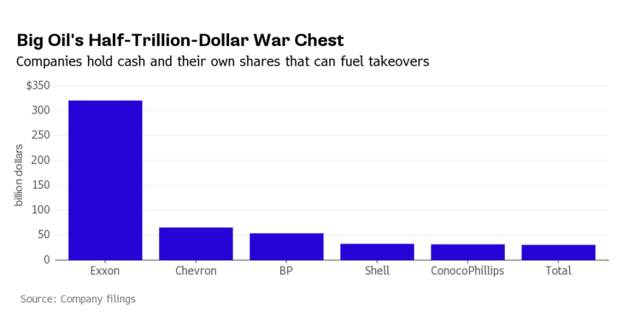 (Source: Bloomberg)
Let's try and determine if you should worry about Exxon's corporate strategy and whether it is time for the world's largest publicly traded oil company to embark on large acquisitions.
BP
BP (NYSE: BP) has been long rumored as a possible partner, but should XOM shareholders hope for such a combination?
Between 2010 and 2015, 46 cents in every dollar made by XOM "had been returned to investors in buybacks and dividends: almost twice as much as for its closest competitor," The Financial Times pointed out last year.
On top of that, evidence shows that XOM has been more cautious than its rivals when it comes to capital deployment.
The Trade
The chart below highlights one the reasons why the bulls insist that XOM remains a solid equity investment, particularly when the slide in regular gas prices is compared with the drop in oil prices - of course, I appreciate the chart below could leave you with mixed feelings.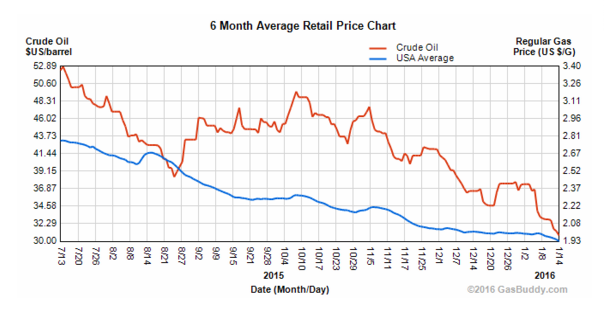 (www: theburningplatform.com)
Happy Days
Trading conditions eased on Thursday, 4 January. Oil prices mildly rose, so it was a joy for oil investors - oil stocks roared back soon after St. Louis Fed President James Bullard made some pretty obvious remarks on monetary intervention and oil prices, but there you go: every little helps.
Elsewhere, Harold Hamm's optimism made the headlines and helped boost confidence among investors, too.
Risks remain, however, and there is a possibility that deal-making appetite will surge, the press argues, even though doubts abound at a time when fuel could become cheaper than bottled water.
Mergers And Acquisitions
Mergers and acquisitions (M&A) surged last year, yielding $323bn in announced or proposed oil-and-gas M&A to the end of September.
This is called M&A of necessity, where the acquirer tends to exploit the asset base of the target to deliver cost savings.
"Oil and gas is the third-most-active sector for M&A this year and has helped drive overall announced deal volume to $3.2 trillion world-wide, putting 2015 on pace to roughly match the record of $4.3 trillion set in 2007," The Wall Street Journal wrote on 30 September, using data from Dealogic.
Long-term trends for oil and gas M&A are shown in the table below.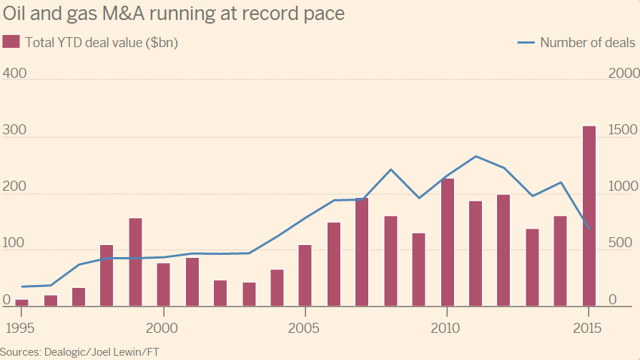 (Source: The Financial Times)
As BP showed this week, it's still possible to find cost savings in the form of additional layoffs rather than pursuing non-organic growth.
Upstream
What kind of deals are happening, though?
Certainly, upstream M&A is falling - traditionally the most active area in M&A - and recorded a lackluster performance in 2015, as the table below shows.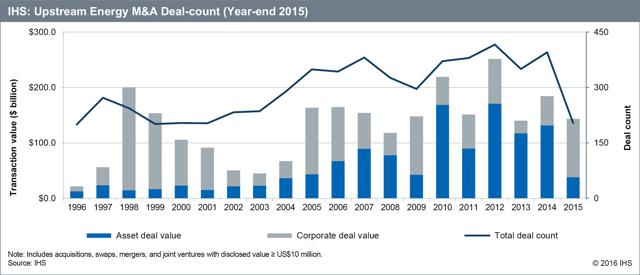 (Source: Ogfj.com)
Exxon's upstream operations are problematic, and billions of earnings have been lost there following the plunge in oil prices, but given its focus on the reminder of its assets portfolio, I would be inclined to suggest that a targeted deal to bulk up its downstream operations could make sense.
XOM doesn't need encouragement - and, aside from that, some $170 billion in project cuts are expected across the sector between 2016 and 2020.
Cheer up: miners are not better off these days.
Beer
The terms of a jumbo bond package backing Anheuser Busch Inbev's (NYSE: BUD) acquisition of SABMiller (OTCPK:SBMRY) were disclosed earlier this week. The $45bn-plus bond deal has received a very strong response from the market, I gather.
Yet Geoff Cutmore of the CNBC was not impressed.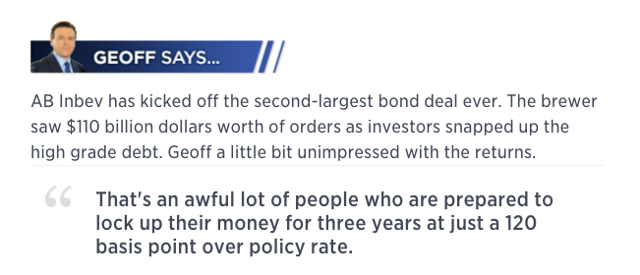 (Source: CNBC)
What this means, quite simply, is that Exxon could very easily embrace large M&A, and fund it by raising billions of debt.
It has an overcapitalized balance sheet, with net leverage below 1x, and is taking action - check out the latest reports covering its Beaumont refinary unit. Bad news regarding its 149.5K bbl/day Torrance plant should not give you headaches, although the economic impact is hard to gauge.
Balance Sheet
The table below shows some of the strongest balance sheets in the oil industry based on the debt to equity ratio and returns - these two metrics don't tell the full story about XOM and other oil producers, but serve the purpose of this analysis.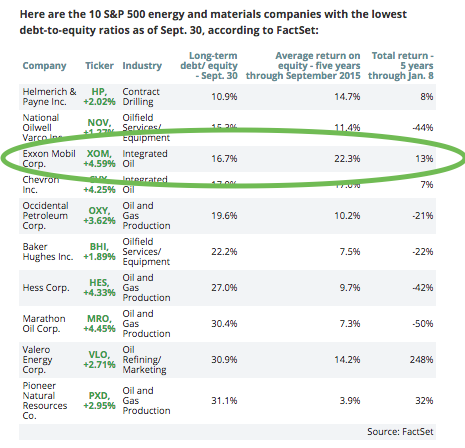 (Source: MarketWatch, FactSet)
Deals
Statoil acquired stake of about 12% in Sweden's Lundin, making a $540m bet on upstream assets, it emerged on Thursday.
The Financial Times wrote that:
Norway 's Statoil, which has some of the lowest reserves among the oil majors, "has underscored its commitment to the North Sea and Arctic by buying a big stake in Lundin Petroleum, the most successful recent oil explorer in Norway."
The acquirer is unlikely to increase its holding over time.
Lundin has been oft-rumored to be a takeover target, so Statoil's move is opportunistic, and could be followed by similar action from other oil majors.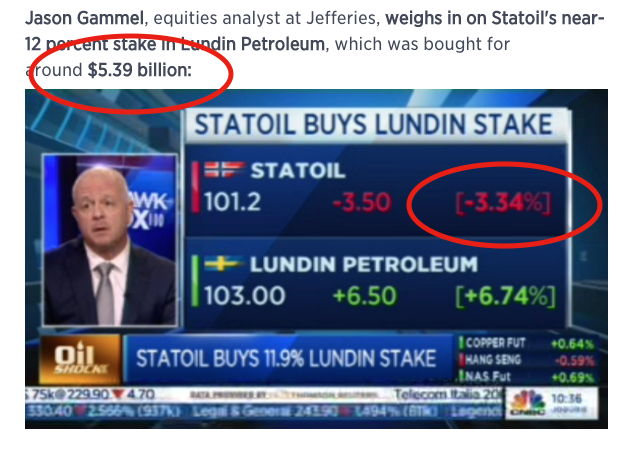 (Source:CNBC, edited by the author)
Firstly, CNBC applied the wrong exchange rate to the deal, but that happens when you have busy early morning shifts. Secondly, Exxon management surely has noticed the market reaction to today's news, and I doubt it would be inclined to lever up to acquire strategic or opportunistic stakes and/or to undergo transformational M&A. Rather, Exxon could attract interest from investors keen to bet on a rebound in oil prices - this element, in my view, is not priced into its shares, which surged over 5% to $79.5 on Thursday.
Value
The attempt made by Big Oil is to try and crystallize the value of several prominent assets in a challenging market.
Not only the Kingdom of Saudi Arabia is considering its options, but Nigeria is also looking to sell a stake in its fuel refining and distribution assets - a move that was labeled as "inevitable" by Emmanuel Kachikwu, a former Exxon man and now head of state-owned Nigerian National Petroleum Corp (NNPC).
Just before Kachiku was appointed, a scandal hit former oil minister Diezani Alison-Madueke, who was arrested in London in early October on suspicion of bribery and corruption offenses.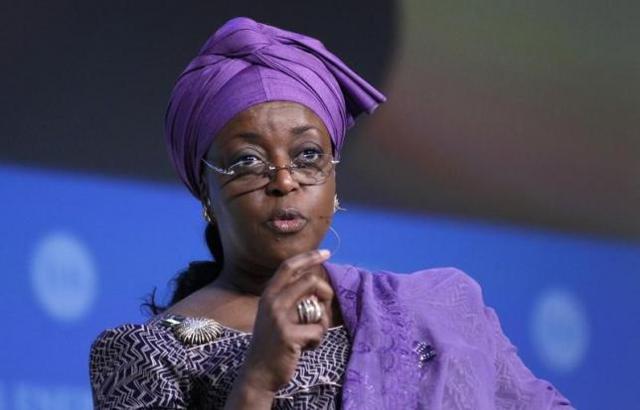 (Source: Reuters)
There's a woman behind Iran's oil, and we'll have to wait and see if this is a match made in heaven.
VIX
Everybody's eyes are on the VIX Index, even though we are still in safe territory at 24. As I argued on January 11, there is a chance that "equity markets could fall another 3% to 5% from this level, assuming volatility between 22 and 30."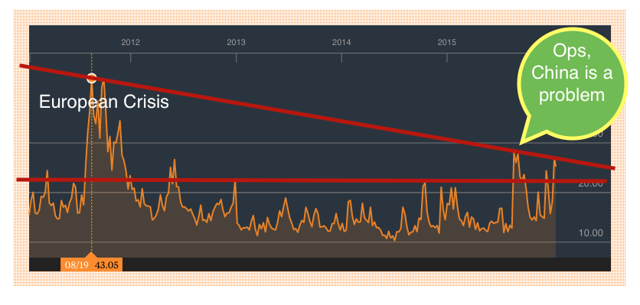 (Source: Bloomberg. This chart was edited by the author)
Calling The Bottom
There are many gurus in town who claim to have called the bottom for oil prices, equities, bonds and a few other asset classes.
On 25 August, when volatility hit its 4-year high, CNBC's Stephanie Young wrote that, according to one options expert, the bottom for the S&P 500 was right around the corner.
Believe it or not - 25 August was the bottom for the benchmark index since mid-October 2014, when CNN reported:
"October has been a brutal month, erasing most of the 2014 stock market gains."
Today's enthusiasm could be soon forgotten, of course, so I'd continue to keep an eye on the 2% level for the 10-year U.S. Treasury yields.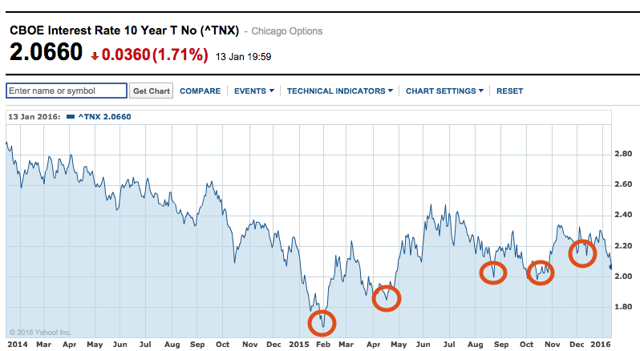 (Source: Yahoo Finance)
"My target is 1.47% for 10-year U.S. Treasury," a real macro guru told me today.
If that is the case, a meltdown scenario should be factored into your investment strategy.
Inflation, Meriwether & Others
I wondered whether my source noticed that inflation could be on its way up, but I have no doubts that news about Russian oligarchs and John Meriwether - the founder of Long-Term Capital Management - have had no impact on our daily trades since the turn of the year.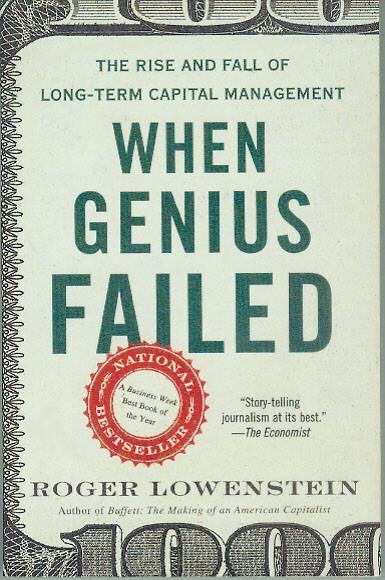 (Source: Wikipedia.org)
Rather, recent terrorist attacks in Istanbul and Jakarta partly contributed to this week's volatility - probably less, however, than the performance of a few retailers did on Wednesday, at least until noon.
As a side issue perhaps, US small caps plunged to 30-month lows this week and they are now in bear territory. For his part, Bill Ackman is still in trouble, but you could have predicted such an outcome if you had closely followed recent events.
Soros wins, again.
QE
After a few good years, I feel like another round of quantitative easing is badly needed.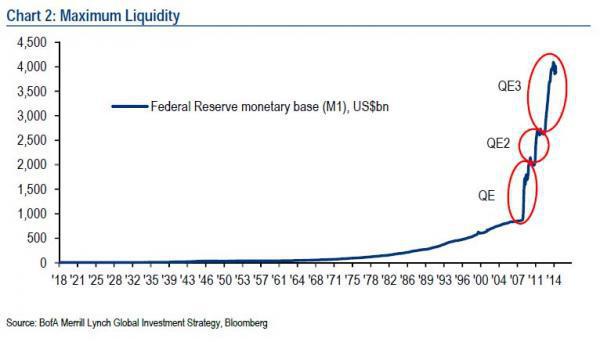 (Source: eumeswill.worldpress.com)
For the first time ever, the market was in the red in the year ahead of the elections, but if a famous bear is right that should not be a problem - a 75% drop in the S&P 500 is conceivable, however.
The gas industry and global warming will shrug off such concerns - yet there's another real risk that investors ought to consider before parting ways with their money and investing in stocks.
Unless they wish to snap up XOM.
Valuation
Royal Bank of Canada published research on 14 January, where you'll find some key financial metrics that will help you determine how the valuation of XOM compares with that of its rivals.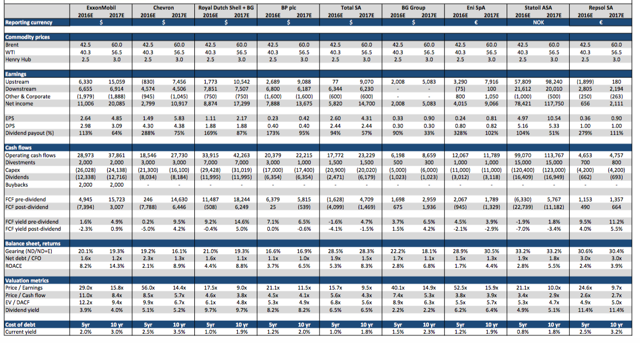 (Source: Royal Bank Of Canada, equity research, dated 14 January 2015)
I advise you to study the SEC filings before shelling out top dollar on any of these tickers.
Odds
The headline earlier today from CNN was "we have Powerball winners!"
"The odds of winning the record jackpot were 1 in 292 million," it reported.
There are alternatives, then. However, all things considered - including Iran, inventory levels and movie stuff - it should be easier to call the market and the direction of XOM.
Disclosure: I/we have no positions in any stocks mentioned, and no plans to initiate any positions within the next 72 hours.
I wrote this article myself, and it expresses my own opinions. I am not receiving compensation for it (other than from Seeking Alpha). I have no business relationship with any company whose stock is mentioned in this article.
Editor's Note: This article discusses one or more securities that do not trade on a major U.S. exchange. Please be aware of the risks associated with these stocks.