The Fed raised rates and because the market expected it, nothing happened. Oil prices fell and China weakened and the market fell because those things impact earnings.
The Risk Premium Factor Model (RPF for short) is used to determine the intrinsic value of the market and understand the implied value of the components that drive the market: earnings and long-term interest rates, which drive cost of capital and embody expected inflation.
In short the model says that:
Intrinsic Value of the S&P 500 Index =
S&P Operating Earnings/(Long-Term Treasury Yield x 1.48 - 0.6%)
The model shows that equity prices (NYSEARCA:SPY) move inverse to yield. In the equation, 1.48 is the Risk Premium Factor and 0.6% is the difference between long-term expected growth and real interest rates. It is a perpetuity formula that values the index based on current earnings using a cost of capital driven by interest rates. I've written about the model numerous times, so rather than repeat my entire overview of the model, you can read about it on Seeking Alpha.
To adjust for the Fed's artificially depressing long-term rates by keeping short-term rates near zero, the model uses a uses normalized yields on Treasuries of 4.0% and 4.5% from August 2011 through the present. It shows the recent several year period where the S&P 500 was significantly undervalued, moved to fair value and now possibly overvalued.
The chart below illustrates how the model has performed historically: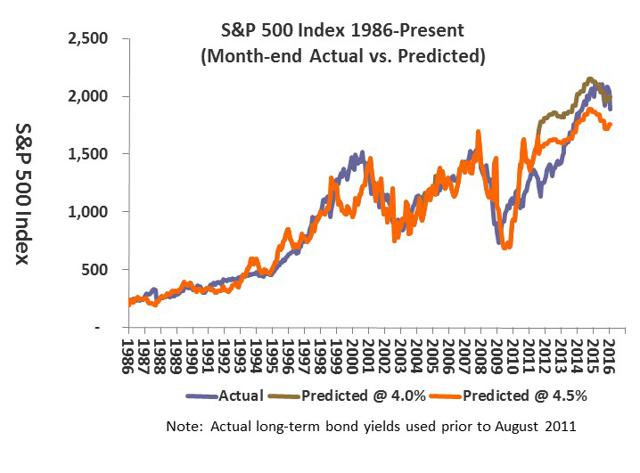 Today the market is undervalued by 5.7% based on trailing earnings and the normalized 4.0% yield on 10-year Treasury or overvalued 7.2% based on 4.5%. Whether the right yield is 4.0%, 4.5% or some other rate depends on your outlook for inflation. (See my last article for a more detailed discussion of interest rates.)
Why the big miss in 2015?
Last January, I projected the S&P would end 2015 in the range of 2,164 - 2,465. The reason I missed was simple. I use S&P earnings estimates because projecting earnings is not my expertise. S&P projected operating earnings of 131.14 and the current estimate for 2015 is 106.32, a miss of 18.9%. I use S&P Estimates in my projections, so if S&P misses, then I miss too. In fact, earnings declined 5.9% for the year. If you want to know why the market is now down 7.25% from 2014, look no further.
The decline in oil prices are part of the story but does not explain everything. S&P says that earnings would be up 5.7% without energy, but that's still a long way from their projection at the beginning of the year. The companies that comprise the S&P did not perform as expected.
Several people commented to my article, saying that earnings estimates were optimistic. They were correct. And that is really the point of my writing these articles. My objective is to de-mystify the market. It is driven by two things: earnings and interest rates. In trying to determine whether the market is overvalued or undervalued, you only need to focus on those two things. What's more, if you have a better estimate of earnings, you can quantify its impact.
What does this mean for equities long term?
The table below shows the actual predicted value for the S&P 500 based on S&P's estimates for operating earnings. If earnings forecasts are accurate, then the market is at least in the range of fair value with upside in 2016.
| | | | | | | |
| --- | --- | --- | --- | --- | --- | --- |
| | S&P 500 Operating Earnings | % Chg. Earnings | Index Actual | % Chg. Index | Index Predicted @ 4.0% | Index Predicted @ 4.5% |
| | | | | | | |
| 31-Dec-14 | 113.01 | | 2,059 | | 2,124 | 1,865 |
| 31-Dec-15 | 106.32 | -5.9% | 2,044 | -0.7% | 1,998 | 1,754 |
| 13-Jan-16 | 106.32 | -5.9% | 1,890 | | 1,998 | 1,754 |
| 31-Dec-16 | 125.54 | 11.1% | Estimated | | 2,360 | 2,072 |
I have heard some people say that China should not have a big impact on our economy, and by extrapolation that should apply earnings. When oil, China or the next thing are said to be causing declines in the market, think about how they would impact earnings.
Disclosure: I am/we are long SPY.
I wrote this article myself, and it expresses my own opinions. I am not receiving compensation for it (other than from Seeking Alpha). I have no business relationship with any company whose stock is mentioned in this article.