Kids used to go to school to learn the good ole three Rs: reading, 'riting and 'rithmetic. Times have changed. The majority of your kids and grandkids no longer learn cursive writing in school, and many have a hard time reading that ancient script.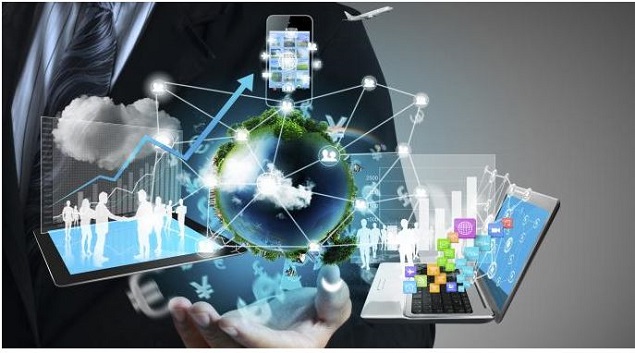 Source: Benzinga
On the other hand, many of these same young people are whiz kids when it comes to building websites using HTML and other modern languages.
In a similar fashion, REIT investors now have new choices to consider beyond the more traditional sectors: retail, office, industrial, hotels and multi-family apartments.
There are now REITs that own property which runs the gamut from billboards, timber and farm land, to technology-focused investments, such as cell towers and data centers.
During 2015, top-performing REIT sectors included self-storage, data centers, multi-family apartments and manufactured housing communities. Those sectors include some of my favorite REIT names, including my small-cap storage pick for 2016. However, my sense is that self-storage, apartments and manufactured housing valuations have gotten a bit frothy relative to earnings guidance in 2016.
Cloud Computing Growth - An 800lb Gorilla
Here's why I believe that data center REITs will continue to outperform in 2016 and beyond.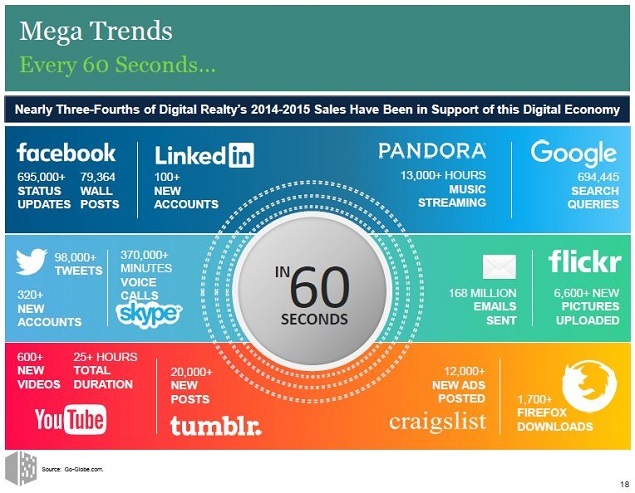 Source: Digital Realty - Investor Day 2015
According to industry watchdog IDC, there will be 44 trillion gigabytes in the "digital universe" by 2020. According to Data Center Journal, in its December 2015 issue:
"In 2013, IDC found that less than 20 percent of the data in the digital universe is 'touched' by the cloud: either stored, perhaps temporarily, or processed in some way. But by 2020, that percentage will double to 40 percent. This projection alone is a big jump, but evidence has led us to believe that the cloud will make an even bigger splash than originally expected, as the digital universe is doubling every two years!"
If you don't work in IT or follow this sector closely, the numbers are both difficult to comprehend and mind-blowing at the same time. An incredibly large mountain of data that grows exponentially, doubling every two years.
Meanwhile, the percentage of this huge pool of data that will interface with either public, private or hybrid cloud deployments also is growing, from 20% to 40% of the entire digital universe.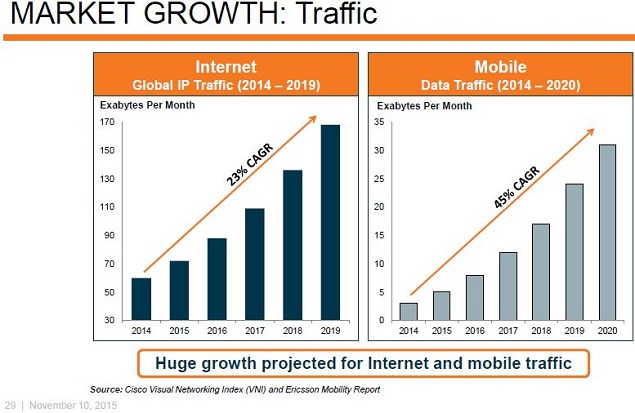 Source: DFT - Investor Day Nov. 15, 2015 (Cisco and Ericsson)
This data traffic "double whammy" is responsible in part for the strong data center industry fundamentals.
Industry Fundamentals Remain Strong
The data center REIT industry has gone through periods of overbuilding of speculative data centers in the past. However, fast-forward to today, and data center fundamentals (supply/demand) remain attractive in most major U.S. markets, with a notable exception being Northern New Jersey.
According to Jim Kerrigan, SIOR of North America Data Centers:
"Cloud leasing has not adversely affected wholesale leasing. In fact, it has contributed to making 2015 one of the best leasing years ever consistent with 2014."
This is a very important piece of information. The growth of cloud computing can drive demand for both retail (a single server rack or cage) and larger footprint (wholesale) data center users.
Many customers lease both of these types of space from third-party providers, in addition to operating their own legacy data centers and server rooms. Hybrid solutions involve creating the architecture to integrate legacy IT facilities with public and private cloud providers.
Data centers are capital-intensive endeavors. Leasing from data center REITs can provide space and power a faster, more cost-effective solution for many enterprises. Budgets always matter.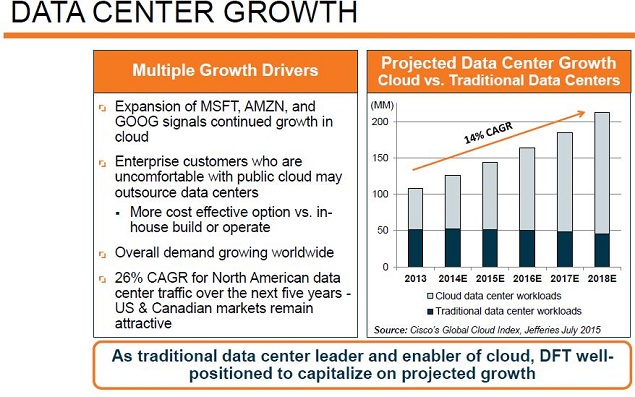 Source: DFT - Investor Day November 2015
Most industry experts estimate that 80% of enterprise data still resides in legacy data centers. Even the hyper-scale Internet and public cloud companies, who own and operate their own data center fleets, continue to lease space from third-party landlords.
Tale Of The Tape - Data Centers Outperform
During the past two years, data center REITs have been a top-performing REIT sector. The colocation-focused data center REITs led the way, including CoreSite Realty (NYSE: COR), CyrusOne (NYSE: CONE) and QTS Realty (NYSE: QTS).
Many investors gain exposure to commercial real estate by owning the Vanguard REIT Index ETF (NYSEARCA: VNQ). The VNQ tracks the RMZ, and is by far the largest broad REIT sector ETF.
The chart below shows how these names have delivered exceptional double-digit returns over the past two years relative to the MSCI REIT Index (RMZ). In fact, the entire sector outperformed.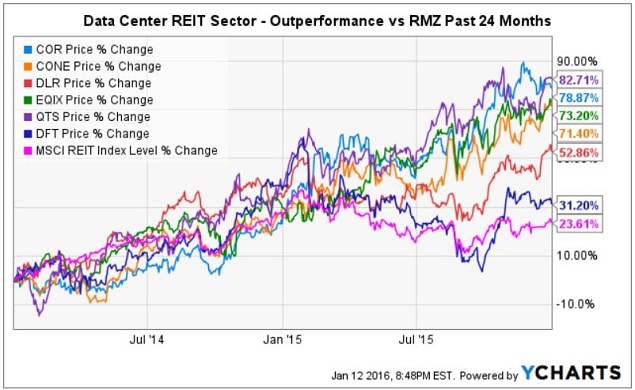 During 2014, there were only five publicly traded data center REITs, with Equinix, Inc. (NASDAQ: EQIX) formally joining the group in mid-2015. Equinix is focused on network connectivity, colocation and interconnection to the cloud on a global scale.
The largest data center REIT by a wide margin is global player Digital Realty (NYSE: DLR), with 130 data centers located in over 30 key markets, containing more than 23 million SF of raised floor. Digital recently closed on a $1.9 billion acquisition of its former tenant Telx. This makes Digital a serious player in the lucrative colocation and interconnection space, in addition to its large footprint, or "Scale" business.
DuPont Fabros Technology (NYSE: DFT) is now the only pure-play wholesale data center REIT.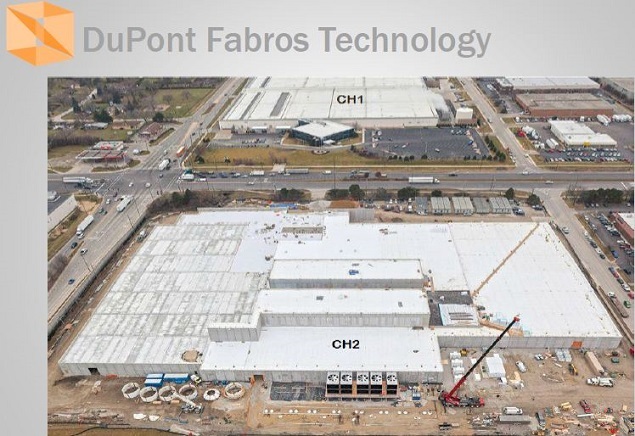 Source: DFT - Chicago data centers
After considering pursuing a hybrid colocation strategy, new CEO Chris Eldredge and his board decided to remain laser-focused on just the wholesale data center market.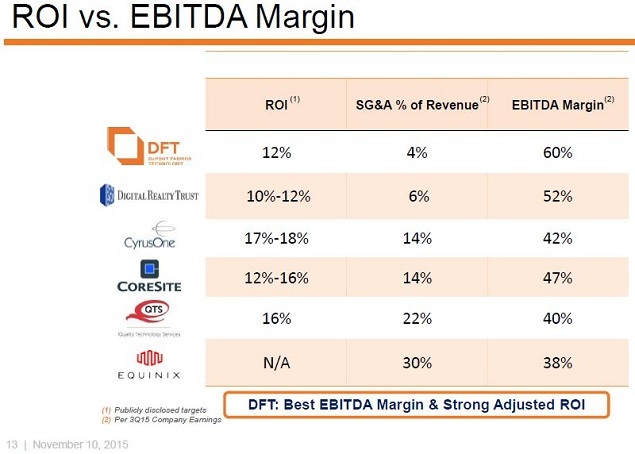 Source: DFT - Investor Day November 2015
Notably, DuPont Fabros has the lowest SG&A, the largest margins and the highest dividend yield. However, DFT is only active in the four U.S. markets, with a dozen data centers. DuPont Fabros is currently highly dependent on just a few large tenants, including Microsoft (NASDAQ: MSFT), Facebook (NASDAQ: FB), Rackspace (NASDAQ: RAX) and Yahoo (NASDAQ: YHOO). These top four tenants collectively account for just over 60% of DuPont Fabros revenue.
DuPont Fabros recently announced it's exiting the New Jersey market, and has put its facility up for sale. Concurrently, the company is expanding into Toronto, and has targeted Portland and Phoenix as potential new markets as well.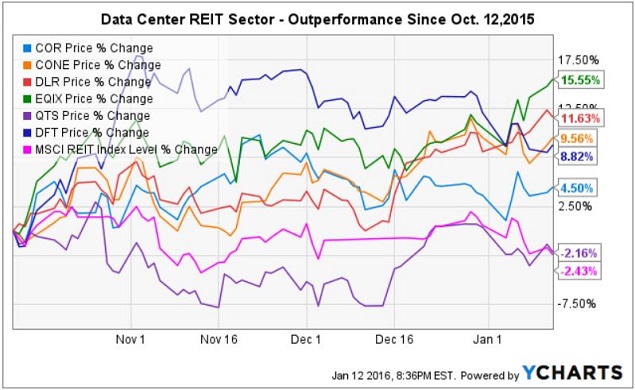 I wrote an SA article last October, where I suggested that investors should consider buying data center REITs on a pullback. The chart above illustrates that readers who simply decided to "take the plunge" then would have profited nicely by just buying the sector equally.
Equinix - $18.8 billion market cap; 2.15% yield, (S&P 500 company).
Digital Realty - $11.4 billion market cap, 4.35% yield, (BBB rated).
CoreSite Realty - $2.7 billion market cap, 3.71% yield.
CyrusOne - $2.5 billion market cap, 3.73% yield.
QTS Realty - $1.8 billion market cap, 2.91% yield.
DuPont Fabros - $2.0 billion market cap, 6.1% yield.
A quick glance above reveals that Equinix and Digital Realty, the largest retail and wholesale providers, respectively, have global operations that dwarf the four smaller REITs. However, the smaller REITs continue to grow earnings at a fast pace, both organically and by acquisition.
If you follow data center REITs closely, feel free to skip down to the Investor Takeaway section located toward the end of this article.
Equinix Overview
Equinix is a 17-year old S&P 500 company with an $18 billion market cap, and is now officially the largest of the data center REITs. It is the largest "retail" data center REIT, with over 9,000 customers, including its recent Bit-isle acquisition in Japan and the pending deal to acquire the majority of TelecityGroup's European operations.
Because Equinix did not formally have REIT status, it has just recently begun to pay a dividend, and many dedicated REIT investors missed the huge 40%+ gains in 2015.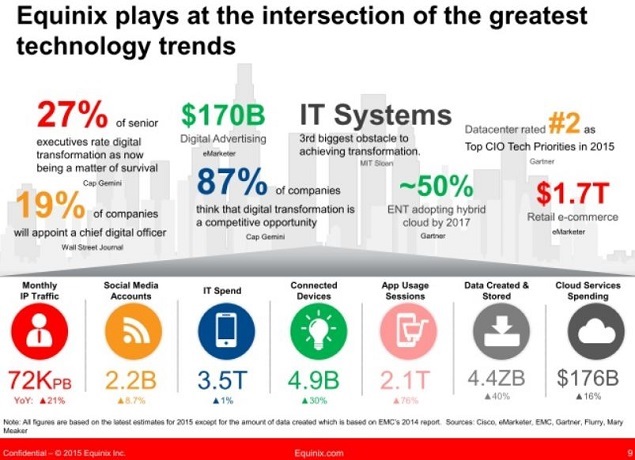 Last week, Equinix CEO Steve Smith participated in a conference hosted by Citi, where he discussed how the company intends to double or triple the number of customer logos over the next five to 10 years.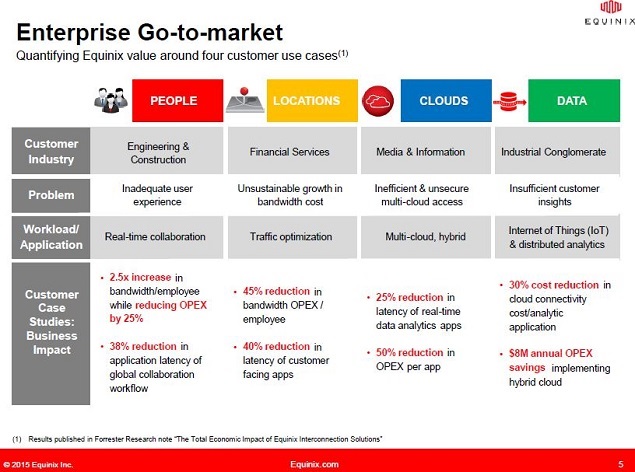 This growth will largely come from the enterprise vertical market - more specifically from ~350,000 companies globally that employ 500 or more and have at least $10 million in sales.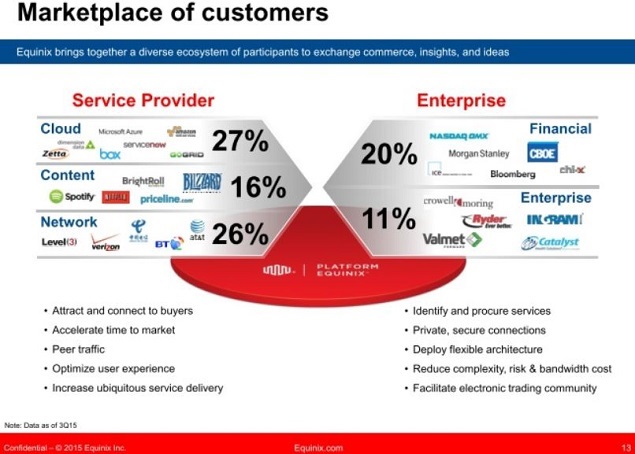 Equinix has over 4,000 employees worldwide. The company has made considerable investments over the past 18 months in its IBX data centers to facilitate a faster and more secure on-ramp to the "Big 3" public cloud providers: Amazon (NASDAQ: AMZN) AWS, Microsoft Azure and Office 365 and Alphabet (GOOG, GOOGL) Google Apps.
In a nutshell, secular trends such as Big Data, the Internet of Things and Streaming Content, which all fuel data traffic growth, are the bread and butter for the Equinix interconnection-focused business model.
Digital Realty Overview
Digital Realty was the first data center REIT, and is the only member of the group with an investment-grade rating.
The company also has a 10-year track record of consistently growing its dividend distribution year over year. This REIT has proven that it can continue to grow and transform itself, while watching the bottom line for investors.
Admittedly, Digital was a factor in the overbuilding of spec data center, which occurred a few years back. However, when long-time CFO Bill Stein was promoted to the CEO chair, he immediately implemented a plan to fill up existing inventory, while carefully expanding only where necessary to meet market demand.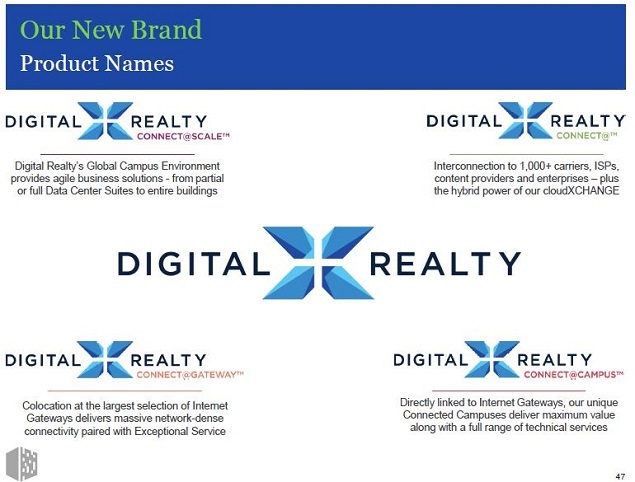 During the 2015 Digital Investor Day, management shared a new vision built around a more flexible "Scale" wholesale product, which should help drive higher ROIC, while meeting the diverse needs of the market.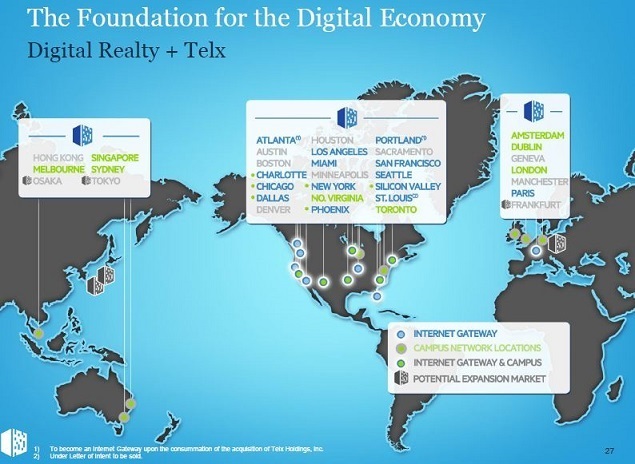 The Telx acquisition represents a significant transition and commitment by DLR to colocation and network connectivity.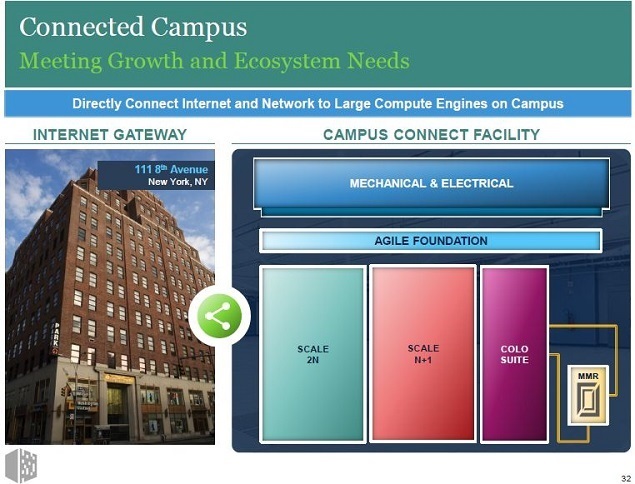 I recently wrote up Digital's recent Citi conference presentation for Data Center Knowledge. Key takeaways included:
"The company's three strategic priorities for 2016 are supporting its cloud customer base around the world, integrating Telx, and expanding interconnection and colocation capabilities, initially in the US and then globally, Digital Realty CEO Bill Stein said."

"Digital's cloud focus was to support its large-footprint, or Scale customers in a joint effort to cultivate enterprise business. It has the facilities expertise and owns the largest global data center network, and its team is happy to leave the "heavy lifting" of hybrid cloud architecture to experts like IBM and AT&T."
IBM SoftLayer is already Digital Realty's largest tenant based upon revenue, with AT&T (NYSE:T) being another major customer, located in 24 DLR facilities.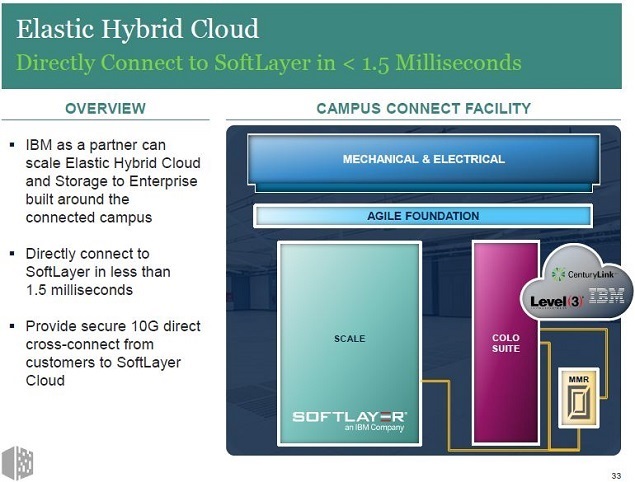 In December, I wrote an SA focus piece on the importance of the IBM relationship for Digital's growth.
QTS Realty Trust - Overview
QTS Realty Trust may have the smallest market cap in the sector, but it likes to do things in a big way.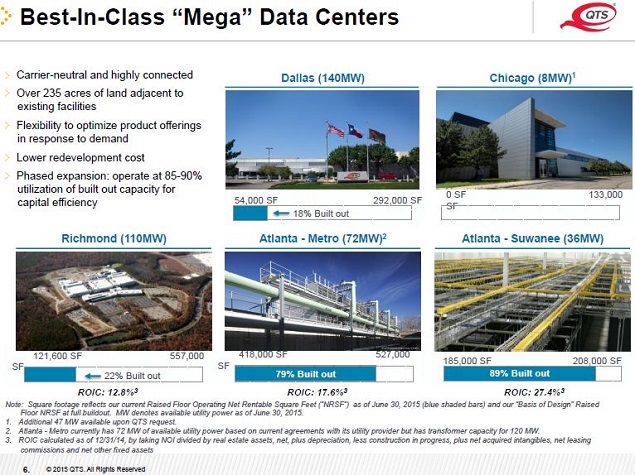 Source: QTS - 4Q'15 presentation
QTS Realty has a history of repurposing infrastructure-rich real estate into "Mega-Scale" data centers, which help management deliver 15% ROIC for shareholders.
The company has a suite of customer solutions which it refers to as its "3C" service offerings: C1 custom wholesale, C2 colocation and interconnection and C3 cloud and managed services.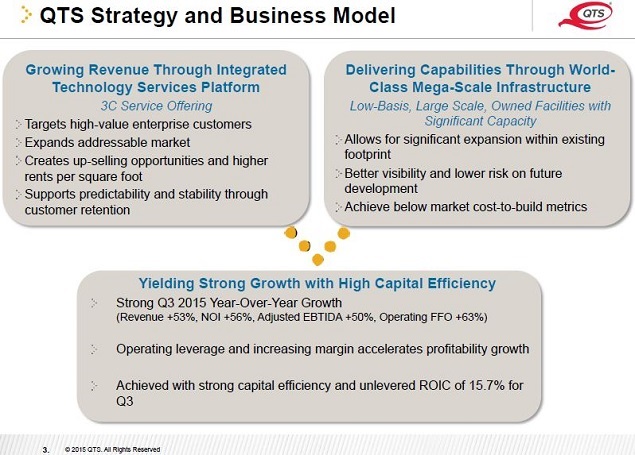 Source: QTS - 4Q'15 presentation
It offers cloud and managed services in-house, including the outsourcing of large data center operations. QTS owns and operates the large McGraw Hill Financial (NYSE: MHFI) data center in Princeton, New Jersey.
QTS Realty has participated in the recent wave of M&A activity in the data center REIT space with its $326 million Carpathia Hosting acquisition.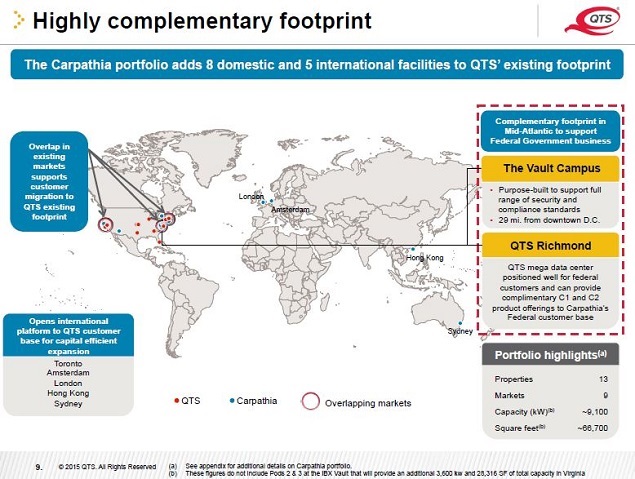 Source: QTS Realty presentation
Carpathia reinforces the QTS FedRamp compliance and security capabilities, cloud and managed services, and also provides a toehold for QTS in five international markets.
Notably, QTS Realty has the capacity to double its existing raised floor data center footprint within its existing facilities. This helps the company to deliver on its key metric - 15% ROIC on new development.
CyrusOne - Overview
CyrusOne was originally spun out of Cincinnati Bell (NYSE: CBB). In addition to having the largest data center offering in that part of Ohio, CyrusOne has a laser focus on Fortune 1000 enterprise customers.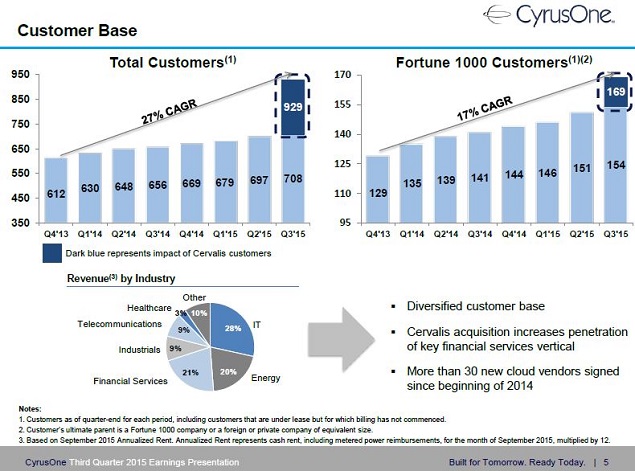 Source: CONE - 3Q'15 presentation
As shown in the dark blue in the slide above, CyrusOne's acquisition of Cervalis last year has increased its total customer logos as well as Fortune 1000 enterprise focus.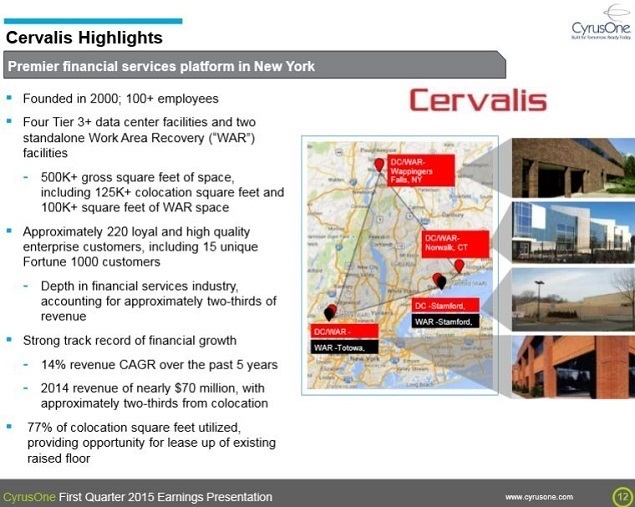 Source: CONE - 1Q'15 presentation
Cervalis had a strong presence in and around New York, with a large focus on the financial services vertical.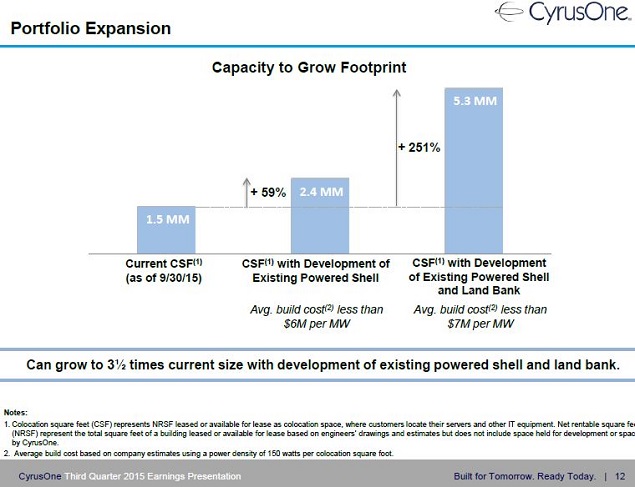 Source: CONE - 3Q'15 presentation
The ability to phase new development to expand within existing powered shell space contributes to CyrusOne's 17%-plus initial returns.
Notably, CONE grew its dividend a whopping 50% the past year, in case you are keeping score.
CoreSite Realty - Overview
CoreSite Realty is another of the smaller data center REITs focused on colocation and connectivity for its close to 1,000 customer base.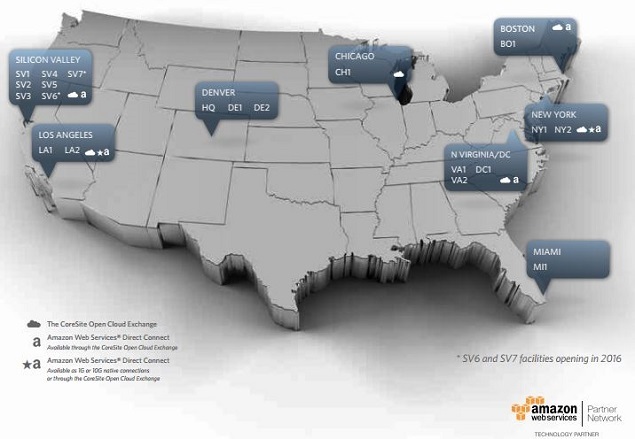 Source: CoreSite - December 2015
In many respects, the CoreSite business model is most similar to that of Equinix.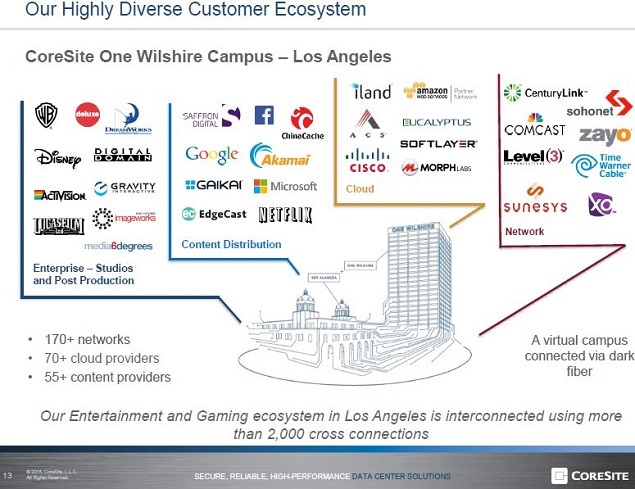 Source: CoreSite - June 2015
One Wilshire, the "carrier hotel" shown above, is arguably the most valuable piece of real estate in downtown Los Angeles. It's part of the Internet backbone, a hub where companies come to interconnect as well as deliver Hollywood's streaming content.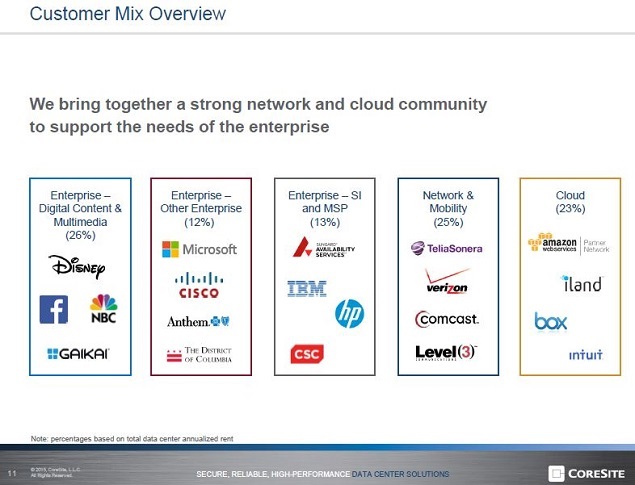 Source: CoreSite - June 2015
The slide below shows the company's historical performance at a glance.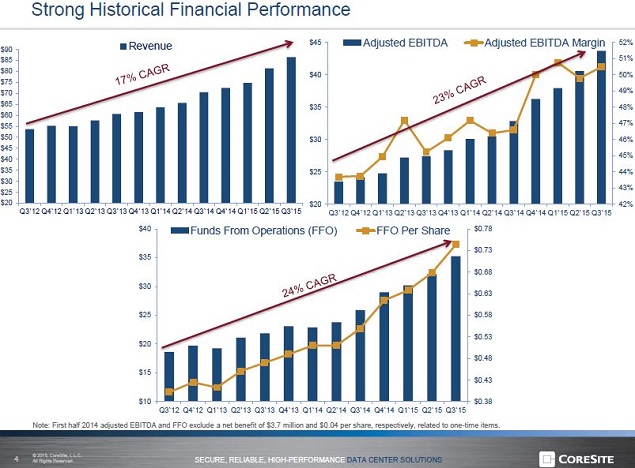 Source: CoreSite - November 2015
Once again, the consistent growth of the key REIT metrics shown above, is what has fueled the relative outperformance of CoreSite shares in 2015.
Investor Takeaway
This data center REIT overview has a few recurring themes: 1) Data centers have hurricane force secular tailwinds; 2) there are multiple business models, and all of them are working; 3) the ROIC across the board for new development is the highest of any REIT sector that I cover.
Here are a few simple ways to approach investing in this sector:
Smart Beta - Buy all six of these names with an equal weighting. In other words, I am suggesting that you create your own DIY "smart beta" data center REIT ETF. If you have a personal favorite or two, you can adjust the weighting a bit. This gives you exposure to large caps, growth and income.
Growth Focus - Just buy the three smaller colocation-focused names: QTS, CONE and COR. Yes, the multiples are frothy, and good news is priced into the shares. However, the mid-teens ROIC will continue to drive earnings, FFO, AFFO and dividend growth over the next five years. The secret sauce for these REITs is the existing powered shell and adjacent land for expansion. Just have a 24-60 month time horizon to give these three names enough time to pull away from the pack.
Income Focus - Digital Realty has the best track record for raising its dividend over time. After the recent run-up in the shares, the 4.35% yield is at the lower end of the usual range. Historically, the best time to buy DLR shares has been when the yield hits the 5.5% to 6%-plus range. The Telx growth story will likely help the company to trade at higher multiples moving forward. Given the Telx acquisition, a 5% yield may be the "new 6% yield" for Digital Realty moving forward.
Meanwhile, DuPont Fabros is yielding ~6.1%. Here investors are trading off higher income for slower share price appreciation. The risks to consider here include the fact that wholesale data centers can be a commodity business, limited DFT geographic exposure and a highly concentrated tenant roster.
Bottom Line
My prediction for 2016 is that simply creating an equal weight portfolio of the six data center REITs will outperform the broader equity REIT sector. If you are seeking "alpha," this is a very simple strategy that I believe will beat VNQ, which tracks the MSCI REIT Index (RMZ). The dividend yield will probably be just a hair under or close to the VNQ yield.
China sneezing and coughing, low commodity and energy prices and a slowdown in EMEA economies will not stem the exponential growth of 10010110000101001011011100 data. The simple truth is that the data center REIT sector is a good choice for long-term investors.
Bonus prediction
Based upon the macro economic data I have reviewed, I believe that my "DIY Smart Beta Data Center ETF" idea will also beat the S&P 500 returns in 2016.
This is despite the fact that top self-storage REIT performer Extra Space Storage (NYSE: EXR) was announced after the bell on January 13, 2015 as the latest addition to the S&P 500, effective on Friday. Congratulations to CEO Spencer Kirk and the EXR team, as well as to investors who own the shares.
Disclosure: I/we have no positions in any stocks mentioned, but may initiate a long position in QTS, DLR, CONE, COR, CONE, EQIX over the next 72 hours.
I wrote this article myself, and it expresses my own opinions. I am not receiving compensation for it (other than from Seeking Alpha). I have no business relationship with any company whose stock is mentioned in this article.