GM's (NYSE:GM) board approved increasing the share repurchase program to $9.0 billion, up from $5.0 billion. The press release indicated that $3.5 billion has been used repurchasing shares, leaving $5.5 billion. The share repurchase plan expires at the end of 2017.
The $3.5 billion spent repurchasing shares during 2015 is the equivalent of $2.17 per share, based on January 28, 2015, shares outstanding. The current stock price of $30.50 could enjoy a dividend yield increase of 7.1% bring the yield to 11.8% had the $2.17 per share been paid to owners as a dividend rather than paid to selling shareholders. The additional yield would have been 5.70% based on the average price of $38.03 paid for the stock during March 2015, or 9.49%
From March through September 2015, GM spent $2.9 billion repurchasing shares or an average of $414 million per month. The final three months of 2015 saw GM spend $600 million, or an average of $200 million per month. The $600 million figure is derived using the $3.5 billion less the $2.9 billion. The expanded share repurchase plan expires at the end of 2017. Therefore, the average monthly purchase of shares for the remainder of the share repurchase plan could be roughly $229 million a month.
Share repurchases failed the 20% ROIC test
On March 9, 2015, a capital allocation framework was announced. It included a 20% or higher return on invested capital target. The average price paid for shares during March 2015 was $38.03 and to earn the 20% on invested capital would require a price of $45.64. The stock closed January 13 at $30.50. The ROIC for the share repurchases fell short. In my opinion, investors would have been better served if GM had returned the funds to owners via a special dividend or repurchased shares via a Dutch tender. If GM considers the stock undervalued, then why not offer fair value with a Dutch tender? That would be a transparent way for GM to show investors how it values the firm.
The estimated average cost for the $3.5 billion worth of shares repurchased during 2015 is roughly $34.07. This compares to the year-end closing price of $34.01. The market value of GM declined a result of fewer shares outstanding. The debt per share is increased. Investors should be concerned about the declining value of the firm.
Earnings Boosted?
GM lifted its earnings per share profit forecast from $5.00 to $5.50 to $5.25 to $5.75. This increase might not be as bullish as some might think. GM did not provide the actual net earnings expected, but the earnings per share figure. GM has been repurchasing shares and boosted its share repurchase plan. The table below shows the shares outstanding and forecasted earnings, using GM's forecast. The earnings change might disappoint some investors.
The table below calculates the net income required to generate the earnings per share shown. Source data from SEC filings and GM press release.
(click to enlarge)

The increased earnings per share forecast do not appear to translate into a much greater net income figure. In fact, at $5.50 eps, the net income is lower. The increased bond yield (shown below) and the Federal Reserve hike in short-term interest rates might result in greater interest expense than currently expected. This might slow the improvement in earnings.
Bond vs. Stock Yield
The yield on the 4.00% bond due in 2025 increased roughly 100 basis points as GM was repurchasing stock. Might debt investor be worried about their increased risk? The current yield on the bond is 4.16%, (4.00 / 96.07), compared to the common stock yield of 4.98% (1.52 / 30.50). If GM would pay owners the capital allocated for the share repurchase estimated to be $2.75 billion per year or $1.77 per share, plus the regular dividend of 1.52, then shareholders could enjoy a 10.78% yield. Should investors accept a 7.00% yield then, the stock could trade at $47.00 (3.29/0.07).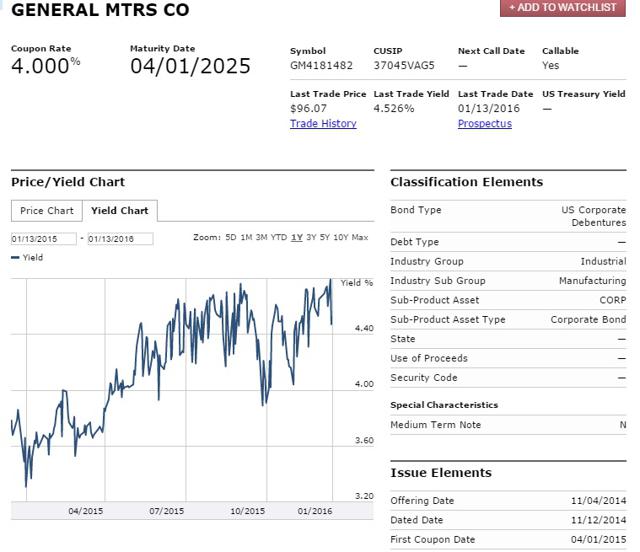 Activist Holdings
An SEC filing by the Maeva Capital Partners LLC was filed in March 2015 indicated that 37,851,089.9049 shares or share equivalents were held. The first image below shows the total holdings and the second image shows the non-stock holdings, i.e. options, warrants or total return swap.
Of the 37.851 million shares reported to be held, 40% or 15.349 million were common share equivalents. There is nothing wrong with holding common share equivalents, but the capital required to pay for 100 shares of common stock is far greater than for an out-of-the-money call option. The percentage payoff from owning a stock option can be far greater than holding the stock; the risk is also higher.
13F Ownership
GM Common Shares

Per 13F

March 31, 2015

Jun 30, 2015

Sept 30, 2015

Appaloosa Management

Taconic Capital Advisors

Hayman Capital Management

It is interesting that activist pushing for the share repurchase plan with the argument that the shares were undervalued would reduce their holdings.
Undervalued?
Reuters article on February 10, 2015, said:
"The company's common stock is substantially undervalued, the company is substantially overcapitalized, and this repurchase of undervalued shares will create substantial shareholder value," Wilson said in his letter.
The stock closed February 10, 2015, at $37.52 and January 13, 2016, at $30.50. Clearly, the market did not agree that the shares were undervalued; they declined $7.02 or 18.7%. Alternatively, investors may have decided that transferring owners' cash to selling shareholders was not a wise capital allocation. Investors may have wondered, if GM's Board was confident that the shares were undervalued, then why not purchase shares via Dutch tender at fair value? That crossed my mind.
On May 22, 2015, Barron's said:
GM Stock Is 40% Undervalued

General Motors, which yields 4.1% and trades at just 7.5 times forward earnings, should drive much higher.
The stock closed May 22nd at $35.70. If GM was undervalued 40% then fair value would have been $49.98.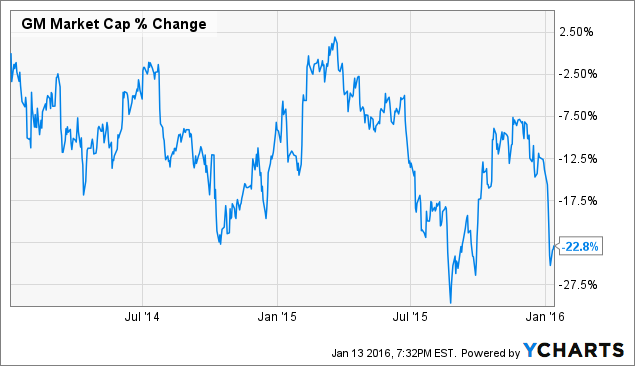 GM Market Cap data by YCharts
Bottom line
The market value of GM has declined while $3.5 billion was transferred to selling shareholders. The Board just increased the amount that can be given to selling shareholders to $9 billion or $5.63 per share.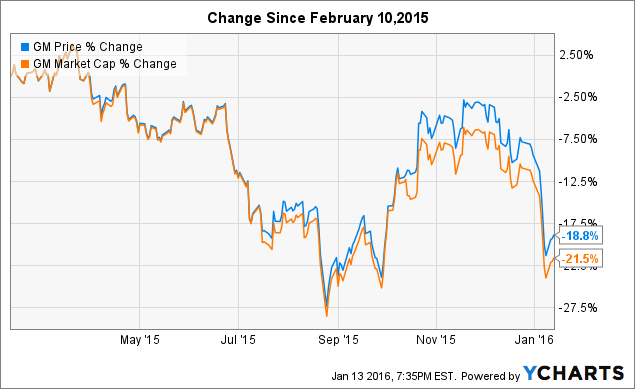 GM data by YCharts
Shares repurchased and placed into Treasury can be sold or used for an acquisition. They might act to depress the stock price should investors be concerned that they could be sold or used to purchase another firm.
The stock might be cheap or undervalued. If the Board were confident that this was the case, then they should demonstrate that by approving a Dutch tender offer to repurchase shares at a fair value providing all investors the opportunity to sell stock back to the firm.
Note:
Am long GM common stock but have sold covered calls to exit position.
Disclosure: I am/we are long GM.
I wrote this article myself, and it expresses my own opinions. I am not receiving compensation for it (other than from Seeking Alpha). I have no business relationship with any company whose stock is mentioned in this article.