Genworth Financial (NYSE:GNW) has taken a major beating at the beginning of 2016, selling off more than 30% to lows not seen since the height of the financial crisis in 2009. Several articles on Seeking Alpha over the past 12 months (here, here and here) have been calling the selling as overdone but price action on both its equity and bond prices have argued otherwise.
At its heart, Genworth is a holding company for a unique set of insurance businesses, with significant presence in the US, Canada and Australia. Its portfolio consists of Long Term Care (NYSE:LTC) insurance, life insurance & annuities, mortgage insurance, corporate insurance and lifestyle insurance.
Since its first Claims Reserve adjustment in Nov 2014, their share price has been beaten down consistently. The market has largely ignored the effort management has put in to improve its financial situation through debt reduction, selling non-core businesses, reinsurance transactions, block sales and concentrating on higher margin life and mortgage insurance in the US.
Given its high exposure to LTC (45% revenue and 54% of premium as shown in the charts below), being able to reassure that the reserves and margins on the on claim policies (policies with beneficiary already claiming benefits) and active life policies (policies with beneficiary yet to start claiming benefits) respectively are now adequate and unlikely to suffer further negative adjustments is crucial.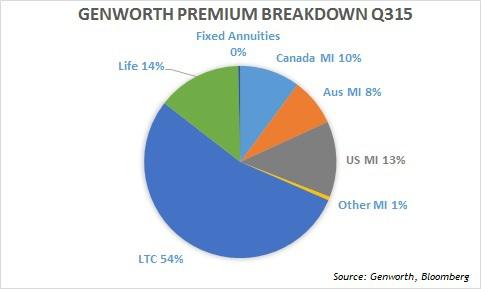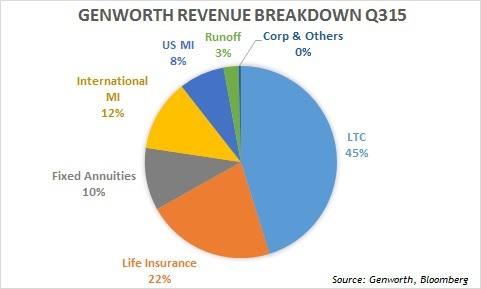 What is driving the sell-off?
Since the beginning of December, Genworth's share price has been under renewed attack despite the lack of any material news, the share price falling over 50% to close below $2.50.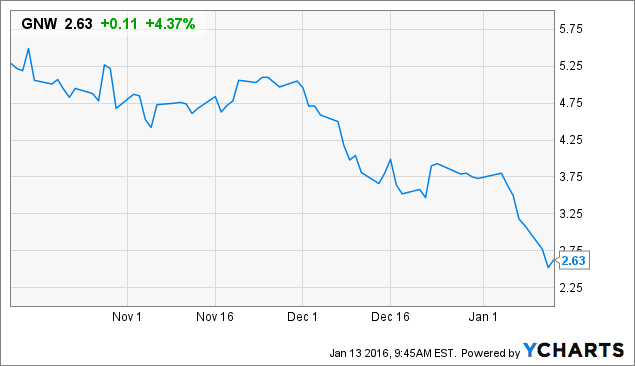 Its benchmark debt, the 7.625% 24/Sept/2021 tranche has fallen 20points to 75.50 as the general high yield market has been under pressure. Its 2Y credit default swap levels have widen from 355bps in early December to 550bps. At these levels, implied probability of defaults is inching up to 10% and above 10% usually is usually reserved for distressed debts.
To be sure, the collapse of its bond prices to levels which is pricing in a default is material in its implication. An insurance company that goes into default will almost always leave nothing to the shareholders as they rank well below the policy and bond holders. Shareholders who see the bond prices pricing in a higher and higher probability of default should consider this possibility regardless of what the accounting book says.
Fundamentally though, nothing has changed since early December yet the sell-off in its share vs. S&P 500 Index and vs. comparable insurance companies have been remarkable in its weakness. We pick leaders in mortgage and LTC insurance (listed and not part of a larger financial group) for comparison and show their relative performances in the chart below.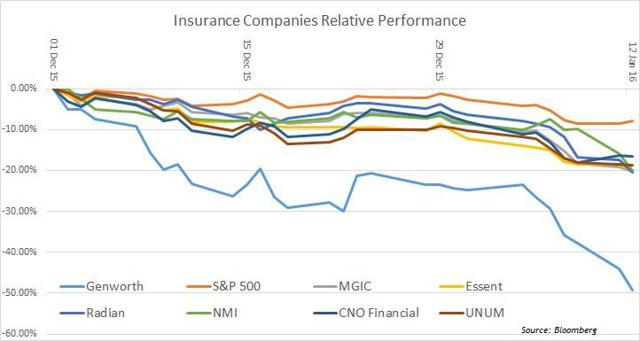 MGIC Investment Corporation (NYSE:MTG) is a leader in mortgage insurance and trades at 1.22 price-to-book. Essent Group (NYSE:ESNT) is another company in mortgage insurance and trades at 1.72 price-to-book. Radian (NYSE:RDN) too is in mortgage insurance and trades at 0.93 price-to-book. NMI Holdings (NASDAQ:NMIH) is a small cap share involved in mortgage insurance as well and trades at 0.81 price-to-book. CNO Financial (NYSE:CNO) and UNUM (NYSE:UNM) are both companies that offers or used to offer LTC and have been hit by losses on its LTC portfolio - they trade at 0.78 and 0.84 price-to-book respectively.
Genworth's share is down 30%+ more vs. these comparable companies since the beginning of December and trades at just 0.12 price-to-book (ex-AOCI), an incredible 0.60 P/B discount to its closest peer CNO Financial.
Curiously, none of the bonds of Radian, CNO, UNUM or NMIH are priced anywhere near Genworth's distressed levels. In fact, Radian or NMIH bonds and loans, which have lower credit rating than Genworth's bonds trade at yields at a far healthier level as shown in the table below.

So what has caused this sell-off in its debt and corresponding hit on its share price?
The difficulties the company faces are well advertised:
Troubled LTC portfolio and high concentration to LTC on Genworth's balance sheet
Exposure to Australia & Canada property crash via its shareholding in Genworth MI Australia and Genworth MI Canada
Poor and deteriorating operating trends (lowering margins, sluggish revenue growth)
Difficult investment climate for its investment based revenues
Lack of capital raising capability
Yet these problems have been well known to investors and it hasn't deteriorated drastically in the past 3 months. So we explore what possible scenarios this correction could be pricing in (baring outright fraud) and if they are plausible:
Scenario 1: Additional reserve charges on its LTC old block
Genworth is the market leader in LTC and ~50% of its revenue/premium comes from its LTC portfolio. In this regard, there really isn't a peer that has such high concentration risk to a clearly troubled sector of the insurance industry. John Hancock and Metropolitan comes close in absolute size but both have the benefit of a huge balance sheet of other businesses and neither are listed.
In my opinion, this is the main reason the business is being punished by share and bond holders - they are very concentrated in a highly unattractive business and this will continue to plague them until there is a definitive indication that the assumptions made in the Claims Reserve and Active Live Margin reviews in 2014-15 are proven sufficient and conservative.
Simply put, the price actions on Genworth's share and bonds are pricing in a significant sizable reserve charges for its LTC old block, which consists of policies underwritten before 1996. A repeat of the reserve charges made in 2014-15 would significantly reduce its net-asset-value.
To simplify it, the main assumptions that were changed as a result of actual experience on their On Claim policies were mortality rate (people were living longer and also claiming more than anticipated as they aged) and lapse rate (less people were lapsing on their policy). As they gather more data (since they have established that street data were no good and Genworth themselves have the most comprehensive sampling pool anyway), it could turn out that need to be more aggressive on these assumptions.
- For On Claim reserves (policies which are already claiming benefits) further extreme adjustment to mortality and lapse rate could increase reserves by USD 1-1.5bn
- For Active Live Margins (policies which are still in force but for which no claims can be made yet) further adjustment to mortality and lapse rate could will impact margin further for a reserve increase of USD 1.5-2.0bn in the older block. There could be some impact on the new book too but is unlikely even with extreme adjustments because of the way the policies were underwritten (age limit to claims, higher premium, etc).
This would reduce its net-book-value by $3-3.5bn. Which isn't end of the world on its own, however it does lead to scenario 2 and 3 below.
Scenario 2: Possible credit downgrade
Given its LTC portfolio already tight margin and continuing bonds sell-off, a downgrade by rating agencies following more reserve charges is a possibility. Although unlikely to have an immediate direct impact on its solvency, it would hamper Gentworth's ability to obtain further LTC premium hikes, sell new LTC policies, write new mortgage insurance policies and further deteriorate its financial flexibility.
Scenario 3: Default on its bond or insolvency
A downgrade would hamper Genworth's ability to write new business or negotiate premium increases on its LTC policies. This has serious consequence on its Claims Reserve and Active Life Margins and could spark further rounds of reserve charges, at which point it becomes a downward spiral.
In this worse case scenario, without the ability to underwrite new business the LTC portfolio would eventually be moved to a runoff portfolio. Genworth would need to continuously sell assets and incur goodwill charges further impacting its net-book-value and eventually, solvency.
For this absolute worst case scenario, insolvency or default would mean that shareholders are almost always going to be left with nothing. Which means even the $2.40 price today is too rich by $2.40!
Are these scenarios plausible?
These scenarios would happen in that sequence and to be clear scenario 2 and 3 would require a substantial LTC reserve charges as mentioned of USD 3-5bn. We think scenario 2 and 3 automatically follows if that amount of further reserve charges are to be made.
Because these scenarios are possible, we think it is no longer sufficient to look at valuation of Genworth on a price-to-book ratio basis alone. In this regard, without being disrespectful, we don't think Hawkinvest's thesis and Booth & Laird's asset play thesis stands up for now until further clarity. Until Genworth can show that scenario 1 is not plausible, the share price will not re-rate based on a price-to-book basis.
The question then becomes one of answering whether if that kind of further reserve charges is plausible. To have that kind of further reserve charges, Genworth would have had to had gotten their reviews less than 18months ago very wrong.
Given that management has used its substantial data and independent third party verification of interpretation of those data, we think it is more probably that they have gotten it right and were conservative in the last review.
So where will the stock bottom and when to buy?
We first took a long position last Friday at 2.64 after observing it for a couple of months because the risk-reward made too much sense. But right now, we are reluctant to add to this position although we are comfortable with the risk we have taken on.
Our trading experience tells us that you can't fight the price action and the price action right now is one of fear that probably will not abate until some form of management reassurances regarding its LTC reserves, debt management and whether if the falling share and bond prices have had any impact on its margins or ability to generate new businesses.
Alternatively, we would need to see some substantial price action to the contrary - high volume buying, institutional participation or a clear price action pointing to a near term bottom. If you believe in the value and thesis, it's not too late to get in when the share is at $3.5-4.0.
We think that the fear of the extreme scenario highlighted above is overblown and the market has assigned a high probability to it happening than is justified. Once this fear subsides, we believe the share price will start to re-rate itself on a price-to-book basis of closer to industry norm of 0.8-1.0, so there is plenty of upside to catch and there is no need to take the risk of catching a falling knife.
Summary
The market continues to punish Genworth (both equity and bonds) and does so seemingly irrationally when compared to its peers and vs. the general market. However, we have shown a possible set of linked scenarios where this sell-off is justified.
However, we conclude that they would have had to had gotten their reviews made on the LTC reserve and margins just 18 months ago very wrong to set that scenario off.
For that reason we think the stock is a long term buy as the share price will re-rate itself based on price-to-book valuation basis once the there is more confidence around its LTC reserve and margins. Since the upside of that is substantial, there is no point in rushing in now to catch the falling knife and investor can wait for a clearer picture from management to re-enter later at $3-5 area.
Disclosure: I am/we are long GNW.
I wrote this article myself, and it expresses my own opinions. I am not receiving compensation for it (other than from Seeking Alpha). I have no business relationship with any company whose stock is mentioned in this article.