With oil prices down the drain, it's not surprising to see ConocoPhillips' (NYSE: COP) stock tank by more than 50% from its 2014 high. Some investors may think that the company is just going through a rough patch right now. After all, historical performance would suggest that the company has the ability to power through commodity cycles.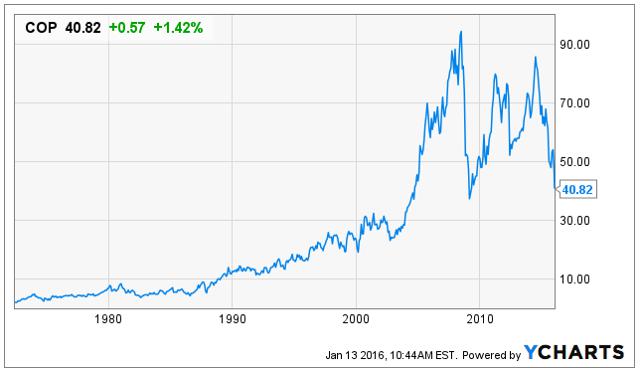 However, I think it's important for investors to understand that the company has changed.
Prior to 2012, the company was an integrated major. It had operations in upstream midstream, and downstream. However, there was a "spin off" wave and many companies were broken up into smaller pure-play divisions to "enhance shareholder value." The idea was that investors can choose to invest in what they wanted instead of being pigeonholed into buying different businesses (e.g. midstream and upstream when one just likes midstream). ConocoPhillips spun off its non-upstream operations (operated through Phillips 66) and became a pure-play E&P company in May 2012.
It is apparent that the spin off created value for pre-spin off shareholders, as Phillips 66's stock has since more than doubled and ConocoPhillips's shares increased by more than 50% before the collapse of oil. Investors that held on to both companies would have done fairly well. However, those who only holds ConocoPhillips shares today no longer benefit from the safety of an integrated company.
More Risky Than Before
Today's ConocoPhillips is susceptible to macro movements that plague every other E&P player. However, the management has not made enough changes after the spin-off to ensure that the company can safely withstand the volatility of the commodity market. Since the collapse of crude, shares have tumbled by more than 50%, falling from a high of $86 in 2014 to the current price of $40. Despite declining stock prices, the management still vowed to protect the dividend. The management stated during the Q3 conference call that: "our dividend remains the highest priority use of our cash." This is surely music to dividend investors' ears, but remember what happened the last time we heard that from the management of another oil and gas company? Kinder Morgan's management guided dividend growth as recently as October 2015. We all know what happened then.
What's In Store For the Future
Despite the downturn, the company is still one of the better capitalized E&P companies on the market. As of Q3, it had net debt of $25 billion against total assets of $106 billion. From a financial perspective, I don't think investors should expect any cataclysmic event happening any time soon. However, there is no denying that the company's fundamentals have deteriorated, largely the result of falling oil prices.
The biggest question investors have to ask themselves is whether the low oil environment will become the norm, and if so, is there reasonable probability for value creation? Often investors fall into the trap of false optimism. "This company will do very well if oil breaks $60/bbl again" would be such an example.
Considering the current outlook for crude, I do not think that the current environment is conducive to value creation for ConocoPhillips. In Q3, the company achieved an average realized price of $41.56 for crude. Considering that oil is only trading at low $30s right now, we can expect a 25% decline in crude revenue in the future without a corresponding decline in operating costs. I do commend the management for making drastic improvements in operating costs, having trimmed them from almost $10 billion in 2014 to around $8 billion in 2015, with more cost reductions on the way in 2016. However, the pace of cost cuts cannot keep up with the decline in sales. In the upcoming quarter, the reality of new lows in oil will begin to surface, and without midstream and downstream operations to support the company like they have in the past, I don't think it will be pretty.
Note: I spend a great deal of time researching every company in the V20 Portfolio (+40% in 2015). If you are looking for some ideas that could complement your own portfolio, you can click the "Follow" button and be updated with my latest insights. Premium subscribers will get full access to the V20 Portfolio.
Disclosure: I/we have no positions in any stocks mentioned, and no plans to initiate any positions within the next 72 hours.
I wrote this article myself, and it expresses my own opinions. I am not receiving compensation for it (other than from Seeking Alpha). I have no business relationship with any company whose stock is mentioned in this article.