Royal Dutch Shell (NYSE:RDS.A) (NYSE:RDS.B) is reaching new lows as oil prices continue to fall and are now at the low $30s. For many of its investors one of their concerns is whether the company keeps its dividend unchanged even if oil prices remain low throughout 2016. Let's see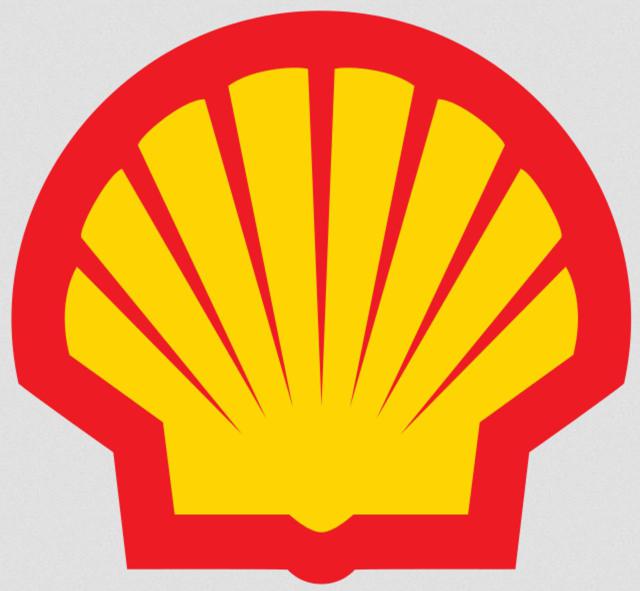 how bad is it for Shell in order to tackle this question.
Shell's stock shed 10% off its value over the last month, as the price of oil dwindled. Following this fall, the dividend yield is currently at 9.4% - a historic level.
Some investors think that because the company paid and raised its dividend since WW2, it means it won't deviate at this stage. But let's not forget that times are changing. And if Shell were to face say a Gulf of Mexico oil spill as BP (NYSE:BP) encountered back in 2010, you can bet the dividend will be eliminated in a heartbeat - especially in times of low oil prices. But even without a major oil spill, the current oil price environment stresses Shell's cash reserves. So let's not dwell on the past and consider what's up ahead. The chart below shows the dividend payment (up to Q3 2015) and the free cash flow or FCF.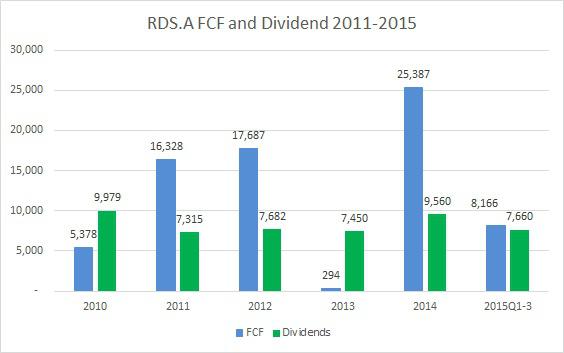 Source: Royal Dutch Shell and Author's calculations
As of the end of Q3 2015, the company's FCF was just enough to cover its dividend pay. And this year, the company also borrowed close to $16 billion - mostly in Q2 and Q3. As a result, the net change in cash flow rose by close to $10 billion.
In the past, the FCF didn't always cover the dividend payment - the last time was back in 2013. Without accounting for the BG Group deal that should bolster Shell's cash flow, it will still have to pay - assuming the dividend doesn't change in 2016 - roughly $10 billion in dividends to its shareholders. Even if FCF only covers half of the dividend payment in 2016, the company will have to take the payment from its available cash, which as of the end of Q3 2015 stands at $32 billion. The other option is to save up on cash and slash the dividend. This move is most likely to drag down its stock - especially considering the company's management promised to maintain its dividend: A dividend cut, when all the other major oil companies didn't slash theirs, will send a signal to investors that Shell's situation could be much harsher than what management is letting on.
We should also consider several other factors
How the BG deal will impact RDS's bottom line and operations? Even though some shareholders think RDS paid too much for this company, this merger is still likely to improve RDS's cost structure, increase its oil and gas reserves, and allow access to assets that are considered by some high profit such as Australia's LNG. This deal could also provide more cash to Shell in order to make the dividend pay.
Where oil prices are heading?
With oil prices at the low $30s, Shell will have to cut down capital spending and reevaluate its operations. It also recorded big impairment charges with respect to its projects in Alaska and Alberta, Canada. And the ongoing low oil prices are likely to result in additional impairment provisions that will only intensify the growing debt burden. Therefore, the company is likely to present in the next earnings report revised down guidance for its 2016 capex and plans to cut down production.
The downstream is doing well
Even though the upstream is recording very low revenue, the downstream business has improved due to favorable margin and high throughput. As indicated in the chart below, the downstream accounted for the lion's share of RDS's earnings during the first nine months of 2015. And even before the collapse of oil prices, there was a steady upward trend in the share of the downstream from total earnings. The strength of the downstream business could partly offset the drop in upstream profits.
Gas is a major component in RDS's revenue
RDS's upstream segment is mostly comprised of gas, as presented herein.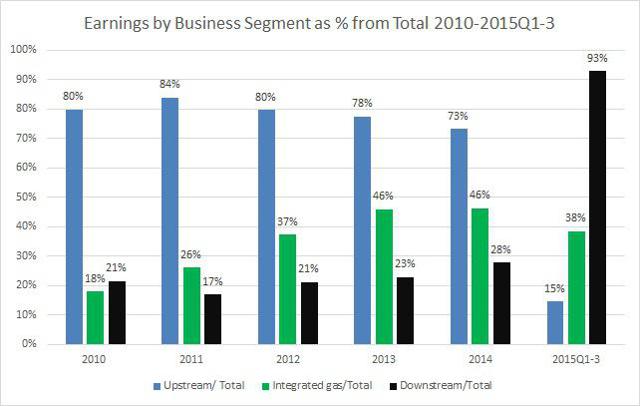 Source: Royal Dutch Shell and Author's calculations
The natural gas market is also soft, but the share of gas has increased over the past several years: Back in 2010 gas's earnings were only one fifth of total upstream earnings. But in 2015 (first nine months), gas accounted for nearly two thirds of upstream earnings.
Moreover, the addition of BG also entails, as stated above, additional exposure to LNG operations. According to the company, its LNG capacity will double its nearest rival once the BG merger comes through. And while the LNG business faces challenges - as do other energy markets - the economies of scale could improve its cost structure. How the shift towards LNG will play out for RDS remains to be seen.
What's the bottom line?
Given the current weakness of oil prices, a reduction in the dividend could create anxiety among investors to drop the stock, which will only push further down its price. I don't think Shell will cut its dividend in 2016. But considering the dividend yield is close to double digits, the company isn't likely to raise it either this year. The management may even decide to use available funds to buy back its shares. After all, if the company can't find projects to invest that generate a 10% yield at the current energy prices, it might as well repurchase its shares. But if oil prices maintain their low levels, we are likely to see a shift in the management's tone as the year winds down. And by the end of 2016, the company may eventually start talking about reducing its dividend for 2017. For more please see: Will BP Reduce Its Dividend?
Disclosure: I am/we are long BP, RDS.A.
I wrote this article myself, and it expresses my own opinions. I am not receiving compensation for it (other than from Seeking Alpha). I have no business relationship with any company whose stock is mentioned in this article.