In President Obama's most recent State of the Union Address, he identified prescription drug abuse as one of his top priorities. 2.1 million Americans currently suffer from opioid-based dependence or abuse. One company has been on the forefront of changing the pharmaceutical drug world with its new proprietary technology that makes it difficult to abuse prescription drugs.
Egalet (NASDAQ:EGLT) is a small cap ($211M) specialty pharmaceutical company that was founded in 1995. It is the first company to develop an erosion-based pill that allows for the controlled release of drugs and also deters abuse. The company went public in 2014 and was added to the Nasdaq Biotechnology Index in December.

Egalet Aims to Deter Prescription Drug Abuse
Egalet has created a proprietary technology called Guardian. Guardian technology has made pills that are indestructible, effectively making prescription painkiller drugs more difficult to abuse. The company currently sells two products OXAYDO and SPRIX Nasal Spray. OXAYDO is the immediate-release oxycodone product formulated to deter abuse via snorting, for managing acute and chronic pain where an opioid is appropriate while formulated to deter abuse via snorting. SPRIX Nasal Spray, a non-steroidal anti-inflammatory drug (NSAID), is indicated in adult patients for the short-term (up to five days) management of moderate to moderately severe pain that requires analgeisa at the opioid level.
Egalet develops two late-stage products using Egalet's proprietary Guardian Technology. The lead program, Egalet-001 is an abuse-deterrent, extended-release, oral morphine formulation, and Egalet-002 is an abuse-deterrent, extended-release, oral oxycodone formulation.
The Guardian Technology creates oral pills with physical and chemical properties that deters the most common and rigorous abuse of particular drugs. The technology also offers an erosion process that gradually releases the drugs' active ingredients. This technology can be applied broadly across wide variety of pharmaceutical products, and can be used to develop a combination of products that include multiple active ingredients with different release profiles.
Zack Investment Research has downgraded Egalet from "strong buy" to "hold" due to its third-quarter earnings remaining negative at about (0.81) per share. It is expected to report (3.72) EPS for current fiscal year 2015. Although its sales revenue doubled in 2015 compared to 2014, the huge cost of R&D and Sales expenditures has dragged down its earnings to remain negative. Since Q3 2015, its stock price has declined over 40%.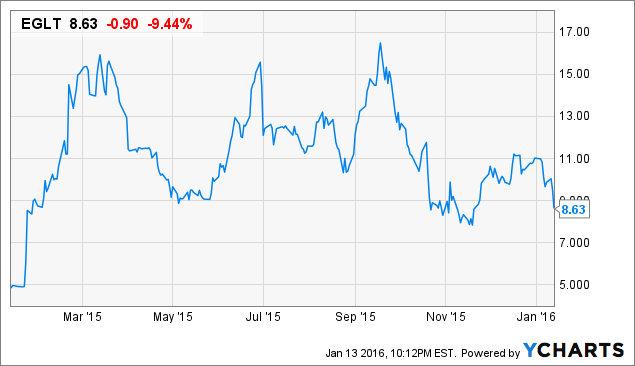 EGLT data by YCharts
The addition of Egalet to the Nasdaq Biotechnology Index (NBI) in December 2015 was big news for the pharmaceutical company. Only companies that meet eligibility requirements can be selected into this index, which serves as a basis of the iShares Nasdaq Biotechnology ETF (NASDAQ: IBB).
In December 2015, Egalet submitted a new drug application for Arymo ER, formerly known as Egalet-001, an extended-release tablet of morphine sulfate. Egalet developed this erosion-based pill with its proprietary Guardian Technology. This drug help patients control severe pain that requires around-the-clock treatment. Based on the study of the Institute of Medicine, around 100 million Americans suffer from chronic severe pain, which is often under-treated. If the new drug is approved by FDA, the sales revenue is expected to soar in a very short period of time.
Meanwhile, Egalet entered into a deal with Teva Pharmaceutical (NYSE:TEVA), an Israeli pharmaceutical company, to sell SPRIX Nasal Spray in Israel. The deal will boost its sales revenue with sharing in profits from net sales of SPRIX for the next fiscal year.
Technical Factors
By December 15, 2015, its current short interest ratio was 23 days and the short percentage of the float share was as high as 29%, which means out of 12M float shares, 1.95M shares were sold short by the bears. Any bullish earning news could easily set off a large short covering rally for shares of Egalet. From technical perspective, Egalet is currently trading within its 50-day and 200-day moving averages, which indicates stabilized bottom pattern has been build.
Top three shareholders: Fidelity (30%), Federated Kaufmann R (17%) and Franklin (14.3) either held or added shares since Q4 2015. Egalet has minor debt ($17M) and more than enough cash ($53M) to maintain its sustainable growth. It has nearly $7 cash per share on hand and stock is trading just below $10 per share. The stock is at a bargain at current levels.
EGLT may a good short squeeze candidate in the near term for its high short percentage of float, bottom pattern stabilization, below $10 bargain price with $7 cash on hand and better sales projection for the next fiscal year. For the long term, it might be good takeover target by pharmaceutical giants.
Authors: Jenny Liu, Brett Hershman
Disclosure: I/we have no positions in any stocks mentioned, but may initiate a long position in EGLT over the next 72 hours.
I wrote this article myself, and it expresses my own opinions. I am not receiving compensation for it (other than from Seeking Alpha). I have no business relationship with any company whose stock is mentioned in this article.