There is a very strong consensus that the Li-B market is going to take off like a rocket. Until now we have seen rapid growth, but we are about to see new markets that can bring about a quantum leap in demand: EVs and stationaries. Li-B bulls expect both products to become ubiquitous, and given their size we should expect to see far more Li-B cells being produced.
We dislike such universal consensuses generally and believe that the "Li-B demand to the moon" thesis has to at least be subjected to negative analysis, even if only to disprove it and to support the consensus.
As will become apparent Li-B demand can grow rapidly, but this demand growth isn't set in stone.
What Can Impede Li-B Demand Growth?
Some of the demand growth projections for Li-Bs are astronomical given the aforementioned shift in the market toward larger products.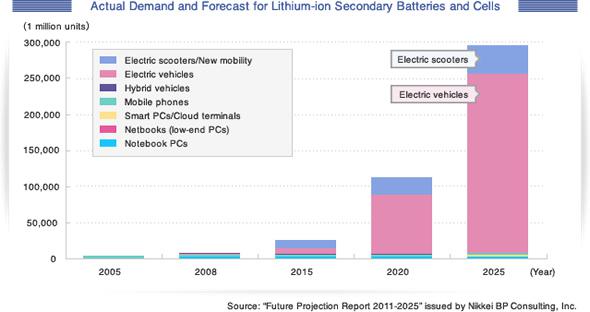 This doesn't include stationaries, which some investors think will be the biggest market of all. While this market is in its infancy analysts are already putting forth bold predictions.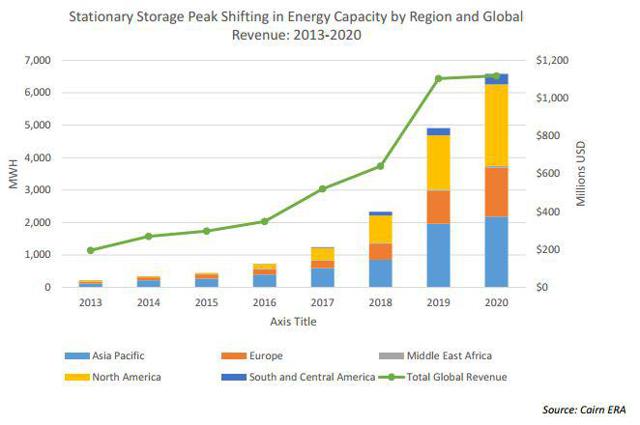 These aggressive demand projections are contingent upon new markets developing, and these markets in turn require new value chains that are larger and more efficient than those available today. There are a few risks that we won't see this:
Battery costs remain high and the amount of time it will take for producers to develop the necessary technology to reduce costs is unknown. The EV/stationary revolution cannot take place without a significant reduction in battery costs.
There are several material issues. There is not enough lithium production to support the amount of demand assumed by many analysts. There is sufficient graphite production but an insufficient amount of processing capability: Li-B producers need coated spherical graphite, which is produced almost exclusively in Asia and which no Western company to our knowledge is producing in sufficiently large quantities to satisfy the market. Cobalt production is almost exclusively a by-product of base metal mines, meaning that pricing and demand have a smaller impact on production than would otherwise be the case, and weakness in base metal markets (e.g. copper) could create a shortage of cobalt despite rising demand from the Li-B market.
Other technologies are constantly being developed and are constantly evolving. These possibilities are almost limitless, but we will focus here on nickel metal hydride (NiMH) batteries.
1: Cost
This is a concern for larger batteries, which given their size and their functions are going to be extremely expensive given current per kwh costs. This is not an issue for smaller batteries in, say, laptops or small portable devices, since the energy required to operate them is low compared with their cost. However, powering a car or storing large amounts of energy require much more battery capacity. This isn't an apples-to-apples comparison, but consider that a Tesla (NASDAQ:TSLA) EV will have several hundred or maybe even more than a thousand times more battery cells than a laptop. A car only costs 50-100X more than a laptop, and so the battery cost relative to the product's value is much higher in the EV/stationary.
Battery prices have come down steadily on a cost-per-kwh-basis.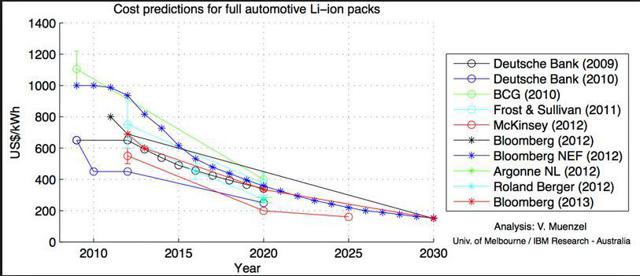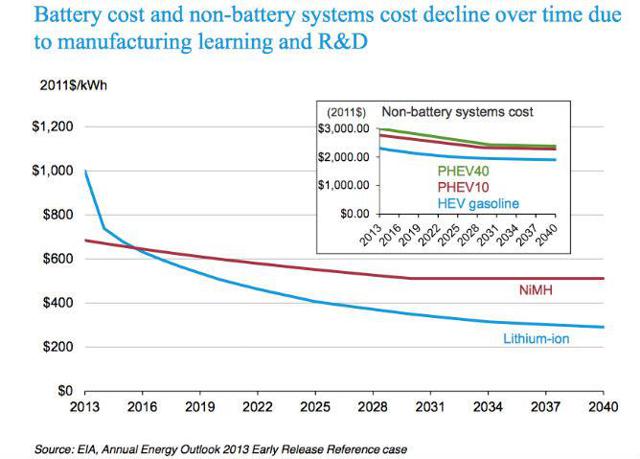 We question the industry's ability to sufficiently reduce prices in the next few years without a radical, unpredictable shift in the battery's structure or material content.
Some are predicting that Tesla can get its costs considerably lower than this (<$100/kwh), yet this isn't based on any hard evidence, but rather loose estimates based on new technological developments such as switching the liquid electrolyte with a gel or increasing the silicon content in the anode. None of these processes have been scaled to the level of the proposed gigafactories, and it is very difficult to predict how expensive it will be to make these changes on a large scale.
This observation suggests that there will be less demand growth in the large Li-B market (i.e. EVs and stationaries) than many analysts are expecting, including several who deduce that Tesla deserves to trade at a very lofty multiple relative to its current sales.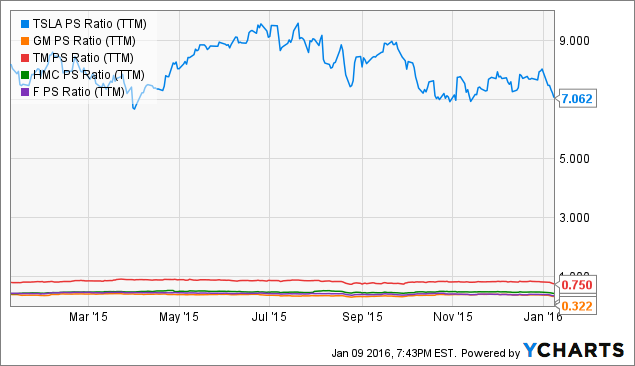 This data needs to be coupled with the fact that Tesla loses money on each car: nearly $20,000 per car
This data needs to be coupled with the fact that Tesla loses money on each car: nearly $20,000 per car according to one Seeking Alpha analyst.
Depending on the model, and given what data is available on battery costs, Tesla can spend more than a third of the retail value on the battery alone - this needs to change dramatically in order for the EV industry to compete with ICEVs for average customers.
This will be difficult, and while it is likely to transpire it could take much longer than many optimistic analysts are expecting. We deal with one reason for this in the next section.
2: Availability of Raw Materials
Li-Bs require four materials: lithium, graphite, cobalt and nickel. Nickel isn't an issue since it is a widely used commodity. Lithium, graphite and cobalt are very small markets that are vulnerable to supply shortages, even in the event of a modest shift in demand. Most of the world's lithium is produced by three companies. Graphite needs to go through multiple processes before it can be used in Li-Bs, and the processing capacity doesn't exist right now to support a much larger Li-B market. Right now many companies use synthetic graphite but natural graphite has the potential to offer better performance, is cheaper, and is less destructive to the environment (a big selling point for EV companies since synthetic graphite is produced by heating it to very high temperatures. Cobalt is produced predominantly as a by-product of base metal mining, and therefore it is subject to supply shortages and price-spikes should base metal mines shut down (as we are seeing today).
As we saw with respect to cost, battery/EV companies have ambitious expansion agendas. This created a speculative frenzy in some of the raw material companies developing lithium, graphite and cobalt projects, and this frenzy is predicated on growth projections for raw materials that take dramatic battery growth into consideration.
Industrial Minerals produced a good chart a few years back that compares graphite demand in the event that the EV market grows as anticipated vs. what it would do in a world without Li-Bs.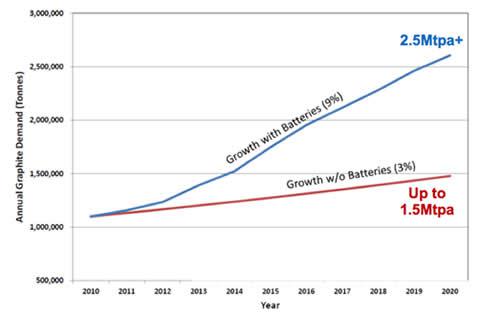 This 6% increase in the CAGR is huge considering that battery demand accounts for ~25% of flake graphite demand and ~10% of total graphite demand. We can see similar projections for lithium. Here's a chart from a recent Albemarle (NYSE:ALB) presentation.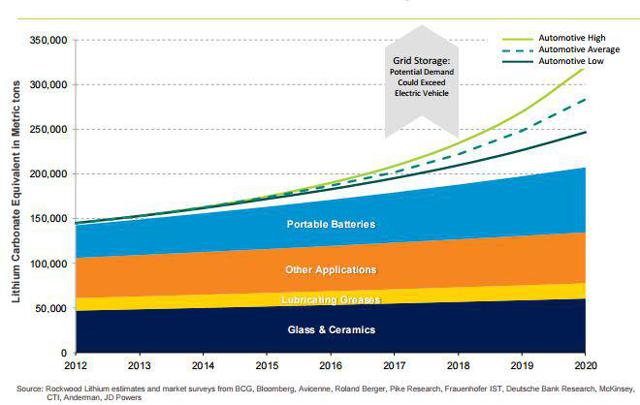 We have doubts as to these industries' abilities to supply the necessary products. With respect to graphite - and this is a topic we've covered in greater depth here - the raw graphite supply is there. In fact, natural flake graphite is currently an oversupplied market, and there are idle operations in China that could easily meet rising demand. There also are numerous exploration projects in Canada, the United States, Australia, Mozambique and Madagascar. The trouble is that raw graphite needs to be processed in order to be suitable for the Li-B market. Here is a very basic flow-sheet (each step is itself a major operation) courtesy of Great Lakes Graphite (OTCPK:GLKIF):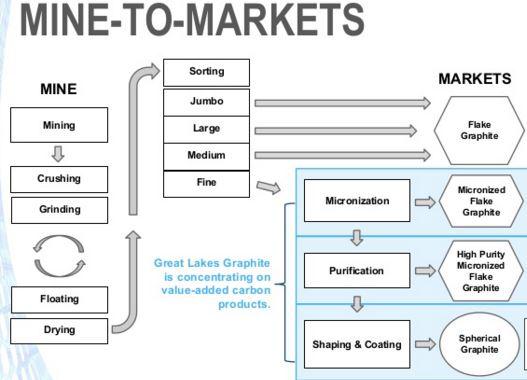 This capacity is virtually non-existent outside of China and Southeast Asia. Several companies have announced plans to produce coated spherical graphite (e.g. Syrah Resources (OTCPK:SYAAF) and Alabama Graphite (OTCQX:ABGPF)). But they have not made any substantial achievements: their efforts amount to releasing reports explaining the great potential for the Li-B market and claiming that they will produce spherical graphite with some untestable figures that show extraordinarily robust economics that make such claims impossible to believe.
Lithium is a chemical product rather than a mineral product, yet it is very difficult for mining companies to perfect the separation process economically given current prices. As a side note, companies such as Albemarle and FMC (NYSE:FMC) aren't "mining" companies in the way that BHP (NYSE:BBL) is, but rather are chemical companies that operate lithium mines.
We admittedly follow lithium less closely than graphite, but from the above chart put out by Albemarle we can see that in the pessimistic scenario the market will need ~50,000 tpa. more lithium production by 2020, which is equivalent to one or two major operations. Talison and Tianqui can offset the shortfall somewhat, and Orocobre might as well, but it is unlikely that the other current producers can increase production in the near term. Junior mining companies have faced various difficulties, yet we would need at least one new project in production by 2020 to meet minimum demand assuming no other demand went into production. For instance, hopeful Nemaska Lithium (OTCQX:NMKEF) plans on producing just 30,000 tpa., while Tesla partner Bacanora (OTC:BCRMF) plans on producing 35,000 tpa., maybe more.
Analysts conclude from this that lithium stocks will be a great investment (the world needs more lithium and these companies have it). But we think that most of the hopefuls won't make it. As is the case in the graphite market we are seeing companies sit on feasibility studies for extended periods of time with no success. We've also seen companies divert investor attention with these so-called offtake agreements with Tesla, in which they agree to sell their lithium at a discount (e.g. Bacanora, and Pure Energy (OTCQB:HMGLF)) with seemingly no additional benefit other than bragging rights.
Most of the world's cobalt is mined as a by-product of base metal mining, and the world's biggest cobalt producers include major global mining companies such as Freeport McMoRan (NYSE:FCX), Xstrata, and Sumitomo. There are a couple of hopeful junior companies (e.g. Formation Metals (OTCQX:FMETF)) but no producers, and no company in a position to increase cobalt production near term without increasing production of nickel, copper, etc., or products whose values have been falling rapidly. Rising prices could make some more cobalt projects attractive, but considering the timeline of battery demand growth that analysts are expecting, this supply will come online years after it is needed.
3: Other Batteries?
Li-Bs aren't the only option, and the aforementioned materials aren't necessarily needed in Li-Bs. However Li-Bs containing graphite, lithium and cobalt are currently the best option in the EV space.
This won't necessarily be the case in a few years, and as an example of a potential competitor we cite the NiMH battery. Some view this product as outdated, and the current capabilities of the NiMH battery are worse than those of Li-Bs. In fact, Great Lakes' CEO Paul Gorman presented this slide in a presentation in New York last September.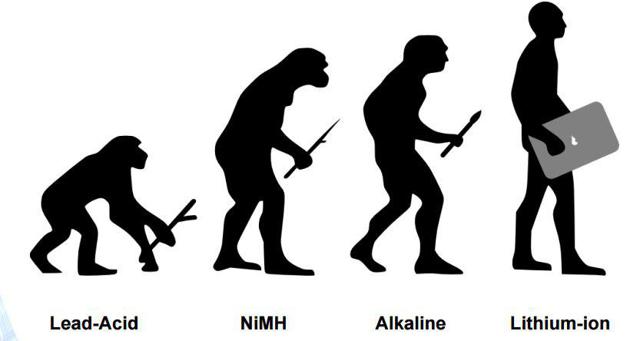 Paul is a smart guy, but we're not ready to rule out the NiMH battery just yet - neither are Toyota (NYSE:TM) and BASF (OTCQX:BASFY).
Li-Bs are currently superior, but one critical issue is that they can overheat and catch fire. This has forced producers to include safeguards that add to the battery's cost and weight, closing the efficiency gap. NiMH batteries often use lanthanum, which is an oversupplied rare earth element despite concerns over China's oligopoly in the space. From a geopolitical standpoint we could argue that this poses a material risk to the NiMH battery thesis (similar to how graphite and lithium pose a risk to the Li-B thesis), but lanthanum is extremely inexpensive - lower than the cost of production - and Lynas (OTCPK:LYSDY) is a major producer outside of China, thereby mitigating this risk.
We should also note that Toyota has continued to use NiMH batteries in its HEVs. Its newest Prius is available with both choices, and while there are advantages to the Li-B version (which is also more expensive), we suspect that Toyota is interested in gathering data so that it can make a more informed battery choice in the future.
The Bottom Line
While the potential for Li-B growth is substantial it's hardly set in stone. Several things can stand in the way between today's market and the market projected by analysts 5-10 years out. Li-Bs remain expensive - too expensive for economy cars and in-home/office energy storage. The materials required to develop these batteries may not be available in the form and/or quantities required in order to meet analysts' and battery manufacturers' timelines. This could push the prices of battery materials, and consequently batteries, higher, thereby exacerbating the first issue. Finally, investors shouldn't rule out improvements in other batteries (e.g. NiMH) or even in the development of entirely new batteries.
These risks should impact how investors approach the market. From the resource side of things we don't think investors should buy shares in a company solely because it will be producing battery material. In fact, from the graphite side of things we recommend investors stay away from companies that over-emphasize the battery opportunity given what we've said and given that it has been used more as an IR ploy than as the basis for a feasible business plan. With respect to actual battery producers we think they should address these market concerns directly. A great technology can only work if it is cost effective and if it can be built given the materials available.
Disclosure: I am/we are long GLKIF.
I wrote this article myself, and it expresses my own opinions. I am not receiving compensation for it (other than from Seeking Alpha). I have no business relationship with any company whose stock is mentioned in this article.
Editor's Note: This article covers one or more stocks trading at less than $1 per share and/or with less than a $100 million market cap. Please be aware of the risks associated with these stocks.