Sabra Health Care REIT (NASDAQ:SBRA) is a relatively young and small health care real estate investment trust, or REIT. That said, it's been expanding and diversifying since it came public via a spin-off from Sun Healthcare Group, a company subsequently purchased by Genesis Healthcare (NYSE:GEN). Sabra has also increased its dividend each year since the separation. That's the good news.
The bad news is that 2015 wasn't the best year for Sabra's portfolio. Which helps explain the high yield and why conservative types might want to take a pass. More aggressive types, however, might want to take a deeper dive.
The right things

When Sabra was split off from Sun Healthcare, it had one tenant: Sun Healthcare (now a part of Genesis). It had roughly 85 properties, which made it a tiny player in the healthcare real estate market. And it had no clear operating history of its own. But that was then.
Today Sabra's portfolio has diversified away from Genesis (which bought Sun Healthcare) and spans over 30 tenants. Genesis is still a big part of the pie, making up third of the tenant list, but that's much better than 100% just five years ago. The portfolio, meanwhile, has expanded to roughly 180 facilities and a collection of loans and equity investments.
And, equally important, Sabra now has a history as a standalone entity. That history has included a dividend hike each year since its birth. Funds from operations have also grown at a decent clip, overall. So Sabra appears to be doing the right things to become a more meaningful and diversified player in the healthcare REIT industry while rewarding shareholders.
That said, it has a long way to go before it comes anywhere near a Ventas (NYSE:VTR), with its portfolio of more than 1,300 properties. Essentially, if you are looking for broad diversification, Sabra is the wrong choice. On the other hand, Sabra is still small enough that a single property acquisition can still make a difference to the top- and bottom-lines. Ventas and the other giants are well beyond that point. But there's a risk/reward trade off here.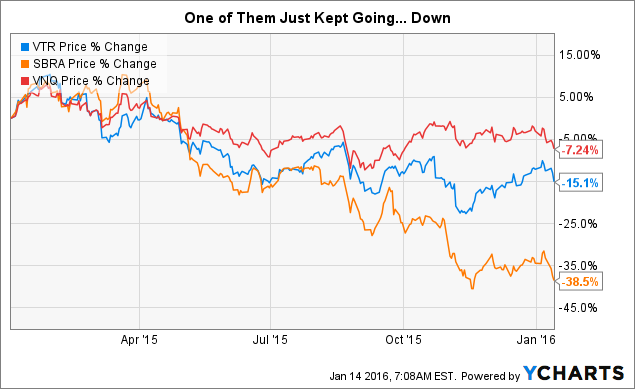 Small isn't always beautiful

The size issue is, in the end, the complexity of Sabra that should cause conservative types to look elsewhere. It's one of the big reasons why Sabra yields around 8% while Ventas yields closer to 5%. And it's why news of some troubles in Sabra's portfolio have helped to keep the shares weak while the broader REIT space and larger competitors like Ventas picked up again after the REIT pullback in early 2015.
What went wrong? In late May of 2015, Sabra reworked a lease with tenants at Forest Park - Frisco hospital. The REIT agreed to, "...decrease and defer rent payments and to provide that Sabra be paid a portion of the prior rents due upon the tenant securing additional financing, with the balance paid over time." The facility had been a simmering issue for a while. By August, no additional financing had been found, so Sabra set up a $4.6 million reserve just in case they didn't get paid.
The situation only got worse as 2015 progressed, with the tenant declaring bankruptcy in late September. To make matters worse, a couple of months later, the company's mortgage investment in Forest Park - Dallas ran into trouble with the borrowers filing Chapter 11. If this were Ventas, these problems would be relatively tiny events in a giant portfolio. But for Sabra, they are a bigger issue and will likely require a lot more time from the company's leadership.
That's the negative side of being small. And it tarnishes the bigger picture trend of the company diversifying its portfolio. Note that one of its key talking points is that "bigger is not always better," as it highlights growth opportunities outside of the largest markets. But, clearly, smaller isn't always better either.
You get what you dividend for?

None of this means that Sabra is a bad REIT and I certainly wouldn't expect it to suddenly plunge into a death spiral. But that doesn't change what's going on: Sabra has some work ahead of it on these very public issues, and there are real risks associated with them that could ding the top- and bottom-lines. That's one of the reasons why the yield is some 60% higher than what you'd get from owning Ventas.
There's other things helping the valuation along, to the downside, too, like a below investment grade credit rating. But the credit rating is a reflection of a lot of what's going on at the company as it progresses from a new entity beholden to its former parent to a more diversified player. In the end, it's a process and it takes time. Just like working through the tenant and mortgage issues that took painfully clear shape in 2015 - they will take time to resolve.
For a more aggressive investor who is willing to watch her holdings closely, Sabra might be worth a look. The yield is notable and, so far anyway, supported by a growing dividend. And Sabra has been doing the right things to broaden its business beyond Genesis.
But there's always a but ... And at Sabra, you'll need to be cognizant of the size issue as well as the portfolio challenges that have cropped up. There's a reason for the higher yield you'll get here, just make sure you are willing to put in the work to understand what's going on if you decide to bite.
Disclosure: I/we have no positions in any stocks mentioned, and no plans to initiate any positions within the next 72 hours.
I wrote this article myself, and it expresses my own opinions. I am not receiving compensation for it (other than from Seeking Alpha). I have no business relationship with any company whose stock is mentioned in this article.