Introduction
Not a lot of US investors will know where Albania is, but this Balkan country does have some interesting oil reserves and producing oil assets. One Canadian company, Bankers Petroleum (OTCPK:BNKJF), has been able to enjoy a first mover's advantage and has been the driving force behind the development of the Albanian oil sector.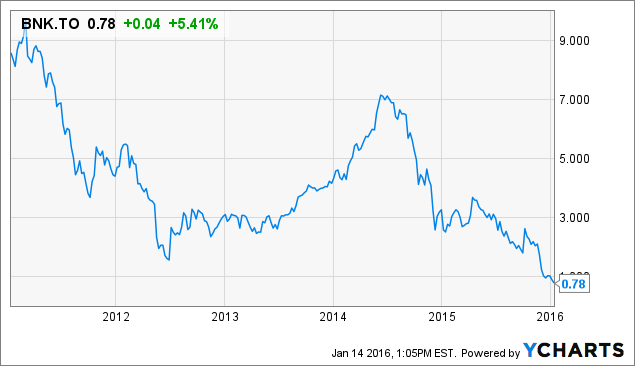 BNK data by YCharts
As Bankers is a Canadian company, I'd recommend to use the company's Canadian listing to trade in its shares. Bankers Petroleum is listed on the Toronto Stock Exchange with BNK as its ticker symbol. The average daily dollar volume is approximately $2M, which isn't bad at all for this $145M market-cap company.
Bankers produces almost 90% of Albania's oil, but is facing a huge tax bill this year
Bankers enjoys a dominant position in the Albanian oil business and generates quite a bit of taxes for the Albanian government, but unfortunately, Bankers ran into a bank dispute with the government which resulted in its Albanian bank accounts being frozen. Fortunately, Bankers was able to solve this matter by entering into a settlement agreement with the Albanian Tax Office.
Bankers agreed to pay $5.7M upfront and will settle the remainder of the $57M tax bill by making 12 monthly payments of US$4.28M this year, resulting in a total payment of $57M during 13 months. This isn't an ideal situation, but at least it will allow Bankers to enjoy a good (or at least decent) relationship with the tax office by showing its goodwill to start paying the tax bill.

Source: company presentation
Of course, this will be a cash drain for the company as I'm afraid Bankers most definitely won't be able to produce a sufficient amount of oil to foot the bill without having to tap into its cash reserves or the existing credit line. Using an average production rate of 17,000 barrels of oil per day, the monthly cash payments to the tax office will represent an additional burden of $8 per produced barrel of oil, and it's pretty clear the current oil price just doesn't provide that kind of margin anymore.
How is Bankers digesting the low oil price?
The low oil price is killing a lot of producing companies, and Bankers Petroleum is definitely no exception. Unfortunately, the company is producing quite a bit of heavy oil, resulting in having to allow an additional discount to sell the oil. For instance, even though the average oil price in 2014 was approximately US$93/barrel, Bankers oil received an average price of just $77/barrel.
There's only one thing a company can do when it's in a situation like this, and that's either stubbornly continue to produce more oil, or to scale back the size of the operations by reducing the capex and the production rate. And that's exactly what Bankers Petroleum did, as it tried to find a middle way between continuing to invest in its oil fields but at a slower rate than before. The company has cut its 2016 capex by almost 60% compared to the 2015 levels (to $65M). The company does claim the entire capex budget would be covered by the expected operating cash flows, but that was based on a pre-December oil price and it doesn't look like these expectations are realistic anymore.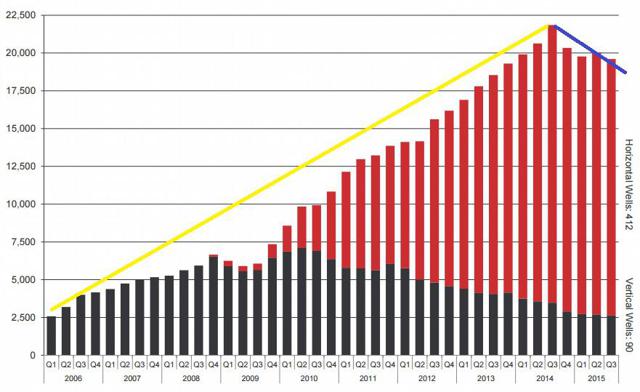 Source: company presentation
After all, the break-even expectation was based on a Brent oil price of $46.25 per barrel, and as the Brent price has fallen through several bottoms to less than $35/barrel, this will reduce Bankers' total revenue (and cash flow) by in excess of $50M per year, and at the current oil price, I have zero doubt that the operating cash flows will be sufficient to cover the planned $65M capex bill.
The problem is that if Bankers decides to reduce the capital expenditures even further, its oil production rate will decline even faster. The current $65M program anticipates the production rate will slip by approximately 15% to roughly 17,000 barrels per day. This opens up the possibility to reduce the capex even further, but that will only happen if Bankers Petroleum will be able to live with an even lower production rate.
So where will the cash come from?
Bankers Petroleum will have to find the cash to fund a total outgoing cash flow of $115M (based on the proposed 2016 capex budget and the tax payments it promised to pay to the Albanian tax office.
Fortunately, the company hasn't done any crazy things during the 'good times' and has been able to add quite a bit of cash to its balance sheet, which currently has a working capital position of almost US$175M. That's a pretty decent position to be in, and the $46.4M in available cash will definitely help to pay all the bills that will pop up this year. Additionally, Bankers Petroleum should have an operating cash flow per barrel of $2.88 (based on a $30 Brent pricing, see the next image), which should add $15M in operating cash flow to the equation. Additional hedges for 2016 have a current value of in excess of $20M as well, which will lighten the burden.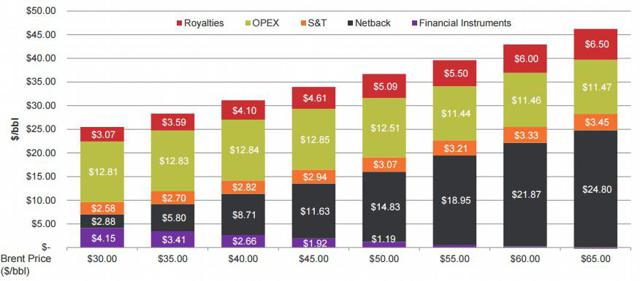 Source: company presentation
This solves approximately $60M of the cash needs, resulting in a 'shortfall' of $55M. Fortunately, Bankers has drawn down just 50% of its available credit facility, so if the oil price doesn't recover, Bankers will just have to use the credit facility to get its hands on more cash.

Source: company presentation
Investment thesis
The current credit facility will save Bankers Petroleum if the oil price doesn't recover. Fortunately, the company has in excess of 18 months before it needs to repay a first $25M tranche of its long-term debt (in September 2017), but it's pretty obvious the pressure on the balance sheet will increase this year, and the current $175M in working capital will very likely be reduced to less than $100M by the end of the third quarter, as the first tranche of the debt repayment will have to be added to the current liabilities rather than the long-term liabilities.
The leverage to the oil price is enormous. For every dollar the Brent oil price increases, Bankers Petroleum should see its pre-tax operating cash flow increase by approximately $5M, and of course every additional million dollar will be extremely welcome in the current price environment.
Disclosure: I/we have no positions in any stocks mentioned, and no plans to initiate any positions within the next 72 hours.
I wrote this article myself, and it expresses my own opinions. I am not receiving compensation for it (other than from Seeking Alpha). I have no business relationship with any company whose stock is mentioned in this article.
Editor's Note: This article covers one or more stocks trading at less than $1 per share and/or with less than a $100 million market cap. Please be aware of the risks associated with these stocks.