Orix Corp. is a diversified global financial services company headquartered in Minato-ku, Tokyo, with an ADR sold on the New York Stock Exchange (NYSE:IX) and shares sold on the Tokyo Stock Exchange (OTC:ORXCF). Operating in over 36 countries, including the US, Malaysia, and Taiwan, the company provides corporate and retail credit services, such as aircraft leasing, as well as automobile rental, REIT asset management, life insurance and investment banking services. Orix's business model, current balance sheet, stock information, and potential future catalysts/risks will be analysed to evaluate if Orix is a true value play in the fragile world of Japanese financials.
Business Model
"The DNA of ORIX is the capacity to adapt without being restricted by past successful experience."

-- Robert Feldman (Outside Director since June 2010; Chief Economist at Morgan Stanley MUFG Securities Co. (NYSE:MS))
To illustrate the success of Orix's primary business model, one must closely examine the term - "creative destruction," or vernichtung, for it is this term that best encapsulates how Orix has operated historically, especially after the global financial crisis in 2008. In a somewhat ironic twist, the term originates from the Marxian theory that, in the macroeconomic sense, capitalism would continue to cyclically devalue or destroy existing wealth in the form of crises, in order to allow for the creation of new wealth. Many economists have built upon this basic premise, however, it was Joseph Schumpeter of the "Prussian Historical School" of economic thought who first popularized the term and paved the way for its usage in microeconomic theory. In this context, creative destruction is used to refer to the process by which asset management companies like Orix quickly and efficiently dump older, less profitable assets to acquire newer, more profitable ones.
It is through this basic foundation that Orix has managed to maintain stable profitability throughout numerous business cycles since its inception in 1964. Applying this theory to paper, the company has shifted its operational model from traditional Japanese-focused leasing and credit services to global non-financial retail services, such as automobile rental and life insurance. In 1989, 93% of the company's gross profit came from financial-related services; in 2015, that figure is down to only 22%, much to the benefit of the company's profit margins.
Balance Sheet
Asset/Revenue Composition & ROA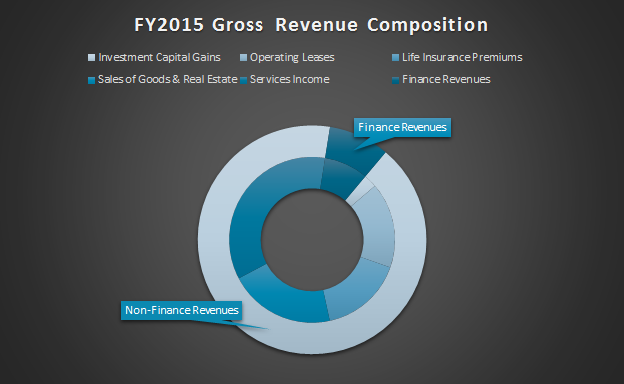 After the global financial crisis in 2008, Orix moved swiftly to maintain return on assets ("ROA") and profitability with two main objectives related to the main business model described above:
Turning over or downsizing assets deemed less profitable, esp. in Real Estate and Corporate Financial Services segments
Managing internal "organic growth" and purchasing assets deemed more profitable, esp. in Retail and Overseas Business segments
Asset and revenue composition changed significantly in FY2015. Most notably, the expansion of "retail" assets continued due to an increase in life insurance business and the acquisition of Hartford Life Insurance K.K. in June of 2014. However, disregarding its acquisitions, Orix's banking and life insurance businesses have still produced steady growth; for example, removing the effect that the acquisition of HLIKK has had on retail ROA, we can observe that it still grew to 1.7% up from 1.5% in the previous fiscal year. Orix Life Insurance has posted a record 2.54 million policies for FY2015, representing the ninth consecutive year of double-digit growth for the business. In total, retail segment assets grew to ¥3.7 trillion (net profits of ¥120.6 billion), with a ROA of 2.6%.
Following the acquisition of Robeco, another significant driver of growth has been Orix's overseas businesses and subsidiaries. Assets in this segment have grown over ¥1 trillion since 2011 and continue to grow as demand for aircraft and shipping vessels expands. Currently, shipping business (e.g. as per the Baltic Dry Index) is at a cyclical low; however, as the company has ordered 21 bulk carriers worth ¥60 billion due for completion by 2018-2020, Orix expects demand to pick up and for the over-supply issue to abate in due time.
As for other assets, the company continued to reduce highly cyclical real estate assets, down to 9% of total segment assets from 22% in 2007, and corporate financial services assets. Real estate assets shifted away from loans and sales to rental and facilities operation, wherein Orix can leverage its expertise. Especially in the current consumer environment in Japan, i.e. dismal household spending cycle, it makes perfect sense for Orix to be rapidly offloading its real estate assets, down 13% YoY. As such, unfortunately, segment net profits and ROA for real estate are at negligible levels, ¥3.5 billion and 0.2% respectively. However, to illustrate how Orix has still managed to maintain profitability in this sector, an example would be the acquisition of the Beppu Suginoi Hotel in Kyūshū, Japan. During its initial investment phase in 2002, the hotel only managed to bring in about 251k guests a year, with an occupancy ratio of 52%; through various marketing measures and additions by Orix, the occupancy ratio now stands at 100% with over 628k guests a year.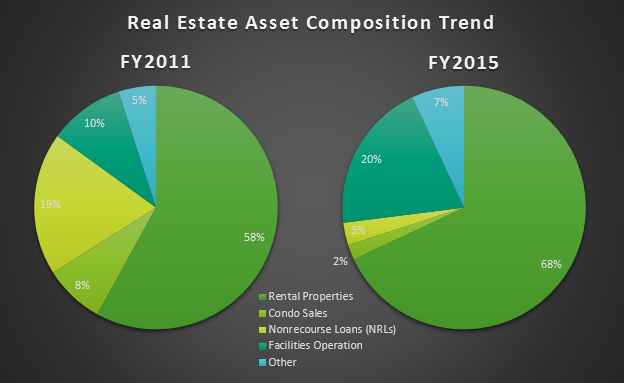 Orix's total ROA now stands at an impressive 2.9%, with total assets at ¥9.2 trillion. Contrast that with the average or current ROA for all U.S. financial institutions - 0.97% (1985-2014) and 1.03% respectively - based on data from the Federal Financial Institutions Examination Council. If we observe Orix's trajectory from the asset perspective, we can see that the company has not only recovered from the financial crisis but is on track for continued growth.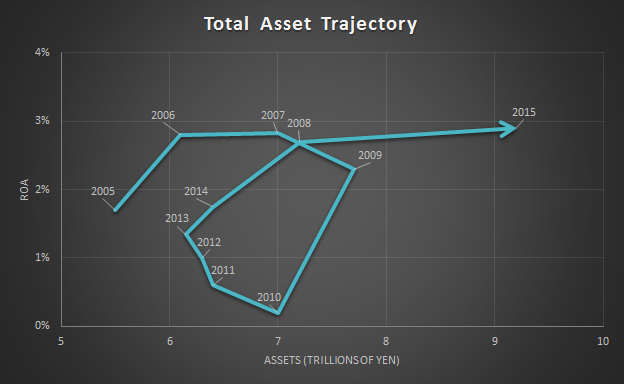 Net Income
Net income attributable to shareholders is on the rise for the sixth consecutive year, with a record ¥234.9 billion, a 25% increase from FY2014. Specifically, the acquisitions of Robeco, Hartford, and Yayoi as well as growth in the overseas business and retail segments of Orix have driven profitability growth. Below is the five-year figure for Orix's net income, exemplifying the changing composition of the company's profitability.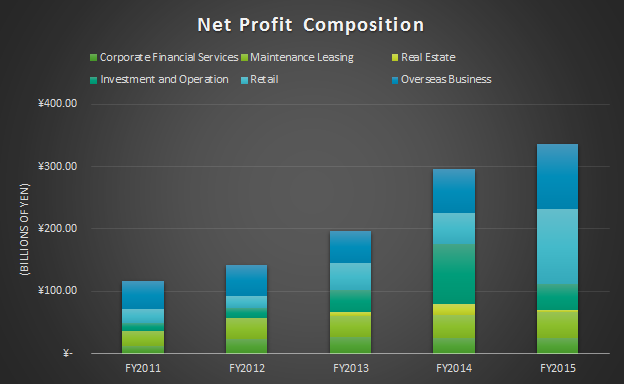 Return on Equity & P/B Ratio
Equity (assets minus liabilities) is perhaps one of the most important indicators of a company's financial health because it not only considers profitability but also asset management and financial leverage as well. Like net income, equity is in its sixth consecutive year of growth, with return on equity ("ROE") at 11.5% for FY2015. As a complement to ROE, we should also observe price-to-book ratio ("P/B ratio"), which is especially important for asset-heavy financial institutions. Profitable assets are the core driver of Orix's growth so P/B ratio is likely one of the more applicable multiples behind the company's valuation on the stock market. By reducing its short-term debts and maximizing the value of its assets, Orix has been able to keep its book value stable; securities investments, for example, have more than doubled from FY2014 to ¥2.8 trillion, greatly adding to the asset side of Orix's balance sheet. Currently, the P/B stands at 0.938; considering JPMorgan (NYSE:JPM), a comparable asset-rich globally-diversified financial institution, has a P/B of 0.962, it suffices to say that Orix is fairly valued, from the equity perspective.
Debt-to-Equity Ratio
Regarding equity, one must always ask whether or not a company's return on equity is high because of its strong accounting strategies and growth or is it because the company is highly extended in debts? Especially in this global environment of financial volatility and zero interest rate monetary policy, it is necessary to watch for any companies accruing more debt than they can manage. In actuality, Orix has been highly efficient in reducing its debts and shifting short-term funding to longer-maturity bonds. Debt-to-equity ratio is now only 1.9x, which is a very positive trend; it means Orix has been reducing its financial leverage steadily without sacrificing the capacity to expand its assets.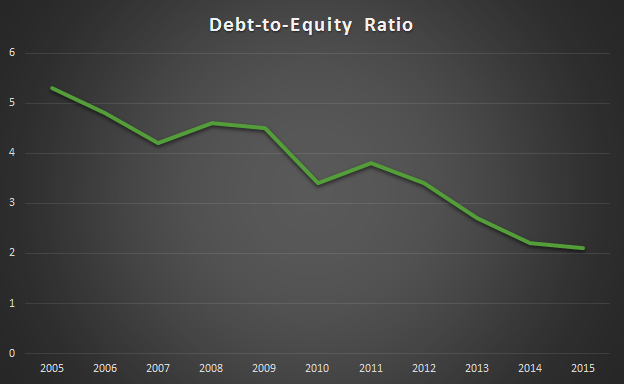 Stock
Earnings Price Target
Utilising historic and projected annual earnings figures, we can determine the average earnings multiple (~8.98) and expected future price movements of IX. According to this method, IX should trade at around $80.28 a share in 2017.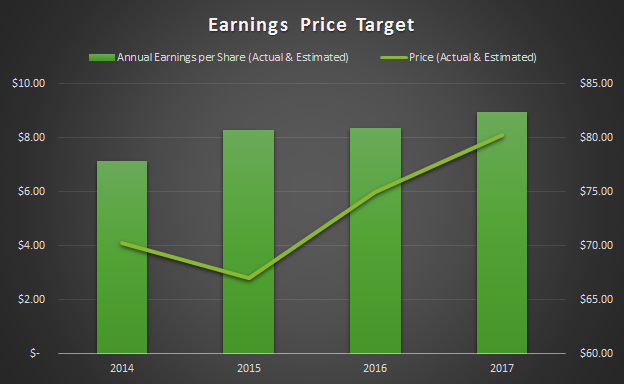 However, this method does not take into account other factors that IX may be trading on; it is evident from the historically low earnings multiple that IX does not trade on earnings expectations alone. As mentioned previously, like other diversified financial institutions, P/B ratio, ROA, or equity composition are just some of the multitude of trading factors to consider. One way to ascertain what factors or sentiment IX may possibly be trading on is to observe analyst price targets and ratings, as provided by the Wall Street Journal.
| | Stock Price Target | | Analyst Targets |
| --- | --- | --- | --- |
| High | $105.89 | Buy | 14 |
| Median | $94.48 | Overweight | - |
| Low | $84.61 | Hold | 3 |
| Average | $94.77 | Underweight | - |
| Current | $67.18 | Sell | - |
It is evident that from nearly any perspective (earnings, equity, assets, etc.), IX is simply not getting the appreciation it deserves, and that perhaps macroeconomic concerns are hindering what should be a much more highly valued stock.
Dividend per Share
Since the global financial crisis in 2008, Orix has been showing strong signs of recovery not only in its income and cash flow margins but in its dividend payments to shareholders as well. The company's target payout strategy is paying off for investors; the current dividend yield of 2.65% is well within market averages and the company expects to increase that even further going forward. Below is a chart showing the three-year dividend growth trend for Orix based on its TYO shares.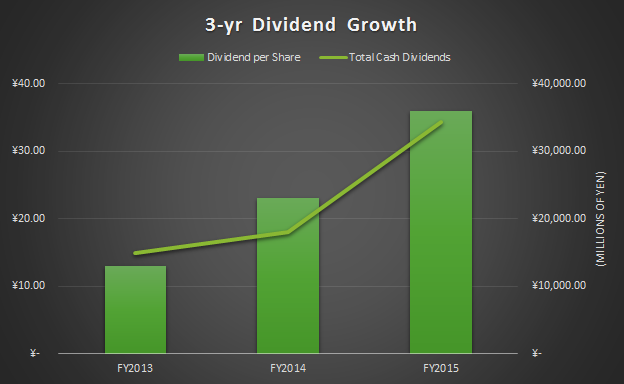 Future Catalysts/Risks
Business Cycle Conditions
Since Orix encompasses such a large variety of businesses and sectors, it is important to observe broad macroeconomic trends and cycles to determine how the company will perform in the near and long term. For example, business confidence, as per the Bank of Japan's Tankan Large Manufacturer Index, has been falling as of late, in response to contraction in the household/consumer sector; household spending continues its long-term contraction trend, down 2.9% YoY for November. This may affect some of Orix's strategies for growth, particularly in banking and credit services, for example. Additionally, over-supply in the shipping industry may continue to put a damper on overseas business growth, which has been a main driver of profit growth for Orix recently.
Expansion of Life Insurance (Demographics)
One particularly extraordinary facet of Orix's business is that, while much stress and deliberation have been made in the economic sphere about Japan's demographic decline, Orix is actually well positioned to benefit from that long-term trend. In shifting its business strategy towards the life insurance sector in recent years, Orix is now fully prepared to reap the benefits of the huge influxes of Japanese middle-aged/elderly entering the life insurance market. Ever since the launch of its CURE medical insurance program in 2007, Orix's life insurance division has achieved double-digit growth every single year without fail; by next year, the company projects it will have reached 3 million life insurance policies. The percentage of elderly of the total population in Japan is expected to reach 31.8% by 2030 and 39.6% by 2050, so expect this growth to continue along with this trend.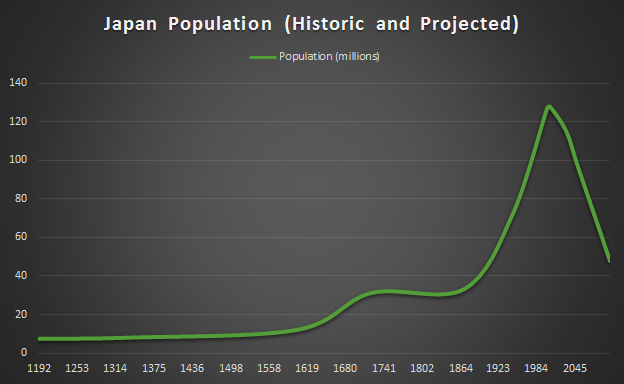 (Source: National and Regional Planning Bureau of the Ministry of Land, Infrastructure, Transport, and Tourism)
Expansion of Energy Services (Politics)
More evidence of Orix's successful strategy of riding the most profitable trends lies in its investment and operations segment. From biomass power plants to storage battery rental service, the company has rapidly expanded into the environmental and alternative energy services sector. Orix's electric power retailing business has expanded significantly across Japan, with over 6k corporate customers. And as global politics shifts to more environmentally-aware policy/regulation, Orix is positioned to benefit from increased assets as mega-solar power plant construction continues in Japan and abroad.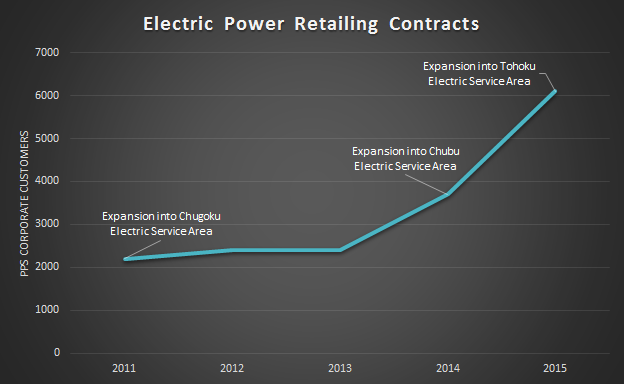 Conclusion
It is evident Orix is on a strong path of growth; however, more important for investors is that company is currently grossly undervalued. Perhaps one of the reasons Orix has been historically so mispriced is because of the very nature of its business model - diversification. Investors typically allocate based on trends, particularly in certain sectors; however, since Orix's operations span across such a wide spectrum of sectors, it can be difficult for investors to buy or sell accordingly. Additionally, Orix is constantly undergoing "creative destruction" and evolving, shedding off old assets and adding new, which further makes pricing the company a difficult task. However, as I have illustrated, the company no longer should be priced purely on a book value basis, but on earnings growth as well. Hopefully, I have been able to show that Orix really is worth more than its current price.
All financial information displayed provided by 2015 Orix IR Annual Report unless otherwise noted.
Disclosure: I/we have no positions in any stocks mentioned, but may initiate a long position in IX over the next 72 hours.
I wrote this article myself, and it expresses my own opinions. I am not receiving compensation for it (other than from Seeking Alpha). I have no business relationship with any company whose stock is mentioned in this article.
Editor's Note: This article discusses one or more securities that do not trade on a major U.S. exchange. Please be aware of the risks associated with these stocks.