Introduction
Avista (NYSE:AVA) is my second position in my dividend growth portfolio. The first one is Wisconsin Energy (NYSE:WEC) that I discussed at length in several articles in the past. Avista has been a pretty good investment so far, and I enjoy a yield on cost of 4.18% that will probably grow even more in March 2016. So far I am very happy with this investment, and in this article, I will analyze AVA to see whether it is a good time to increase the position.
Avista is a suitable investment for me in the utilities sector. It is similar to WEC in a way that both are type 2 dividend growth stocks. They enjoy medium yield and medium growth, and as I mentioned, the yield will grow even more in two months, and will be very close to 4%.
Avista is an energy company engaged in the generation, transmission and distribution of energy as well as other energy-related businesses. Through Avista Utilities, it generates, transmits and distributes electricity and natural gas. Retail electric and natural gas customers include residential, commercial and industrial classifications. The company also has business in Alaska after it acquired Alaska Electric Light & Power Company. The company is also engaged in several non regulated projects in the LNG sector.

Fundamentals
I am not willing to repeat myself, so I will go through the main fundamental metrics that are even stronger than they were last year. I will discuss revenues, earnings per share and dividends. If you look at the revenue it looks pretty erratic. It happened due to the sales of non regulated initiatives such as Ecova. Yet, the little growth in this metric is in- line with other peers. In 2015, Avista is forecasted to have revenues higher than $1.5 billion for the first time since 2011.
What I like about Avista is that it uses its money responsibly. The sale of Ecova resulted in very high EPS in 2014. However, the dividend still grows in a steady and responsible way. Personally, I hope it will be used for buybacks. The EPS grows steadily over the past decade at mid single digits. A buyback plan can drive the growth even higher, possibly to high single digits. The company assimilated well Alaska Electric Light & Power Company, and it will contribute even more in 2016. possibly around 10 cents per share. The third quarter of 2015 was very strong with better results year over year in almost every metric. Avista will grow its EPS organically at 5% annually. Buybacks and sales of new initiatives can boost EPS even further.
The dividend hasn't changed at all since the last article in March 2015. The dividend will probably grow in March 2016, as the company is devoted to its growing dividend. The growth will probably be at 5%- 6% rate. This way the payout ratio will stay between 60%- 70% which is the usual payout ratio for the sector. The dividend is sustainable and with the next raise, the yield will be closer to 4%.
A metric that I don't like is the amount of shares outstanding. The share count is growing steadily, and Avista is using equity together with debt for funding. I hope that the use of equity will become less significant, and that more buyback plans will be initiated to contradict the growth in the share count.
Valuation
When I look at the valuation of Avista I compare it to WEC and to the valuation of Avista one year ago. I use this comparison as both WEC and AVA are companies from the same sector with similar yield and pretty similar growth rate as well. I must note, that WEC will probably grow at a slightly faster rate.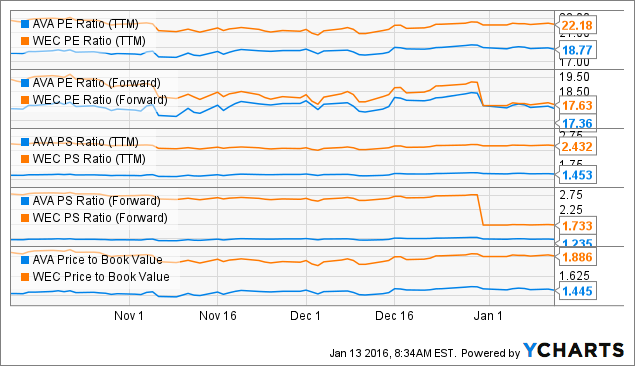 AVA PE Ratio (NYSE:TTM) data by YCharts
Avista is traded at fair valuation, the P/E ratio isn't only a little bit lower than WEC. I expected the P/E to be even lower, as the company grows slower. However, looking at the P/S and P/B there is a huge difference between the company, which in my opinion is larger than it should be.
The valuation compared to one year ago, is pretty similar. The growth in earnings was synchronized with the growth in the share price, as valuation metrics hasn't changed much. As I understand the metrics, they show that Avista trades for fair value now. if you look for bargain you should look another way.
Opportunities
The company has three main growth opportunities for the long term. The first catalyst is its innovation. Most utilities are almost 100% regulated. This is not the case of Avista. The company now has three projects that are not regulated at all. These projects are mainly LNG projects. It reminds me of CenterPoint Energy (NYSE:CNP) that owns an MLP. However, Avista has two advantages. The first one is that it doesn't need the earnings from these projects to finance its daily activity, as it has plenty of FCF, and it has a long history of selling successful initiatives in the past, which brought investors additional value.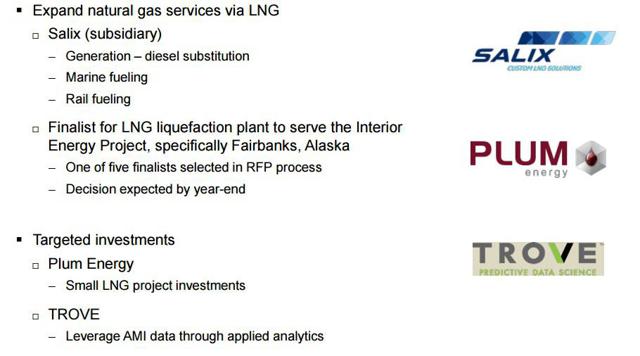 The company is also taking part in massive investments in its main area of Washington, Idaho and Montana. The company is willing to make all its services available to all its customers. This will allow Avista to increase the monthly bill from its average customer. It will raise earnings without even having new customers. The company is trying to give access to its natural gas to its electricity customers and vice versa. It is much easier to grow as a small company. Even small projects can have significant impact on EPS.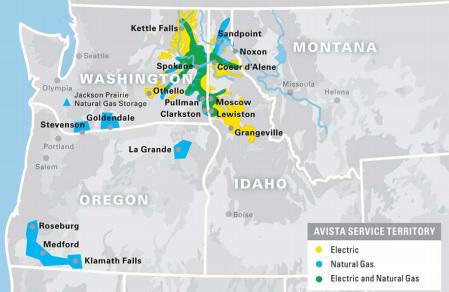 The third catalysts is one I discussed in the article I wrote about Xcel Energy (NYSE:XEL). The focus on clean energy and renewable energy is its peak, and the government cares for it it. Avista works in an area where wind and water are very common. Therefore, over 50% of its production comes from wind energy and hydro power. If companies that use renewable energy will be allowed to have higher ROE, Avista will enjoy it tremendously. It also uses natural gas which is very cheap right now and very clean as well.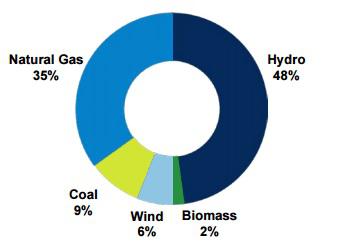 Another small advantage is the regulators. They tend to allow the requests made by Avista to increase the prices. A cooperative regulator is always a plus, but in this sector it is a must have in order to perform well and increase the EPS steadily.
Risks
Debt is always a risk in this sector. Maintaining a modern functional transmission grid requires a lot of money invested. Avista finances it with both equity and debt. In 2018, Avista will have to pay $283 million, and it will probably need to refinance it. According to the current outlook by the Federal Reserve, the interest rate will keep the upward trend.
Another short term risk is the uncertainty about the requests for price increases lately. So far, the regulator has been cooperative, but as the interest rate is still low, they may not enjoy full cooperation. It is hard to tell whether they will fully approve the requests. If they deny it or only partially approve, it might have some influence on the EPS for the short term.
Unlike most of the companies I own, Avista has a relatively small market cap. At only $2 billion, Avista is small even when compared to its peers. Being small can be an advantage as every small new project can bring great growth. However, it also makes the company much more vulnerable. Every error or disaster can result in massive losses. I remember Johnson & Johnson (NYSE:JNJ) suffering from major recalls several years ago. For a giant like JNJ, this was only a little bump in the way, but for smaller companies it can be a disaster.
The capex is growing and it grow significantly. The main growth in the capex is in the transmission and distribution of electricity and natural gas. It makes sense that as a company grows, it will invest more money. However, the growth in the T&D is pretty steep and I will have to monitor it in the future.
Conclusion
Avista is a really interesting company. It has strong fundamentals, fair valuation, strong growth prospects and not too many long term risks. The valuation might be more compelling if the market continues to decline, but Avista is pretty resilient over the past year. I really like its mechanism of selling non regulated businesses in addition to growing the core business.
Wisconsin Energy has lower dividend yield, but higher growth rate. As WEC concentrates on solely on its core business, and manages to grow it pretty well, Avista is working in a different way, but both create value to their shareholders.
That is why I combine them, both suit me as type 2 dividend growth stocks. Each one has its unique growth prospects and different market cap. I find both these stocks appealing, and currently both are valued fairly. Great way to buy complementary investments.
Disclosure: I am/we are long WEC, AVA.
I wrote this article myself, and it expresses my own opinions. I am not receiving compensation for it (other than from Seeking Alpha). I have no business relationship with any company whose stock is mentioned in this article.