Stocks rebounded on Thursday. This column has been calling for a bounce all week. It looked a little silly at times as markets continued knifing lower. Thursday's rally will not be eliciting any braggadocio from this particular author, I'm relieved my positions are looking better, but I'm in no place to gloat.
The S&P 500 (NYSEARCA:SPY) finished up 1.7% on the day, and the Nasdaq (NASDAQ:QQQ) was up 2%. The Dow (NYSEARCA:DIA) recovered 227 points worth of its recent losses.
But all is not as well as it may look. As of this writing around midnight, futures are deep in the red, Asian stocks are getting smoked, and oil (NYSEARCA:USO) has given back most of Thursday's gains.
I had been pointing to volatility's (NYSEARCA:VXX) (NYSEARCA:UVXY) inability to climb on Tuesday and Wednesday as a positive sign. And sure enough, the market rallied Thursday. However during the rally, volatility did pretty much nothing; there was no full-scale dumping of volatility as you'd normally expect following a big rebound.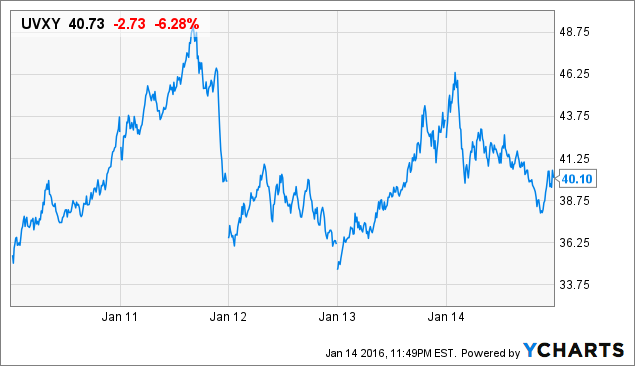 UVXY Price data by YCharts
For a day with such large gains, that's a truly pitiful decline for volatility. Clearly, people weren't willing to part with insurance just yet.
Hedge Funds: True Cause of the Selloff?
I was talking with someone Thursday who suggested that hedge funds, not China, oil, or whatnot was the true cause of this ugly action to start 2016. After performing some further investigation, this does seem to be a rather plausible theory.
Take the following ballpark estimates of hedge fund/activist investor losses to start 2016 from iBankcoin's Exodus screener:
Pershing Square: -11%
Greenlight Capital: -11%
Appaloosa Management: -11%
Trian: -10%
Valueact: -7%
Paulson: -12%
Icahn: -12%
Baker Brothers: -19%
Baupost: -10%
Third Point: -7%
Tiger Global: -13%
Citadel: -13%
Jana: -7%
Eminence: -10%
Glenview: -10%
Consider that many of the funds had really bad 2015 as well. Pershing Square was down 20.5% in 2015, led by the disastrous bet on embattled drugmaker Valeant (NYSE:VRX). Einhorn's Greenlight Capital was also estimated to be down 20% for the year to name two of the bigger drawdowns.
Many of these superstar funds had a terrible year in 2015, but given the rock star reputations of the fund managers, many investors were willing to give them one pass. However, the theory goes, few investors will tolerate double-digit losses two years in a row, even from giants of the investing world.
So as 2016 started out badly with the Chinese scare and dropping oil prices, investors started worrying about the hedge funds. Once a hedge fund starts to collapse, the rest of the street starts to bet against its positions, predicting that the fund will liquidate and that its holdings will decline further in value as they have to unload. This often starts a cycle that feeds on itself; dropping prices cause liquidations causes more selling, with short sellers piling on to take advantage.
Since hedge funds tend to do things in herds, many of these funds end up in the same few stocks. Zerohedge periodically publishes a list of the top hedge fund holdings, and you'll see mid-cap stocks, generally not wildly followed, that are core holdings for tons of hedge funds.
Hedge funds, perhaps out of their desire to appear brilliant and strategic, tend to congregate into messy situations where they can show their superior thinking. That's how bruised companies like AIG (NYSE:AIG) become the most important stock in the world to hedge funds for several quarters a couple years ago while remaining totally ignored by most mainstream investors.
SunEdison (SUNE) was the poster child stock in this category during 2015. A low-quality solar business with an opaque business model, it attracted hedge funds like flies to honey. With the company being run by a seemingly incompetent CEO, having indecipherable accounting and potentially conflict-of-interest laden spinouts, it was just the sort of situation hedge funds love. Complex, great potential for activism, and a chance to demonstrate brilliance to your fund's investors.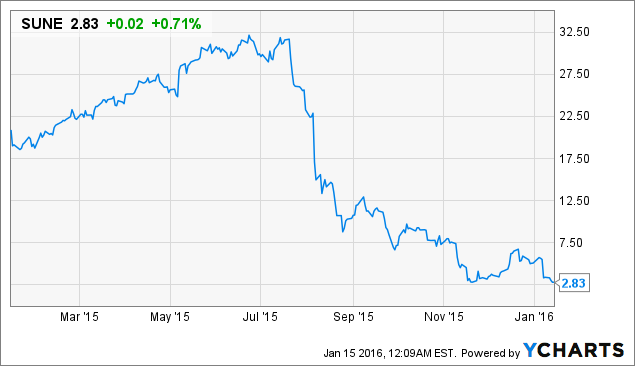 SUNE data by YCharts
That one obviously didn't turn out well, dropping 90% so far. While the investment was misguided, you can at least blame falling oil prices for causing that one to run aground.
Hertz (NYSE:HTZ) is a perfect example of this hedge fund hotel philosophy in action recently.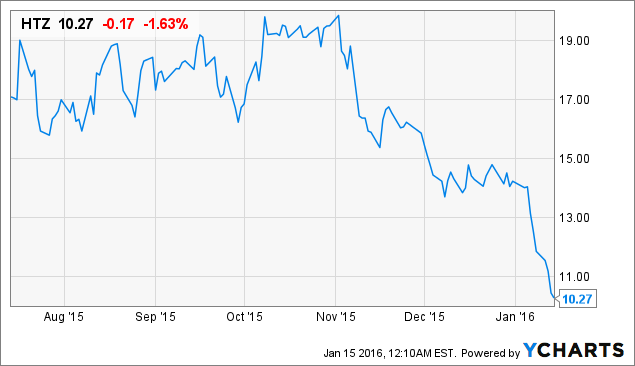 HTZ data by YCharts
Hertz shares have a cult following among hedge funds. Large current or recent shareholders include no less than Carl Icahn, Jana Partners, Larry Robbins, David Einhorn, and Daniel Loeb. That's a most impressive list for a company with a paltry $4.5 billion market cap.
Unlike a SunEdison or Valeant, which crumbled for clear reasons, Hertz has nosedived with no obvious logic. In November, it was worth $20 and now it's just half that. Has the world quit renting cars? No. The more probable answer is that these hedge funds are facing margin calls and investor liquidations and are being forced to dump the stock.
The market, realizing the stock is held by a bunch of bleeding hedge funds, is in no mood to provide a bid with which the bruised hedge funds can liquidate. The stock has been down seven days in a row, even on days like yesterday when the market roars higher, Hertz continued to sink.
Hertz was a classic hedge fund target. Icahn got board seats and chose the new CEO after kicking out the old one. Hedge funds felt with a better management team, they could benefit from a consolidating industry, driving margins through the roof and engineering a huge turnaround. The sort of messy complex situation hedge funds love, it's no wonder the company's key holders list resembled a Who's Who of Wall Street's finest.
But alas, with the general market tumbling, liquidity has dried up, and funds under fire are taking on more water. Stocks like Hertz are radioactive now, selling begets more selling. In a way, this is very similar to the August 2015 decline, when key hedge fund holdings such as Valeant and SunEdison collapsed, leading to a general margin call on concentrated hedge funds with exposure.
If this correction is a chain reaction selloff driven by hedge funds that are getting liquidated ahead of investor redemption requests, expect to see more volatility in coming days. In the long run, hedge fund shutdowns shouldn't kill the market; however, they can sure cause short-term distortions, as large blocks of stock are sold at any price to meet pressing cash needs rather than based on any strategic reasoning.
I'd also note that in stocks with high short interest, you're seeing some really weird trading. Take my top holding, Grupo Aval (NYSE:AVAL), for example. As a Colombian bank, there's no shortage of smart hedge funds betting against it for macro reasons. Colombia produces oil, and oil has collapsed. Therefore, its banking system is doomed, the thinking goes.
Everyone hates emerging markets (NYSEARCA:EEM) nowadays, so why not kick some poor defenseless third world banks while they're down? It's been a one-way trade, so sellers have felt emboldened to make big bets. However, should the stock change directions, at a 5 days-to-cover ratio, it wouldn't be easy to cover a large short position quickly if you were facing margin calls and suddenly had to exit positions.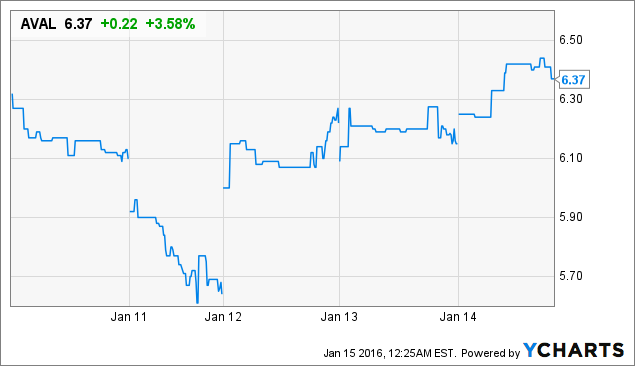 AVAL Price data by YCharts
On Monday the 11th, shares got taken to the woodshed, collapsing to new all-time lows on no news. This was especially odd given that Colombia was on a national holiday. Why pound shares into a non-existent order book unless you wanted to mark the stock down on purpose?
No rational seller would keep dumping a stock down almost 10% on the day when its main listing in its home country was closed - you're guaranteed to get a bad price when there is no liquidity. However, if you're a hedge fund facing margin problems, leaning on a short position to get it marked down would help ease your situation. Of note, Aval's direct peer Bancolombia (NYSE:CIB) didn't dump Monday or jump Tuesday - with CIB having lower proportional short interest, there was less motivation to engage in odd trading.
On the 12th, Aval shares immediately recovered the whole loss, and towards the end of the day had the steady rising pattern indicative of forced computer algo buying. As a $7bn market cap company, shares simply shouldn't move up and down 10% like that in a rational market. Shares totally ignored the broader market getting drubbed on the 13th, and resumed launching higher on Thursday.
That's not a normal chart, it's a chart that's clearly driven by short-term liquidity concerns rather than fundamentals. Similarly Hertz dropping 7 days in a row, ignoring even huge market rallies also makes no sense in an efficient markets view of the world. Now, what you're likely seeing is hedge funds forced to dump their longs and cover their shorts involuntarily.
Like what happened in August, this sort of forced trading leads to wild volatility. If you remember, most of September featured high volatility and a jumpy market before things finally settled down. The August flash crash was the worst of the storm, but like an earthquake, there would be numerous aftershocks.
For our present situation, assuming oil stops collapsing and China stabilizes, Wednesday's low will likely hold. The Fed essentially told the market Thursday that rate hikes are off the table for the near term. That alone is solid enough news to put us back into recovery mode.
But if what we're seeing is hedge funds getting liquidated, then the volatility will continue. More bizarre moves should be expected in names with heavy hedge fund ownership and/or high short interest.
A Caution On Facebook and Google
One of the more interesting activist hedge funds out there, Australia's Bronte Capital, published an interesting note. Here's the meat of it: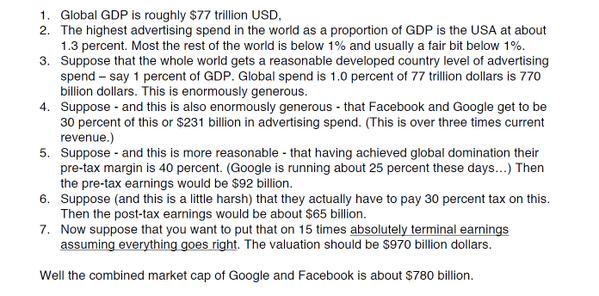 On the face of it, this is a rather compelling short case for Facebook (NASDAQ:FB) and Google/Alphabet (NASDAQ:GOOG). To evaluate it further, I tried to think through the premises.
He's right on advertising being a fairly small part of the economy. If anything, advertising is actually shrinking as a portion of US GDP over the past two decades or so, running contrary to what I would have expected. His assumption that the rest of the world won't advertise more than US also makes sense.
Point number four seems quite optimistic actually. The internet was estimated to be about 25% of total international ad spend in 2014. For just two companies, albeit important players, to get to a number greater than that would take a lot of things to go well.
The assumptions of margins and taxes seem plausible, I have no contention with them. Thus, slapping a 15x PE on it, he concludes, you have very little upside, even if Facebook and Google can greatly boost their share of internet marketing and profit margins.
The two biggest flaws with the argument would seem to be the following. One, if these companies can really become so powerful as to control 30% of the total advertising market, they'd be almost monopolistic, and probably command a premium valuation. I wouldn't be surprised to see a higher than 15x PE ratio if they really end up this dominant.
And secondly, how much other business outside of advertising can these companies command? Facebook hasn't shown a lot of success monetizing its platform through non-advertising based initiatives. However, other things such as payments offer possibility. And Google has plenty of irons in the fire that don't rely on advertising.
Still, even with these considerations, this is a pretty interesting line of reasoning. I encourage anyone long either of these stocks to think through the argument point by point. If you think it has more flaws, please chime in with a comment!
Disclosure: I am/we are short VXX, UVXY.
I wrote this article myself, and it expresses my own opinions. I am not receiving compensation for it (other than from Seeking Alpha). I have no business relationship with any company whose stock is mentioned in this article.
Additional disclosure: Long CIB, AVAL.