Ford (NYSE:F) did something unexpected with its dividend earlier this week when it announced its initial 2016 guidance. Rather than increasing the dividend like it has done every year since restarting dividends in 2012, the automaker declared a special one-time supplemental dividend of $1 billion, or $0.25 per share. This is in addition to the regular $0.15 per share quarterly dividend. In other words, Ford shareholders will be getting dividends of $0.40 per share during Q1 2016 and a total of $0.85 per share in dividends for the year, assuming no dividend growth.

Does the special dividend mean no dividend growth for 2016?
While many investors were expecting an increase to Ford's quarterly dividend, the special dividend more or less serves the same function. The dividend per share will be higher by 41% in 2016 versus 2015 ($0.85 to $0.60). While the effective yield on the common stock is boosted from ~5% to ~7%.
As for Ford's rationale, the company may not want to commit to a higher dividend payment for beyond 2016. While the outlook for the year is strong, as will be discussed below, Ford may be simply hedging its bets.
In addition, there is also the possibility that Ford may want to shift its cash flow from dividends to share buybacks. The share price is trading at its lowest level since early 2013. This is despite growing earnings considerably. It makes a ton of sense to focus cash on repurchasing the undervalued stock rather than dividends as this will serve to lower the float and further increase Ford's earnings power.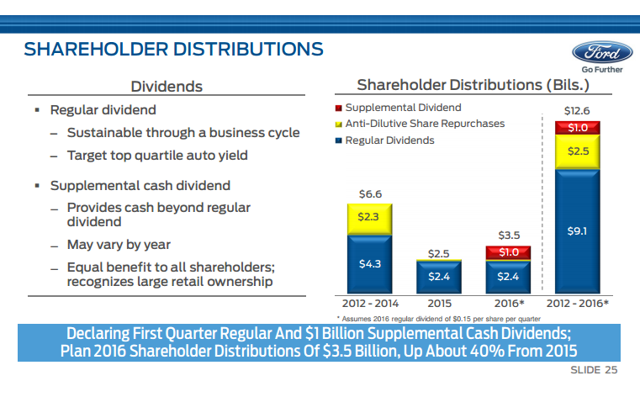 2016 outlook looks strong
Ford had an excellent 2015, while 2016 is looking to be just as good. From the press release:
Looking forward, Ford expects to sustain its strong financial performance in 2016 with automotive revenue equal to or higher than 2015, automotive operating margin equal to or higher than 2015 and strong automotive operating-related cash flow. The company expects its 2016 pre-tax profit, excluding special items, to be equal to or higher than 2015, and its operating earnings per share to be about equal to or higher than 2015.
In other words, Ford is looking at either flat or low earnings growth in 2016 versus 2015. There may be a bit of sandbagging going on here as consensus analyst estimates has 2016 EPS growing at a 17% clip to $1.95 versus $1.66 in 2015. Keep in mind that 2015 EPS is up a massive 40% from 2014 levels.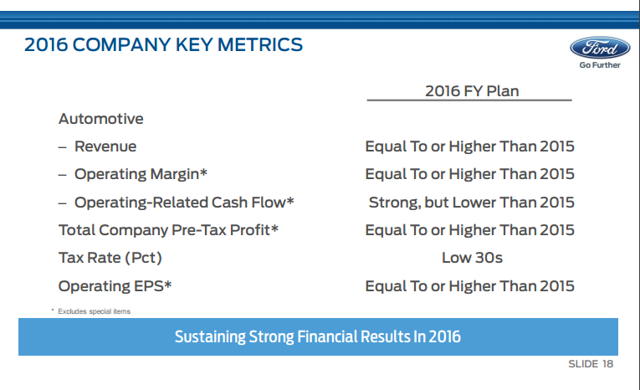 Ford is trading at a discount to peers
Nevertheless, even a year without growth would still make Ford a deeply undervalued stock.
For example, looking at cash flow, TTM free cash flow is ~$8.7 billion, up 24% from prior year levels. On a per share basis, free cash flow has grown 25% to $2.18 versus $1.74 last year.
This puts Ford's price to FCF ratio at an extremely low 5.60x. When factoring in debt, the EV to FCF multiple rises to 13.3x. These are extremely low multiples. For example, General Motors (NYSE:GM) trades at a 9.5x price to FCF multiple and a 15.4x EV to FCF multiple, 70% and 16% higher compared to Ford.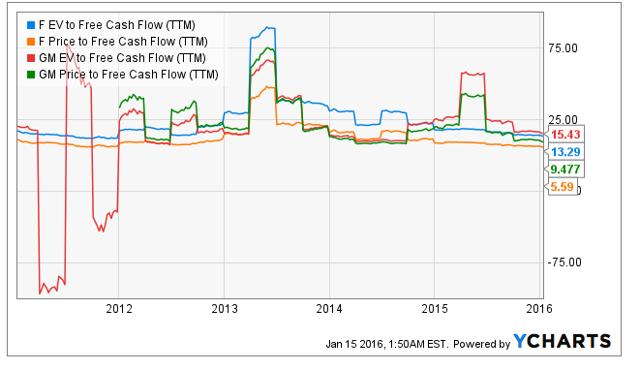 Ford's dividend is well covered by earnings and free cash flow
While a 5% yield usually implies some elevated risk, in the case of Ford, it appears to be well covered by free cash flow. The regular quarterly dividend represents just 26% of TTM free cash flow (37% when adding the special dividend). As for earnings, the dividend payout ratio is a modest 37% of 2015 EPS and 30% of 2016 estimated EPS (50% and 44% when adding the special dividend).
Conclusion
Ford's stock has had a rough start to 2016, down 14% YTD. Though, this decline could represent a buying opportunity for long-term focused investors. As noted above, the company has not been this cheap since 2013. In addition, the 5% dividend yield is very well covered.
Though, there is quite a bit of risk. Ford has a high debt load - long-term debt was at over $126 billion as of Q3 2015. The vast majority is from Ford's financial services side - only $12.8 billion of this was "automotive debt". Nevertheless, the leverage remains very high at over 9.0x, which in my opinion, makes Ford a tad too risky for my taste.
Disclaimer: The opinions in this article are for informational purposes only and should not be construed as a recommendation to buy or sell the stocks mentioned. Please do your own due diligence before making any investment decision.
Disclosure: I/we have no positions in any stocks mentioned, and no plans to initiate any positions within the next 72 hours.
I wrote this article myself, and it expresses my own opinions. I am not receiving compensation for it (other than from Seeking Alpha). I have no business relationship with any company whose stock is mentioned in this article.