Known as "the Monthly Dividend Company," Realty Income (NYSE:O) has long been one of the premier triple-net REITs. Almost like clockwork, the company has always deliver with very frequent dividend increases. This was put on display yesterday when the company declared a $0.1985 per share monthly dividend for February 2016.

This was a sizable 3.9% increase from the January 2016 monthly dividend and a 5% increase from the February 2016 monthly dividend. This continues an impressive streak for Realty Income, now with 84 dividend increases since the 1994 IPO.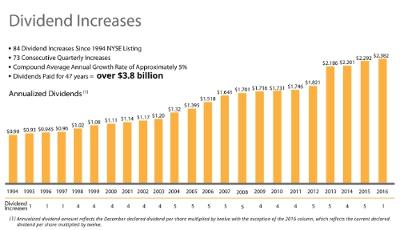 Dividend should continue to grow in 2016
That Realty Income would increase its dividend at the start of the year is not much of a surprise. Last year, the company made a similar dividend increase, though that one was for ~3% month over month versus the current ~4%. Typically, the company only does very small fractional token increases for the other quarters of the year.
Furthermore, as I have noted in recent articles, Realty Income had more than enough room to do a sizable dividend increase. Both FFO and AFFO were growing faster than the dividend. For 2015, FFO is expected to come in at a midpoint of $2.75 per share, while AFFO is expected to come in at a midpoint of $2.73 per share, up ~7.4% and ~6.0% from 2014 levels. Yet, the dividend was only raised by ~3.8% for 2015.
This resulted in Realty Income's payout ratio falling to ~83% of 2015 FFO and ~84% of AFFO. This is below the typical payout range of ~90%. Assuming no growth in 2016, Realty Income's new dividend of $2.382 per share would represent a very reasonable payout ratio of ~87%.
Though, obviously, Realty Income is growing cash flows. For 2016, guidance calls for FFO to grow to a midpoint of $2.86 per share, while AFFO would grow to $2.88 per share, up 4% and 5.5%, respectively from 2015 levels. As a result, the new dividend is instead more likely to have a payout ratio of ~83%, which is again below the historical range.
In other words, expect even more dividend increases from Realty Income in 2016. Though, the company will probably not make another major increase until early 2017, following the recent trend.
Conclusion
At current prices, Realty Income's dividend yield is now ~4.55%, which is near the recent trading average. Though, I would caution that the stock is fairly pricey in terms of its Price to FFO multiple which is ~18.3x using the 2016 numbers. Typically, these stocks have traded for ~15x FFO, a level reached a few times last year.
Nevertheless, despite being slightly overvalued, Realty Income remains one of the top picks in the triple-net REIT sector. As shown, this stock has provided a market beating total performance thanks to its large dividend yield over the long-term.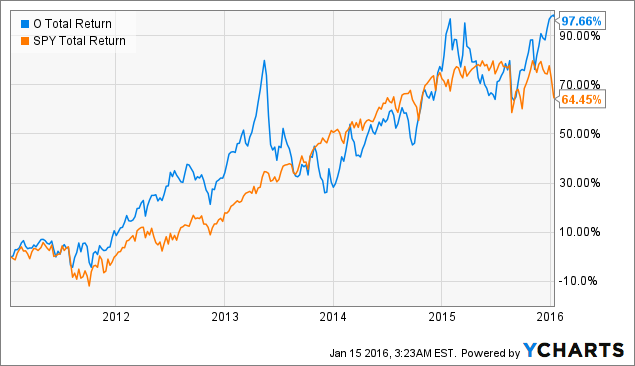 O Total Return Price data by YCharts
Disclaimer: The opinions in this article are for informational purposes only and should not be construed as a recommendation to buy or sell the stocks mentioned. Please do your own due diligence before making any investment decision.
Disclosure: I am/we are long O.
I wrote this article myself, and it expresses my own opinions. I am not receiving compensation for it (other than from Seeking Alpha). I have no business relationship with any company whose stock is mentioned in this article.