A little over a week ago, I published an article wherein I argued that at $9, Fiat Chrysler (NYSE:FCAU) offered investors some value. The company's run of consecutive monthly sales increases is approaching six years and with the Ferrari overhang a distant memory, FCAU looked good from a growth and valuation perspective. However, yesterday we received some disturbing news of accusations from a FCAU dealer in Illinois that the company has been padding its US sales numbers.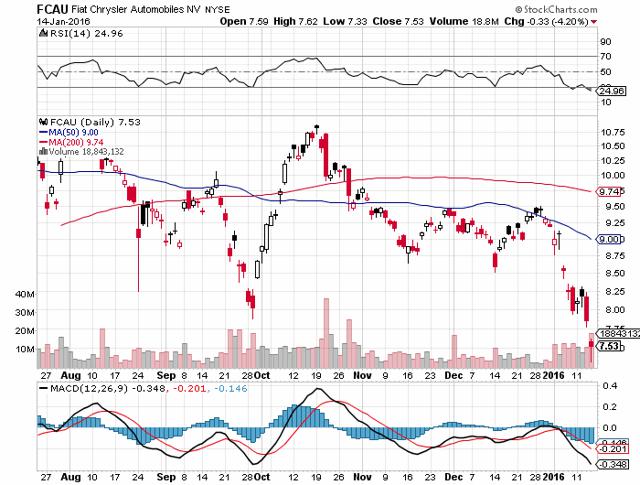 The stock has been hammered since the Ferrari spin-off occurred, partly because the automakers are well out of favor among investors, partly because the market in general has gotten crushed and now, because FCAU has been accused of serious wrongdoing. Unfortunately, I think this fundamentally changes the investment landscape for FCAU and is not one of the many frivolous lawsuits every large company faces on a regular basis. This one has teeth and I think an abundance of caution is required at this point.
I still like FCAU's sales momentum heading into 2016 and I like the diversified business model. However, none of that matters if we cannot trust the numbers the company reports and that is exactly what we have with this lawsuit. In essence, the lawsuit alleges that FCAU and certain dealerships in the US channel stuffed; that is, FCAU told dealers to take cars they didn't necessarily want or need in order to make it look like FCAU had sold more cars than it really did. In addition, the lawsuit alleges that dealers were offered cash payments in order to take the extra inventory and while it may be difficult to prove wrongdoing, the fact that the plaintiff dealer felt confident enough that something was wrong to file a high profile lawsuit is troubling to me.
Channel stuffing certainly happens in a lot of industries but that doesn't make it okay and if FCAU really did inflate US sales numbers, there is no investment case; the only action is to sell. That's tough for me to say because if FCAU hasn't done anything wrong, I think it offers great value at this point, particularly down at $7 and change. However, trust in a company's numbers is fundamental to investing and if FCAU has been channel stuffing, what else has it been less than forthcoming about?
That's why I believe the investment case for FCAU changed fundamentally with the announcement of the lawsuit and that is why I'm rescinding my bull call on FCAU. There is simply too much uncertainty right now with the company's new lawsuit that alleges some very serious charges. I don't know if FCAU did anything wrong or not but as I said, the fact that the dealer felt confident enough to take it to court is enough evidence for me that something is amiss. After all, this dealer is a business partner and customer of FCAU; why would it risk damaging its relationship with its partner if it wasn't entirely sure it was right? That's proof enough for me that something is likely awry and that is enough for me to bail on FCAU, as much as I don't want to.
From a valuation perspective, FCAU is cheaper than both GM (NYSE:GM) and Ford (NYSE:F) but those stocks don't have the fresh overhang of wrongdoing accusations from their dealer network. With the entire group of major automakers so cheap at this point, one doesn't have to settle for risking that a company has been lying to investors. Again, I'm not saying FCAU did anything wrong but the fact that the dealer believes strongly enough that it did is enough to give me pause. And with great deals in the auto space including GM and Ford's robust dividends, I don't see any reason to own FCAU any longer. The risk that FCAU has systemic ethical problems is too great to bear so I'll be taking my investing dollars elsewhere. The landscape for FCAU fundamentally changed yesterday and not for the better. I'm out until we have some clarity on whether or not FCAU is guilty of the charges levied against it.
Disclosure: I/we have no positions in any stocks mentioned, and no plans to initiate any positions within the next 72 hours.
I wrote this article myself, and it expresses my own opinions. I am not receiving compensation for it (other than from Seeking Alpha). I have no business relationship with any company whose stock is mentioned in this article.