On January 15, Seadrill (NYSE:SDRL) announced an agreement with the "DSME shipyard has been reached to defer the delivery of two ultra-deepwater drillships, the West Aquila and West Libra, until the second quarter of 2018 and first quarter of 2019 respectively." This announcement is the latest in a series where the modern, but debt-laden driller has successfully delayed progress payments/deliveries from shipyards.
The West Aquila and West Libra were scheduled to be delivered in Q2 2016 with an accompanying payment of $800 million. Obviously, given the current contracting environment, acquiring new rigs without contracts and parting with scarce cash was not a desirable outcome.
SDRL's announcement follows last month's news that subsidiary North Atlantic Drilling (NYSE:NADL) had successfully restructured the purchase agreement for the acquisition of the West Rigel from the Jurong shipyard. In September, SDRL terminated the contracted for the West Mira with the Hyundai shipyard, citing delivery delays (which led to the cancellation by Husky of a previously signed contract). In August, the Company reached an agreement to defer until 2017, with Samsung Heavy Industries to defer the delivery of two drillships (West Draco and West Dorado) until Q1 2017. In February, SDRL reached an agreement with the Dalian shipyard to defer delivery of eight jackups by up to 44 months (though the 20f filed in April is a little confusing on this point). In February, the Company also negotiated a delay of up to 36 months (Q3 2017) with Cosco to defer delivery of the Sevan Developer.
Taken as a whole, SDRL has done a tremendous job of extending liabilities and minimizing cash payouts in the near term. However, the combination of a poor contracting environment and heavy debt has pushed the yields on Company debt to implied default rates, with the 2017 bond recently trading for 40.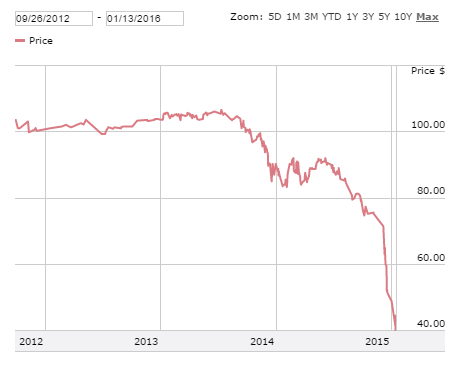 Source: FINRA via Morningstar
As of this writing, SDRL is being quoted at $2.28, implying a market cap of $1.1 billion ($11.6 billion enterprise value). While SDRL is, and will continue to be extremely high risk, the stock is approaching capitulation levels implying those with strong stomachs could take a high risk "bet" (at this point investment is not really the correct word) on SDRL.
Disclosure: I am/we are long SDRL.
I wrote this article myself, and it expresses my own opinions. I am not receiving compensation for it (other than from Seeking Alpha). I have no business relationship with any company whose stock is mentioned in this article.