The signposts indicating that we would see a significant stock market decline have been visible for more than a year now, but only a small minority within the professional ranks on Wall Street and the financial press acknowledged them. Those that did were not talking about China or plunging oil prices, but the impact from the inevitable end to monetary policy largesse in combination with a pending recession in corporate profits.
While most will now agree that quantitative easing and seven years of a zero-interest-rate policy inflated stock and bond prices, few expected that there would be a price to pay when it ended. We are starting to pay that price now. It is no coincidence that the first interest-rate increase is coinciding with the carnage we are seeing in markets today.
The fact that we are starting to see the stock prices of the largest and most valuable global companies slide significantly is what is leading pundits and the press to take notice now. This is not a departure from the way previous bear market declines have occurred. If you look under the hood of our financial markets, going back 18 months, you can see why this is not a mere short-term correction, driven by what Abby Joseph Cohen of Goldman Sachs called an "emotional response" yesterday, but instead is one of several stages in a textbook bear market decline that started last year.
The bond market has always been smarter than the stock market when it comes to reading the tea leaves. It tells us where the economy and financial markets are headed. High-yield bond (NYSEARCA:JNK) prices peaked and then began to decline in July 2014. This was an indication that credit was beginning to weaken and liquidity was being withdrawn. It was akin to the market catching a cold.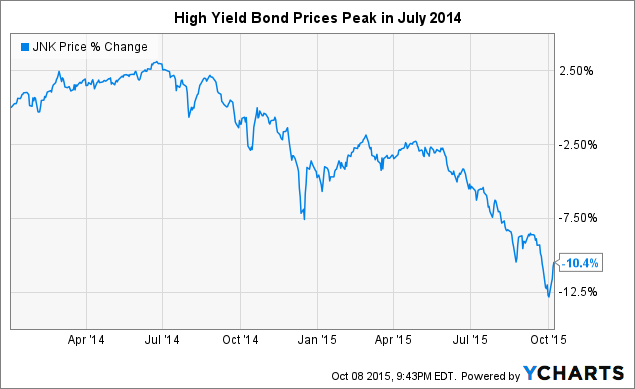 The rationale for ignoring this development was that it was predominately related to energy company debt. The same logic was used to dismiss similar warning signs during previous periods of sector-related turmoil in housing and technology. What most fail to appreciate until it is too late is that sectors have long tentacles, and turmoil in one is often symptomatic of much broader macro-economic issues. Those issues typically involve leverage, speculation and mal-investment, but in each cycle they take on different forms, therefore becoming less recognizable.
Small-cap stock performance (NYSEARCA:IWM) started to deteriorate relative to large-cap stocks (NYSEARCA:SPY), as can be seen below, at nearly the same time that junk bond prices were declining. The cold was leading to a fever. Smaller companies have higher leverage ratios, greater capital requirements and are more sensitive to changes in interest rates. Yet the consensus call has been that small-cap stocks would benefit from the strength of the domestic economy and be immune to a stronger dollar. Regardless, small-caps gradually began to underperform as investment flows moved to the safety of large global companies in a flight to quality. This is a very typical development leading up to a bear market decline. It was particularly apropos in early 2000, when Warren Buffet's boring slow-growth, but high-quality, stock holdings started to shine. At the same time, many less experienced investors were claiming he had finally lost his touch.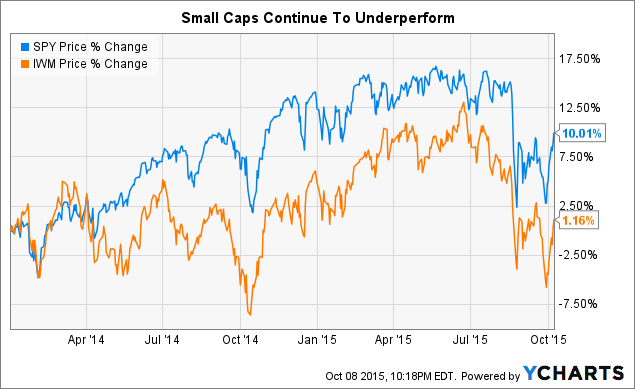 The Russell 2000 index of small-cap stocks (IWM) made one more attempt to rally up to its 200-day moving average last month, just prior to the last Federal Reserve meeting, before cascading into what has now been a bear market decline of more than 20% from its highs. The weakest and most over-valued companies always fall first and furthest. The fever is now a raging case of pneumonia.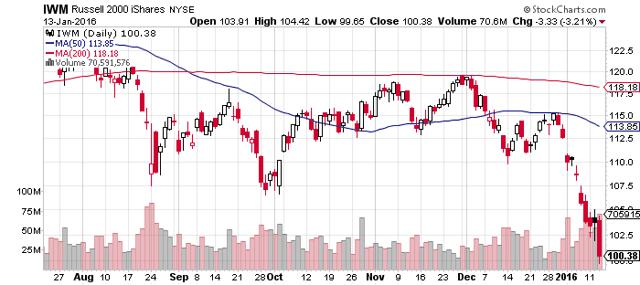 Now a large-cap stock correction has ensued, with the S&P 500 index (SPY) having corrected more than 10% from its highs, with most of the damage occurring since the beginning of the year, as can be seen below.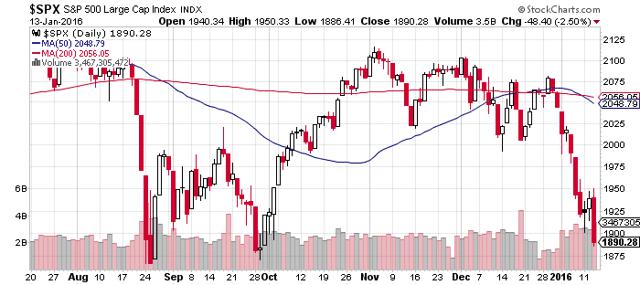 Having reviewed the market developments leading up to the correction in the large-cap index, let me explain my rationale for why I think it will lead to a far more substantial decline for the broad market and how it should be navigated from an investment standpoint.
MARKET FUNDAMENTALS
When a sudden and steep sell-off occurs in a benchmark index like the S&P 500, the media reaches for the most obvious and easily understandable reason to explain it. China and oil fit the bill nicely. The problem with this explanation is that the topic of China's economy slowing has been in the news for months, as has the steady decline in the price of oil. The plunge in the broad market has been a very recent event. Regardless, a headline stated on Wednesday of this week that "Dow plunges 365 points on fears of oil plunge and China." Of particular concern with respect to China was "how much its currency, the yuan, will devalue."
This doesn't make a lot of sense. Lower oil prices should be good for our consumer-based economy. It should lead to faster rates of consumer spending and overall economic growth. Equally beneficial to our consumer-based economy is the declining value of the yuan, which should make everything that Americans buy at Costco (NASDAQ:COST) and Wal-Mart (NYSE:WMT) less expensive. We have been complaining for years that the yuan was overvalued, and now that it is falling in value, it is bad?
No, the real reason for the decline in financial asset prices is that market fundamentals have been deteriorating for months. The rate of US economic growth has been slowing. Corporate revenues have been declining year-over-year for four quarters in a row, and now corporate earnings are closing in another back-to-back quarterly decline. This isn't new news. It is old news that most in the media and on Wall Street never wanted to acknowledge, and didn't have to, because the broad stock market indices were holding up.
The trigger that finally dragged down the heavyweights in the S&P 500, leading to the sell-off we have had so far this year, was a tightening of monetary policy conditions when the Federal Reserve raised short-term interest rates in December. The timing of the first rate hike in nine years, and the subsequent plunge in stocks, commodities and other risk assets, was not a coincidence. Short-term borrowing costs in the $4 trillion-plus overnight lending market, otherwise known as shadow banking, where repurchase agreements trade, surged from what had been as low as 10 basis points (1/10 of 1%) to nearly 50 basis points (1/2%). Additionally, the Fed indicated its plans to raise short-term rates four more times in 2016. That may seem like a joke now, but if borrowing costs to invest just rose substantially, with the prospect that they will rise again in a few months, you sell. Selling begets more selling. This is especially true if what you own is declining in value. This shadow banking system funds a lot of leveraged investment bets made by institutional behemoths around the world.
On top of the rate increase, the Fed is now discussing raising the margin requirements for borrowers in this market so that they have to post more collateral for these overnight loans that fund their investments. Why? Because the Fed is concerned about asset bubbles and wants new rules as "a mechanism for limiting the buildup of leverage in the financial system," as Daniel Tarullo, the Fed's regulatory czar, stated last month. I am talking about the same shadow bank that funded leveraged bets in mortgage-backed securities leading up to the financial crisis. The difference back then was that the market was more than $10 trillion in size, while today it is less than half that size, yet still significant.
This does not mean that the decline in oil prices and the slowdown in China's economic growth have not contributed to the gradual deterioration in market fundamentals, but they are not the root cause of the abruptness of the decline or the significant loss in valuations. So we had a change in monetary policy that led to a wave of institutional selling in risk assets, which is now alerting the consensus to the fact that the fundamentals aren't so good after all. This is not a situation that will turn around quickly, leading the S&P 500 index back to its all-time highs.
SENTIMENT
A few months ago all I heard about were great stock ideas. There were so many things to choose from, it was as though you were dining at a country club buffet. Today the discussion is about what to avoid. In other words, you are now dining on McDonald's all-day-breakfast menu. That's what I call a change in sentiment.
We are starting to see an awakening to the fact that the fundamentals are not as strong as previously thought in the financial media. CNBC's Bob Pisani noted this week that 19 out of the 23 companies that have reported earnings for the fourth quarter have reported declines in revenue. These are not energy companies, but large multi-nationals in the consumer-related sectors. According to Mr. Pisani, this means that concerns could be rising to the surface about a corporate earnings recession. He is clearly not a subscriber to Seeking Alpha.
It is also notable that very few people are talking about new all-time highs for the S&P 500. The bullish majority is becoming cautiously optimistic at best. You can now find as many bearish articles as you do bullish ones. This doesn't necessarily mean that the market has bottomed. What it means is that what were long-term uptrends in the major market indices have now been redrawn as downtrends. The strong momentum stocks that were considered reasonably valued at 30-40 times earnings are now quite expensive. Sentiment is now a headwind for the market.
THE FED
The Fed made the crucial mistake of raising interest rates as the US economy was sailing into the headwinds of a corporate earnings recession and global economic slowdown. It then made the preposterous suggestion that it would raise them four more times this year. It expressed tremendous confidence in its forecast for economic strength. Now it has instigated a stock market decline that will undermine the wealth effect that it worked so hard to create. A bear market decline in the stock market will damage consumer confidence and slow the rate of consumer-spending growth. This will further crimp corporate revenues and earnings in 2016.
The problem facing the Fed now is that if it were to reduce interest rates back to zero, it would lose what credibility it has left. Janet Yellen stated as recently as December that the US economy was strengthening. If the Fed were to cut rates at its March or April meeting, so soon after raising them, it would most likely destabilize markets, rather than renew confidence in them. I think the soonest that the Fed would take action in an attempt to stem a decline in the stock market would be at its June meeting, either on its own or in concert with a fiscal policy initiative to stimulate growth.
That is a five-month period, during which I think that the gap between perception and reality will close, as the financial markets will have no backstop.
TECHNICALS
The 200-day moving average for the S&P 500 index is now in a downtrend for the first time in several years. This means, from my perspective, that buying the dips moving forward will be as difficult as it was to short the rallies in the past. With respect to equities, the small-caps have led this decline, which is not surprising given small-cap valuation and risk profile. What is ominous about the action we saw in the Russell 2000 index (IWM) this week is that it broke its uptrend line at approximately 1032, which dates back to the financial crisis low in 2009. That was the birth date of this bull market. The next level of support, and my downside target, is the 875 level.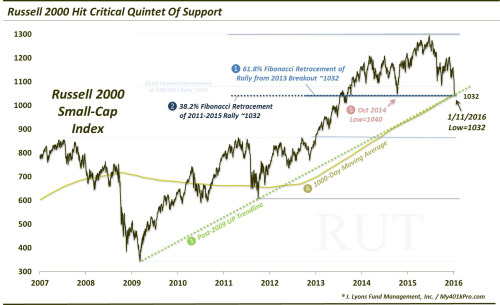 The S&P 500 index fell to what was considered a critical support level at 1880 yesterday, corresponding with the August and September correction lows of last year. The index was extremely oversold on a short-term basis and looking for any reason to bounce. All it took was a bullish morning market call from Goldman Sachs strategist Abby Joseph Cohen and some dovish Fed-speak from James Bullard. In what was clearly a call to arms for the algorithmic traders, the S&P 500 index surged nearly 30 points in as many minutes.
This type of volatility is very typical in a bear market decline. Steady declines are followed by massive rallies. The trend remains down. What was previously considered support is now resistance. I wouldn't be surprised to see the S&P 500 climb back to the 2000 level in the days ahead, with its 50-day and 200-day moving averages just above that level. Ultimately, a bear market decline will ensue, taking the S&P 500 index down to the 1700 level. At that level it will be time to reassess all the factors I have discussed.
WHAT DO WE DO NOW
My objective here is not to create panic or stir emotion, but to explain what I see happening from a macroeconomic perspective and why. I believe that the biggest mistake investors make in this kind of environment is that they spend too much time focusing on the bottoms-up, or individual company fundamentals, instead of thinking top down with respect to the macroeconomic environment. I have made this mistake in the past.
From a long-term investment strategy perspective, the best line of defense in this environment is to reduce equity exposure to the lower end of your acceptable range. This means retain your core holdings. Use rallies in the market to purge your portfolio of underperformers, and if your exposure falls below your acceptable range, then reposition into higher-quality names. Build and maintain a shopping list of companies or securities that you would like to own at lower prices should the stock market fall significantly lower.
From a shorter-term and more tactical standpoint, as I mentioned previously, I think that buying the dips moving forward will be as difficult as it has been to short the rallies in the past. The game changer is that the broad-market indices are now in long-term downtrends. Therefore, employing hedging strategies on rallies to resistance levels will likely be the lower risk approach to short-term profits.
Disclosure: I/we have no positions in any stocks mentioned, and no plans to initiate any positions within the next 72 hours.
I wrote this article myself, and it expresses my own opinions. I am not receiving compensation for it (other than from Seeking Alpha). I have no business relationship with any company whose stock is mentioned in this article.
Additional disclosure: Lawrence Fuller is the Managing Director of Fuller Asset Management, a Registered Investment Adviser. This post is for informational purposes only. There are risks involved with investing including loss of principal. Clients of Fuller Asset Management may hold positions in the securities mentioned in this article. Lawrence Fuller makes no explicit or implicit guarantee with respect to performance or the outcome of any investment or projections made by him or Fuller Asset Management. There is no guarantee that the goals of the strategies discussed will be met. Information or opinions expressed may change without notice, and should not be considered recommendations to buy or sell any particular security.