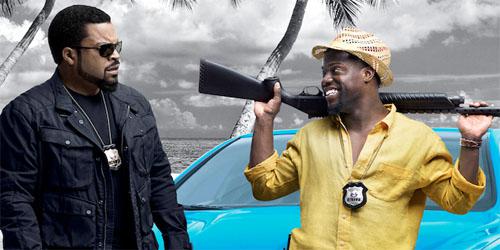 Image courtesy of Universal
With the exception of Disney (NYSE:DIS), no studio had anywhere near as good of a year as Universal. The Comcast (NASDAQ:CMCSA)-owned company had a season of epic proportions. Starting in April with Furious 7 and ending in August with the surprise smash Straight Outta Compton, it was the perfect storm of both sequels and originals.
One could then assume that would mean investors could expect a slowdown in 2016, but that may not be the case. Universal is starting the new year off with a proven commodity and in a timeframe where it has a solid track record.
The film is Ride Along 2, the sequel to the buddy cop comedy that first broke through on this same weekend in 2014. Starring Ice Cube and Kevin Hart, the original grossed over $130 million off a budget of just $25 million. The sequel, which reportedly carries a slightly higher production cost ($40 million), is expected to see similar success.
While the original opened in the $40+ million range, Universal is playing this more conservatively with estimates in the $30 million range (even if others are predicting a similar bow to the original). Regardless, even something in the mid-30's would be a big win for the studio and its new franchise. The question though is if Ride Along 2 can un-seat Star Wars as The Force Awakens has continually come out on top.
Investor Analysis
Now the important thing for investors to realize is the level of competition in play for Universal this weekend. Force Awakens aside, the film will also have to contend with the Leonardo DiCaprio headlined The Revenant. The gritty Fox (NASDAQ:FOX) (NASDAQ:FOXA) drama opened to a larger than expected debut in its first week of wide release last weekend.
Yet it's not just the Fox produced film in the mix as Paramount (NYSE:VIA) (NASDAQ:VIAB), which opened a movie against Ride Along in 2014 is back again with a new "it" film. The difference is this one may actually make an impact.
You may remember Paramount tried to relaunch its Jack Ryan film series in 2014 with Jack Ryan: Shadow Recruit, but the film landed in fourth place with $15 million. Made for $60 million, the movie ultimately never made it pass the $50 million mark. Shadow Recruit was over-shadowed by both Ride Along and the animated The Nut Job.
Fast forward to 2016 and you'll see a remarkably similar match-up. This weekend it will be Ride Along 2 verses 13 Hours: The Secret Soldiers of Benghazi verses the animated Norm of the North. Even though Norm is from Lions Gate (LGF) and Nut Job was from Open Road, again we are seeing that same comedy vs. drama vs. family film battle.
Now with 13 Hours it was purposely slotted here to follow in the same footsteps as Lone Survivor and American Sniper which owned this space in 2014 and 2015. Lone Survivor placed second to Ride Along in 2014 with $22 million, but that's only after it topped the charts the week prior with $37 million. American Sniper meanwhile shocked the world with a monster $107 million debut a year ago.
13 Hours is expected to hit in the $20 million range, which would keep the studio's momentum going following success at the end of 2015 with Daddy's Home and the newly minted Best Picture nominee The Big Short.
With Star Wars, Revenant and a trio of new films in play this is going to be a fun race to watch, though Ride Along 2 seems to be the odds-on current favorite to win.
Disclosure: I/we have no positions in any stocks mentioned, and no plans to initiate any positions within the next 72 hours.
Business relationship disclosure: All opinions expressed are the authors and no compensation outside of Seeking Alpha is being received. While the author has a business relationship with a subsidiary of Comcast, it is not related to any divisions discussed and the author is not a full-time employee.